by Antony Bucello
The REIV has reported a clearance rate of 66% from the 276 auctions that took place over the weekend. A total of 181 properties sold and 95 passed in, 60 of which passed in on a vendor bid. Interestingly, around 22% of the properties that sold were sold prior to auction.
The revised REIV clearance rate from last week, when there were only 127 auctions held, was 54% (revised down from 58% after a number of unreported results were tracked down). On the same weekend in 2010, the REIV reported a clearance rate of 63%.
Antony Bucello discusses this week's Melbourne property news
While the early signs on the state of the Melbourne property market are positive, we have not yet seen enough auctions take place to establish a clear picture on exactly what is happening with buyer confidence.
With around 1500 auctions expected to take place over the final 2 weekends of February, we expect to see some patterns emerging once we have received the results of those auctions.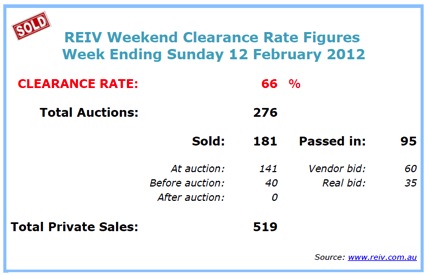 The NPB Clearance Rate overall this week was 70%, up 7% from last week's 63%.
With a reasonable supply of good property starting to hit the market, we were able to review a total of 47 auctions over the weekend, 33 of those properties found new owners and 14 passed in.
Interestingly, all 4 of the 4 auctions we physically attended on behalf of clients on Saturday all sold under the hammer, all with multiple competition (see Auctions in the Spotlights).
The middle range category, properties that sell between $600k – $1m, performed best this week with a clearance rate of 79%, up 16% from last week. 15 out of the 19 properties we reviewed in this range sold and 4 passed in.
The lower end of the market (<$600k), had a clearance rate of 67%, with 12 of the 18 properties we reviewed selling and 6 passing in.
The high end of the market, which is properties over $1m, had a solid performance with a clearance rate of 60%. We reviewed a total of 10 properties in this category and 6 of those sold and 4 passed in.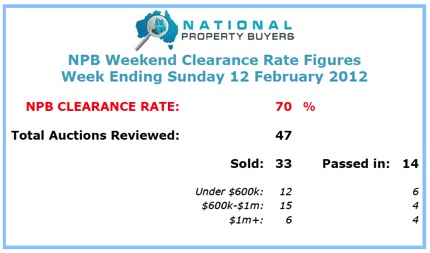 The full list of the 47 properties we reviewed this weekend: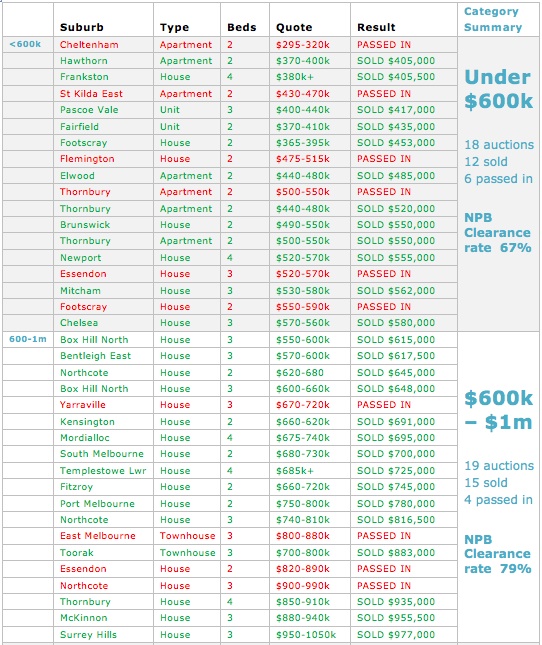 Auctions in the Spotlight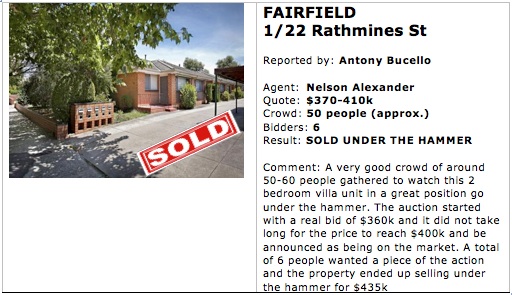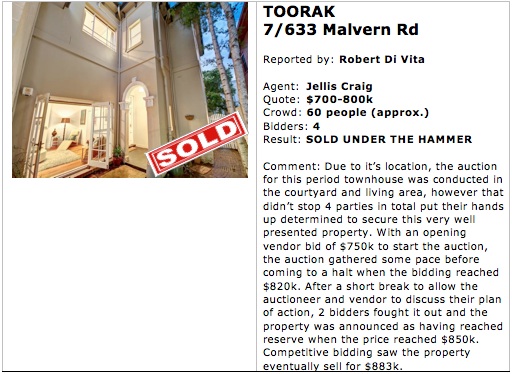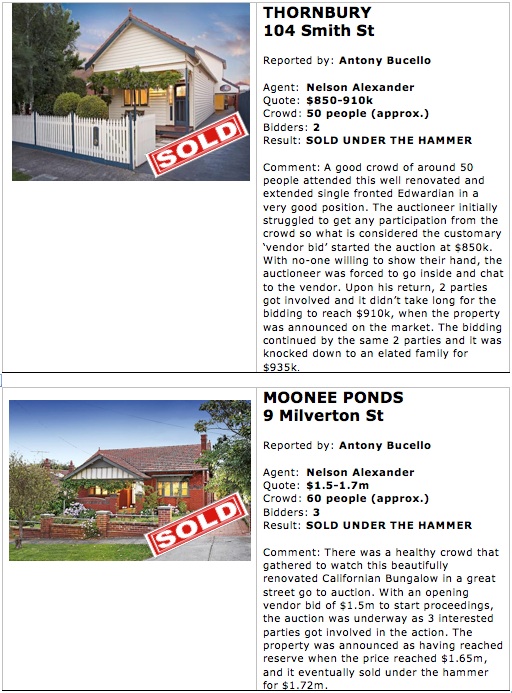 Contact Us
If you need any assistance with searching, assessing or negotiating your next property purchase or simply wish to discuss your property buying needs, please don't hesitate to contact us. Alternatively, you can complete our online Help Us Help You form and we will contact you.
Regards
Antony Bucello
[email protected]
0418 131 950