Welcome to 2012 and to the February edition of Melbourne Buyer Insights, a quarterly newsletter brought to you by National Property Buyers.
2011 REIV Clearance Rate 56%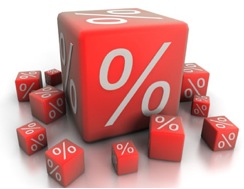 The auction clearance rate is considered the barometer of how the property market is performing overall.
The REIV reported the auction clearance rate for 2011 at 56% for the 28,800+ auctions that were held throughout the year.
The highest weekly clearance rate was 65% in March and the lowest was 49% in November.
Compared to 2010, the overall clearance rate is considerably lower.
The clearance rate was a balanced 71% in 2010, 81% in 2009 and 63% in 2008.
To put the above clearance rates into perspective, it is considered a balanced market if the clearance rate is between 65-75%.
If the clearance rate is over 75%, we are in a strong market (more conducive to selling) and when clearance rates fall below 65%, the market is weak (more conducive to buying).
The total value of auction sales for 2011 was $11.6 billion which is considerably down on the total value of auction sales for 2010 when it peaked at $16.8 billion.
The top 5 suburbs that recorded the highest clearance rates were Wantirna South, Abbotsford, Balaclava, Gladstone Park and Warrandyte.
From a total sales by auction perspective, Richmond topped the list with 336 sales at auction for the year and a very healthy clearance rate of 73%, indicating good inner city property is still doing well.
The top 5 suburbs when ranked by numbers sold were Richmond, Melbourne, Bentleigh East, Hawthorn and Reservoir.
December 2011 Quarter Median Prices
The REIV has reported that the median price for houses in the December 2011 quarter was $550,000.
That indicates an increase of 1.9% from the previous quarter when the median price for houses was $540,000.
The suburbs which recorded the strongest demand for houses were Kew, Prahran, Kensington, Mornington, Port Melbourne, Balwyn North, Blackburn, Wantirna South, West Footscray and Mt Waverley.
The median price for units also had a slight increase from the previous quarter, up 1.1% from $450,000 to $455,000.
The suburbs which recorded the strongest demand for units were North Melbourne, Armadale and West Footscray.
While the statistics indicate there was only a slight increase in median price for both houses and units, overall the Melbourne property market has remained relatively stable and responded reasonably well given the current economic climate both here in Australia and overseas.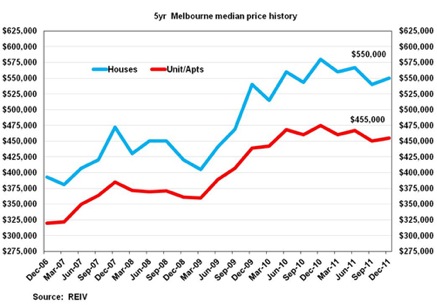 2011 NPB Clearance Rate 67%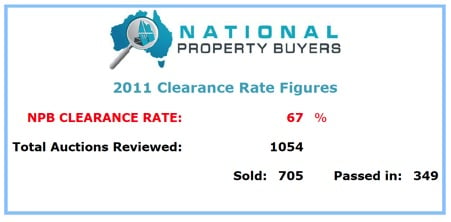 The NPB Clearance Rate finished the year a consistent 67%, 11% higher the REIV's clearance rate.
Throughout 2011, the team at National Property Buyers reviewed a total of 1054 properties and 705 of those sold and 349 passed in.
The lower end of the market, which consists of properties that sell up to $600k, performed the best with a clearance rate of 73%.
We reviewed 393 properties in this category and 287 of those found new owners and 106 did not sell on auction day.
The middle range category, which is properties in the $600k – $1m bracket, had a 2011 clearance rate of 68%.
254 of the 371 properties we reviewed sold and 117 passed in.
Not surprisingly, the high end of the market came last with an overall clearance rate of 57%.
We reviewed 290 properties in this category and 164 of those sold and 126 passed in.
Category Summary for 2011

2012 – Where's the Market Heading?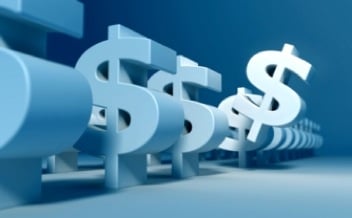 Experts are divided as to what to expect from the property market in 2012.
Following a year like 2011, which was one of the weakest in a decade, some experts are optimistic and some still think there are further price drops coming.
The Reserve Bank of Australia's decision cut interest rates in November and December by a total of 0.5% did result in some increased confidence, particularly with first home buyers and investors, and it is widely expected by many economists that we may well be in for further cuts early in 2012.
As we enter the start of the '2012 Property Season', there is no doubt that housing affordability has improved, particularly with the recent interest rate drops.
The start of 2012 will continue to be a buyers market, particularly for savvy investors and first home buyers who will benefit from low tax rates and reduced stamp duty.
While another interest rate drop will be welcomed by both vendors and buyers, we don't expect to see much change to the market in the first quarter.
The first quarter typically has fewer sales as January is a month of lower property transactions.
We do however expect an overall small increase in prices in the second quarter, once the recent interest rate drops have had time to take effect.
A significant factor for how the Melbourne property market will perform in 2012 will be the state of the economy and whether up-sizers will return to the market.
This will have the most impact on properties in the $600k-$1m range.
The lower end of the market is expected to perform the same as 2011, if not slightly better, largely driven by investors and first home buyers.
The high end is likely to continue to struggle and perform at the same sorts of levels as 2011.
NPB 2011 Suburb Review
Fitzroy North was the best performing suburb for the year with a NPB Clearance Rate of 89%, well above the average clearance rate of 67%. Mitcham had the worst NPB Clearance Rate of 38%.
The top 6 performing suburbs for the year were: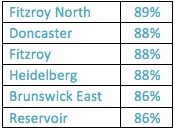 The 6 worst performing suburbs for the year were: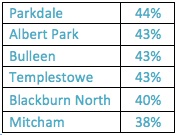 2011 NPB Clearance Rates by Suburb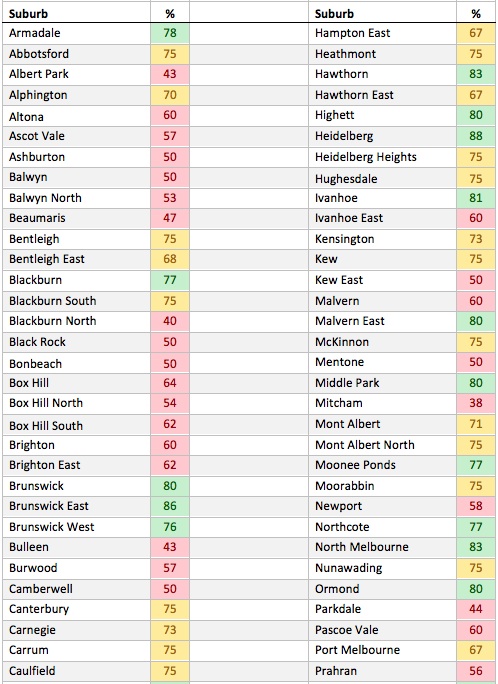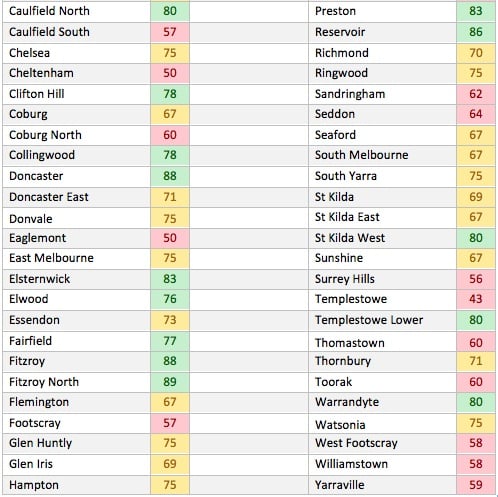 Launch of New NPB Client Portal – propertyHUB

CLIENTS of our Buyer Advocacy service are enjoying the benefits of our new and exclusive client portal, propertyHUB.
propertyHUB is a central online repository of information for clients to enjoy a simple system to keep track of the short list of properties their Property Advocate has selected for them. Clients login via our website to access their personal property databases and access information on the list of properties that have been posted for them.
The system allows online communication between clients and Advocates about the properties under consideration in an efficient and highly effective manner. It will also track the progress and stages of each property of interest and the document library stores images, reports, contracts and other important information relating to specific properties.
propertyHUB for Property Buyers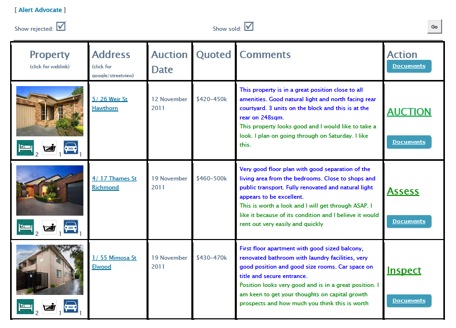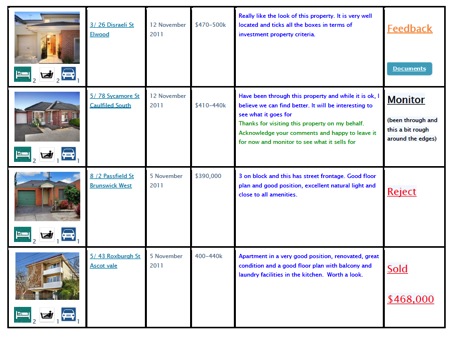 propertyHUB is a unique system available only to clients of National Property Buyers. It has been developed specifically for our Buyer Advocacy business, and a version of the system will soon be available for our Property Management clients. The property management version ensures clients are kept completely up-to-date about the status of their investment properties.
propertyHUB for Investment Property Owners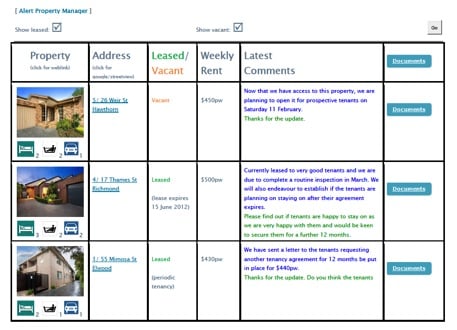 NPB Property Scorecard – Exclusive Property Rating System
Coming Soon – NPB Property Scorecard
National Property Buyers will soon be launching their revolutionary Property Scorecard system.
The NPB Scorecard will be available to clients only and will provide them with an overall rating score out of 100.
The Scorecard will also provide break downs of the 4 main parts of the property – Area & Position, Land, Building Exterior & Building Interior.
This unique and highly useful tool will enable our clients to compare properties they are considering.
Watch this space…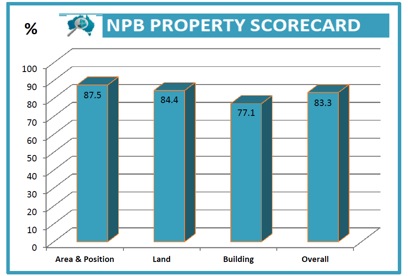 Special Offers
Buyer Advocacy Special Offer Ends Soon

TO coincide with launch of our new Client Portal, propertyHUB, we are offering all new clients who engage National Property Buyers' full premium service a FREE iPad 2!
New full service clients are able to enjoy logging in to their personal propertyHUB database and entering their feedback and accessing documents and reports about particular properties anytime and from anywhere they have internet access.
Please note that is for a limited time only. Click here to find out more.
Property Management Special Offer Ends Soon

NPB are also offering 3 months FREE property management to all new clients who engage our Property Management service.
Robert Di Vita heads up the Property Management division and he has had over 20 years' experience in this area.
We are excited to be able to now offer a comprehensive and high quality property management service that takes care of every aspect of owning an investment property.
We manage properties located in the Melbourne metropolitan area and clients enjoy real peace of mind and premium rental returns due to a wealth of resources, constant communication and a successful culture that ensures NPB are always at the forefront of property management.
Why Choose NPB? Knowledge. Experience. Results. We treat every property like it is one of our own. And it's our attention to detail and level of communication with our clients sets us apart from our competition.
Subscribe to NPB's Melbourne Property Market Weekly Update

EVERY week Antony Bucello, State Manager of NPB and Melbourne Property Expert provides commentary on what has happened over the weekend including facts and figures from the REIV and from NPB.
If you are not already receiving his weekly updates and would like to subscribe, click here
Contact Us
If you need any help with searching, assessing or negotiating your next property purchase or simply wish to discuss your property buying needs, please don't hesitate to contact us. Alternatively, you may prefer to complete our Help Us Help You online form and we will contact you.