Australia's early developers and aldermen liked to add a touch of class to their towns and suburbs by naming them for royal connections in the Old Country. Thus Australia is sprinkled with Richmonds, Kensingtons, Windsors and Brightons, and all who reside in them inherit the respectability and prestige of their namesake.
However, places with the same grand name often have little else in common, and mistaking one for the other could cost you an extra couple of million dollars. Let's take a look at what's in a name, and how these suburbs stack up against each other.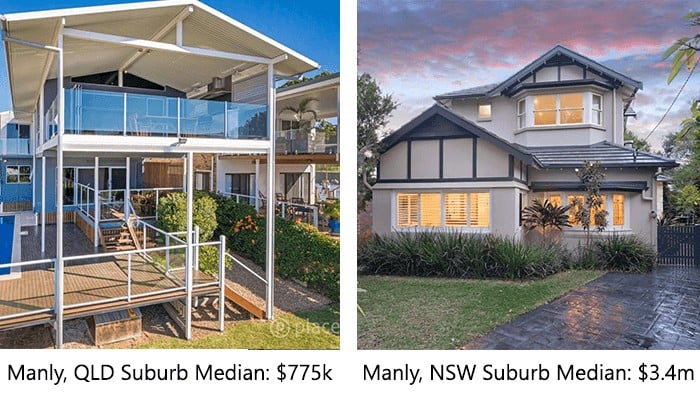 The first entry in our suburb name game is Richmond. It was clearly a favourite of the founding fathers – there's one in almost every state!
 Just 3kms from the Melbourne CBD, Victoria's Richmond was once one of the least salubrious parts of the city, but the single-fronted workers' cottages have long since been converted into desirable residences. You can get rid of the car: it's just a short stroll from the famous old MCG, parks, trams and trains.
NSW's Richmond is a rather grand little town 63kms north west of Sydney at the foot of the Blue Mountains. A median house price of $760,000 reflects its glorious setting and good transport links to the city.
Richmond in South Australia is an inner suburb that dates back to the 1830s with some very pretty houses. It represents good value for landlords with a 4.5% return and opportunities for capital growth.
Here's how they differ.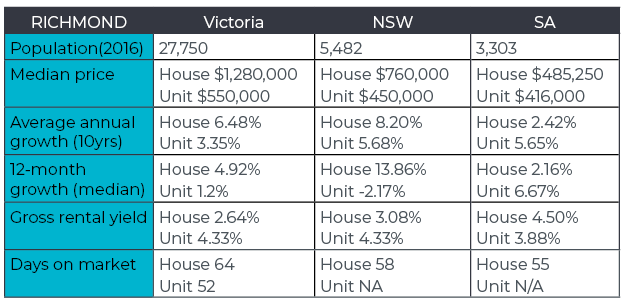 There's also a Richmond in Queensland. It's a small town in the west of the state with wide streets and big skies. After years of falling house prices, the median price is just $131,000 but the past 12 months has seen a mini-boom with two houses recently selling for around the $250,000 mark.
Surry or Surrey Hills is another popular choice, albeit with a tweak to the spelling!
Victoria's Surrey Hills is a leafy and genteel suburb 12kms from the Melbourne CBD with many period homes of the Victorian, Edwardian and Federation era, and great shopping in Union Street and Mont Albert Road.
In NSW, Surry Hills (without the 'e') is a hip inner suburb just 1km from Sydney's CBD with a large multicultural population and a reputation for its fashion stores.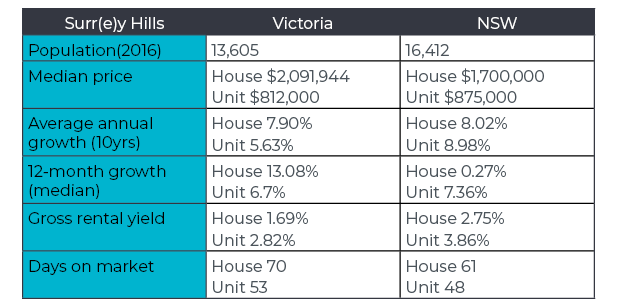 Kensington is another well-loved name across the country.
The NSW suburb of Kensington started life as an industrial suburb but has long since moved on from its humble beginnings. Midway between the Sydney CBD and Bondi Beach, it's home to the University of NSW, sports arenas and six parks.
Just 4kms from Melbourne CBD, Victoria's Kensington is a leafy village with beautiful period houses (Victorian and Edwardian), great shopping, good restaurants and excellent public transport.
South Australia's Kensington is a select suburb 5kms east of Adelaide with a population of 1,769. A 13.74% drop in the median house price in the past 12 months offers opportunities for investors.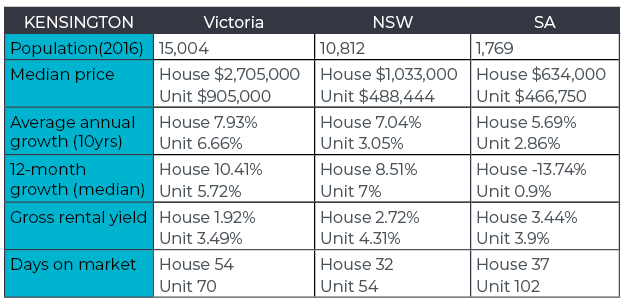 While Manly in Sydney might be famous, it has a lesser-known cousin in Queensland too.
 A beachside suburb 17km north-east of Sydney, NSW's Manly has some of the most expensive houses in the country. Not surprising when you consider the beautiful sandy beaches and the fact that you can cruise across the bay to work in the CBD.
For the price of a NSW Manly house, you could buy five Manly houses in Queensland's Manly. The northern Manly is 19kms east of the Brisbane CBD and features Australia's biggest boat harbour.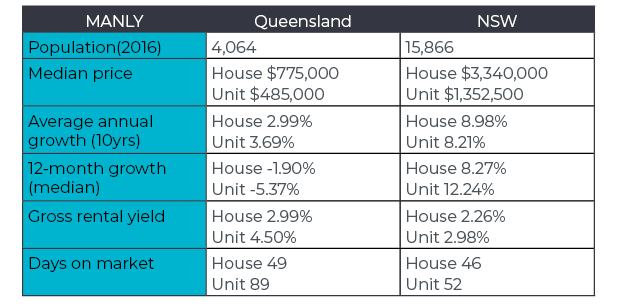 Just like the original in the UK, Australia's Brightons are all located by the water.
A bayside suburb 11kms from the Melbourne CBD, Victoria's Brighton features period houses and modern mansions, seriously good shopping and prestigious schools. Not surprisingly, the houses are among the most expensive in the state.
South Australia's Brighton is a coastal suburb with a great beach and famous jetty. With a median house price of $661,250, reasonable rental return are on offer.
19kms from Brisbane, Queensland's Brighton is a sleepy seaside suburb with cycling tracks, wetlands and paths. It's also something of a find for investors with house prices well below the neighbouring suburbs and rental returns around 4%.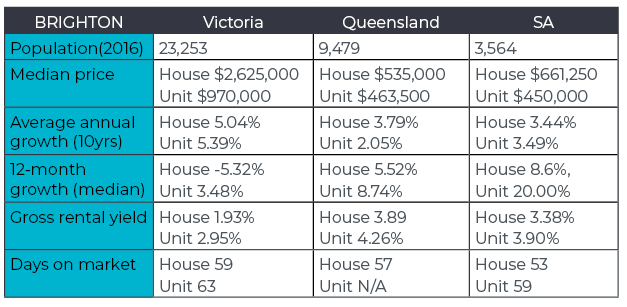 So there you have it – there is definitely more in a name than meets the eye!
If our name game has piqued your interest in property, the prime spring selling season is fast approaching. For specialised advice on property buying or sales, talk to our team at National Property Buyers.
Houses Image Source: www.realestate.com.au