by Antony Bucello & Catherine Cashmore
A 71 per cent clearance rate was recorded this weekend from a total of 511 sales. It's a strong increase from last week's revised 63 per cent and once again we seem to be in a market where competition is heating up across all price points.
The REIV have released data for the first quarter of this year, noting that the Melbourne median house price has increased 5.1 per cent to $561,500, from a revised December 2012 median of $534,000.
It should be noted that the REIV are now adjusting their data to allow for seasonal distortions, therefore although the nominal median actually dropped 0.9 per cent (no doubt due to the post Christmas malaise which typically depresses the median in the first quarter of each year) – their calculations have resulted in a rather robust first quarterly increase.
The strong change is also due in part to a December 'seasonal adjustment' to the median house price, taking it from $555,000 – to $534,000.
The percentage to add or deduct from a median price when re-assessing the data is evaluated by looking at the 'average' seasonal shift during the same quarter over a lengthy time scale. The information is then used to assess the amount to either add, or subtract, from the raw data. Further detail on the exact technique used by the REIV is scant – albeit, it should be noted that the changes are not minor.
Last week Westpac released its quarterly "Westpac-Melbourne Institute consumer house price index" showing a 26 per cent increase in the number of consumers expecting to see higher house prices by this time next year. According to the report, this is the "most bullish outlook since 2010" with only 8 per cent of those surveyed expecting prices to drop.
The results are somewhat puzzling because they come on the back of the Westpac "consumer sentiment index" released just two days prior, which stressed a 'surprising' drop of 5.1 per cent following a 9.9 per cent rise in the two months preceding. The report comes with the title "consumer sentiment stumbles" which indicates confidence remains 'fragile' which they assess could be due to Europe and the Cypriot debt crisis.
As with all indexes – using short term data to assess long term trends leaves plenty of room for error – therefore the results should be viewed with some scepticism. It should also be remembered that we're approaching a Federal Election and passions are understandably high. The RBA have made it clear rates are not likely to move until further notice leaving room to 'drop if they have to' – and few economists are tipping a rise.
Whilst no one is predicting a return to 'boom' growth, the yearly outlook is shaping up to be positive for property investors – there's still plenty of stock available and the market seems to have turned the corner showing a promise of modest gains.
Weekend Clearance Rate Figures

Week Ending Sunday 14th April 2013

Clearance Rate:
71%
Total Auctions:
511 (10 unreported)
Sold:
357
Passed in:
154
At auction:
301
Vendor Bid:
97
Before auction:
56
Real bid:
57
After auction:
0
Total Private Sales:
563
Weekly Turnover:
920
Source: www.reiv.com.au
The NPB clearance rate is representative of the results evidenced in the 'quality' end of the marketplace. We take the results from a range of suburbs; however please note we are not 'suburb specific'. NPB Melbourne, negotiate on hundreds of properties for their clients each year throughout all areas of Melbourne and the Bellarine Peninsula. The properties we highlight are taken from a selection which we carefully analyse for quality assessment and revise daily.
NPB's clearance sustains the improving trend evidenced in national data – proving the increasing strength of Melbourne's quality residential property market.
Weekend Clearance Rate Figures

Week Ending Sunday 14th April 2013

NPB Clearance Rate:
88%
Total Auctions Reviewed:
35
Sold:
31
Passed in:
4
Under $600k+:
8
1
$600k-$1m:
14
1
$1m+:
9
2
Why is the NPB Clearance Rate always higher than the REIV Clearance Rate?
The NPB clearance rate is a snapshot of 'investment grade' or 'cream of the crop' properties representing only those we recommend to clients. These are properties that hold the best potential for a long term capital growth and rental demand. Whilst the Real Estate Institute of Victoria include all properties scheduled for auction (as reported by their members) – including those that are poorly located and unlikely to attract demand even in a robust climate; our clearance rate is far more representative of the market that represents our client's best interests. It's an important part of how we assess the best negotiation strategy for your needs.
The full list of the 35 properties reviewed by NPB this weekend:
< $600k

Suburb
Type
Beds
Quote
Result
Fairfield
Apartment
1
$300-330k
SOLD $325,000
Ascot Vale
Apartment
2
$350-380k
SOLD $406,000
Essendon
Apartment
2
$360-385k
PASSED IN
Mitcham
Townhouse
3
$430k+
SOLD $486,000
Yarraville
House
2
$465-485k
SOLD $487,500
St Kilda
Apartment
2
$500-540k
SOLD $520,000
Kensington
House
2
$500-550k
SOLD $535,000
Prahran
Apartments
2
$450-495k
SOLD $540,000
Prahran
Apartment
2
$480-530k
SOLD $593,000
Sold
8
Passed In
1
NPB Clearance Rate 88%
Total
9
$600k – $1m

Suburb
Type
Beds
Quote
Result
Northcote
Unit
2
$480-530k
SOLD $602,000
Balwyn North
Unit
2
$550-600k
SOLD $605,000
Ivanhoe
House
2
$600k+
SOLD $607,000
Preston
Townhouse
3
$550-590k
SOLD $632,000
Spotswood
House
2
$590-640k
SOLD $649,000
Brunswick
House
2
$590-640k
SOLD $657,000
Malvern
Apartment
2
$550-600k
SOLD $662,500
Abbotsford
House
2
$620-680k
SOLD $745,000
Northcote
House
2
$670-740k
SOLD $760,000
Prahran
House
2
$680-740k
SOLD $772,500
Prahran
House
3
$700-770k
SOLD $775,000
Richmond
House
2
$600-660k
SOLD $779,000
Yarraville
House
3
$630k+
SOLD $790,000
Yarraville
House
2
$750-820k
PASSED IN
Northcote
House
3
$760-820k
SOLD $950,000
Sold
14
Passed In
1
NPB Clearance Rate 93%
Total
15
$1m+

Suburb
Type
Beds
Quote
Result
Fairfield
House
3
$950k+
SOLD $1,067,000
Fitzroy
House
3
$800k+
SOLD $1,110,000
Brighton East
House
4
$1m+
PASSED IN
Elwood
House
3
$1-1.1m+
SOLD $1,119,000
Malvern East
House
3
$1.1-1.2m
SOLD $1,206,000
Port Melbourne
House
3
$1.2m+
SOLD $1,275,000
Elwood
House
4
$1.1-1.2m
SOLD $1,350,000
East Melbourne
House
2
$1.2m+
SOLD $1,380,000
Brighton
House
3
$2m+
PASSED IN
Alphington
House
5
$2.6m+
SOLD $3,000,000
Albert Park
House
3
$4m+
SOLD $4,300,000
Sold
9
Passed In
2
NPB Clearance Rate 81%
Total
11
Overall

Sold
31
Passed In
4
NPB Clearance Rate 88%
Total
35
AUCTIONS IN THE SPOTLIGHT
186 Pickles Street SOUTH MELBOURNE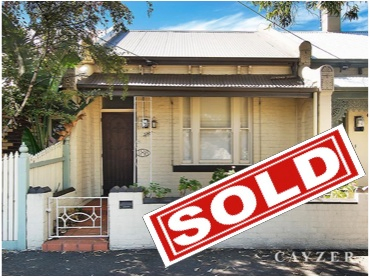 Reported by:

Antony Bucello

Agent:

Cayzer

Quote:

$600,000+

Crowd:

40 people (approx.)

Bidders:

4

On the Market:

$600,000

Result:

SOLD $741,000
Comment:
Opening on a real bid of $600,000, this property – un-renovated – attracted strong competition. The auctioneer announced the property on the market at $650,000, however with 3 bidders still competing; the home attracted another $90K before selling at $741,000.
CONTACT US
If you need any assistance with searching, assessing or negotiating your next property purchase or simply wish to discuss your property buying needs, please don't hesitate to contact us. Alternatively, you can complete our online Help Us Help You form and we will contact you.
Regards
Antony Bucello and Catherine Cashmore