By Antony Bucello
The REIV has reported a clearance rate of 53% this week, up 3% from last weeks' revised clearance rate of 50%. There were a total of 899 auctions reported to the REIV and 477 of those sold and 422 were passed in.
Interestingly, of the 477 properties that sold, 80 of them sold before auction, indicating vendors (and their agents) are willing to consider pre-auction offers if the price is right, particularly as we get closer to Xmas. Of the 422 properties that passed in, 264 passed in on a vendor bid, which is over 60%.
At the same time last year, the REIV reported a clearance rate of 59% from the 1100 odd auctions.
With only about 1 in 2 properties selling at auction, good buying opportunities are presenting themselves all over Melbourne. There are only 3 auction weekends left before Xmas and the overall property market and buyer confidence is expected to pick up in 2012, so don't delay if you are in the market to buy. Providing you do your research and know how to negotiate, now is the time to act and secure a property.
The REIV is expecting approximately 800 properties to go under the hammer next weekend and over 900 the following weekend.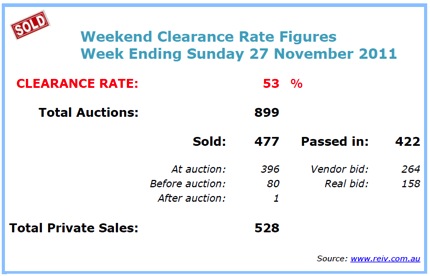 The NPB Clearance Rate this week was 61%, down 7% from last weeks' 68%. We reviewed and monitored a total of 42 properties this week and 26 of those sold and 16 passed in.
Interestingly, the NPB clearance rate has been slowly increasing during the month of November, only to see it dip again this week. The NPB clearance rates for the month of November were recorded as follows:
Week ending                     Clearance rate
27 November                         61%
20 November                         68%
13 November                         65%
6 November                           60%
The middle range category, which includes properties that are between $600k – $1m, performed best this week with a clearance rate of 69%. This is consistent with last week when the clearance rate in this category was 69%. Of the 13 properties we reviewed, 9 sold and 4 passed in.
The lower end (<$600k) had a clearance rate of 66%, with 10 of the 15 properties we reviewed selling and 5 passing in. This is considerably lower than last weeks' 75%.
The high end of the market ($1m+) continues to struggle, with the clearance rate coming in this week at 50%, with only 7 of the 14 properties we monitored selling.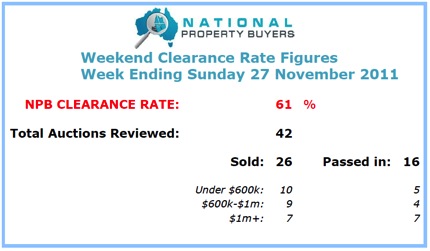 The full list of the 42 properties we reviewed this weekend: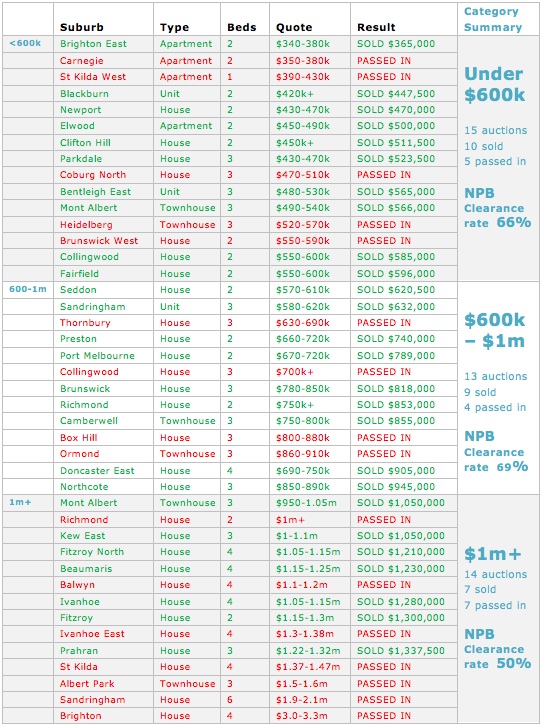 AUCTIONS IN THE SPOTLIGHT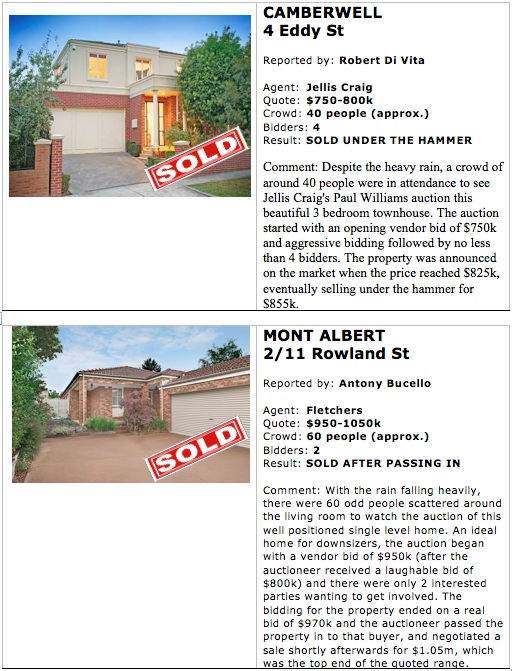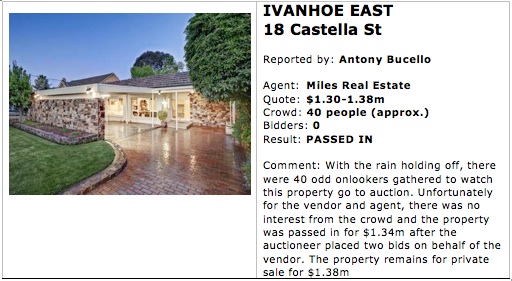 CONTACT US
If you need any assistance with searching, assessing or negotiating your next property purchase or simply wish to discuss your property buying needs, please don't hesitate to contact us. Alternatively, you can complete our online Help Us Help You form and we will contact you.
Regards
Antony Bucello
[email protected]
0418 131 950