Victoria's housing market is in a game of 'checkmate.' How can you take advantage of it?
by Antony Bucello & Catherine Cashmore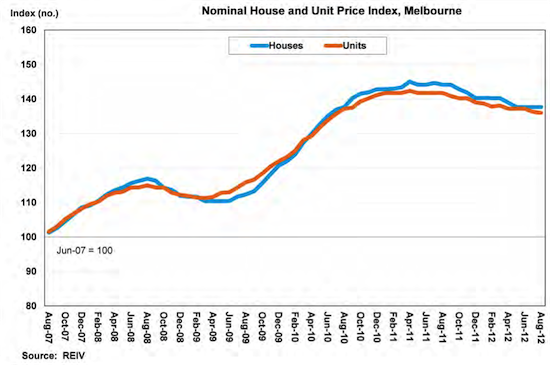 Now that we've established that the 'spring' selling season has not immediately transformed the housing market from its winter of discontent, and the barrage of 'Spring has Sprung' headlines have once again done the rounds and subsequently been exhausted. We can put our feet back on the ground and take a closer look at what may eventuate in the few selling weeks we have remaining, until the market's yearly Christmas break.
This weekend's clearance rate came in at 60 per cent which is a little below the year to date average currently sitting at 61 per cent. Last year's 'Year to date' September clearance rate was also 61 per cent, however total transactions are estimated to be down some 14 per cent on this time last year. Lower turnover along with a decrease in owner occupied home loans – down 1.3 per cent for the month of July – will compromise any potential for a broad based market recovery as we head into 2013.
The REIV have been quick to play down the importance of clearance rate data, expressing in their weekly wrap that '3 out of 4' homes are sold private sale. Whilst this is correct, it's also worth noting that the private sale market tends to rise and fall with the auction market in Victoria. The clearance rate is not only a snapshot of the 'heat' in the inner suburban areas, it also plays on consumer confidence, as the data is widely publicised and subsequently taken by the general public as a barometer of market health.
It's easy to come up with excuses to explain the current malaise. Consumer sentiment is a favourite – albeit – overused term. It tends to suggest the market doldrums are nothing more than a brief bout of post winter depression, which simply require a short term of 'Prozac' to recover. However, even recent interest rate drops and decade low fix term rates have done little to markedly lift sales activity across all sectors. Based on this, we can assume the housing market will remain subdued for some time yet.
Having said this, if you're waiting for further price drops, you may be disappointed. Residential vendors are placing a floor under established house prices thereby preventing the median data from falling much further. Vendor expectation is a fundamental part of any acquisition process and deserves a lot more attention than simply stating vendors have 'unrealistic' ideals.
As a general point, the last thing owner occupiers will let drop in times of uncertainty are the mortgage re-payments. The perception of security home owner's gain from their principle place of residence is a tonic in turbulent times. Not only this, but the home is an extension of the occupant's life – the place of precious memories and personal emotions which dictate why we often see vendor's withdraw from the market rather than sell for a price they don't consider worthy.
The owner occupier market (which forms the largest market in Victoria) splits the real estate landscape between the 'need to sell' owners and those who'll only budge if they can get their 'pre conceived' price. This is the price they have formulated based on their own emotional commitment to their home, and one that often bears little relation to the dictates of today's 'property shoppers.'
With this in mind, current conditions favour the investor who can hang out for that 'nugget of gold' whilst at the same time indentifying those vendors who – for personal reasons – have little choice but to reduce expectation.
Owner occupiers however, face the challenge of finding a suitable 'home,' in a sea of advertised listings, few of which tick their 'ideals' with a price tag to match.
Keen negotiation skills are the key to shifting the current game of 'checkmate' – however, this can't be achieved without ample 'on the ground' due diligence, patience, and legwork. Unless a buyer is prepared to leave their emotions at the 'front door' prior to entering into negotiation, they may find the current 'buyers market' frustratingly difficult to take advantage from.
Weekend Clearance Rate Figures

Week Ending Sunday 16th September 2012

Clearance Rate:
60%
Total Auctions:
619 (59 unreported)
Sold:
373
Passed in:
246
At auction:
322
Vendor Bid:
151
Before auction:
50
Real bid:
95
After auction:
1
Total Private Sales:
455
Weekly Turnover:
796
Source: www.reiv.com.au
The NPB clearance rate is representative of the results evidenced in the 'quality' end of the marketplace. We take the results from a range of suburbs; however please note we are not 'suburb specific'. NPB Melbourne, negotiate on hundreds of properties for their clients each year throughout all areas of Melbourne and the Bellarine Peninsula.
Weekend Clearance Rate Figures

Week Ending Sunday 16th September 2012

NPB Clearance Rate:
71%
Total Auctions Reviewed:
35
Sold:
25
Passed in:
10
Under $600k:
9
4
$600k-$1m:
8
2
$1m+:
8
4
Why is the NPB Clearance Rate always higher than the REIV Clearance Rate?
The NPB clearance rate is a snapshot of 'investment grade' or 'cream of the crop' properties representing only those we recommend to clients. These are properties that hold the best potential for a long term capital growth and rental demand. Whilst the Real Estate Institute of Victoria include all properties scheduled for auction (as reported by their members) – including those that are poorly located and unlikely to attract demand even in a robust climate; our clearance rate is far more representative of the market that represents our client's best interests. It's an important part of how we assess the best negotiation strategy for your needs.
The full list of the 35 properties reviewed by NPB this weekend:
< $600k

Suburb
Type
Beds
Quote
Result
Thornbury
Apartment
1
$320-350k
SOLD $317,500
Thornbury
Apartment
1
$340-370k
SOLD $362,500
Ormond
Apartment
2
$350-380k
PASSED IN
Reservoir
Unit
2
$310-340k
SOLD $383,000
Murrumbeena
Apartment
2
$350-380k
SOLD $395,500
Collingwood
Apartment
1
$340-380k
SOLD $400,000
Brunswick East
Apartment
2
$350-380k
SOLD $427,500
Ivanhoe
Apartment
2
$390-430k
PASSED IN
Hawthorn East
Apartment
2
$430-470k
SOLD $485,000
Caulfield North
Apartment
2
$450-480k
PASSED IN
Doncaster East
Townhouse
2
$480k+
PASSED IN
Hawthorn
Apartment
2
$450-500k
SOLD $515,000
Kensington
House
2
$500-550k
SOLD $560,000
Sold
9
Passed In
4
NPB Clearance Rate 69%
Total
13
$600k – $1m

Suburb
Type
Beds
Quote
Result
Carnegie
House
2
$595-610k
SOLD $625,000
Abbotsford
House
2
$600-660k
SOLD $650,000
Hawthorn
Unit
3
$580-630k
SOLD $697,500
Glen Iris
House
2
$620-680k
PASSED IN
Thornbury
House
2
$620-680k
PASSED IN
Brunswick
House
3
$650-700k
SOLD $700,000
St Kilda West
House
3
$740-790k
SOLD $790,000
Northcote
House
3
$750-790k
SOLD $860,000
Ashburton
House
3
$750-815k
SOLD $870,000
Montmorency
House
4
$800k+
SOLD $950,000
Sold
8
Passed In
2
NPB Clearance Rate 80%
Total
10
$1m+

Suburb
Type
Beds
Quote
Result
South Yarra
House
2
$850-950k
PASSED IN
Carlton North
House
3
$1-1.1m
SOLD $1,140,000
Yarraville
House
4
$1m+
SOLD $1,135,000
Caulfield South
House
5
$1.2-1.3m
SOLD $1,320,000
Yarraville
House
3
$1.15-1.3m
SOLD $1,565,000
Albert Park
House
4
$1.2m+
PASSED IN
Balwyn North
House
4
$1.2-1.3m
PASSED IN
Richmond
House
3
$1.45-1.55m
SOLD $1,800,000
Brighton
House
4
$2.2-2.4m
SOLD $2,330,000
Kew
House
4
$2.8m+
PASSED IN
Hawthorn
House
4
$3.5m+
SOLD $3,800,000
Toorak
House
4
$3.75m+
SOLD $4,220,000
Sold
8
Passed In
4
NPB Clearance Rate 67%
Total
12
Overall

Sold
25
Passed In
10
NPB Clearance Rate 71%
Total
35
AUCTIONS IN THE SPOTLIGHT
3/12 Judith St, Carnegie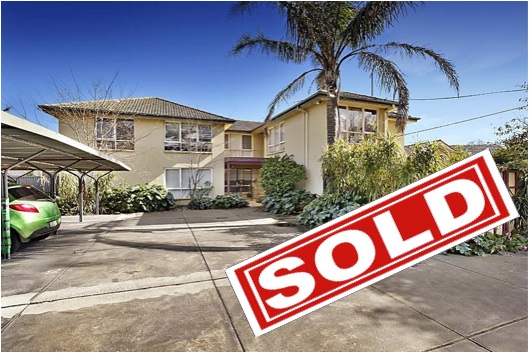 Reported by:

Catherine Cashmore

Agent:

Thompson

Quote:

$280,000-$310,000

Crowd:

35 people (approx.)

Bidders:

2

On Market:

N/A

Result:

Passed in $306,000 for negotiation – sold $310,000.
Comment:
Around 35 people attended the auction of this one bedroom apartment which came complete with a small courtyard as an added attraction. The opening bid of 280k was quickly followed by a counter bid of 290k establishing a pattern between two opposing bidders. At 300k the increments dropped to 1k jumps, and after a short half time break during which the property was not placed on the market, the bidding only managed to get to 306k before passing in for negotiation. A short time later a positive result was recorded at $310K.
11/25 Lillimur Rd, Ormond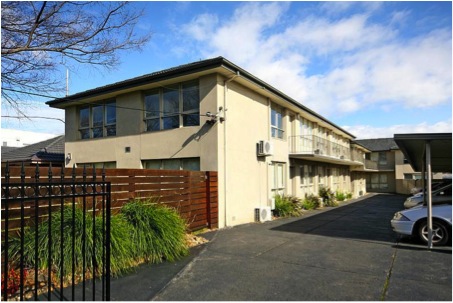 Reported by:

Catherine Cashmore

Agent:

Hocking Stuart

Quote:

$350,000-$380,000

Crowd:

10 people (approx.)

Bidders:

0

On the Market:

N/A

Result:

Passed in on a Vendor Bid of $340,000.
Comment:
This smart, well located two bedroom unit was up for grabs in the heart of Ormond – however, with a lack-lustre crowd of 10 or so people watching, a positive result didn't look all that promising. The auctioneer gave a stunning pre-amble during which he assured watchers the market 'was on FIRE!' and after stressing the property had attracted attentive interest from two parties, failed to gain a bid. Consequently, the auction opened and closed on a vendor bid of $360,000 with a reserve of $400,000.
10/2 Edith St, Caulfield North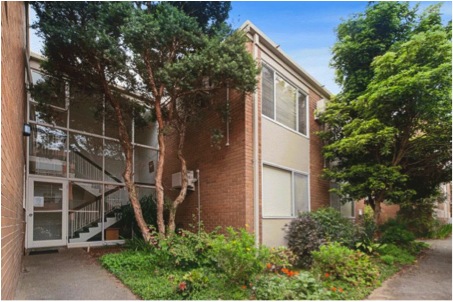 Reported by:

Catherine Cashmore

Agent:

Abercromby's

Quote:

$450,000-$480,000

Crowd:

25 people (approx.)

Bidders:

0

On the market:

N/A

Result:

Passed in Vendor Bid $440,000
Comment:
Another two bedroom unit which failed to inspire a flurry of auction activity was this two bedroom apartment in a small block of 10. After a short pre-amble during which the auctioneer took pains to emphasize 7 out of 10 in the block were 'owner occupied' – (usually considered an attractive feature) – he called for an opening bid into a sea of resounding silence. Placing a vendor bid of $440,000 also didn't cut it with the crowd and after a short interim, during which he popped inside to see the vendor, he returned only to state in frustration, "three of the groups attending have viewed the property 3 times!" – why no bids?? He questioned… A few more attempts to get the crowd inspired, failed miserably and the auction passed in on a vendor bid of $440,000 with the reserve set at $500,000.
43 Margaret Street, Carnegie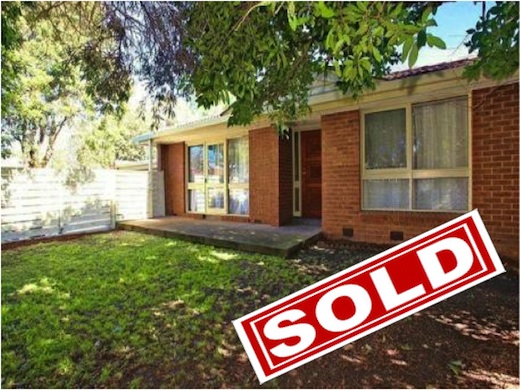 Reported by:

Catherine Cashmore

Agent:

Leske Cohen & Sandor

Quote:

$595,000-$610,000

Crowd:

20 people (approx.)

Bidders:

3

On the market:

$622,000

Result:

SOLD $625,000
Comment:
An attractive 3 bedroom villa unit was the centre of attention in this quiet back pocket of Carnegie. A crowd of around 20 attended the auction and after a brief pre-amble, the auctioneer wasted no time getting the event started with a vendor bid of $570,000 . It didn't take long before 3 bidders took the stage and with bids coming in at a steady pace, the numbers quickly exceeded 600k. At $622,000 the auctioneer took a break to see the vendor and upon return announced the property 'on the open market!' Dropping to $500 increments, the hammer fell a few bids later at $625,000.
13 Caroline St, South Yarra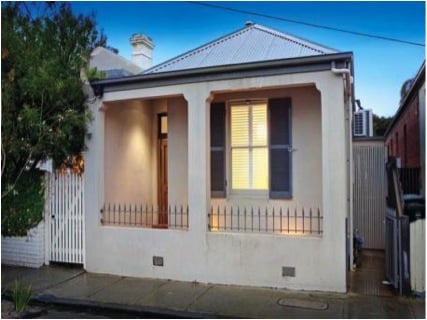 Reported by:

Antony Bucello

Agent:

Marshall White

Quote:

"Mid $800,000-Mid $900,000"

Crowd:

40 people (approx.)

Bidders:

2

On the market:

N/A

Result:

Passed in for $960,000 – reserve $1.1Mil..(!)
Comment:
This attractive single fronted 2 bedroom plus study, renovated Victorian, was purchased only two years ago for $840,000. The vendor has since renovated and was clearly hoping to recoup his capital, coupled with a healthy profit. Quoting, "mid 800k – mid 900k" the auctioneer set the platform, opening on a vendor bid of $850,000. With only two bidders willing to fight it out, the going was somewhat laboured. At $870,000, the auctioneer took his break to see the vendor, however it was obviously too soon to place the home "on the market" and bidding continued. At $950,000, the place slowed dramatically and the home passed in for $960,000. Negotiations were unsuccessful, which isn't surprising seeing as the reserve has been set at $1.1Mil.
51 Thomas St, Prahran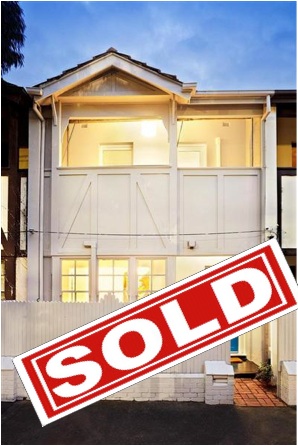 Reported by:

Catherine Cashmore

Agent:

RT Edgar

Quote:

$650,000-$715,000

Crowd:

50 people (approx.)

Bidders:

4

On the market:

$750,000

Result:

SOLD $825,000
Comment:
With a large crowd of around 50 attending and free coffee provided 'on site' by www.realestate.com.au – hopes for a lively auction looked promising.
The call for an opening bid "anywhere at all" by the auctioneer received an immediate response from one buyer at $700,000. Four bidders quickly joined in and such was the pace, the penciller keeping a close note of the figures was struggling to keep up. As soon as the bidding reached $750,000, the auctioneer broke in and announced the home 'on the market'. Quickly topping $800,000 the pace didn't slow down until some $20,000 later where at $825,000 the home was finally declared SOLD!
CONTACT US
If you need any assistance with searching, assessing or negotiating your next property purchase or simply wish to discuss your property buying needs, please don't hesitate to contact us. Alternatively, you can complete our online Help Us Help You form and we will contact you.
Regards
Antony Bucello and Catherine Cashmore