by Antony Bucello
The auction clearance rate as reported by the REIV was 62% on the weekend, with 497 properties selling from the 797 auctions that took place.
A total of 300 were passed in, of which 186 passed in on a vendor bid.
At the same time last year, the clearance rate was 64%.
Antony Bucello discusses this weekend's Melbourne property news – things are looking up?
Now that we have seen an adequate number of auctions in 2012 in order to form an informed opinion, there is no question that the Melbourne property market overall is performing better than it was in the latter stages of 2011.
The weekend's results indicate that the improved demand that was evident last weekend (revised clearance rate 61%) has been maintained and that is likely to result in improved buyer confidence over the next few months.
The market is considered a balanced market when clearance rates fall in the range of 65-75%.
The REIV is only expecting around 200 auctions for next week due to the Labour Day long weekend.
However the number of auctions is expected to increase substantially over the remaining weekends of March.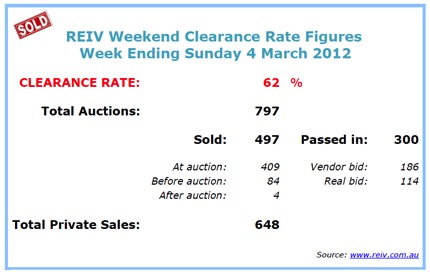 National Property Buyers reviewed and monitored a total of 42 properties that were scheduled to go to auction over the weekend.
A total of 32 properties found new owners and 10 were passed in, equating to a 76% NPB Clearance Rate.
This weeks' NPB Clearance Rate is consistent with last weeks' NPB Clearance Rate of 75%.
Of the 4 auctions we physically attended on Saturday on behalf of clients, all 4 sold.
Interestingly, the high end of the market, representing properties that sell over $1m, performed strongest this week with a NPB Clearance Rate of 84%. We reviewed 13 properties in this category and 11 of those sold and 2 passed in.
The middle range sector, which is properties that fall in the $600k-$1m range, came in with a NPB Clearance Rate of 73%. 11 of the 15 properties we monitored sold and 4 passed in.
The low end of the market, made up of properties that sell under $600k, had a NPB Clearance Rate of 71%, with 10 of the 14 properties selling and 4 passing in.
With an unquestionable increase in clearance rates, the Melbourne property market appears to have bottomed out and those looking to buy should seriously consider starting the search process now.
There will be a small window of opportunity, and those looking at buying the right property now will be well placed in being able to securing a good deal.
The full list of the 42 properties reviewed by NPB this weekend: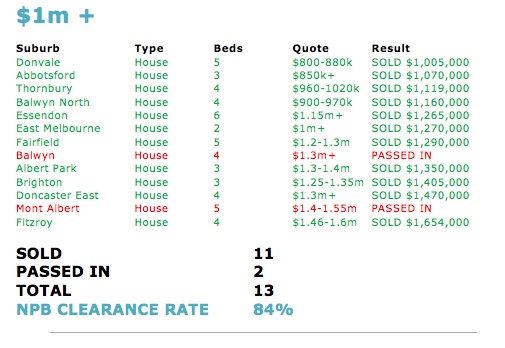 AUCTIONS IN THE SPOTLIGHT
2/13 Elm Grove McKinnon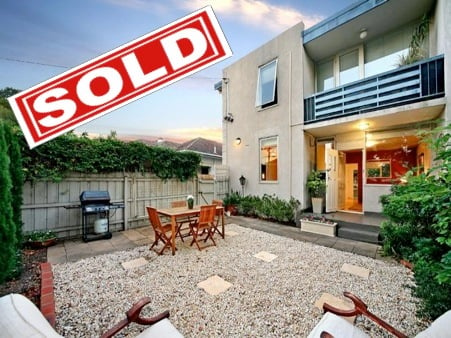 Reported by: Antony Bucello
Agent: Buxton
Quote: $400,000 – $460,000
Crowd: 20 people (approx.)
Bidders: 1
Result: SOLD AFTER PASSING IN
Comment: This ground floor 2 bedroom apartment in prime McKinnon location managed to draw a crowd of only around 20 people due to the wet and rainy conditions. Buxton's auctioneer managed to extract a real opening bid of $400,000 and this was followed by a vendor bid of $420,000. With the opening bidder placing one further bid of $430,000, the property passed in and post auction negotiations saw the property achieve a healthy sale price of $467,000.
---
8/10 The Avenue Prahran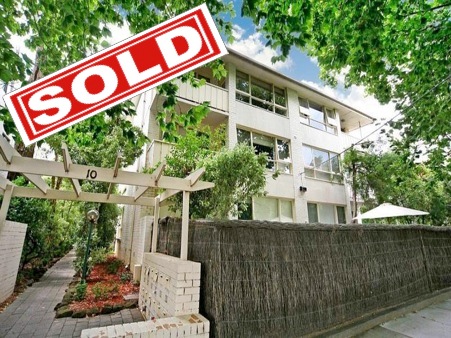 Reported by: Robert Di Vita
Agent: Hocking Stuart
Quote: $580,000 – $635,000
Crowd: 50 people (approx.)
Bidders: 5
Result: SOLD UNDER THE HAMMER
Comment: Despite the miserable wet Melbourne weather, this sensational 2 bedroom apartment with villa unit like proportions attracted a healthy crowd of more than 50. It didn't take very long for the auction to start with an opening bid of $620k and it was soon announced as being "on the market" when the bidding reached $635k, the top end of the quoted range. With strong aggressive bidding between 5 interested parties, the property eventually sold for $696k under the hammer with very strong competition.
---
125 Steele Street Collingwood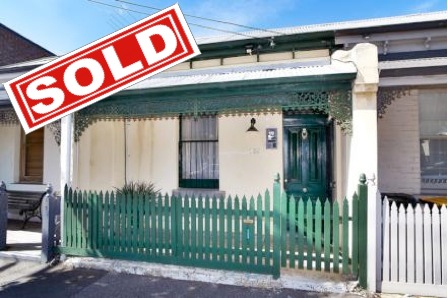 Reported by: Robert Di Vita
Agent: Hocking Stuart
Quote: $500,000 – $550,000
Crowd: 20 people (approx.)
Bidders: 1
Result: SOLD AFTER PASSING IN
Comment: A very modest crowd of only 20 were present at this unrenovated fully attached Victorian cottage. Hocking Stuart's Andrew James wasn't able to extract a real bid so he kicked off proceedings with a vendor bid of $490,000 and with no bids at all from the crowd, he referred to the vendor for instructions. Upon his return, only one bid was placed for $500,000 and the auctioneer passed the property in. While it was a very uneventful auction, post auction negotiations between the only interested party and the vendor saw the property eventually sell for $530,000.
---
53 Daisy Street Essendon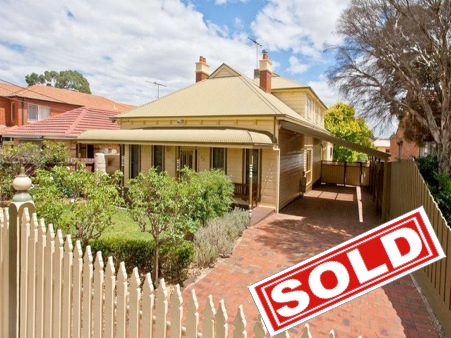 Reported by: Antony Bucello
Agent: Barry Plant
Quote: $1.15m+
Crowd: 60 people (approx.)
Bidders: 2
Result: SOLD AFTER PASSING IN
Comment: This 6 bedroom Edwardian in one of Essendon's best streets attracted a crowd of around 60 despite the wet and wild Melbourne weather. Barry Plant's auctioneer kicked off with a vendor bid of $1.1m and that was followed by reasonably strong bidding between 2 parties. The property was referred at $1.23m and with no further bids was passed in. The property eventually sold in post auction negotiations to the highest bidder for $1.265m.
CONTACT US
If you need any assistance with searching, assessing or negotiating your next property purchase or simply wish to discuss your property buying needs, please don't hesitate to contact us. Alternatively, you can complete our online Help Us Help You form and we will contact you.
Regards
Antony Bucello
[email protected]
0418 131 950