WELCOME to the September edition of Melbourne Monthly Buyer Insights, a newsletter by National Property Buyers summarising the performance of the Melbourne metropolitan property market. We intend providing you with interesting facts, figures and news and trust you will find the information relevant and informative.
National Property Buyers review a minimum of 30-40 properties every week. The properties reviewed consist of those we purchase for clients, those that we have inspected and decided not to pursue and the remainder are those that we handpick as being 'good properties' to monitor on behalf of our clients to assist them in the decision making process when the right property does come along. Overall, the properties we purchase, inspect and handpick are what we consider to be the 'cream of the crop' currently on the market – so it is expected that the NPB Clearance Rate will almost always be higher than the Clearance Rate reported by the Real Estate Institute of Victoria.
August NPB Clearance Rate 67%
August Sees Increase in NPB Clearance Rate
WHILE the REIV is reporting a year-to-date clearance rate of 57%, the NPB Clearance Rate for the month of August was 67%. This is up from the NPB July Clearance Rate of 63%. A total of 149 properties were reviewed by National Property Buyers during the period and 100 properties sold either before auction, under the hammer or by private negotiation shortly after being passed in. The number of properties passed in for the month was 49.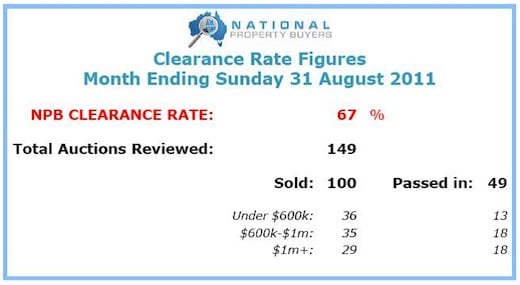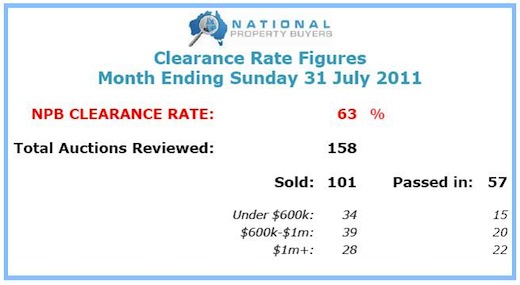 NPB Category Summary
NATIONAL Property Buyers categorise properties in the following ranges:
Under $600,000 (lower end);
$600,000 to $1,000,000 (middle range);
Over $1,000,000 (high end).
Category Summary for August 2011

The best performing category for the month of August was the lower end with a clearance rate of 73% (in July it was 69%). The middle range category remained consistent with the previous month with a clearance rate of 66% and high end came in with a clearance rate of 61%, which is 5% higher than the July rate for this category.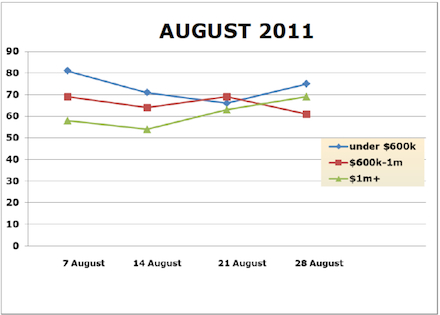 Category Summary for July 2011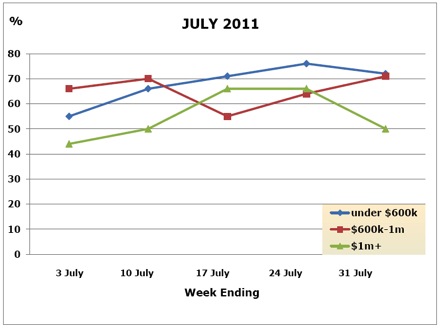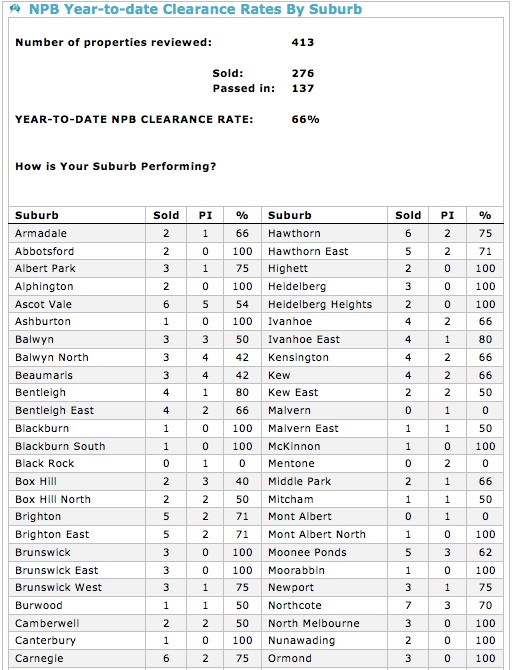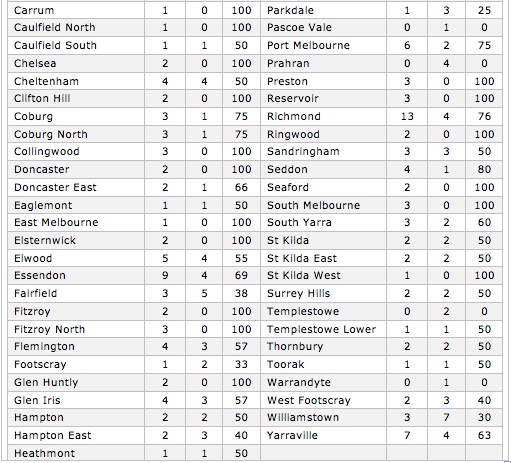 Subscribe to NPB's Melbourne Property Market Weekly Update
EVERY week Antony Bucello, State Manager of NPB and Melbourne Property Expert provides commentary on what has happened over the weekend including facts and figures from the REIV and from NPB.
If you are not already receiving his weekly updates and would like to subscribe, click here.
Introducing Robert Di Vita

NATIONAL Property Buyers are pleased to welcome Robert Di Vita to the team in Melbourne. Robert is a fully licensed estate agent, a member of the Real Estate Institute of Victoria and holds CEA (REIV) credentials.
Robert began his real estate career in 1988 in property management and joined National Property Buyers in 2011 as a Buyers Advocate. He brings a broad skill set to the NPB property team. His professional demeanour and unsurpassed level of expertise has made him the consummate negotiator, successfully purchasing properties for his clients and assisting them achieve wealth creation through smart property investment and a strict buying criteria. Read more
Property Management

We are pleased to announce that we are now able to provide clients with a high quality property management service. Property Management is an obvious addition to our core business which is to buy property. Under the watchful eye of Robert Di Vita, who has had over 20 years' experience in this area, we can now offer a comprehensive property management service that takes care of every aspect of owning an investment property.
Clients enjoy real peace of mind and premium rental returns due to highly experienced staff, a wealth of resources and a successful culture that ensures they are always at the forefront of property management. Our goal is to take control of the day to day issues and tasks associated with managing an investment property.
We treat every property like it is one of our own. Our attention to detail and level of communication with our clients sets us apart from our competition. Click here to find out more.
New Offices
THE staff at National Property Buyers are now well and truly settled in to their new modern offices on Level 4 at 493 St Kilda Rd Melbourne. The central location allows staff to get to properties all around Melbourne in a timely manner. Click here to see our location on a map.
Contact Us
If you need any help with searching, assessing or negotiating your next property purchase or simply wish to discuss your property buying needs, please don't hesitate to contact us. Alternatively, you may prefer to complete our Help Us Help You online form and we will contact you.