Property Management Australia
We'll look after your investment property like it is one of our own
Australia-wide presence combined with Local Expertise
Property investment has proven to be a fantastic way to reach your financial goals. Sometimes it can also prove to be a bit of a burden, being swamped with all the paperwork, chasing up late rent payments and dealing with broken dishwashers….
That's where our experienced property managers step in and take control. We currently have offices located in Melbourne, Brisbane and Adelaide who would love to look after your investment.
Our goal is to take these day-to-day headaches and tasks associated with owning an investment property out of your hands – so you can concentrate solely on what's important to you.
We truly understand that your goal is to achieve capital growth on your asset and also to maximise your rental returns along the way. We'll professionally manage your property with this goal in mind. In fact, we'll treat your investment like it is one of our own.
All of our property managers are active investors themselves, so we know exactly what you require from your property manager.
We like to think that it's our attention to detail and open form of communication with clients that sets us apart from our competition.
Our comprehensive property management service in Australia will take care of every aspect of owning an investment property.
Click here for your free, no obligation rental assessment – we'll professionally appraise the rental value of your property.
The experienced property manager assigned to your property will: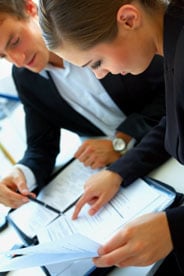 Locate and qualify suitable tenants – this could include advertising, marketing to our network of potential tenants and conducting open houses.
Negotiate and then periodically review the rent amount you receive. We always work on your behalf and in your best interests.
Look after all the day-to-day issues that arise, including general maintenance and repairs to your property.
Arrange appropriate landlord contents insurance and building insurance (if required).
Provide you with a detailed rental statement each month and deposit your rental funds electronically into your nominated bank account.
Be a firm but fair buffer between you and your tenant/s.
Promptly deal with any rent arrears.
Take care of all the paperwork and just generally take the burden of owning an investment property off your shoulders.
Conduct regular inspections to ensure that your property is being well maintained and looked after.
Regardless of whether you are just starting out or have a large portfolio of investment property, we will professionally manage and protect your asset.
It doesn't matter where your property is situated throughout Australia, or even where you are based (many of our clients are Aussie Expats), we'd be happy to help.
Our property management team across Australia comprises the most qualified and talented individuals chosen for their work ethic, dedication and love of property (we are all property investors ourselves so we understand exactly what you are looking for in a property manager). NPB's Property Management team will provide you with prudent and accountable property management solutions every step of the way.
Contact us now to discuss your needs and get a dedicated property manager assigned to your property.
If you have any questions about our service, please contact us here or if you're ready for us to appraise your property, please fill in and submit this form.