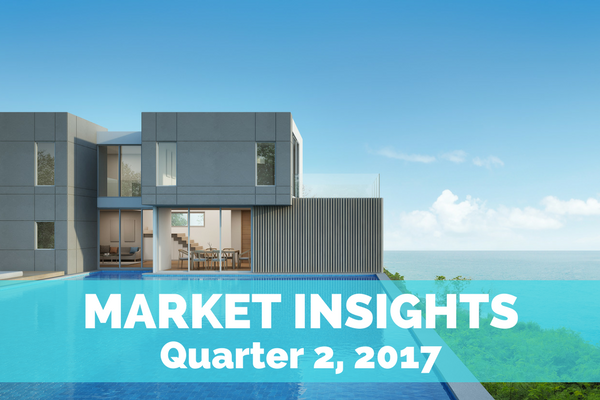 Welcome to Market Insights,
providing expert analysis of property markets across the country 
Market Overview
After significant gains in the most recent cycle, growth across most property markets has shown signs of easing in the last quarter.
Recently released statistics from the CoreLogic Hedonic Index has revealed growth across the capital cities reached 0.8% over the June quarter, "the slowest quarterly rate of growth since December 2015 when the combined capitals index fell by 1.4%".
Melbourne led the way with 1.5% growth over the quarter followed by Sydney (0.8%) and Brisbane (0.5%), while Adelaide had a strong three month period to the end of May rising 2% across all dwellings.
YoY growth has continued to be strong with Melbourne and Sydney growing 13.7% and 12.2% respectively, while Adelaide and Brisbane has risen 2.4% and 2%.
Although the breakneck speeds seen in the last twelve months (particularly in Melbourne and Sydney) appear to be slowing down, buyers should not be fooled into thinking that this is the beginning of a massive slowdown. In fact it can be the opposite. Growth across the capitals went sky rocketing following the December 2015 dip.
Statistics that take a macro view of the property market only give a general guide to the fluctuations of price growth. They encompass all types of property; those performing well in terms of capital growth as well as properties that have performed poorly.
It's vitally important for buyers to be aware that there are markets within markets. If growth on a macro level is easing it does not mean that growth within particular suburbs would also be easing. Quality property in highly sought after areas will always attract strong competition and therefore a better chance of strong capital growth.
One factor likely influencing growth has been the tightening of lending on investor loans. Some buyers with a number of investments have struggled to gain finance to expand their portfolios. As a result they have sat on the sidelines and this has contributed to growth easing.
However, reduced competition from seasoned investors does open up opportunities for first time investors looking to establish their portfolio. This would be an ideal environment for first time investors to leverage the equity in their existing home to enter the investment housing market.
It will also be interesting to see how the changes to stamp duty announced this quarter will affect the markets in Sydney and Melbourne, and whether other states will do the same. Although removing these upfront costs will help first time buyers get into the market it will likely increase competition as buyers have more money to spend. As such, it may likely put upward pressure on prices.
As always, the need to seek expert advice and guidance when making your property purchase is vital.

Market Overview
Melbourne had another very strong quarter with quality property in good locations attracting steady growth. The middle ring suburbs 10km to 20km out from the CBD have seen particularly strong buyer attention over the quarter and we will expect to see the same in the next few months.
Generally, overall growth in the market seems to have eased. Prices are continuing to climb but not at the same rate as previously; growth will be steady but not as frenetic as it has been. This has likely been as a result of the changes to lending restrictions, particularly for investors.
However, buyers shouldn't take this as a reason to sit on their hands. Competition is still strong and while there has been a slight drop off in the number of buyers bidding at auctions, buyers are still pursuing property with the same intensity. It only takes two bidders to drive prices.
Buyers also need to be aware that there are markets within markets. There are numerous areas in Melbourne that are still experiencing very strong growth and this will continue to be the case. Although growth seems to be easing across the city that does not mean it is the case for all housing stock. Property in well serviced areas will always perform well over the long term.
Drilling down further, certain pockets of suburbs will perform better than others. Even certain streets within those pockets can experience a variance in price. Buyers need to understand this when looking for their ideal purchase.
Nowhere is this more apparent than in the apartment market. There is a stark difference between good and poor quality stock in this section of the market at the moment and buyers need to be careful with the purchases they make. There are plenty of opportunities for buyers to secure quality property, if they complete the necessary research and due diligence.
Apartments in boutique blocks of no more than 14 or so are the best properties in the apartment sector to buy. The less the better. High rise stock in oversupplied areas should be an absolute no go zone.
The first home buyer section of the market will see strong competition as of the 1st of July when stamp duty is abolished. These buyers are likely to have held off until July so expect to see them return to the market in strength. Competition will be very strong in this area and buyers need to be prepared for a surge in demand.
Suburb Hotspots
Oakleigh
15kms south east of the Melbourne CBD lies the suburb of Oakleigh. Houses have a median of $1,040,250 with an average annual growth of 8.7%, while units have a median price of $445,000.
Stock in the suburb is well established and for buyers looking for freestanding houses on a larger block, Oakleigh is an ideal option. However, residents tend to hold property for a long time – decades in many cases – and as a result property in the suburb is quite tightly held. There are plenty of opportunities for renovators and developers with many older period homes throughout the suburb.
Oakleigh is well serviced by infrastructure with the Atherton Road shopping precinct, Oakleigh station, numerous parks and easy access to the Monash Freeway to get in and out of the city. There is also a selection of quality schools available and it's a short drive to the massive Chadstone Shopping Centre, the biggest in the southern hemisphere.
32 Stamford Road in Oakleigh is a prime example of the property available in the suburb. Set on 655sqm, the triple fronted brick veneer three bedroom home has been extensively renovated. Last transacted in 2007 for $470,000. Based on comparable sales the property could reach over $1.2million.
Watsonia
16kms north east of the CBD, Watsonia is an ideal location for younger families looking for their dream home or investors looking for quality stock.
The suburb is well serviced by the Watsonia train station, a choice of good schools and proximity to Latrobe University, plethora of parks and access to shopping such as Greensborough Plaza.
Freestanding housing is still very affordable in the area, with a median price of $725,000 while units are $550,000. Average growth has been strong at 9.35% and 7.85% respectively.
The majority of stock in the suburb is freestanding housing on spacious allotments. As a result it is highly attractive to families looking for the great Australian dream of a three bedroom home on a big block. In the last few years prices have grown as buyers are pushed out of suburbs south such as Heidelberg and Rosanna.
For example, 16 Kardinia Street, a three bedroom triple fronted home on 550sqm was purchased by NPB in 2015 for $711,000. It was previously transacted in 2011 for $452,000. Based on comparable sales it would now be expected to attract low $800,000's up to mid $800,000's under competition. Expect this suburb to be coming on the radar of more buyers in the remainder of the year.
by Antony Bucello

Market Overview
Brisbane has again experienced a strong quarter as buyers from across the country look to the Queensland capital as being one of the best investment options.
Interstate investors continue to pursue property in Brisbane due to the more affordable price points, steady capital growth and strong rental yields. In fact, a large number of NPB QLD clients are interstate buyers looking for more bang for their buck.
Unlike the southern capitals that appear to be easing in terms of growth, Brisbane still has plenty of room for values to increase and this is being recognised by savvy purchasers. But buyers shouldn't be too complacent if they are considering buying in Brisbane. Competition is still strong while growth is steady and the city now has more suburbs in the $1million plus range than ever before.
One of the main drivers of price is the availability of stock across the city. There continues to be a shortage of stock in the market for quality properties and that is resulting in stronger competition as demand remains steady.
Due to the changes in lending restrictions there has also been a shift in the buying power of a number of investors.
Whereas it was recently common for investors to have $600,000 to $800,000 to spend, they now have $400,000 to $600,000. As a result access to property closer to the CBD could potentially be harder to secure and buyers will absolutely need the expertise of a property professional.
The advantage of Brisbane over other capitals is the access to quality property within these price points. There are still plenty of areas in the city to secure quality property and thanks to infrastructure developments providing better access into the CBD new opportunities are emerging in the northern outer suburbs.
One area of the market is proving to be a golden opportunity for owner occupiers and an absolute no go zone for investors.
The oversupply of unit stock in the Brisbane market has seen developers offering incentives ranging from free avocado toast to the chance to win a Jaguar in order to attract buyers. As a result of the massive supply of unit stock buyers are in a superb position to negotiate a lower purchase price.
For owner occupiers this is a terrific opportunity to buy. They should be aware however that they will struggle to make gains and they still need to carefully consider what they buy. There is a particular over supply of one bedroom apartments and complexes on main roads should be avoided. Interior spaces should be at least 75m2 and have a balcony, ideally something with an aspect.
Investors should avoid these types of properties all together and speak to an expert to find the best property available.
Suburb Hotspots
Ashgrove
Four kilometres from the CBD, Ashgrove is an ideal family suburb populated almost entirely by spacious freestanding homes on generous blocks. Sprawling parkland is dotted through the suburb alongside Breakfast Creek, creating plenty of lifestyle space.
Ashgrove is also home to some of the city's best schools, including Marist College, Mt Saint Michael's College and Ashgrove State School.
Considering the affordability of property in Ashgrove compared to suburbs less than 5kms to the CBD in other cities, it's no wonder people are flocking to Brisbane for lifestyle and investment opportunities.
The suburb has a median house price of $850,000 and a median unit price of $440,000. Average house price growth in the suburb has been steady at 4.94%, while the rental yield for units is 5.20% – a superb figure for investors looking for strong capital growth as well as high rental yields.
A recent purchase made by NPB is a prime example of the type of property available in the suburb. Set in the leafy tree lined Brown Parade, the four bedroom Queenslander on 607sqm backs onto Frank Waters Park, making it an ideal family home.
Ashgrove is an excellent suburb for owner occupiers and as a result is also a great suburb for investors. 70% of properties are owner occupied, meaning there are excellent opportunities for investors to attract tenants for rentals.
Wynnum
16kms east of the Brisbane CBD, Wynnum is an excellent investment option perfectly serviced by infrastructure with a waterfront lifestyle.
Wynnum offers investors an affordable price point with a median house price of $615,000 and median unit price of $455,000. The suburb is very much an 'old reliable' with steady average annual growth of 5% and 4.3% respectively. Rental yields are also exceptionally strong with units returning 4.51%.
There is a good mix of housing stock with quality units and large freestanding houses available, giving options for investors and owner occupiers.
Perhaps the biggest asset of the suburb is the lifestyle and access to infrastructure. The suburb enjoys a sought after waterfront lifestyle with numerous walking tracks, parks and the Wynnum Golf Club accommodating plenty of activity options.
It's also an incredibly easy ride into the CBD three train stations running through the middle of the suburb. The convenience of having numerous rail options means residence are never more than a few kilometres to transport and it's only a 40 minute ride into the city for work.
The suburb has been identified for a significant period of time as a suburb ready to take off and that is unlikely to change.
by Stephen McGee

Market Overview
The Adelaide market has seen consistently high activity over the last quarter. Price growth has continued to be strong off the back of considerable competition, especially at auction. Even so, the South Australian capital still has plenty more room to grow in the current cycle and provides plenty of buying opportunities.
One of the main drivers for growth has been the comparative lack of stock available on the market to meet the demand. This has continued on from the previous quarter and the high demand has pushed prices up as a result. Quality stock can be difficult to secure for inexperienced buyers and they need to engage the services of a property professional.
Similar to Brisbane, Adelaide is also consistently drawing intense interest from interstate investors and buyers. Many are looking for affordable, freestanding housing on large blocks close to the city which is unavailable in the larger markets at the price points it is in Adelaide. There are also plenty of opportunities for buyers to secure property ripe for renovation.
At present 90% of NPB clients buying in Adelaide are based interstate and are seeking quality investment properties.
As in other cities, the changes to investment lending has had an effect on the buying power of some investors. Previously buyers would have had a price brief between $500,000 and $600,000. Now it is more likely to be $450,000 to $500,000. The advantage Adelaide has is that it is still possible to secure quality property close to the city within this price range.
A recently sold three bedroom home in Kidman Park is a prime example of the kind of investment opportunities available in the Adelaide metropolitan area. Set on 595sqm, the home is ideally located close to shopping, less than 10kms to the CBD, less than three kilometres to the beach and offers a perfect opportunity to redevelop or renovate. The price for a property like this in Melbourne or Sydney would almost certainly be up to or over $1million. This home sold for $320,000.
Adelaide has actually been the best performing capital city in the country over the quarter to May 31st, growing 2% across all dwellings. Adelaide house prices moved up 2.2% over the same period – the best of any capital city. This has likely been driven by interstate interest and is likely to continue in the coming quarter. Adelaide is definitely a city to watch.
Suburb Hotspots
Torrens Park
Less than eight kilometres to the CBD, Torrens Park is one of Adelaide's most sought after suburbs, particularly for families.
The suburb is almost entirely populated with larger free standing period homes on spacious blocks. Well established with excellent amenities and infrastructure, it's no wonder it's high on the list of buyers wanting to secure a dream family home.
Getting into the city is easy via close proximity to three train stations or Belair and Unley Roads. There are also quality educational choices available with Scotch College Adelaide in the middle of the suburb and The University of Adelaide Waite Campus less than four kilometres away. The Mitcham Square precinct also provides plenty of eateries and shopping.
Unsurprisingly, Torrens Park is likely to attract owner occupiers who want the lifestyle for their families the suburb provides. As a result there have been some significant sales in the area over the first half of the year and that is likely to continue.
The suburb has a median house price of $737,500 while units have a median price of $362,500. Rental yields for investors are reasonably strong for freestanding houses at 3.17%. However, it's not uncommon to see sales over $1million, particularly for period homes.
Still, Torrens Park is quality suburb to buy in and one to follow closely.
Pasadena
Pasadena is set 10kms south of the Adelaide CBD and less than nine kilometres to the beach. Buyers looking for good value investments will find plenty of options here supported by quality amenities.
Located between two train lines it's an easy commute to the CBD while a number of nearby schools and universities such as Sacred Heart College and Flinders University provide excellent educational options.
One of the key drawcards of Pasadena is its affordability and potential to add value. A significant number of the stock available is in original condition and ripe for renovating, refurbishing, or development.
A perfect example of the property available in Pasadena was transacted in April. The original 1980's two bedroom home across a good sized 644sqm presents an ideal opportunity to redevelop and renovate to add value. The property was purchased for $420,000 and based on a rental appraisal of up to $320 per week (which could be potentially more with a refurbishment) would return a yield of 3.96%.
Median house prices are $585,000 and growth in the area has been incredibly strong over the last 12 months at 26.49%. However, Pasadena is still undervalued and has more room for growth in the coming second half of the year.
Investors looking for quality property with opportunity to add value should absolutely be looking at Pasadena.
by Katherine Skinner

Market Overview
After much speculation on how far growth in the Sydney property market will go, the second quarter of 2017 has shown some signs of easing. There is certainly still strong growth in the market and although the market is not in reverse, there has been a number of indicators contributing to a noticeable slowing of Sydney property prices.
One of the key drivers for this slowing has been the recent introduction of changes to lending policies, particularly for investors who are now facing tighter lending restrictions and higher interest rates. These new policies have no doubt thinned out the more speculative investors and slowed investor appetite.
This is a likely contributing factor to the fewer registered bidders we are seeing on auction day. Bidding is also tending to start at the lower end of quoted price guides and properties are selling closer to, or within, the quoted price range. Fewer bidders and less competition on auction day has also spurred a greater number of sales prior to auction.
As a result of this there has been a significant increase in published price guides for auction campaign listings which is greatly assisting buyers and we are also seeing a lot of 'auction, if not sold prior' marketing, as well an increase in private treaty sales; something we haven't seen in the market for quite a while and is a welcome relief for buyers.
Despite these changes and a slowing of price growth, competition has remained relatively strong among a greater pool of buyers versus a lower number of sellers which is in turn sustaining healthy prices in the sought after areas of Sydney, such as the Inner West, Inner East and North Shore.
Looking forward to the coming quarter, the NSW Government's newly introduced first home buyer grants and stamp duty concessions is likely to increase competition among this segment of the property market in the coming quarter. Stamp duty savings of up to $24,750 on all homes up to $650,000 and stamp duty relief for home purchases up to $800,000 is welcome news for first home buyers.
With these concessions in place, we expect to see more first home buyers entering the market with renewed confidence which may fuel an increase in entry level property prices. In particular, purchasing one and two bedroom units in pockets of the Inner West and units and houses in Sydney's west will be more affordable and competition is set to increase in these areas.
Suburb Hotspots
Dee Why
Situated 18kms north of the Sydney CBD along the northern beaches, Dee Why has traditionally been on the lower end of buyers' preferences. Due to new development in the area this is changing and the suburb now holds excellent opportunity for buyers.
A vast majority of the available property stock is established, 1960s – 1970s style units that are ripe for renovating. The median unit price in Dee Why is $768,250, while the median house price is $1,755,000 and capital growth has been strong in the last 12 months at 12% and 14% respectively. Units offer an excellent option for investor buyers with a better than average rental yield of 3.72%.
Property located on the eastern side of Pittwater Road should be the first choice for buyers wanting to buy in the area. An un-renovated two bedroom apartment on Richmond Avenue with a large wrap around balcony and a short walk to the beach recently sold for $1.24million. With a cosmetic renovation and updated kitchen and bathroom the property could attract a significant increase in value.
Dee Why is well serviced by infrastructure such as shopping, transport and good schools. The town centre is currently going through an extensive upgrade of facilities, including better integration between public spaces, transport, traffic and more pedestrian friendly areas.
Harris Park
Located 23kms west of the Sydney CBD sits Harris Park. Tucked between Parramatta and Rose Hill, pockets of Harris Park offer good buying opportunities between $480,000 up to $650,000. Expect the suburb to attract first home buyers taking advantage of stamp duty savings after July 1.
The median unit price in Harris Park is $500,000 with houses fetching a median of $1,108,000. Average annual growth has been very strong at 8.44% and 13.21% respectively. Unit rental yield is a very strong 4.62%. Units are the predominant property stock in Harris Park, with the best pocket between Hassall Street, Park Street and Alfred Street.
The suburb is also ideally positioned close to the Parramatta CBD, Western Sydney University Parramatta campus, Harris Park train station and the M4 for access into the city, and has been identified by the NSW Government as part of the Parramatta growth precinct which is earmarked for substantial infrastructure changes in the coming years.
by Simone Luxford

Belgrove Street, Preston, VICTORIA
Client type and budget:
An interstate investor client with a budget of $550,000
Full service – Search, Assess and Negotiate
Property:
A brand new two bedroom townhouse in a boutique block of three
Client's brief:
An investor based in Sydney looking for a quality property in an up and coming area to maximise return on investment. The property had to be close to shopping, transport and parks.
Solution:
Preston was quickly identified as an area with strong capital growth potential. After extensive research, the pocket around Belgrove Street (between High Street, Bell Street and Albert Street) was viewed as a strong area to secure property with good capital growth.
The property was purchased after it passed in at auction. The asking price was $510,000 but thanks to the expert negotiating ability of NPB Buyer Agents the property was secured at $500,000.
The Result:
This property was purchased in December, 2015.
NPB's assessment that the property would quickly grow in value due to the area becoming popular with buyers was proven correct when a townhouse on the same block was sold in April, 2017 for $620,000.
Using this transaction as a comparable sale, NPB's purchase would likely achieve a similar result under competition. That could equate to a capital gain between $100,000 and $120,000 in 18 months.
This sale indicates that the client's main objective of securing property with strong capital growth has been achieved thanks to the expertise of NPB advocates.
Flinders Parade, Flinders Park, SOUTH AUSTRALIA
Property type:
Freestanding original 1950's house
Property profile:
This property is an ideal example of the stock available in Adelaide, offering a desirable lifestyle, exceptional potential and for a price point not attainable in the other capitals.
The perfectly presented original condition 1950's three bedroom, one bathroom home sits on 615sqm. For an investment option the property is an excellent 'set and forget' purchase but there is still substantial scope to renovate or even extend the property.
The property also enjoys an ideal location, particular for families with a choice of schools, parks and shopping nearby. It's also superbly placed for easy access to sporting infrastructure and entertainment infrastructure. It's less than three kilometres to the Adelaide Entertainment Centre and Coopers Stadium, eight kilometres to the Adelaide Oval and even less to the city centre.
And it's only five and a half kilometres straight down Grange Road to the beach.
Sale price:
The property was sold at auction in April for $540,000. Considering the land size, potential for renovation or further development and proximity to amenities and the beach this price represents excellent value for an owner occupier or investor.
Rental appraisals suggest the property could attract up to $410 per week rent, achieving a yield of 3.95%.
Suburb profile:
Flinders Park is located 5kms north west of the Adelaide CBD and 5.5kms to the beach. The suburb is mainly home to owner occupiers and families and is almost entirely stocked with large homes.
Median house prices are currently $570,000 and the suburb has experienced strong average annual growth of 6.26%.
Jamieson Street, Bulimba, QUEENSLAND
Client type and budget:
Owner occupier returning from overseas to live in Brisbane with a budget of $1.5million
Property:
Fully renovated four bedroom home located in blue-chip Bulimba
Client's brief:
The clients were moving to Brisbane for work and were looking for a new home to meet a specific set of criteria. They wanted to be within a very select group of suburbs, plenty of space, have a pool and something that was new or near new.
The clients had previously engaged Steve McGee to purchase two previous investment properties in Brisbane for them, so he was naturally the first person they contacted to find something that suited their needs.
Solution:
Steve began a comprehensive search of properties within the client's desired areas. Due to the specific criteria, Steve investigated off-market options and found the Bulimba property through a selling agent. The vendors were undertaking an extensive renovation of the property and were planning to sell once works were completed.
The property was perfect; spacious, with a pool and in the preferred area Steve knew it was the ideal purchase.
Steve undertook an assessment of the property and began negotiations with the selling agent. Unfortunately the vendors wanted more than what the clients and Steve believed the property was worth. A deal wasn't reached and the search continued.
During this time Steve kept in regular contact with the selling agent. He knew that the property was perfect for the clients and kept working on the selling agent to convince the vendors to consider the offer.
Over the following months Steve continued his search for the clients. Unfortunately there was little stock on the market, let alone stock that suited the clients.
Steve knew that the Bulimba property would still be the best option and kept in touch with the selling agent. Eventually, he found that the vendors were much closer to selling.
Steve undertook a reassessment of the property and found that it would likely attract a higher price if it was taken to the market, particularly due to the current lack of stock. He knew that if they were going to secure the property at the lowest possible price, he needed to do so before it went to market.
Steve continued to work on the selling agent to encourage the vendors to sell. After carefully assessing the property, Steve presented another offer.
Purchase:
Steve's offer of $1,410,000 was accepted by the vendors and the clients were able to secure their dream property before it was taken to market. Considering the lack of quality stock in the area this was a superb result for the clients.
O'Connell Street, Newtown, NEW SOUTH WALES
Reason for purchase:
Principal place of residence
Property type:
A three bedroom federation cottage
Service required:
Assess and Negotiate service
Our client's property journey:
This client had found their perfect home; conveniently located in their suburb of choice close to restaurants, shops and bars, this home also offered the opportunity to renovate and add value.
After searching themselves for 5 months and having missed out on a number of properties our clients were apprehensive about attending another auction, so they asked NPB to assist with this purchase and act on their behalf.
After conducting the necessary due diligence, an offer was submitted the week prior to auction. When it was accepted NPB moved swiftly to ensure contracts were exchanged and the property was secured.
There was a catch though: the vendor wanted to exchange contracts on or before 1st July and NPB needed to secure the property for the clients prior to auction, which was one week away. Working strategically with the selling agent and solicitors NPB was able to arrange a 'put and call' option which allowed the clients to secure the property prior to the end of the financial year and exchange unconditionally afterwards. This was a win-win situation for our clients and the vendor.
The outcome:
The clients were more than delighted to have secured this property within one week of engaging NPB services and they were over the moon with the outcome. NPB managed the negotiation and took the necessary steps to ensure the property was secured. Given they both work full time it would have been near impossible for them to manage this process without expert assistance.

Adelaide rental market 
Adelaide has seen a slow down in the rental market over the last three months due to autumn and winter setting in. This is not uncommon as many tenants have settled into their tenancies over the busy summer period and as a result there is less activity during the middle of the year. 
If landlords find themselves needing to tenant their property during this quieter time the best thing they can do is negotiate leases in the vicinity of six or 18 months with applicants. This will bring the leases in line with the busy periods on the rental market and give landlords more options once the property comes back on the market. 
Adelaide has experienced strong vacancy rates over the quarter with vacancy currently sitting at 1.8%; competitive with the intense Sydney rental market. Rental yields in Adelaide are also some of the strongest of the five largest capital cities, sitting at 4% and 4.8% for houses and units. 
The beach side suburbs from Semaphore all the way down Glenelg have remained popular as people pursue beach side living. With a lifestyles like that and good vacancy and rental yields it's not much of a surprise that Adelaide has become such an attractive investment market. 
by Katherine Skinner
Brisbane rental market
Activity in the Brisbane rental market has eased over the winter period, like most rental markets around the country. In this environment its important that landlords are assured their property manager is doing the utmost to lease properties in the event their investment becomes vacant.  
During this time property managers need to be especially proactive in securing new tenants. Responding to enquiries quickly and arranging private inspections with prospective tenants is vital to lease properties at this time of year. Landlords should ensure their property managers are doing everything they can.  
Oversupply of stock has been a big concern for landlords in the last quarter as apartment complexes in inner city areas flood the market. As a result tenants have had a large selection of property to choose from and in response landlords are now offering incentives such as free rent to secure tenants. Having said that, landlords should still be discerning about who they let their property to. Having a bad tenant is in many ways worse than having a property vacant. As such, it's important landlords trust their property manager to find the best applicant for the property. 
by Tracey Farrell
Melbourne rental market
During the winter months the Melbourne rental market generally slows down with more stock and fewer enquiries. However it seems to have been the opposite this year with a slight increase in enquiry but noticeably less rentals available. As a result competition has been strong this quarter, particularly for quality properties in good areas people want to live in.  
This has translated to larger than usual numbers of groups at open for inspections and strong offers put forward by tenants in order to secure properties. There have been a few examples within the last few weeks where properties have attracted large groups and successful applicants have paid a number of months in advance to secure a lease. 
This competition is likely due to the lower stock on the market. With a few less options at the moment most tenants are staying put until more stock comes on in the later part of the year when more properties become available; a bit of a catch 22 in other words. 
This would certainly be pleasing for a landlord but getting the right tenant is still crucial.
by Ivonne Di Perna
If you want to know more about any of the markets covered in this edition don't hesitate to contact our State Managers here. 
Or if you would like one of our experienced advocates to contact you to assist with your transaction, fill out our Help Us Help You form!