Overview
The Melbourne property market has experienced its fourth month of decline but it's not all doom and gloom. For many people, it is a welcome relief.
In 2021 and 2020 the Melbourne property market enjoyed phenomenal capital growth. Melbourne's annual growth rate was around 15% per annum and many top metro suburbs were enjoying quarterly growth rates of around 20%. However, the property market is stabilising at a macro level.  Since January we have experienced a 1.7% decline in housing values. However, according to CoreLogic housing values still remain up (approximately 9%) from the pre-COVID housing values.  
So why are we experiencing a softening in the market? Well, one significant contributor is that consumer confidence has dipped as people face rising interest rates and the rising cost of living.  
Interest Rates
The Reserve Bank of Australia announced two (three) interest rate rises. We started the quarter on the historic low-interest rate of 0.1% and ended it on 0.85% with all the top 4 banks passing interest rate rises on in full to their customers. 
Some people with existing loans are reorganising their household budgets and people interested in new loans, they are cautiously recalculating their figures and for some, their borrowing capacity has reduced. 
Federal Election
We also had the Federal Election this quarter, which as expected over the campaign period we saw market activity reduce. Even though neither major party announced any plans to change negative gearing, land tax or capital gains tax, some nervous investors still like to wait and see which party will be governing Australia before making any big property purchases
As we know it was a Labour victory and during their campaign, they pitched the "Help to Buy" scheme where the government will tip in up to 40% of the cost of buying a home by acquiring a stake in your home. As it is not yet legislated the final detail has not been resolved but there will be eligibility criteria and rules for ongoing ownership and paybacks. The key items are it will be available for up to 10,000 Australians each year and you cannot own any other land or property – either in Australia or overseas.
You can read more here.
Auction Numbers and Clearance Rates
Since mid-April, we have seen Clearance rates drop from around the 80th percentile down into the 70th percentile.  Clearance rates typically at this level reflect a balanced market, one that is not heavily in favour of the seller or buyer.  
One of the contributing factors to the drop is stock listings are up. According to CoreLogic's June report, Melbourne's advertised stock levels are up 1.3% on last year and are 8.1% above average based on the previous five years.  Some of the increase is due to a slower rate of absorption.
We have noticed a reduction of crowds at auctions, but this might be in part due to the chilly weather keeping the bystanders away! However, we have also noticed a reduction in bidders. Rarely now are we seeing 5 or more bidders. Typically now we are seeing 2 to 3 on a regular basis.  
More listings and a slower rate of absorption mean less competition as buyers are able to spread out across more properties. 

Rental Market and Investors
There are a group of buyers that are sitting up and wondering if this market presents a good buying opportunity for them. And that is investors. Savvy investors are looking to take advantage of little less buyer demand, low vacancy rates and increasing rents. 
Rental markets are tight across Australia, in some areas including regional towns there is a rental crisis. Melbourne's vacancy rate of 1.4% is well below the 3% benchmark, meaning there are simply not enough rental properties on offer for the amount of demand.  
Asking rents for properties are also on the rise. Historically rental prices have increased after a price boom especially if vacancy rates are low. And as our borders open more there will be increased rental demand from students and migrants these factors should all drive a rapid recovery in rental yields.
Looking forward
The swing from the strong price growth we have witnessed over the last 12-18 months to the current more balanced market is very much needed and is being welcomed by many buyers.  
The market has sat firmly in the corner of the seller for quite some time, and it is slowly balancing out. However, the Melbourne market is large, there are markets within markets, and some suburbs or property types will outperform whilst others may soften. 
I do not believe there will be massive price falls for A-grade investment properties or family homes in popular areas. And units and apartments are becomingly increasingly popular and will continue to attract buyers due to their affordability and potentially higher rental yields. 
If you are in a financially stable position and in it for the long term, this market may very well present some great opportunities. 
"Family Friendly Gem"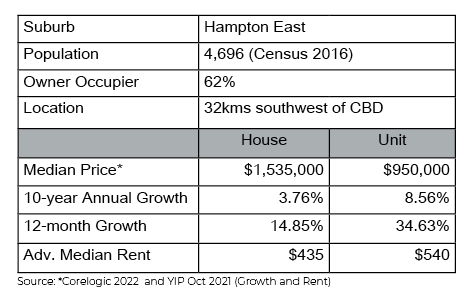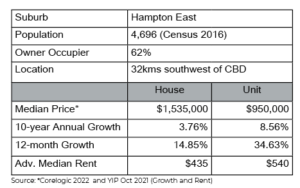 Overview Hampton East is 14 km south-east of Melbourne's CBD and as part of 9 suburbs that make up the City of Bayside, it rubs shoulders with some of Melbourne's real estate heavy hitters including Brighton (median house price $3,142,500) and Black Rock (MHP $2.607) and Hampton (MDP $2.579).  
Hampton East is located 2.5kms from the Port Philip Bay foreshore providing you easy access to numerous beaches that are popular with families, tourists, bathers, and dogs (off-leash dog beaches located in Brighton and Sandringham)! 
Hampton East has a median house price of $1,535,000 and units $950,000. Not bad for a suburb that is only 22 years old. Hampton East was originally Moorabbin West and was rezoned and renamed in 2000.
What's in its backyard? 
Hampton East is a relatively small residential suburb, it's quiet and safe with good primary schools, transport to and from the city, and shops and parks all easily accessible.  
Moorabbin Train Station, on the Frankston line, is located on its eastern border and it will take you approximately 30 minutes to get into the city. There is also a Woolworths and Chemists located within a stone's throw of the station.  
Most of Hampton East is zoned for Moorabbin Primary with a small part Sandringham Primary. For secondary colleges, you are either zoned for Sandringham College or Brighton Secondary College. There is also Berendale School, for secondary-age students with mild to moderate intellectual within its borders.   
If you want to stay within your suburb the locals all rave about GL Basterfield Park which has a lake with swans and ducks and playgrounds for the kids.  If you are happy to extend your walk or jump on a bike head in the direction of the beach for swimming or dining options at Hampton, Brighton and Sandringham. 
In fact, dotted all over the City of Bayside are beaches, yacht clubs, golf courses, hospitals and major shopping strips.  
What sort of properties are there? 
Hampton East is a great place for a family and there are lots of renovations and redevelopments occurring. Whilst the suburb Hampton East might be young Moorabbin West where it was carved from was a little older. A substantial number of brick homes were built between the 1940s and 1970s and more recently villa units and townhouses have been springing up. 
There is a collection of old low-rise commission housing on Bluff Road that is to be replaced with modern, energy-efficient and environmentally sustainable homes.  Pre-construction works are anticipated to start in early 2023. 
Purchase Example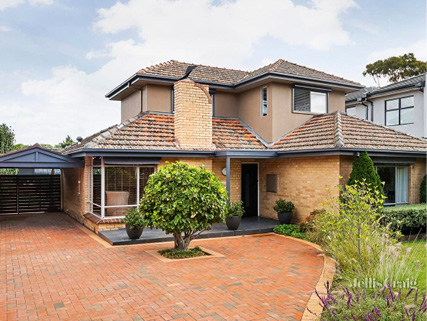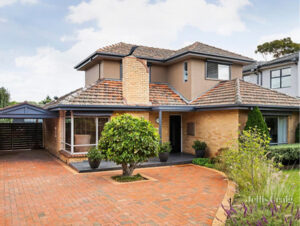 5 Bed | 3 Bath | 2 Car | House 604m2 | $1,912,000  
A great family home located on the Beachside of the highway, so close to everything you need including shops, cafes, Moorabbin station and bus interchange, while zoned for Sandringham College and Moorabbin Primary School, within easy reach of private and catholic schools, as well as Dendy Park. 
Triple Service – Buy, Sell, Buy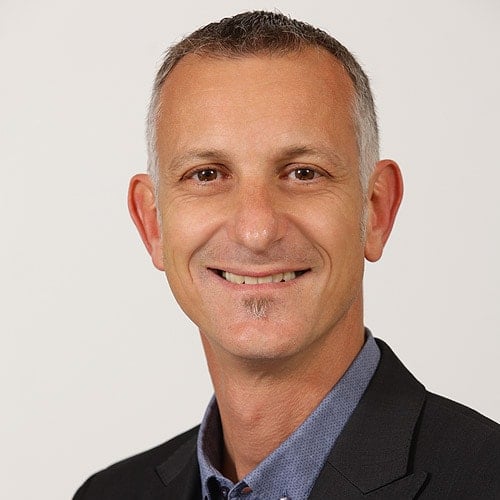 by Antony Bucello
Director
Antony is married with 2 children and lives in Lower Templestowe, Victoria. Educated at Swinburne University, his sales and marketing career has spanned over 30 years in both the Financial Services and Property sectors. Having been involved in countless property purchases for his clients over the years, he is now a leading Melbourne Buyer Advocate and his expertise has been recognised by multiple award nominations including being a finalist for Buyer Agent of the Year by Your Investment Property Magazine, REB and REIV. 0418 131 950 or email.
Contact Us Today
If you have any questions about the Melbourne market don't hesitate to contact our local team or if you would like a complimentary, obligation free 1 hour consultation please complete this form.