Overview
Listings across the major capital cities are at a 12-year low! 
Stock 
A report released by Westpac in March confirmed that stock listing in the major capital cities were at a 12-year low. The Westpac report revealed that Australian homeowners selling intentions have increased, with one in three saying they are planning to sell in the next five years. Of those with plans to sell their home, one in 10 is already in the process of putting their homes on the market. However, with so much pent-up demand and new demand, it will take a little while for the market to rebalance.  
What we are experiencing now is a strong seller's market. It is a difficult time to buy, demand is high and prices are on the rise. Pent up demand is creating a backlog of buyers out in the market. There are people everywhere inspecting property and bidding at auctions. It is not uncommon to have 5 or more unsuccessful bidders at auction which means they are returning to the market to compete against new buyers.  
Our advice in this market is to is try to keep your cool, don't get frustrated keep persevering and maybe, more importantly, be ready! If the right property comes up be prepared to act. Desirable properties are selling fast, private sales are converting to boardroom auctions and scheduled auctions are selling before auction day. If you are interested in a property make sure the selling agent is aware, or you might find it is sold and you didn't even get a chance to place an offer. Lastly, make sure you are talking to a mortgage broker or banks about your finances. Loan applications have been coming in thick and fast, and many lenders are struggling to keep up with demand.  
Clearance Rates and Interest Rates 
Corelogic announced that Melbourne has now staged a full recovery from earlier downturns. Melbourne dwelling values have surpassed their earlier April 2020 peak by 0.2%.
Victoria's auction market has achieved its highest success rate in 11 years, according to the latest report from the Real Estate Institute of Victoria. The state's clearance rate for the month of February hit 84.8% from more than 3,000 auctions. This success rate beat the record of 84% achieved in 2010! 
The RBA held interest rates at the historic low of 0.10 per cent in its April meeting. The RBA suggests that rates will remain near zero until 2024. The RBA has said it will only lift interest rates when inflation is sustainably within the 2-3 per cent band. The prospect of continued low-interest rates is providing property buyers with some assurance over their borrowing rates and payment obligations in the short to medium term. 
Clearance rates and interest rates are often used at leading indicators in forecasting property trends. When auction rates are high and interest rates low it often indicates that people's confidence in the marketing is growing. Increased confidence, leads to increased demand which leads to increased prices.  
On the ground at auctions, we are seeing property after property fly past their reserves, by 100s of 1000s of dollars, even $500,000 dollars! These properties are spread all over Melbourne in family-friendly suburbs, urban lifestyle suburbs, bridesmaid suburbs and regional areas, where an influx of demand for people desiring a different pace of life and seeking a tree or sea change.  
Rental Market 
Melbourne's rental market is a two-speed market and its vacancy rate is being weighed down heavily by underwhelming demand for rental accommodation in and around the city. The withdrawal of international students and overseas migration is affecting the inner city and CBD substantially, but suburban and regional locations continue to be a landlord's market.  
Looking forward 
Usually, as we move towards the cooler months, stock listing and market activity slow but it will be interesting to see if this year is a little different. We expect that demand will stay strong, especially if supply does drop the closer we get to Winter. 
There is a little nervousness in the air with the ending of the federal government support package Jobkeeper but hopefully, that is tempered by Australia's continued low numbers of community transmission and the vaccine roll-out. The Victorian government is also attempting to provide tax relief for workers, businesses and households. There are tax cuts across payroll, stamp duty and land lax for eligible businesses or individuals. 
There are also discussions about ongoing low migration numbers as the Federal Government continues to keep our national borders closed in response to the pandemic. We expect that demand for inner-city high-density housing will continue to drop off and investors should be wary about purchasing this type of property in this location. 
Currently though the Melbourne property market continues to go from strength to strength. Buyers experiencing FOMO due to low stock levels are finding it difficult to negotiate and prices are rising.  ANZ economists lifted their forecast for house prices nationally in March. In Melbourne, they forecasted prices to lift by 16 per cent this year, the largest single-year increase since 2010.  
Chelsea – "Bayside beauty with family appeal"
 Overview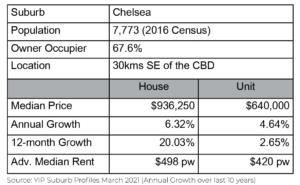 Phenomenal Growth. Chelsea has had one of the best 12 months for growth and right in the middle of a Pandemic. 
So, what has this suburb's growth sky-rocketing? 
At 30 kilometres southeast of the city, this beachside suburb on Port Phillip Bay has plenty of appeal. Not as far away as the Mornington Peninsula's popular holiday suburbs and with a more affordable median house price it has plenty to offer. 
Chelsea is popular with new families and couples after lifestyle, value for money and who have been priced out of beachside suburbs closer to the city. It is also home to a large number of over 60's who set up shop there post World War II.  
Chelsea is easily accessible with its own train station on the Frankston line. There are numerous bus routes through Chelsea – one to Dandenong and another all the way to Airport West. Train or car (via Nepean Highway or the M1 off-peak) will take around 50 minutes to get into town and plenty of locals do the commute regularly.  
Chelsea has a significant retail and commercial area on the Nepean Hwy around Chelsea Railway Station. The shopping strip has everything you need for daily life. Supermarkets, butcher, newsagents, bakeries, banks, hairdressers, cafes and eateries and of course the quintessential beachside fish and chip shop.  A 20-minute drive will get you to Southland Westfield if you crave the bigger stores, Myer, Kmart or fancy a movie at the Village Cinemas.
The area is home to some good schools as well as kindergartens and childcare. St Joseph's Primary, Chelsea Primary and Westall Secondary College are all government schools that Chelsea is in the catchment zone for.  And for those a little older you're only 10 minutes from Monash University Peninsula campus. 
Chelsea also features the Chelsea Recreation Reserve and Bicentennial Park. It was redeveloped with modern barbecue and play equipment, and the Mount Chelsea adventure playground. There's a country club with golf course in the neighbouring suburb Bonbeach.  
The housing is a combination of premium beachfront homes, family homes on sizeable blocks and beach shacks. There are also villa units and townhouses which are great for first home buyers and downsizers. 
And we haven't even touched on the beach yet. The locals rave about the crystal-clear water, the soft white sand, with a picturesque pier and a sprinkling of beach boxes. The water is calm for kids and right near a big playground. 
Chelsea really does have a lot on offer and is growing in popularity is for good reason. And at the very least is worth a day trip! 
Purchase Example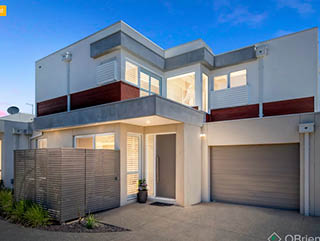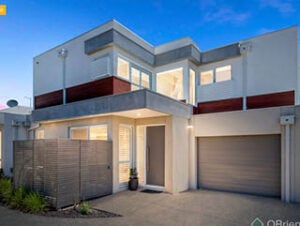 3 Beds | 2 Baths | 2 Cars | $895,000 | Agent Listing
We purchased this contemporary 3-bedroom townhouse for our client just before Christmas. Light-filled and open planning living with generous proportions this property offered relaxed beachside living. Situated in one of Chelsea's highly sought-after pockets; enjoy an easy stroll to the beautiful Chelsea beach, not to mention cafés and shops at Chelsea shopping strip. Chelsea Primary School, golf course and recreation reserve are all within easy reach. In the current market conditions, it is likely to be worth an extra $50,000 already. 
Be ready to act in current market conditions.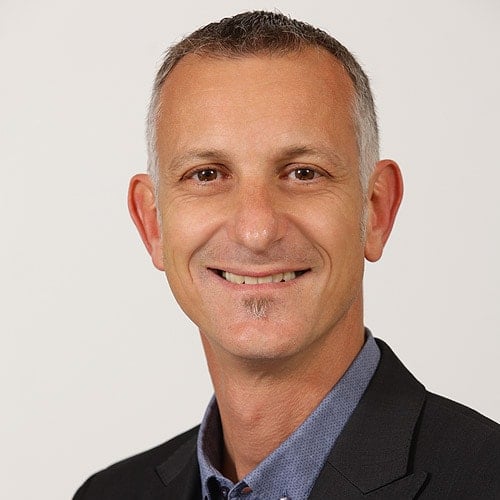 by Antony Bucello
Director
Antony is married with 2 children and lives in Lower Templestowe, Victoria. Educated at Swinburne University, his sales and marketing career has spanned over 30 years in both the Financial Services and Property sectors. Having been involved in countless property purchases for his clients over the years, he is now a leading Melbourne Buyer Advocate and his expertise has been recognised by multiple award nominations including being a finalist for Buyer Agent of the Year by Your Investment Property Magazine, REB and REIV. 0418 131 950 or email.
Contact Us Today
If you have any questions about the Melbourne market don't hesitate to contact our local team or if you would like a complimentary, obligation free 1 hour consultation please complete this form.