In this edition:
Melbourne's Property Market – has it turned the corner?
Buying Off the Plan – what are the risks?
REIV – Doors open on the future of Melbourne
NPB Mid Year Clearance Figures
NPB News – Brisbane office opens
Why choose NPB? – Read what our clients have said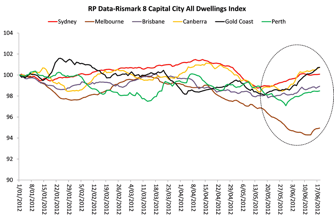 With fewer auctions taking place each week and more vendors opting for sale by private treaty, it's fair to suggest the clearance rate isn't as applicable to the current market as it has been previously. It's primarily a snapshot of Melbourne's inner and middle ring suburban locations, of which only the 'best of the best' is attracting above average results. Therefore we need to look at other data to gain appreciation of where Melbourne sits on the 'property clock.'
RP Data-Rismark's Daily Index shows a further improvement in capital city values which they state have been "trending upwards since the beginning of June" in both Sydney and Melbourne. There is also evidence that the number of active first home buyers is increasing. ABS housing data shows over 9300 first home buyers committed to loans in May 2012 which is an increase of 29 per cent on the previous month's figures.
There are number of 'sub' markets in Melbourne still over stocked. These are primarily limited to high-rise apartment blocks of which some 14,000 are due to be completed over the course of 2013 alone. Future forecasts show a decrease in development in 2014 – however the graph below – courtesy of Charter Keck Cramer demonstrates the level of development currently under construction.

There are some dramatic changes occurring in the city of Melbourne. As a brief rundown, the state government aims to delete the nine existing zones and merge them into five categories. Residential zone 1, 2 and 3 will become "Residential Growth Zone, General Residential Zone and Neighbourhood Residential Zone."
For each the zone the density restrictions alter. You can go here to find a rundown of the changes. In most cases, planning controls are loser, minimum and maximum height restrictions have changed and therefore it's likely density will increase.
Purchasing property is one area where you want to avoid learning from previous mistakes, therefore if you're currently in the market to purchase, but not on top of the changes occurring, it's essential you seek advice prior to any acquisition. This is an area where National Property Buyers can assist.
Although we don't expect the market to move substantially for the remainder of the year and overall sales turnover is still lagging behind that of previous years. The marginal increases in the median (over both June and July of 1 per cent and 1.4 per cent respectfully) are representative of the 'good' stock selling and proof that even in a flat market atmosphere, it's possible to prosper from property – providing you purchased well initially. In other words – "you've got to buy well, to sell well."
Catherine Cashmore
Buying Off the Plan – what are the risks?
The sales pitch….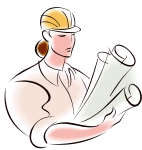 You may have seen the advertisements whilst browsing realestate.com.au, or noticed a 'for sale – soon to come' sign on your local shopping strip depicting an 'artists impression' of an attractive facade situated under blue skies, with interior decor that looks as if it's come right out of 'House Beautiful' magazine. It's hard not to be drawn in, especially as most are displayed with 'temptations' such as 'Huge Stamp Duty Savings!', 'Register Now', 'Don't Miss out', 'Only a few left' or reiterating one of the various government grants or incentives offered for the purchase of 'off the plan' and new dwellings.
However is it all it seems?
Well when it comes to property – whether buying established or new – the approach to any advertisement should always be cautionary. They're designed to show the best aspects of the home, but the information that's really important, is the information you can't see!
The process:
As a potential homebuyer, off the plan projects are possibly the riskiest investment you can target on the open market so why do they occur at all?
Well, imagine a large block of land – perhaps once used as farmland – recently purchased by Mr Smith – (owner of a development company.) Mr Smith has decided he wants to divide it into 'lots' and sell each as 'house and land packages' to potential homebuyers. However, he's not sure if he's going to have the money to complete the project and he wants to be sure potential homebuyers would be prepared to buy into the development before he proceeds.
Mr Smith puts together an advertisement, showing the proposed lots, complete with artist impressions and floor plans of 'homes' purchasers can pick and choose from. Along comes the homebuyer, lured in by 'generous stamp duty savings' (which are discounted prior to construction or before construction is completed). They've seen the artist drawings which perhaps include "quality carpet, tiles, Blanco appliances, double glazed windows, locks, flyscreens, recycled water facilities" and so forth.
The purchaser signs on the dotted line, hands over their hard earned deposit, and looks forward eagerly to the date they can move in. Mr Smith now has the ability to get a loan to fund the development and can proceed with the project as planned.
It all sounds like a dream, until you consider the 'risks' involved…because to this point they have purchased simply that – a 'dream'. It's doubtful the developer will gain approval for the subdivision and even if he does, once obtained, there's no guarantee the house will represent the depicted drawing on the advertisement.
Should the council find fault with the developers plans, Mr Smith has every right to alter the specifications of the purchasers future home (with or without permission) and with a signed contract in place, there's nothing the purchaser can do to protest.
THE CONTRACT
The contracts for off the plan dwellings come with the thickness of a copy of 'War and Peace' and are incredibly onerous to the purchaser. If the council disagrees with the placement of the north-facing window in the downstairs living zone or want to alter the boundaries of the land, unless 'Mr Smith' can resolve the issue or draw a compromise with the town planner, the whole project is under threat of demise. Considering the amount of investment Mr Smith has made in this project, he can't risk a 'fussy' purchaser withdrawing from a contract based on this alone. Therefore he ensures from the start that the contract puts in place 'special conditions' to protect the developer – conditions that can't be altered by the purchaser and lock them in for the duration. Most contracts will state a time during which the developer will apply for the 'plan of subdivision.' However these periods are generally long (in excess of 18 months in some cases) and the developer has the entire period to resolve any disputes during which the purchaser is 'tied' in. Should the plan of subdivision not arrive within the stated period, the contract will be rescinded and deposit monies refunded – however the purchaser needs to bear in mind the length of time this can take (up to and in excess of 12 months) and make provision for the worst case scenario.
Settlement dates?
The contracts will sometimes specify 'settlement dates' however when it comes to development, nothing can be set in stone. Delays are typical and the contract will make provision for this. If the purchaser has made plans to vacate their existing dwelling, there can be significant expense and stress involved in finding temporary accommodation for what is often an unspecified period of time. Once again, the contract makes no provision for withdrawal.
Land Size
In addition to this, should the lot dimensions change due to the council specifying the need for additional public space within the development, the purchaser can protest as much as they like – however it will achieve little. Contracts for off the plan sales generally give the developer every right to make minor which in some cases turn out to be major, alterations – not only to the land size, but also the interior fixtures and fittings. Note the meaning of 'minor' is not specified! Unlike established sales, the purchaser cannot threaten to delay settlement – they're 'locked in' – satisfied or not – and must complete their side of the contract as stated.
Apartment sales and Owners Corp fees
All of the above information applies not only to house and land packages, but also units. However, apartment sales come with additional considerations which should be taken on board before buying into one of the many 'off the plan' blocks commencing construction in our capital cities. For example, owners corporation fees stated on the contract at the time of signing are also subject to change. The fees for each lot are generally not finalised until completion of the contract therefore there's significant risk they can blow the budget further down the line. Once again the intricacies contained in the special conditions allow no provision for dispute resolution or a 'change of mind' – the purchaser is locked in.
Benefits – 7 year warranty on new build
One of the few benefits (aside from stamp duty savings) when purchasing new or off the plan developments is the compulsory 7 year warranty period on building defects including a preliminary period during which internal defects can also be addressed. This sounds great, however as I stated at the start of this article, the risk comes in the 'untold' details.
Quality of workmanship
Firstly, any 'new' home looks great at the start of its cycle, however ten years down the line will reveal whether it was a 'quality' product or equivalent of a 'mass' factory produced item. Developers obviously build with a guaranteed 7 year period in mind –and unless you're familiar with the builders work and long term reputation – don't expect the property to last without fault for ten years or more. Furthermore, it's not unusual for significant defects – sometimes established at construction – to go 'unnoticed' until after the specified period expired and age begins to kick in. The time and expense involved in legal battles of this nature, is often enough to deter complaint.
Getting things fixed
When purchasing an established dwelling, it's possible to make offers 'subject to' a building inspection, however this option is not applicable to 'off the plan' sales. Furthermore, if there are any defects, it's not necessarily going to be an easy ride getting the issue resolved. By the time defect has been discovered, the builder may be working on another development therefore typically hard to contact or worse still, he may have suffered bankruptcy in the interim. Also – exemptions do apply – for example, unit blocks higher than 'three stories' (in Victoria at least) are exempt from providing a warrantee period and in some instances, the warranty is only applicable for works valued in excess of $12,000.
Consider your lender
When purchasing off the plan, it's important to note that the bank cannot not provide a carte blanche guarantee they'll lend against the development until construction has been completed. Even with a 'pre-approval' the final box isn't ticked until a valuer can inspect the finished product. During the period of construction – which can easily take in excess of 12 months or more – the market may have fluctuated downwards and therefore there's a significant risk the valuation could fall short of the contract price. The purchaser may have to come up with an extra 10 or 20 thousand to complete the contract of sale or risk losing their deposit all together.
Rental guarantees
Finally – whilst off the plan advertisements often tailor themselves towards the investor with temptations such as 'rental' guarantees and potential capital growth.
The truth, once again, can belie the promise. Rental guarantees are typically added onto the purchase price. The developer may promise a 7 per cent yield for the first 12 months or more, however once this period has expired; it's highly unlikely the purchaser will be able to attract a similar amount on the open market. The tenant renting the unit in the interim will not be paying the equivalent of 7 per cent yield – rather the developer will be making up the shortfall (all accounted for in the asking price) for the period specified.
The 'shock' to the purchasers' budget once the guarantee has expired and the unit only attracts comparative rental can be significant. Some may find they're unable to meet their mortgage repayments. Capital growth potential in terms of capital growth – remember buying 'new' comes with a premium attached. As with a new car compared to the 'ex demo' model, a 'well advertised and presented' development can boost demand (both foreign and local) more so than a similar 'second hand' equivalent which has lost the initial cut and polish. Therefore, unless the investor is in it for the long run – they may find themselves selling at a loss, or experiencing negative equity prior to any long term growth.
Conclusion:
As I specified at the beginning – all off the plan sales come with risks attached. This doesn't mean a purchaser need rule them out altogether – the 'key' is to walk in with eyes wide open and minimise the liability involved. A good developer will generally aim to please and provide the property they promised, however there are no guarantees and the purchaser must allow for this.
If possible, check the builder's previous developments and get a feel for the quality and finish.
Allow for the 'worst case scenario.' Should the development fall through or fail to settle within the specified period – make sure there's a back-up plan that won't leave you homeless whilst searching for a plan 'B'.
Read the fine print – get the contract checked – and understand the worst of the risks involved before signing on the dotted line.
Try and negotiate a 'deposit bond' rather than cash. Should the developer become insolvent or disappear prior to construction, tracing a cash deposit may be difficult.
Ask lots of questions! Can you visit the site prior to construction? Will you be consulted if changes occur to the specified plans? Where will the deposit be held? (Usually a deposit sits in the real estate agency's trust account and doesn't accrue interest, however this isn't necessarily the case with off plan developments.) Can you exit the contract if the development fails to be completed on time?
Finally – don't think you have to go it alone. If at all unsure, get expert help. Above all, always engage a good solicitor and if you encounter any problems on the way, contact consumer affairs immediately
Catherine Cashmore
REIV – Doors open on the future of Melbourne

The state government is currently holding two simultaneous consultations; and the outcome of each will have a substantial impact on how the city changes for the future.
The Plan Melbourne process, which will replace Melbourne 2030, will provide a plan for the city's growth.
Melbourne is a dynamic city and strategic plans for its development need to be updated to reflect that.
No single plan has been perfect, as each plan had been shaped by the time of its creation and the priorities for the relevant government. Most people are familiar with Melbourne 2030 but the strategic planning at its core – housing the growing population partly in existing areas and in new growth suburbs – was clearly established in the 1995 plan Living Suburbs.
At the same time the state government has released revised planning zones for Victoria. The new zones seek to replace the well-known ones such as 'Residential Zone' and 'Business Zone' with ones entitled 'Residential Growth Zone' and 'Neighbourhood Residential Zone'.
Central to this change is a wider range of controls designed to concentrate development and change in some areas as opposed to others. If approved and then applied by Councils, these zones should provide greater certainty to land owners.

While both processes are separate, they have in common the key themes of managing growth and change.
As the state government is consulting on both these plans, it is a critical time to have a say if you have views about how the city should change. Those with an interest should visit www.dpcd.vic.gov.au to learn more and have their say.
(source: www.reiv.com.au)
NPB Mid Year Clearance Figures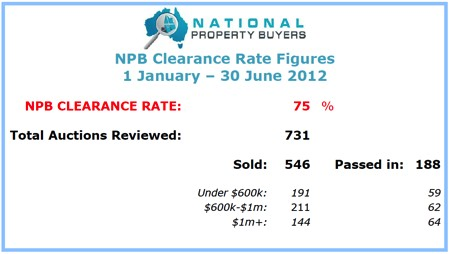 The strongest performing sector of the market remains below $1m, with duel income couples making up the major home buyer demographic.
Luxury homes are struggling to gain traction. Sellers attempting to get premium prices for well renovated houses above $1 Million are playing a game of Russian roulette – especially if they choose to sell their properties by auction.
In this scenario, they are solely reliant on at least 'two' buyers 'falling in love' with the property in order to achieve a 'top of the range' price.
Therefore, results aren't consistent and depend on circumstance rather than market forces.
If you're in the market for 'luxury' – it's a great time to buy. Once the market turns, 'up-sizers' that are advantaged from prices lower down the scale increase competition in this sector and gains for premium homes are historically the strongest.
We've noticed stock levels tightening in the inner south eastern and inner northern suburbs. Consequently, this is where we've come up against the greatest competition at auction. However, there are plenty of good opportunities in areas where stock levels are still exceeding current buyer demand. As such, we've been able to secure a number of homes under what we would estimate to be 'current market value.'
Looking ahead, we expect the clearance rate to remain steady for the foreseeable future. However, should stock levels tighten, it may move higher as we approach the end of the year.
Catherine Cashmore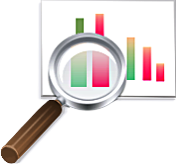 NPB – What's HOT!
Abbotsford flying with a NPB Clearance Rate of 100%
The NPB clearance rate is representative of the results evidenced in the 'quality' end of the marketplace across all price ranges. We take our results from a range of suburbs in the inner and middle ring where competition is highest.
The top 10 NPB performing suburbs by clearance rate – for which there has been a minimum of 10 properties reviewed – are as follows:
Abbotsford 100%
Preston 92%
Prahran 91%
St Kilda 83%
Northcote 83%
Box Hill North 82%
Carnegie 82%
Fitzroy North 82%
Kensington 82%
Hampton 82%
Albert Park, Sandringham struggling to gain momentum
The list below features the bottom 10 performing suburbs, for which there have been a minimum of 10 properties reviewed.
Albert Park comes top of the list, however it's a market predominantly made from premium homes and vendors who generally don't 'have' to sell. Therefore prices tend to experience a greater degree of volatility as we swing 'to a fro' between a 'buyers' and 'sellers' market.
Other suburbs are falling behind based on a number of different factors which are usually specific to the composition of properties on offer. However, for those areas that haven't 'turned the corner', there remain some wonderful opportunities to secure quality real estate for great prices.
Albert Park 45%
Sandringham 50%
Surrey Hills 60%
Port Melbourne 62%
Kew 63%
Newport 64%
Ivanhoe 64%
South Melbourne 65%
Coburg 69%
Hawthorn East 69%
Catherine Cashmore
NPB News – NATIONAL PROPERTY BUYERS BRISBANE OFFICE OPENS
National Property Buyers are delighted to announce the opening of their Brisbane office to service clients who need assistance buying or selling or the management of property in Queensland.
Our State Manager Stephen McGee brings over a decade of experience in residential property to the team, having bought and sold all over Brisbane for owner occupiers, investors and also smaller scale developers.
Property buyers in Queensland will now be able to benefit from expert advice and consultancy services from an independent residential property advisory service you can trust.
INTRODUCING QLD STATE MANAGER, STEPHEN McGEE

Stephen brings over a decade of experience in Residential Property to National Property Buyers QLD, including residential Property Investment & Small scale developments.
To read more about Stephen's background, click here.
Antony Bucello
Why choose National Property Buyers? We let some of our clients have the last word!
Below are just some of the comments we have received from our clients.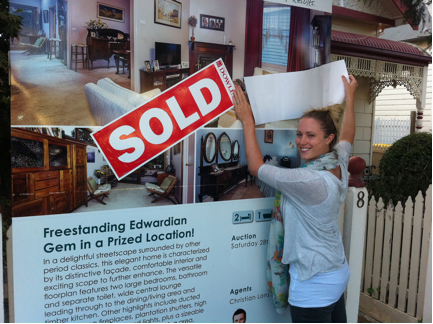 "I found National Property Buyers to be reliable, flexible and professional. I was never left wondering what was going on. They listened to what I wanted and tailored their service to meet my needs. I even had some special requirements at the outset, and they never wavered from taking them into consideration for the duration of my involvement with them."
"Congratulations to you all for your professional and personal manner in all dealings with myself and my family. Your continued support and advice was invaluable to me and I will not hesitate to recommend National Property Buyers to anyone. I found that you made the often stressful and difficult experience of purchasing a new home, a much easier and pleasurable time where I was able to share both concerns, worries and happiness. I am sure there were many times when I contacted, or met with you both together and individually in a stressful manner and I certainly appreciated your professional advice, calm and personal manner in which I was treated. Thank you all."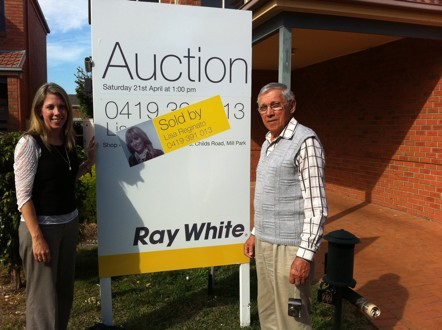 "A quick note to say a very sincere thank you for your assistance in purchasing our home. It seems somewhat surreal at present but I am very pleased. You have made this experience an incredibly positive one!
Thanks again, chat soon."
"After realizing that buying an investment property interstate was possibly going to be a good investment option for me and without the confidence to go it alone I struggled for a long time deciding how I would tackle the task. A solicitor recommended a Buyers Agent to me and so I stumbled across National Property Buyers on the net and six to eight weeks later I'm over the 'hump'. It has been a reassuring experience having NPB on the job. Their advice, experience and efficiency have been invaluable. From searching for the place I liked, right through to bidding for me at auction as well as guidance with the 'Legals' and what to expect next. I've even scored as Property Manager along the way which was another hurdle I found myself faced with. Thankyou Robert and all the team at National Property Buyers. It would have been so much more stressful without your help."
To read more testimonials from our clients, please click here.
Subscribe to NPB's Melbourne Property Market Weekly Update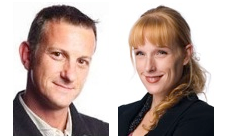 EVERY week Antony Bucello, State Manager of NPB and Catherine Cashmore, Senior Property Consultant & Melbourne Market Analyst, provide expert commentary on what has happened over the weekend including facts and figures from the REIV and from NPB's exclusive clearance rate snapshot of premium investment grade listings.
If you are not already receiving weekly updates and would like to subscribe, click here.
Contact Us
If you wish to discuss your property buying, selling or management needs, please don't hesitate to contact us. Alternatively, you may prefer to complete our Help Us Help You online form and we will contact you.