WELCOME to the October edition of Melbourne Monthly Buyer Insights, a newsletter by National Property Buyers summarising the performance of the Melbourne metropolitan property market.
September NPB Clearance Rate 67%
Monthly NPB Clearance Rate Remains Consistent
WHILE the REIV is reporting an average clearance rate for the month of September of 54%, the NPB Clearance Rate for the month was a consistent 67%. The NPB Clearance Rate for August was the same – 67%. A total of 163 properties were reviewed by National Property Buyers during September and 110 of those properties found new owners. The number of properties passed in for the month was 49.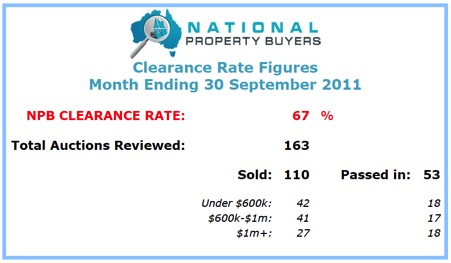 NPB Category Summary for September 2011
NATIONAL Property Buyers categorise properties in the following ranges:
Under $600,000 (lower end);
$600,000 to $1,000,000 (middle range);
Over $1,000,000 (high end).

The best performing category for the month of September was the middle range ($600k-$1m) with a clearance rate of 71%, up 5% from the month of August when it was 66%. The lower end (<$600k) category had a clearance rate of 70%, down slightly on last month when it came in at 73% and the high end of the market ($1m+) remained fairly consistent with a clearance rate of 60% (61% in August).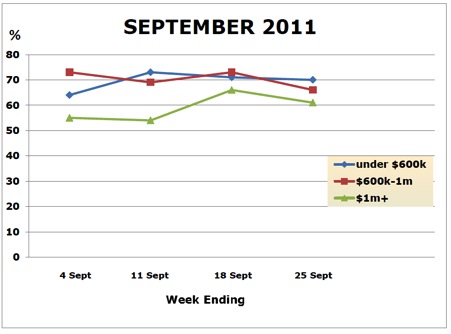 NPB Clearance Rate Performance July to September 2011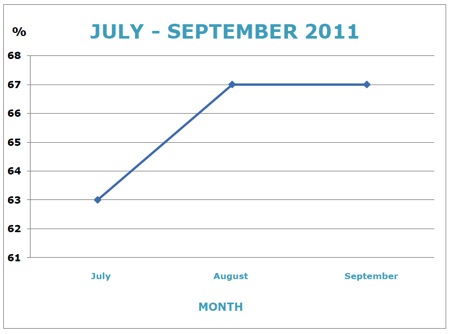 NPB Year-to-Date Clearance Rate

WHILE the REIV is reporting a year-to-date clearance rate of 57%, the NPB Clearance Rate year-to-date is 67%. 386 of the 576 properties the team at National Property Buyers have reviewed have sold and 190 properties passed in. The NPB clearance rate year-to-date as at the end of August was 66%.
How is Your Suburb Performing? – NPB YTD Suburb Review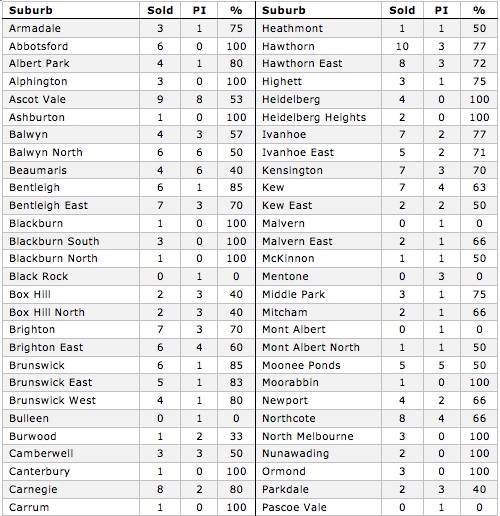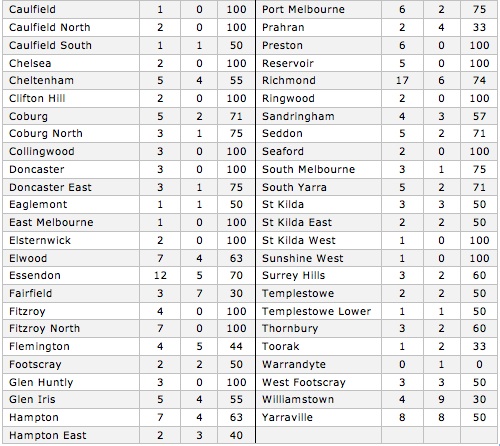 Subscribe to NPB's Melbourne Property Market Weekly Update

EVERY week Antony Bucello, State Manager of NPB and Melbourne Property Expert provides commentary on what has happened over the weekend including facts and figures from the REIV and from NPB.
If you are not already receiving his weekly updates and would like to subscribe, click here.
Interest Rates – 11 Straight!
DESPITE concerns over the global economy, the Reserve Bank of Australia decided no movement was necessary and kept interest rates at 4.75%. This is the 11th straight month that they have remained on hold.

The last time they moved in any direction was on Melbourne Cup day last year when the Reserve Bank surprised everyone with an increase of 0.25%. On an average Australian mortgage, a 0.25% increase equates to around $60 extra per month.
This month's decision was no surprise as it was predicted by most economists. The outlook for the remainder of 2011 appears to be that it is highly unlikely there will be any upward movement and unlikely there will be any movement downward.
Chief Economist of global banking giant HSBC, Paul Bloxham, believes the reason interest rates have not been reduced is because there is still not enough evidence to confirm the Australian economy has weakened enough to justify a reduction. He also says there is still heavy demand for our local products and the drop in the Aussie dollar recently is also positive for our trades, in particular export and tourism.
Many other economists believe the Reserve Bank will now sideline any movement for the next 12 months or so and if there is any movement, it is likely to be downward, but only if there is a major deterioration in our economy.
It is welcome news and certainly a good time for mortgage holders. There won't be any surprises this Christmas and those with mortgages should feel comfortable as we approach the festive season.
Quarterly Median Prices Will Reveal

IT will be interesting to see the statistics for the September quarter, which are due to be published by the REIV mid October.  The health of the economy, population growth and the supply of new homes will continue to have an impact on the Melbourne metropolitan residential property market.
The REIV June quarter median prices revealed that the median price of a house in Melbourne has increased by 5.4%. It rose to $590,000 from the revised $560,000 recorded in the March quarter. There was a 5.7% increase overall in the 12 months to June 2011.
Whilst the median price of $590,000 is a little below the $601,500 it reached in the December quarter 2010, the June 2011 quarter figures showed that prices and demand have remained fairly resilient. This indicates that the residential property market in Melbourne experienced moderate price growth. Those with the really good properties would receive even better growth.
We will advise you accordingly once the figures for the September quarter are released.
Rental Market

The availability of rental properties has been low for the past 5 or 6 years and those looking for a rental home will welcome the news of a slight increase in the rental vacancy rate.
The average vacancy rate has been hovering around the 1.75% mark and has slowly climbed to around 2.5% in July. The vacancy rate in June was was around 2.2%, evidence that the availability of rental properties is improving.
However, with vacancy rates still below 3%, there are still too few rental properties available. In the inner city suburbs, the vacancy rate is around 2.2%, a slight tightening from 2.4% in June.
Launch of New NPB Client Portal
CLIENTS of National Property Buyers will soon be able to enjoy the benefits of our new innovative client portal, propertyHUB.

propertyHUB is a central online repository of information for clients to enjoy a simple system to keep track of the short list of properties their Property Advocate has selected for them. Clients will be able to login via our website to access their personal property databases and provide comments and access information on the list of properties that have been posted for them.
The system allows online communication between clients and Advocates about the properties under consideration in an efficient and highly effective manner. It will also track the progress and stages of each property of interest and store images, reports, contracts and other important information relating to specific properties.
propertyHUB is a unique system available only to clients of National Property Buyers. It has been developed specifically for our Buyer Advocacy business, and we are in the process of planning a version of the system to be available for our Property Management clients in 2012.
With so many special and time saving features, NPB Advocates are excited and can't wait to start using propertyHUB.
propertyHUB will be officially launched later this month. Testing is in it's final stages and we will advise clients of their usernames and passwords once the system is ready for use.
Special Offers
Buyer Advocacy Special Offer

TO coincide with the upcoming launch of our new Client Portal, propertyHUB, we are offering all new clients who engage National Property Buyers' full premium service a FREE iPad 2!
New full service clients will now be able to enjoy logging in to their personal propertyHUB database and entering their feedback and accessing documents and reports about particular properties anytime and from anywhere they like, even immediately following an inspection if they so choose.
The offer is for a limited time only. Click here to find out more.
Property Management Special Offer
FOR a limited time only, NPB are offering 3 months FREE property management to all new clients who engage our Property Management service.

Robert Di Vita heads up the Property Management division and he has had over 20 years' experience in this area.
We are excited to be able to now offer a comprehensive property management service that takes care of every aspect of owning an investment property.
We will be looking after properties located in the Melbourne metropolitan area and clients will enjoy real peace of mind and premium rental returns due to a wealth of resources and a successful culture that ensures NPB are always at the forefront of property management.
Our goal is to take control of the day to day issues and tasks associated with managing an investment property and we will treat every property like it is one of our own. Our attention to detail and level of communication with our clients sets us apart from our competition.
Contact Us
If you need any help with searching, assessing or negotiating your next property purchase or simply wish to discuss your property buying needs, please don't hesitate to contact us. Alternatively, you may prefer to complete our Help Us Help You online form and we will contact you.