A Quick Chat Can Make All the Difference
Taking the time to talk to a tenancy applicant prior to or after an application can give property managers extra – and often very useful – insight into potential tenants.
Finding the right tenant for the right property is paramount for property managers.
A strong applicant that is good for the property will give the landlord peace of mind that their investment is being cared for in the best way – and make the property manager's job a lot easier. Unfortunately, determining a good applicant from a less desirable one can be at times problematic.
The application form usually does all the talking for the applicant and there is only so much information that can be gleaned from it. Knowing if someone is employed and can pay the rent, understanding their rental history, and having a good reference are all essential pieces of information.
But doesn't it seem a little strange to do a lot of work to get an insight into a person without talking to that person directly?
Open for Inspections provide the best opportunity for property managers to get an insight into potential tenants.
Interested applicants who want to secure a property will take the initiative to speak to the property manager or agent during the open for inspection in an effort to put their best foot forward. If not, agents can always approach attendees who appear interested and ask a few questions.
It's during this interaction that property managers can uncover valuable insights into prospective tenants. It can be a short chat of no more than a couple of minutes but can illuminate some of the motivations for the applicant's submission.
Are they applying for the sake of simply getting a property? Or do they have a genuine connection with this particular listing?
Does the applicant love the area? Is it close to their work or children's school, or excellent amenities and facilities? Is it just close to their favourite café? Do they love the size, style, or design of the property?
Length of the lease is something that can also be discussed in this interaction. Does the applicant want to stay long term, or are they looking for something for only a few months?
Most importantly, all of this information will help the landlord have peace of mind that their investment is being left in good hands.
Applicants can look good on paper, but may be less desirable in real life. Conversely, applicants that may not appear to be ideal on their submission may be the best tenants the property will ever have.
For example, three male applicants submitting for tenancy will attract a certain set of presumptions, namely that they will be incredibly messy or throw wild parties. The truth may be that they are very clean and diligent tenants who respect the landlord's property, something that may only be found out from a chat with the applicants.
Taking the time to talk and understand an applicant can pay off in the long term. Any pieces of additional information that can be collected in aid of finding the right tenant can save the hassle and time of dealing with issues arising from finding the wrong one.
Most good property managers will ensure they speak to potential applicants as part of the vetting process. Feel free to ask your property manager about the process they go through to source your tenants.
Rental Recommendations
One of the busiest times for the rental market is just around the corner with the January and February period traditionally seeing more activity.
With that in mind, we've asked our Property Managers to recommend a couple of the highly regarded suburbs in Melbourne for renters. If you or someone you know are looking for a rental property, check these suburbs out!
Preston – 3072
Population: 29,925
Nine kilometres from the CBD, Preston offers a good level of generally spacious stock on larger block for reasonable value.
Appearing in the National Property Buyers '6 Suburbs to Boom in the Next 6 Months', Preston offers pretty much everything tenants would like to see in a suburb. Close to the CBD, ample public transport, loads of shopping, Northland Shopping Centre, parks, and bike tracks, Preston also borders trendy Thornbury.
Separate houses are the most populous housing types, making up 7,500 of the 11,795 dwelling types. An older suburb, Preston is also a popular option with home buyers, and has a large contingent already owning their homes. Renters take up almost 40% of the population in the suburb according to the 2011 Census.
Tenants will find good value in Preston, with median rents for 3 bedroom homes sitting at $425 per week, up 0.90% on quarterly change. 2 and 3 bedroom units have remained steady on quarterly change at $360 and $440 respectively.
Coburg – 3058
Population: 24,977
Neighbouring Preston to the west is Coburg, which also provides renters with some great options for property.
The suburb is superbly serviced with public transport and cyclist will love the famed Merri Creek Bike Trail. The café set have plenty to choose from along Sydney Road, which runs through the middle of the suburb into Brunswick.
Like Preston, Coburg offers primarily separate housing with over 75% of dwellings and 13% as semi-attached or townhouses.
Median rents in the area have risen 2.10% for 3 bedroom houses, up to $490. 4 bedroom homes remain steady at $593 per week.
2 bedroom units are fetching $361 per week, while 3 bedroom units retrieve $475.
Paying Bills
Paying bills is never a hugely enjoyable task, if for no other reason than the administrative work that needs to be done. Owning an investment property comes with even more responsibility and time to commit to paying expenses.
As a managing agent, your property managers are able to pay expenses related to your property, from rates and water bills to landlords insurance.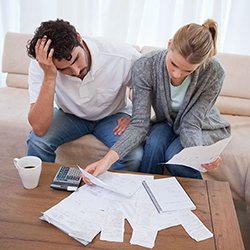 Typically this will mean drawing expenses out of the monthly rent, the balance of which will then be distributed to the owner. The hassle of receiving and settling invoices is taken care of for owners and they can sit back and enjoy the income generated from their investment.
For larger expenses such as significant repairs or maintenance issues monthly rent may not be enough and the costs may have to be covered by the owner directly.
Of course, this process might not suit all landlords. Some do prefer to manage their own expenses.
If you are currently managing the expenses associated with your property and would like to do without the hassle of paying bills, speak to your property manager about how they can help.
Landlords Insurance
As surprising as it might sound, some landlords don't have landlords insurance. Many landlords believe that the bond will cover any expenses needed to repair damage from tenants or loss of rent and don't see insurance as a necessity.
However the bond isn't always going to cover repairs or loss of rent. It will generally only cover one month's rental income and if significant damage has been inflicted on the property, the bond amount may not be enough, leaving the landlord out of pocket.
Crucially, there are other issues that can arise that landlords need to be prepared for that can be far more serious than loss of income or damage.
For example, insurance can cover liability within the property. Apartment or unit block will have building insurance that covers public liability for public spaces, but not the interior of the property. If a tenant or visitor to the property were to trip on a section of carpet that has come lose, or injure themselves in any way and the landlord is not covered by insurance, they could be liable for damage.
Insurance will also cover issues such as flood damage. Flooding can result due to heavy rain or even a burst pipe in the neighbour's residence that leaks through walls and floors. If the damage is so severe that the property is deemed uninhabitable, insurance will also cover loss of rent.
If you don't have landlords insurance, take the time to speak to your property manager about taking out a policy. As the saying goes, it's better to be safe than sorry.
REIV Wrap
The Melbourne rental market had another steady month, according to the recently released REIV December Research Bulletin.
Vacancy Rates across the state moved up slightly from 2.8 in October to 2.9 in November. The total Melbourne Vacancy Rate remained unchanged over the period.
The largest shift came in the Outer market where rates moved from 1.9 in October to 2.2 in November.
Median house rents across the Melbourne Metro market dipped just one dollar to $400, with median rents increasing or staying level across inner, middle, and outer markets.
Unit rents remained level for the Metro market, while Median rents in Regional Victoria moved up $10 for the month.