Nestled in the leafy inner east of the Melbourne metropolitan area, Camberwell has long been a sought after location for home buyers.
According to National Property Buyers analysis of clearance rates over the last 12 months, the desire for buyers to acquire property in Camberwell becomes truly apparent.
In 2014, NPB data recorded 42 sales in 2014. 8 were passed in, achieving an outstanding clearance rate of 80.95%. The high end of the market saw the most sales made, with 34 properties sold for over $1million. 3 were sold within the $600,000 to $1million price bracket, and none were sold for under $600,000.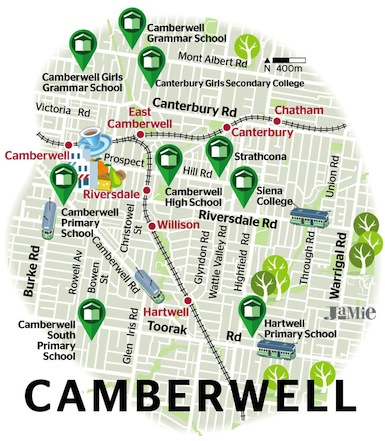 Demand for the suburb has shot up substantially. As the market gears up for a big finish to the year after the Grand Final long weekend there could be even more activity. So far there have been 28 sales achieving an astounding 100% clearance rate. That's right. 100% clearance rate according to NPB data.
There has also been a wider spread of sales across the Camberwell market. Although 23 out of the 28 sales have been in the $1million plus bracket, 2 were made in the $600,000 to $1million bracket, and 3 made in the below $600,000 bracket. With spring well and truly underway in Melbourne and more stock anticipated to reach market before Christmas, the leafy suburb could reach staggering clearance rates.
However, clearance rates aren't the only indicator that illustrate the enormous activity going on in Camberwell.
Between 2010 and 2014, the media house price has fluctuated between $1.36million and $1.56million, with the largest increase occurring over the last quarter in 2013 according to REIV data.
Since June of 2014, the median price has surged upwards without fault from just over $1.44million to $2.11million. That's an increase of roughly $675,000 over the last 15 months, or $45,000 a month.
So what makes this peaceful inner city suburb such a draw card?
National Property Buyers Robert Di Vita believes the quality of suburbs in terms of land size, amenity, and the tightly held nature all contribute to the superb sales and surging median prices.
"The suburb has always been known for a high standard of quality homes, and as it's an older suburb, block sizes are generally a bit bigger" said Di Vita.
"The access to abundant public transport, excellent shopping in Camberwell Junction, and of course schools are what attracts buyers. It's also a very pretty suburb – with tree lined streets it's just nice to look at".
But what has driven competition so intently in the last 15 months? Like so many markets across Melbourne, a strong contingent of Asian buyers are helping to push demand.
"There's been a larger showing from Asian buyers at auction over the last year and that is obviously having an effect, which is great news for vendors now and hopefully carrying into the next few years.
"However, I will say that Camberwell has always been a very tightly held suburb – stock has traditionally been a bit harder to come by. With additional competition it's not surprising to see such an increase across median prices and clearance rates."