11 July 2011
The REIV has reported a clearance rate of 55% this week, with 243 of the 439 scheduled auctions selling. Nearly 200 properties were passed in over the weekend, and around 60% of those were passed in on a vendor bid. Clearance rates are remaining consistent with this being the 11th week in a row where the clearance rate has failed to reach 60%. At the same time last year, the clearance rate was 68%.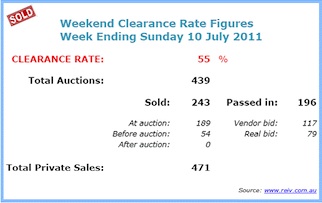 The NPB clearance rate for the week was 63%, which is higher than last weeks' NPB clearance rate of 57%. NPB reviewed 27 properties this week, with 17 selling and 10 passing in. The middle price range of $600k – $1m performed very well again this week with 7 of the 10 properties we reviewed selling giving us a clearance rate of 70%. The lower end of the market (up to $600k) had a clearance rate of 66% where 6 of the 9 properties sold and 3 passed in. This is up on last weeks' clearance rate of 55%. Although slightly higher than last week, the high end of the market continues to struggle, with the clearance rate 50%. 4 of the 8 properties we reviewed sold in this category.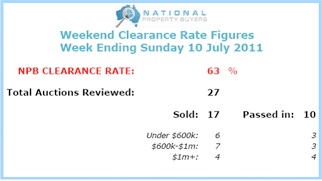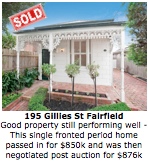 Many of the auctions we are attending are indicating that the good properties are still performing well. At 195 Gillies St Fairfield, a small crowd braved the cold and gathered to watch a 3 bedroom single fronted period home pass in and sell after auction. The property had been quoted $800-880k. After the auction started with a vendor bid of $800k, 2 people competed until the bidding stopped at $850k. It sold shortly afterwards for $876k by private negotiation.
Other notable sales from Saturday's auctions include:
A 2 bedroom unit quoted at $490-535k in Essendon sold for $565k;
A 2 bed + study single fronted house in Clifton Hill in need of renovations, sold for $765k after being at $650-700k;
A double storey 4 bedroom home in Carnegie was quoted at $900-990k and sold for just over $1m;
A 3 bedroom, 2 bathroom Californian Bungalow in Sandringham sold for $1,457,500 after being quoted $1.295-1.395m.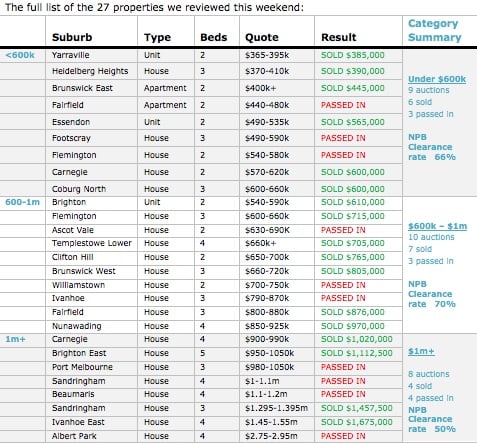 The market has been performing at the same level now for about 3 months. While stock levels are reasonable and auctions continue to be scheduled as the preferred method of sale, particularly in the inner city suburbs, many agents are preparing their vendors to negotiate post auction as more and more properties are being passed in and negotiated afterwards.
It doesn't appear the market is going to change in the short term so there will be plenty of opportunities for both savvy investors and home buyers, however properly assessing the property, knowing what to do at the auction and very good negotiation skills will be the difference between paying the right price and paying too much.
If you need any help with searching, assessing or negotiating your next property purchase or simply wish to discuss your property buying needs, please don't hesitate to contact me.
Antony Bucello
National Property Buyers
[email protected]
0418 131 95