The City of Churches has been a largely unsung hero in the scheme of property in recent years. While Melbourne and Sydney draw so much attention, investment alternatives such as Adelaide provide a genuinely compelling prospect for buyers who are looking for high quality and most importantly, affordable property.
That Adelaide has been a quiet achiever for a long period is somewhat surprising. Adelaide has been in the top 10 of the world's most liveable cities since 2010, and has finished in the top 5 every year since 2012, making it the highest ranked Australian city aside from Melbourne.
There are a number of boxes immediately ticked when looking at the South Australian capital. Affordable Real Estate, stunning beaches less than 15 kilometres from the CBD, and obviously the wine regions.
There is also a rapidly growing culinary scene that is attracting chefs like Jamie Oliver, Jock Zonfrillo, and Sean Connolly.
Senior Property Manager for National Property Buyers Adelaide, Katherine Skinner is originally from Adelaide, but started her career in Melbourne. Since returning to her home city in 2009, Katherine has seen Adelaide quickly becoming a rival for the food capital of Australia.
"Coming back to Adelaide from Melbourne, it's been amazing to see how fast the cultural scene in Adelaide has thrived, to the extent that it reminds me of what Melbourne was like only a few years ago" Katherine said.
There's also WOMADelaide, Adelaide Fringe Festival, Festival of Arts, and the stunning update of the Adelaide Oval.
All of this combining makes Adelaide a definite attraction for buyers looking for high quality property and life style.
This calendar year has been particularly strong in the property market, with Real Estate Institute of South Australia (REISA) revealing a record breaking median house price of $428,250 for the June quarter.
The figure is up 2.45% from the same time last year, and up 0.76% across the quarter (June 2015) according to REISA data.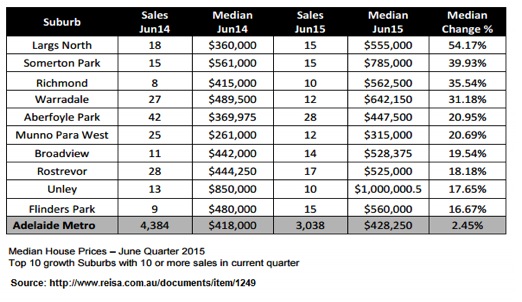 Largs North recorded the biggest increase of a massive 54.17% from June of 2014 to 2015 reaching a median price of $555,000 up from $360,000.
Clearance rates have also proved to be incredibly strong across the June quarter, with April and May achieving Melbourne-esque results culminating in a high of 75% over consecutive weeks in the end of April and start of May.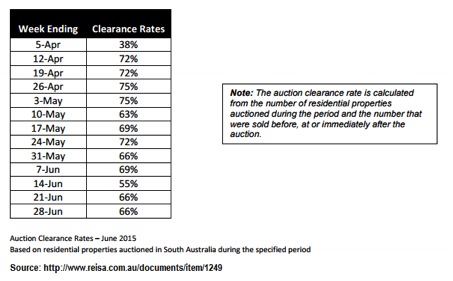 "There's a lot to like about Adelaide at the moment. There is definitely strength in the market with quality, spacious stock available, but the real positive is that Adelaide remains the most affordable mainland city" said National Property Buyers South Australian State Manager, Adam Stone.
"We're also seeing a lot of interstate families looking at Adelaide. Families recognize the excellent life style in Adelaide as well as the opportunity to get their dream home that's got a big yard and space to raise a family, yet still being exceptionally affordable compared to other mainland cities."
The sentiment is echoed by REISA president, Greg Moulton.
"It is great news that the median house price continues its steady increase and once again, has posted a record result. It is evidence of the strength of the underlying fundamentals of the real estate market."
"Once again, the top performers in sales and growth can be categorised as those in more affordable areas which offer opportunities for development and first home buyers and those close to the beach which offer lifestyle, sea change or retirement choices."
Adelaide also presents strong rental opportunities for investors.
"There's a lot of high quality property in Adelaide and given Melbourne and Sydney are so competitive, many investors are turning their attention here because they can get such good value for money."
"Buying a house within 10 kilometres of the beach and the CBD for under $600,000 would be a dream come true for Sydneysiders, but you can have that in Adelaide" said Adam Stone.
The City of Churches presents an appealing level of stability for investors, with strong rental yields and low vacancy rates across the market. According to SQM Research data, rental yields are hovering just above 4% for three bedroom homes, while the 1.9% vacancy rate is one of the best in the country, behind only Hobart (1.1%) and Sydney (1.7%).
The signs are good for Adelaide to continue the strength shown so far. If you're interested in property in Adelaide, please feel free to contact either Adam or Katherine.