Suburb: Hampton, Victoria
Client Type: Downsizers
Service: Search > Assess > Negotiate
Budget: $1.1 to $1.2 Million
Purchase Price: $960,000
Property: Townhouse
"…We lived in Melbourne a few years ago. On returning to Melbourne we thought that it would be easy to find a property that matched our specifications, in our preferred area, and within our budget.
It was far from easy, and we wasted time and effort viewing and researching unsuitable properties that did not match all or some of our criteria. We urgently needed a Buyers Advocate to search, assess and negotiate for us.
Antony Bucello referred us to Robert di Vita, and Robert became our mentor. His professional manner, enthusiasm, in- depth knowledge and contacts in the property market, made our search for our 'perfect property' enjoyable and constructive. Robert steered us away from considering one bad choice, which we otherwise might have settled on.
Our near perfect property, that matched all our criteria, was a property suggested by Robert, and one that we had overlooked when searching in property websites. We viewed it, loved it, and Robert's negotiating skills got a sale price agreed that was well within our budget."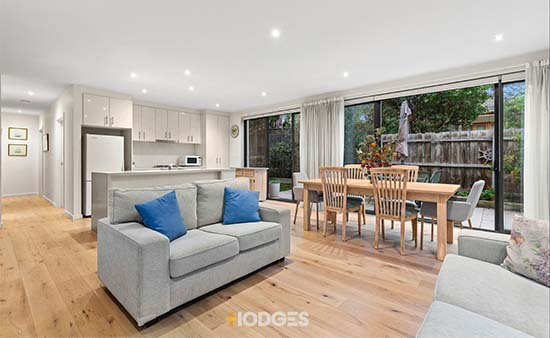 Our clients were returning to Melbourne after a stint overseas. They first attempted to find a property that matched their requirements, location and budget on their own. They quickly realised they were wasting precious valuable time and required help to find the property that would tick all their boxes and meet their budget.
Each client can be involved as much or as little as they wish in the searching and buying process! Our clients were keen to participate actively and presented us with several properties. We assessed each property but realised that each was compromised in someway. We mentored our client on what aspects could affect the capital growth of their property.
We found them the near perfect beachside townhouse in Hampton, that ticked all their boxes. A 2 bedroom, 2 bathroom garden apartment occupying a north-west corner position, steps from Hampton St's cafes, restaurants, and a stroll to the bay's best beach.
This location would appeal to owner-occupiers, investors and tenants alike. Up for Private Sale we used our client's strong financial position to write an unconditional offer to strengthen our bargaining power. We secured the proper under the vendor's reserve and well under our client's budget.
Book a Complimentary Consultation
Let's catch up and talk property!
Take advantage of our free, one hour consultation. We can discuss your property goals, the market and answer your questions.
Or not ready to chat then read more about our Buyer Advocate services.