Suburb: Bentleigh, Victoria
Client Type: Downsizer
Service: Vendor Advocacy
Vendor Reserve: $1.18 Million
Sale Price: $1.231 Million
Property: 3 Bedroom Townhouse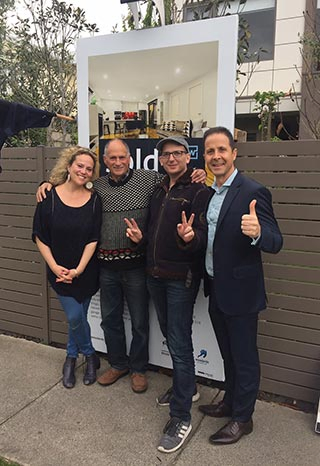 "…Getting Robert Di Vita on board to help navigate the selling process for my father's property was THE best decision. He works with integrity, humility and a passion for what he does! He knew my father was quite nervous and daunted about the whole process and was simply wonderful with his guidance and genuine care. You can see he loves what he does and I would highly recommend him to anyone who is considering a Vendor's Advocate. Not a cent from your pocket. Like a Mortgage Broker, he works with the agent that you as a client decide to go with after his recommendations. Rob, you're an absolute champ!"
We acted as Vendor Advocates for our clients selling their family home in Bentleigh. On auction day 5 bidders quickly brought the property $51k above reserve. We were engaged by a father and daughter for our Vendor Advocacy service to assist her father in the sale of his property to enable him to downsize to a smaller property and to become mortgage free.
Our Vendor Advocacy service does not cost our client any additional money as we partner with a reputable selling agent and share the commission. In effect, by using our Vendor Advocacy service you have two companies working for you, for the price of one!
Robert Di Vita, one of our Senior Property Consultants worked diligently and calmly with his nervous client to make the process as stress free as possible and importantly end up with a result above reserve.
Robert shortlisted several reputable agents in the local area and provided recommendations to his client and who he would select and why. However, the ultimate decision always remains with the client. The client took Robert's suggestion and they engaged Woodards. Robert negotiated the commission structure, including an 11% bonus for the selling agent for every dollar they achieved over reserve.
Upon Robert's first inspection of the property he had noticed a few key items that if improved or addressed would have dramatic results on the presentation of the property.
The first was a room at the back of the property that had begun as an alfresco terrace but had been fully enclosed and converted to a room. Not only was it an eye sore but it blocked important nature light to the premises. Robert recommended to return to its original design.
The property was also significantly cluttered, and he advised his client to spend time tidying it up and storing unnecessary items.
The furniture in the property was well loved but dated and he recommended that they use property staging to show the property off to its best advantage.
Robert recommended tradesmen and affordable property stylist to his client. The client as a retired tradesman used his own connections to return the room to its original state but did engage our property stylists. Once the alfresco area was reinstated and the property decluttered Robert worked with the property stylist to get the property ready for photographs.
What a difference these 3 items made, the property looked amazing for its online campaign and inspections! Selling your property can be fraught with difficult decisions. And a key one is how much money to spend on making your property presentable for sale! Unfortunately, there is no hard and fast rule. Each property must be assessed on its own merits and it is crucial you don't over-capitalise. Our advocates are happy to advise and even project manage improvements to a property.
Woodards, in conjunction with National Property Buyers ran a great campaign. And Robert kept his client informed every step of the way. The property went to auction and Robert was there with his client. They had discussed strategies for the auction including what might happen if it passed in. However, there was no need, the property sold under competition, under the hammer, and above our client's reserve! The eventual purchaser was spurred on by her 5-year-old daughters fear of missing out, and she placed a final $500 bid to secure the property against 3 other bidders.
The sweet story of the 5 year old bidder featured in the Herald Sun and our Director Antony Bucello, also in attendance commented to the Herald Sun.
"I think the five-year-old's mother will be thanking her for pushing her in the not too distant future; they may well have found themselves needing another $10,000 for the same property in the next few weeks." 
You can read the full article here.
Book a Complimentary Consultation
Let's catch up and talk property!
Take advantage of our free, one hour consultation. We can discuss your property goals, the market and answer your questions.
Or not ready to chat then read more about our Vendor Advocate services.