by Antony Bucello & Catherine Cashmore
The jury's out on whether Australia is entering the 'mother of all dwelling booms' as Robert Gottliebsen took note to warn in Business Spectator last week.
And whilst the construction sector continues to fall short of expectation, the established housing market, most notably in Sydney although also reflected in other states – has moved.
'War stories' are emerging from buying and selling agents of auctions attended where the prices have exceeded the reserve by 10-20 per cent. In turn, vendors are reassessing their expectation of value based on neighbouring results – and with more talk of prospected drops to the cash rate, purchasers are shopping lenders to see how far their budget will stretch.
The main force behind the buying market is a mix of investors and up-graders who – in turn are boosting the premium housing sector using funds from the sale of lower priced properties to leverage up which coupled with lower rates reduces the size of their loan – distorting the forward analysis of the lending data in relation to price growth somewhat.
In contrast demand from first home buyers has weakened significantly – waxing and waning only on the back of various grants and incentives.
Each are buying for different reasons, and as we know, in this sense, the environment has been nicely manipulated by supply side constraints which keep Australia in a donut like geographical outlook.
However, as Robert Gottliebsen points out in his column, and as I mentioned last week – a very low interest rate environment is one such condition that encourages investors to pull back on saving in favour of a spend/borrow mentality. And in our property obsessed culture – following years of woeful planning for population growth, most of this pent up demand is being fed into the second hand housing sector.
The effects are often amplified in areas where auctions sales predominate. When buyers see properties openly selling above their pre-conceived perception of 'market value' (something that generally doesn't happen when the sale is conducted via 'private' negotiation) it provides very visible reality that the market's 'appreciating' and the effects on the mindset act like a kind of contagion.
Interestingly enough, the reverse is the case when a larger proportion of properties pass in at auction – leaving buyers with the worrying impression the market's 'tanking.'
During a competitive auction buyers spend far less time thinking about exceeding budget constraints than they do when – in a rational 'pre auction' moment, they take time to discuss (usually with their partner) where to draw a sensible limit for the property in question.
In truth, when the market is buoyant, and competition evident, buyers don't bid for the property – they simply bid to 'win' – something I witness weekly.
And of course, whenever rising prices openly occur, stock inevitably reduces. After-all, who wants to sell an asset that's increasing in value, when the observation prevails that a vendor can get 'more' if they hold and wait for further gains to come? Especially as additional rate cuts are still widely predicted.
The other issue which Robert Gottliebsen touches upon is foreign acquisition. The falling Aussie dollar has given Asian property investors an opening to look favourably once again upon dwelling investment in our capital city markets.
As reported in the Australian Financial Review last week "A Sydney Property developer sold 90 off-the-plan apartments at the opening of a new tower in Bondi Junction in 5 hours" and whilst a large proportion of funds will be fed into off-the-plan construction, assisting developers in the approval process somewhat, it's arguable as to how many of these new apartments will actually make it onto the rental market. With limited options for investment, real estate acts like a magnet for Chinese buyers – who are not averse to purchasing speculatively whilst leaving apartments sitting empty.
There will be plenty of argument yet to come as to the level of the current 'boom' and its longevity. But what cannot be argued is the conditions that took values to their 2010 peak following our 'golden decades' of growth, will not be replicated as we enter a very different and challenging macro environment than previously experienced – hence why I hold the opinion that we'll see shorter durations to the traditional boom and bust "market cycle."
The bottom lines remains, those looking to purchase in the current environment may well need to re-assess their budget 'upwards' in order to do so.
Weekend Clearance Rate Figures

Week Ending Sunday 18th August 2013

Clearance Rate:
75%
Total Auctions:
555 (75 unreported)
Sold:
418
Passed in:
137
At auction:
341
Vendor Bid:
86
Before auction:
76
Real bid:
51
After auction:
1
Total Private Sales:
458
Weekly Turnover:
876
Source: www.reiv.com.au
The NPB clearance rate is representative of the results evidenced in the 'quality' end of the marketplace. We take the results from a range of suburbs; however please note we are not 'suburb specific'. NPB Melbourne, negotiate on hundreds of properties for their clients each year throughout all areas of Melbourne and the Bellarine Peninsula. The properties we highlight are taken from a selection which we carefully analyse for quality assessment and revise daily.
NPB's clearance rate moving in line with REIV data– however it should be noted, the quality and quantity of 'good' listings are slowly reducing now we're in winter, and this has increased competition.
Weekend Clearance Rate Figures

Week Ending Sunday 18th August 2013

NPB Clearance Rate:
87%
Total Auctions Reviewed:
49
Sold:
43
Passed in:
6
Under $600k+:
15
2
$600k-$1m:
15
2
$1m+:
13
2
Why is the NPB Clearance Rate always higher than the REIV Clearance Rate?
The NPB clearance rate is a snapshot of 'investment grade' or 'cream of the crop' properties representing only those we recommend to clients. These are properties that hold the best potential for a long term capital growth and rental demand. Whilst the Real Estate Institute of Victoria include all properties scheduled for auction (as reported by their members) – including those that are poorly located and unlikely to attract demand even in a robust climate; our clearance rate is far more representative of the market that represents our client's best interests. It's an important part of how we assess the best negotiation strategy for your needs.
The full list of the 49 properties reviewed by NPB this weekend:
< $600k

Suburb
Type
Beds
Quote
Result
Fawkner
Townhouse
3
$340-380k
SOLD $385,000
East Melbourne
Apartment
1
$370-400k
SOLD $435,000
Elsternwick
Apartment
2
$390-430k
SOLD $440,000
Greensborough
House
3
$390-430k
SOLD $455,000
Reservoir
House
3
$420k+
SOLD $465,000
Preston
Unit
2
$380k+
SOLD $471,000
Donvale
Townhouse
2
$410-450k
SOLD $486,000
Fitzroy North
Apartment
2
$450k+
SOLD $487,500
Caulfield North
Apartment
2
$430-490k
PASSED IN
Reservoir
Townhouse
3
$450k+
SOLD $517,000
Richmond
Apartment
1
$430-470k
SOLD $530,000
Forest Hill
House
2
$450-490k
SOLD $530,000
Greensborough
House
3
$450-490k
PASSED IN
Carnegie
Unit
2
$450-490k
SOLD $547,000
Hawthorn East
Apartment
2
$500k+
SOLD $555,000
Ashwood
House
3
$490-530k
SOLD $557,000
Thornbury
House
2
$520-570k
SOLD $585,000
Sold
15
Passed In
2
NPB Clearance Rate 88%
Total
17
$600k – $1m

Suburb
Type
Beds
Quote
Result
Bentleigh East
Unit
3
$470-510k
SOLD $625,000
Collingwood
Apartment
2
$500-550k
SOLD $630,000
Thornbury
Unit
3
$550-600k
SOLD $650,000
Blackburn
House
3
$500-550k
SOLD $661,500
Blackburn South
House
3
$550k+
SOLD $703,000
West Footscray
House
3
$600-660k
SOLD $705,000
Carlton North
Apartment
2
$680-750k
SOLD $720,000
Fitzroy
Apartment
2
$575-625k
SOLD $821,000
Thornbury
House
3
$700-770k
PASSED IN
Port Melbourne
House
2
$750-820k
SOLD $830,000
Collingwood
Townhouse
3
$680-740k
SOLD $851,000
Elsternwick
Unit
2
$750-825k
SOLD $851,000
St Kilda East
Apartment
3
$750k+
SOLD $915,000
Ascot Vale
House
3
$780-850k
SOLD $945,000
Malvern East
Unit
3
$780-850k
SOLD $950,000
Kew
Apartment
2
$850k+
PASSED IN
Heidelberg
House
4
$850-920k
SOLD $985,000
Sold
15
Passed In
2
NPB Clearance Rate 88%
Total
17
$1m+

Suburb
Type
Beds
Quote
Result
Brunswick West
House
3
$660-720k
SOLD $1,017,800
Abbotsford
House
3
$950k+
SOLD $1,065,000
Heidelberg
House
3
$800-880k
SOLD $1,100,000
North Melbourne
House
4
$950k+
SOLD $1,175,000
Ascot Vale
House
4
$1.15-1.25m
SOLD $1,260,000
Elsternwick
House
4
$1.35m+
SOLD $1,420,000
Kew
House
4
$1.2-1.3m
SOLD $1,460,000
Brighton East
House
4
$1.3m+
SOLD $1,466,000
Mont Albert
House
4
$1.35m+
SOLD $1,670,000
Glen Iris
House
4
$1.75m+
SOLD $1,840,000
Canterbury
House
4
$2m+
SOLD $2,250,000
Armadale
House
3
$2.2m+
SOLD $2,530,000
Canterbury
House
4
$3.9m+
PASSED IN
Sandringham
House
5
$3.9m+
SOLD $4,000,000
Elsternwick
House
8
$6m+
PASSED IN
Sold
13
Passed In
2
NPB Clearance Rate 86%
Total
15
Overall

Sold
43
Passed In
6
NPB Clearance Rate 87%
Total
49
AUCTIONS IN THE SPOTLIGHT
5/47 Coorigil Rd, Carnegie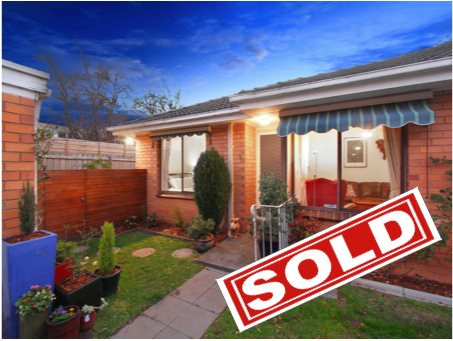 Reported by:

Catherine Cashmore

Agent:

Ray White

Quote:

High $400k

Crowd:

60 people (approx.)

Bidders:

5

On the Market:

$507,500

Result:

SOLD $547,000
Comment:
Last week 1/47 Coorigil Rd sold for $501,000 – this unit presented a little better, however the result was beyond expectation. 5 bidders competed for the little villa easily pushing past the reserve of $507,000. The result of $547,000 clearly represents of the current heat in the market.
CONTACT US
If you need any assistance with searching, assessing or negotiating your next property purchase or simply wish to discuss your property buying needs, please don't hesitate to contact us. Alternatively, you can complete our online Help Us Help You form and we will contact you.
Regards
Antony Bucello and Catherine Cashmore