The REIV has reported a weekend clearance rate of 63% from the 772 auctions that took place.
A total of 484 properties sold and 288 passed in, 189 of which passed in on a vendor bid.
Last week's revised clearance rate was 57% and at the same time last year, the clearance rate was reported at 64%.
With an increase in the number of auctions held, a 63% clearance rate indicates that demand for Melbourne property is slowly increasing.
Even with the temperature reaching the high 30's on Saturday, auction crowds were generally very good and many believe the market may have bottomed out.
With February's auction's now over, there is talk of a turn in the market. Clearance rates are stronger than what they were in the last quarter of 2011.
While there are plenty of buyers out looking for property, there doesn't appear to be a real sense of urgency and many are prepared to wait for the right property to come along.
Overall, encouraging results for vendors on the weekend, which may just sway many more that are considering selling to take the plunge and put their property on the market.
The REIV is expecting around 860 auctions for the first weekend of March and that will be followed by a significant reduction the following week for the Labour Day long weekend.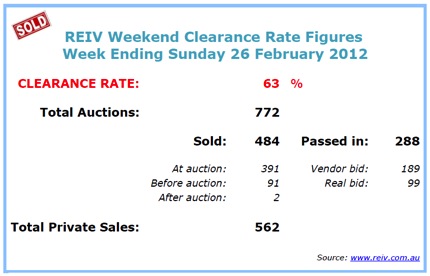 The NPB Clearance Rate for auctions reviewed over the weekend was 75%, up 6% from last week's 69%.
We monitored a total of 48 properties this week, of which 36 sold and 12 passed in.
The lower end of the market performed strongest with a category clearance rate of 81%, up considerably on last weeks' 63%. We reviewed a total of 16 properties and 13 of those sold and only 3 passed in.
The middle range category had another consistent week with a clearance rate of 75%. 12 of the 16 properties we reviewed found new owners and 4 were passed in. This category had a clearance rate of 76% last week.
The high end of the market also remained consistent with a clearance rate of 69%. We reviewed a total of 16 properties in this category and 11 of those sold and 5 passed in. Last weeks' clearance rate for this category was 70%.
3 of the 4 auctions we physically attended on Saturday on behalf of clients all sold with multiple competition at each.
With February's auction now over, there is no doubt there are early indications that the market is picking up.
The market in March is expected to perform very similar to February, if not slightly better, particularly in both the lower end and middle range categories.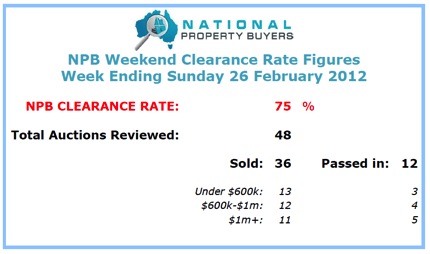 The full list of the 48 properties we reviewed this weekend: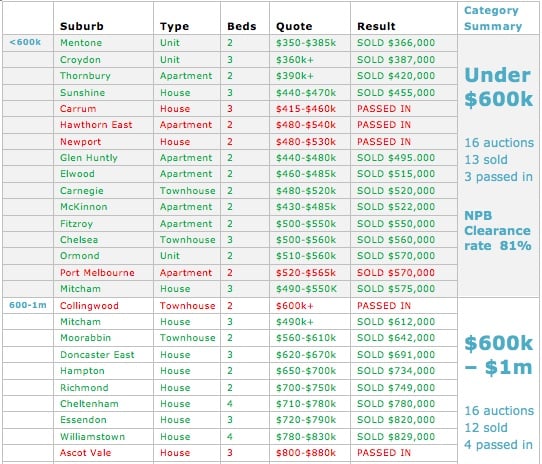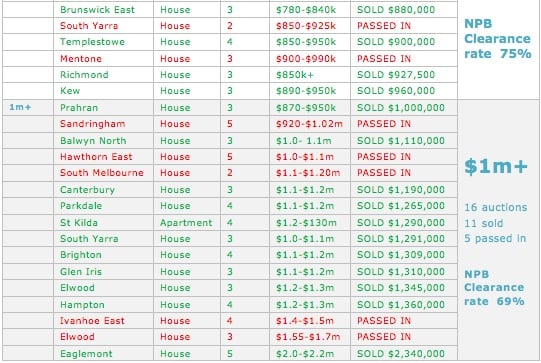 Auctions in the Spotlight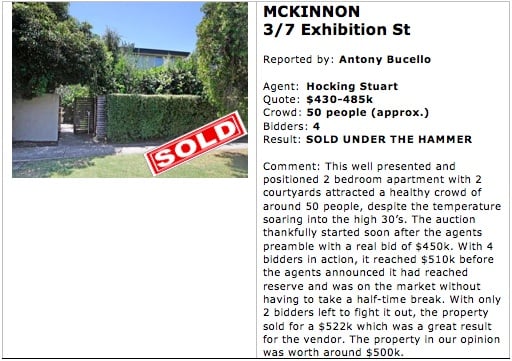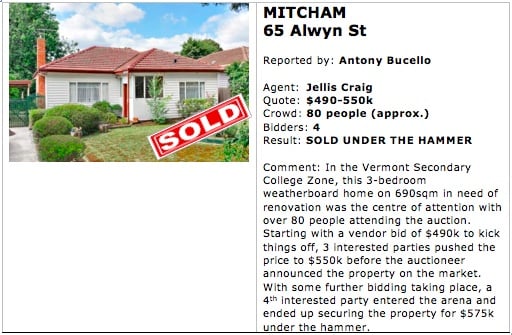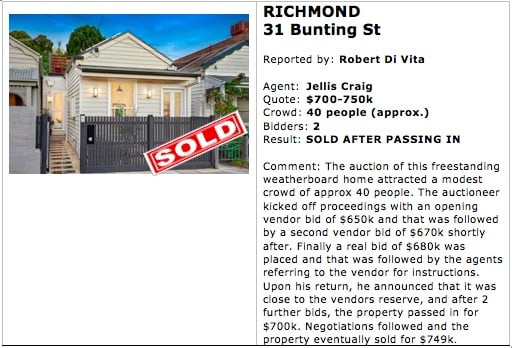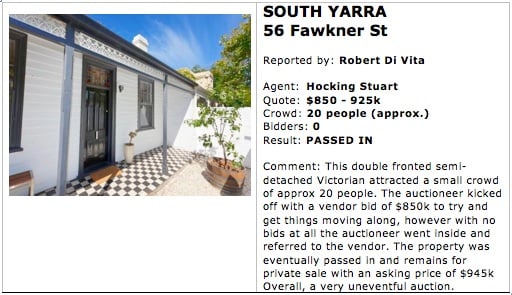 Contact Us
If you need any assistance with searching, assessing or negotiating your next property purchase or simply wish to discuss your property buying needs, please don't hesitate to contact us. Alternatively, you can complete our online Help Us Help You form and we will contact you.
Regards
Antony Bucello
[email protected]
0418 131 950