How long do we have until house prices start to trend upwards?
by Antony Bucello & Catherine Cashmore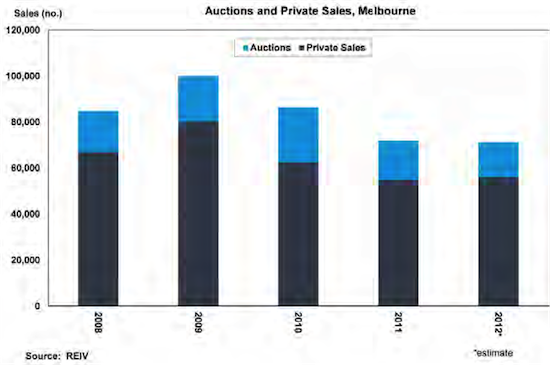 We're right on the precipice of the spring selling season which is set to be the busiest of the year, and although it may sound all doom and gloom, rarely have buying conditions been as favourable as they are at present. The big question we need to ask is 'how long do we have until the tables start to turn?'
For an answer to the above question, we need to take note of three important figures – the clearance rate, transaction levels, and home loan approvals – all of which have a very close correlation to month to month price movements. The graph below – taken from an RBA paper in 2010 emphasises this point perfectly;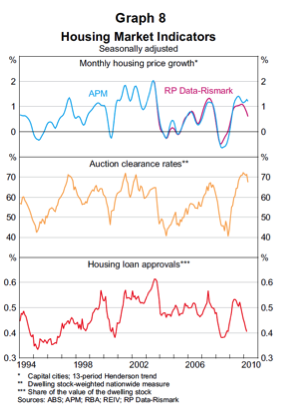 The weekend clearance rate of 61 per cent is a slight improvement on the year to date figure of 58 per cent, however with 72 auction results yet 'unreported' it's clear the vast majority are being resolved via negotiation compared to 'under the hammer' sales. However, the number of auctions scheduled to take place each weekend has dropped considerably from the numbers witnessed in 2009 and 2010. As such, the clearance rate is reflecting the low activity in the market and as you can see from the graph above, overall transaction levels are lingering just below that of last year.
Figures from the REIV show only 21 per cent of transactions are expected to be conducted by auction this year – this figure is comparative to last year during which 20 per cent of sales were conducted by auction. It's also worth noting, that auction sales predominantly happen in inner city areas, with suburbs such as Richmond, Hawthorn, Northcote and St Kilda recording the largest number of reported auctions to date for 2012.
With this in mind, it's important not to ignore outer suburban regions when analysing data as the census proves; due to reasons of affordability, the population is increasingly heading into these localities where auction sales are rare and private treaty transactions typically dominate the market. As a snapshot, the REIV records a +0.1 per cent price increase for the month of August in Geelong, +0.5 per cent in Bendigo, and prices broadly stable in Ballarat.
Having said this, it's important to understand the inner suburban market is a different animal from that witnessed in outer suburban localities where stock is typically in abundance and private transactions do little to spur inflation. The lower level of 'stock on market' in the inner and middle ring areas inevitably increases competition around desirable listings and sales prices in some 'pockets' have already begun to show green shoots of growth.
With interest rates on hold, there is little on the horizon to indicate an uplift in market activity for the remainder of this year. However, as historical data proves time, the market never stands still. When price rises do occur, it's likely the ripple effect will pan outwards, with a lift in the clearance rate evidencing the change.
The current conditions are only advantageous to those prepared to buck the trend and take advantage of the favourable climate whilst there's still time to do so. Although we don't expect much to change over the coming few weeks, the atmosphere bubbling around those properties exhibiting the 'best of the best' is likely to prove challenging as we head into spring and therefore, it wouldn't be surprising to see the clearance rate remain above 60 per cent for the remainder of this year.
Weekend Clearance Rate Figures

Week Ending Sunday 9th September 2012

Clearance Rate:
61%
Total Auctions:
466 (72 unreported)
Sold:
284
Passed in:
182
At auction:
230
Vendor Bid:
118
Before auction:
54
Real bid:
64
After auction:
0
Total Private Sales:
512
Weekly Turnover:
796
Source: www.reiv.com.au
The NPB clearance rate is representative of the results evidenced in the 'quality' end of the marketplace. We take the results from a range of suburbs; however please note we are not 'suburb specific'. NPB Melbourne, negotiate on hundreds of properties for their clients each year throughout all areas of Melbourne and the Bellarine Peninsula.
In line with the REIV, there's been an uplift in activity this week which has boosted the clearance rate substantially on last week's 71 per cent.
Weekend Clearance Rate Figures

Week Ending Sunday 9th September 2012

NPB Clearance Rate:
76%
Total Auctions Reviewed:
34
Sold:
26
Passed in:
8
Under $600k:
10
3
$600k-$1m:
9
2
$1m+:
7
3
Why is the NPB Clearance Rate always higher than the REIV Clearance Rate?
The NPB clearance rate is a snapshot of 'investment grade' or 'cream of the crop' properties representing only those we recommend to clients. These are properties that hold the best potential for a long term capital growth and rental demand. Whilst the Real Estate Institute of Victoria include all properties scheduled for auction (as reported by their members) – including those that are poorly located and unlikely to attract demand even in a robust climate; our clearance rate is far more representative of the market that represents our client's best interests. It's an important part of how we assess the best negotiation strategy for your needs.
The full list of the 34 properties reviewed by NPB this weekend:
< $600k

Suburb
Type
Beds
Quote
Result
Flemington
Apartment
1
$300-330k
SOLD $335,000
Caulfield South
Apartment
2
$370-400k
SOLD $400,000
Kew
Apartment
2
$400-440k
PASSED IN
Watsonia
House
3
$400-440k
SOLD $450,000
Elwood
Apartment
1
$420-460k
SOLD $462,000
Sandringham
Unit
2
$450-490k
SOLD $494,000
North Melbourne
Apartment
2
$410-450k
SOLD $512,000
St Kilda
Apartment
1
$480-520k
SOLD $525,000
Collingwood
Apartment
2
$490k+
PASSED IN
Kensington
House
2
$500-550k
PASSED IN
Clifton Hill
Townhouse
2
$510-560k
SOLD $547,750
Abbotsford
House
2
$520-570k
SOLD $580,000
Vermont
House
3
$560k+
SOLD $587,500
Sold
10
Passed In
3
NPB Clearance Rate 77%
Total
13
$600k – $1m

Suburb
Type
Beds
Quote
Result
Bentleigh East
House
3
$550-590k
SOLD $640,000
Coburg
House
3
$550-660k
SOLD $692,000
Seddon
House
2
$580-630k
PASSED IN
Doncaster
House
3
$590-650k
SOLD $710,500
Brunswick East
Townhouse
3
$600-650k
PASSED IN
Windsor
House
2
$620k+
SOLD $746,000
Heidelberg
House
4
$720-760k
SOLD $760,000
South Yarra
House
2
$600k+
SOLD $778,000
Richmond
House
2
$650-690k
SOLD $805,000
Balwyn
House
4
$850-900k
SOLD $937,500
St Kilda East
House
4
$900-950k
SOLD $951,000
Sold
9
Passed In
2
NPB Clearance Rate 82%
Total
11
$1m+

Suburb
Type
Beds
Quote
Result
Bentleigh
House
4
$950-1050k
PASSED IN
Ascot Vale
House
3
$950-1050k
SOLD $1,050,000
Malvern East
House
4
$1-1.1m
SOLD $1,100,000
Balwyn North
House
3
$1.05-1.15m
SOLD $1,170,000
Caulfield
House
4
$1.15-1.25m
SOLD $1,282,000
Richmond
House
4
$1.3m+
PASSED IN
Glen Iris
Townhouse
4
$1.4-1.5m
SOLD $1,510,000
Armadale
House
4
$1.4-1.5m
PASSED IN
Kew
House
4
$1.7-1.87m
SOLD $1,800,000
Templestowe
House
4
$2.3m+
SOLD $2,465,000
Sold
7
Passed In
3
NPB Clearance Rate 70%
Total
10
Overall

Sold
26
Passed In
8
NPB Clearance Rate 76%
Total
34
AUCTIONS IN THE SPOTLIGHT
6/1 Childers Rd, Malvern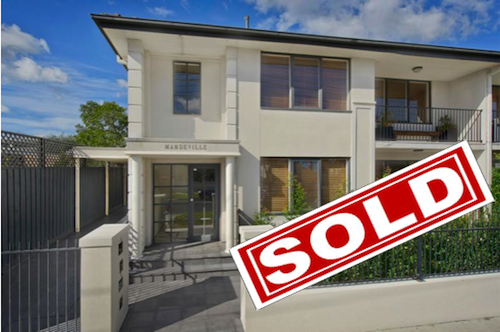 Reported by:

Catherine Cashmore

Agent:

Jellis Craig

Quote:

Mid $400k

Crowd:

40 people (approx.)

Bidders:

2

On Market:

N/A

Result:

Passed in $460,000 for negotiation – sold for 'undisclosed' price.
Comment:
The auction of this well presented, renovated, 1st floor 2 bedroom apartment, in a block of only 6, attracted a crowd of around 40 'potentially' interested participants. However, it took a vendor bid of $440,000, followed by second vendor bid of $450,000 and a 'half time break' to 'consult' with the vendor before the auctioneer managed to persuade 2 bidders to raise a hand. Despite this, the price didn't exceed $460,000 and property passed in for negotiation selling some time later for an undisclosed price.
17 Hyland St, South Yarra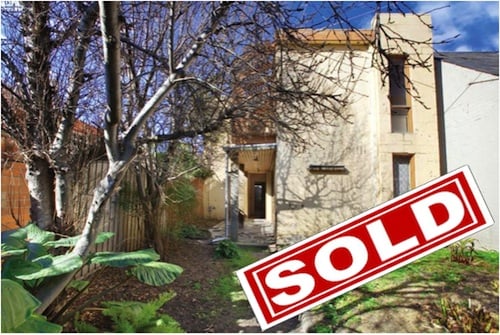 Reported by:

Robert Di Vita

Agent:

Marshall White

Quote:

POA

Crowd:

45 (approx)

Bidders:

7

On the Market:

$700,000

Result:

SOLD $778,000
Comment:
A freestanding two story town house in a prime position of South Yarra managed to attract a crowd of around 45 for the auction on Saturday. Not wanting to delay auction waiting for a genuine bid, the auctioneer kicked off proceedings with a vendor bid of $600k. Despite this, he didn't have to wait long for momentum to build and with 7 interested parties competing against each other, the atmosphere was aggressive. Minutes into the auction and the price had already reached $700k at which point the auctioneer announced the home 'on the market.' With strong bidding right through to the end, the house sold successfully under the hammer for $778,000.
54 Brewer Rd, Bentleigh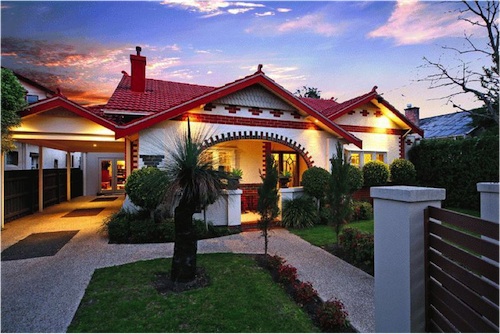 Reported by:

Catherine Cashmore

Agent:

Buxton

Quote:

POA

Crowd:

50 people (approx)

Bidders:

1

On the market:

N/A

Result:

Passed in VENDOR BID $1.060M
Comment:
A beautiful 4 bedroom renovated family home, perfect for the predominant buyer demographic in area, however, located on a busy thoroughfare which may have been off putting for some. The auction was slow starting and therefore the auctioneer chose to kick off proceedings with a vendor bid of $1.050mil. It took several strong statements from the auctioneer stressing there would be no half time break, and a second vendor bid of $1.060Mil before the auctioneer accepted defeat. The property is now listed for 'private sale.'
34 Erica Ave, Glen Iris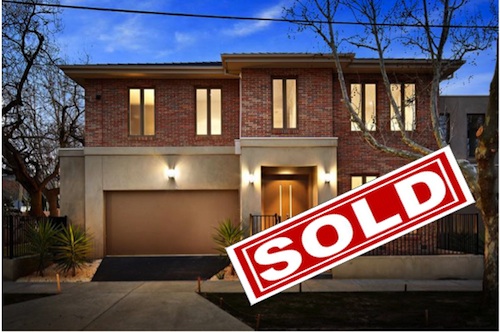 Reported by:

Catherine Cashmore

Agent:

Gary Peer

Quote:

POA

Crowd:

60 people (approx)

Bidders:

2

On the market:

$1.5Mil

Result:

SOLD $1.510Mil
Comment:
A contemporary Town residence was on offer at 31a Erica Ave in Glen Iris. With 4 bedrooms and 3 bathrooms, it offered great accommodation – albeit without the land.
Conducted inside due to the rain, a lone bidder perched on the staircase got the event rolling with a bid of 1.2mil.
Clearly it was some way below expectation, because the auctioneer wasted no time placing a counter 'vendor bid' of 1.3mil. With one more bid forthcoming of 1.350Mil, the auctioneer took time out to consult the vendor only to return a short few moments later, announcing the home was not yet 'on the market.' This didn't deter the crowd and a flurry of bidding from two eager participants followed.
At 1.5mil the home was finally announced 'on the market' and a final bid of 1.510mil sealed the deal.
5/56 Acland St, St Kilda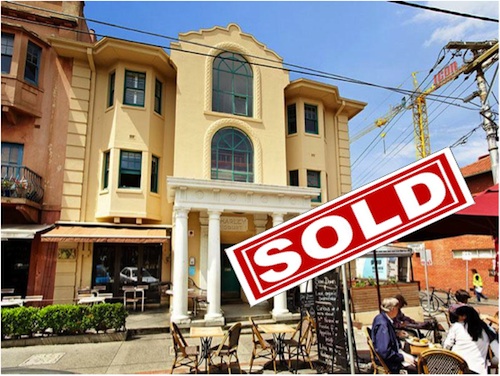 Reported by:

Robert Di Vita

Agent:

Hocking Stuart

Quote:

$480,000-$520,000

Crowd:

20 people (approx)

Bidders:

2

On the market:

$495,000

Result:

SOLD $525,000
Comment:
This attractive art deco apartment in original condition attracted a modest crowd of approximately 20. Hocking Stuart's auctioneer John Carter kicked off proceedings with a vendor bid of $470,000, and with little interest, followed with another vendor bid of $480,000. At this point 2 bidders worked up enough courage to get involved pushing the price up to its 'on market' number of $495,000. The point the bidding took an aggressive turn and with a final flurry, the property sold under the hammer for $525,000.
4 Capri Court, Doncaster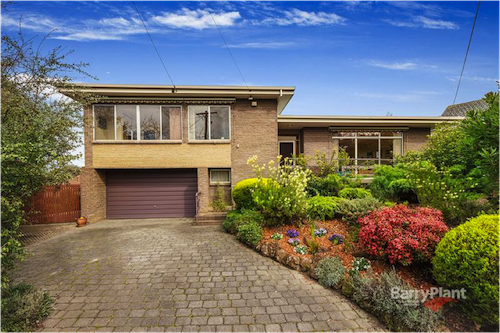 Reported by:

Antony Bucello

Agent:

Barry Plant

Quote:

$590,000-$650,000

Crowd:

50 people (approx)

Bidders:

6

On the market:

$685,000

Result:

SOLD $710,500
Comment:
The auction opened on a real bid of 590k and with 6 bidders competing, the price continued to rise consistently. Despite large lettering on a predominate white board indicating this was a 'Non Referral Auction,' at 662k the auctioneer decided to refer the bid to the vendor clearly hoping to get the home 'on the market.' However, it didn't reach its reserve until another round of bidding had pushed the price to 685k and with a final burst of activity, the house sold firmly under the hammer for $710,500.
CONTACT US
If you need any assistance with searching, assessing or negotiating your next property purchase or simply wish to discuss your property buying needs, please don't hesitate to contact us. Alternatively, you can complete our online Help Us Help You form and we will contact you.
Regards
Antony Bucello and Catherine Cashmore