3 October 2011
The REIV has not published a clearance rate this weekend as there were too few auctions to give an accurate reflection of the market due to the AFL Grand Final.
While there is no official clearance rate calculated, there were still 47 auction results reported to the REIV. A total of 29 of those sold, 8 of which sold before auction, and 18 passed in.
The average REIV clearance rate for the month of September was 54%. The REIV's year-to-date clearance rate is reported at 57.6%.
We will see exactly where the market is over the next few weeks with close to 600 auctions to be held next weekend and over 700 the following weekend.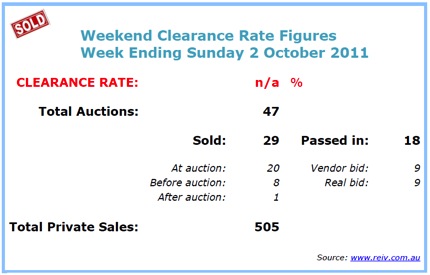 National Property Buyers has not calculated a weekly NPB clearance rate this week as there not enough properties to monitor in order to give a statistically reliable clearance rate. We always review a minimum of 30 sales when providing the NPB Clearance Rate.
While a NPB Clearance Rate has not been calculated, we still reviewed a total of 8 properties this week and 6 of those found new owners and 2 passed in. These properties are included in the year-to-date statistical data of all properties reviewed for the year by NPB. The NPB clearance rate last week was 66%, with 30 of the 45 properties we reviewed selling.
Melbourne Monthly Buyer Insights
National Property Buyers will be publishing their statistics for September including year-to-date figures in the next edition of the informative monthly newsletter Melbourne Monthly Buyer Insights. CLICK HERE to subscribe if you are not currently on the subscription list.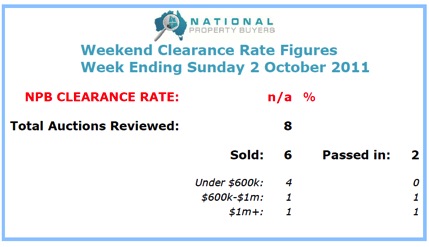 The full list of the 8 properties we reviewed this weekend:

Congratulations!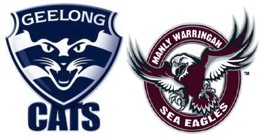 Congratulations to the Geelong Football Club and the Manly Sea Eagles for their wins in the AFL & NRL Grand Finals over the weekend. Geelong ended up convincing winners beating Collingwood by 38 points at the MCG on Saturday. The win makes it 3 Premierships in 5 years for Geelong, making them one of the best teams of all time. They thoroughly deserve the win as they were clearly the best team throughout September. The Manly Sea Eagles were too strong for the NZ Warriors beating them 24 to 10 on Sunday at ANZ Stadium.
CONTACT US
If you need any assistance with searching, assessing or negotiating your next property purchase or simply wish to discuss your property buying needs, please don't hesitate to contact us. Alternatively, you can complete our online Help Us Help You form and we will contact you.
Regards
Antony Bucello
[email protected]
0418 131 950