Tentative Signs of Recovery
by Antony Bucello & Catherine Cashmore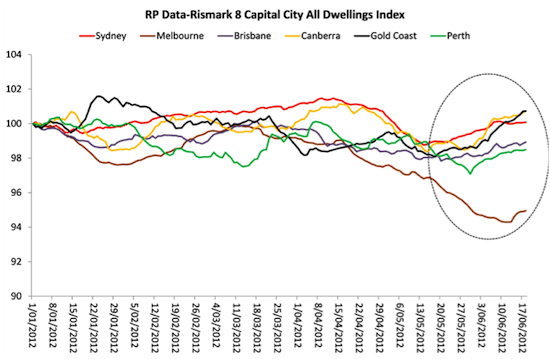 As Christopher Joye pointed out this week, the RP Data-Rismark 8 capital city dwellings index has started to show tentative signs of recovery in the housing market. As we've been re-iterating over previous weeks, this is no surprise to those working daily with buyers, sellers, and investors. Despite continued low confidence inspired by gloomy international economic data, along with a general 'unease' of sentiment, the desired effects of interest rate drops, finally passed on in part by the major banks as of the end of May, have finally kicked in. All States have started to show a marginal uplift in the data which, should we experience further drops to the cash rate, will continue to feed momentum into the market over the coming weeks.
Overall turnover is still down on the levels we experienced in 2010, and 'year to date' 2011. The clearance rate is also back below 60 per cent – this week coming in at 56 per cent. Therefore there's still a while to go before we expect full recovery; however for investors looking for return on capital, it's an encouraging start.
Data from the 2011 census has revealed the national median weekly rent has risen 50 per cent since the last census in 2006. Rental yields have increased substantially throughout the course of the year and this, coupled with the results we've outlined above, could be the catalyst for inspiring increased market demand.
Eighty per cent of sales nationally are in the pre $700,000 price bracket. Therefore as we've pointed out previously, the weakness in demand is generally contained to the 'luxury' end of the marketplace. Stock levels are dropping from the record highs we've been experiencing throughout the course of 2011. It's now accepted that most property that's been 'lingering' for extended 'days on market' has finally been sold or withdrawn, and the seasonal winter change has resulted in very little good 'affordable' stock to choose from.
Providing a good price can be negotiated between the cautious buyer and still somewhat 'unrealistic' vendor, we've managed to secure some excellent deals for our clients over the past few months. Although Melbourne's housing supply is above that of other states, the census data shows Melbourne has added more than 400,000 people in the last five years. This can only be described as 'rapid growth'. Yet the supply in our housing market in the inner and middle ring suburbs is considerably weaker than that in the outer suburban regions. Considering most immigrants need to locate themselves within commutable distance to Melbourne's major job hubs, it's unrealistic to expect house prices to remain on level trajectory for the long term. At some point the wheel will start to turn. Therefore – as ever – the 'potential' home buyer needs to ask themselves if they can afford to sit back and wait for this to happen.
Weekend Clearance Rate Figures

Week Ending Sunday 24th June 2012

Clearance Rate:
56%
Total Auctions:
544
Sold:
305
Passed in:
239
At auction:
250
Vendor Bid:
158
Before auction:
51
Real bid:
81
After auction:
4
Total Private Sales:
570
Total Weekly Turnover:
875
Source: www.reiv.com.au
The NPB clearance rate is representative of the results evidenced in the 'quality' end of the marketplace. The market shows stability, however quality listings are becoming few and far between and attracting strong interest from serious buyers.
Weekend Clearance Rate Figures

Week Ending Sunday 24th June 2012

NPB Clearance Rate:
74%
Total Auctions Reviewed:
31
Sold:
23
Passed in:
8
Under $600k:
8
2
$600k-$1m:
8
3
$1m+:
7
3
Why is the NPB Clearance Rate always higher than the REIV Clearance Rate?
The NPB clearance rate is a snapshot of 'investment grade' or 'cream of the crop' properties representing only those we recommend to clients. These are properties that hold the best potential for a long term capital growth and rental demand. Whilst the Real Estate Institute of Victoria include all properties scheduled for auction (as reported by their members) – including those that are poorly located and unlikely to attract demand even in a robust climate; our clearance rate is far more representative of the market that represents our client's best interests. It's an important part of how we assess the best negotiation strategy for your needs.
The full list of the 31 properties reviewed by NPB this weekend:
< $600k

Suburb
Type
Beds
Quote
Result
Thornbury
Apartment
1
$220-240k
SOLD $246,000
Bonbeach
Unit
2
$300-330k
PASSED IN
Carnegie
Apartment
1
$340-370k
SOLD $385,000
Carnegie
Unit
2
$390-430k
SOLD $430,000
Ferntree Gully
Unit
3
$400-440k
SOLD $430,000
Greensborough
Townhouse
3
$400-440k
SOLD $430,000
Yarraville
House
2
$410-450k
PASSED IN
Footscray
House
2
$440-480k
SOLD $487,000
Vermont
House
3
$500k+
SOLD $525,000
Oakleigh
House
2
$540-570k
SOLD $585,000
Sold
8
Passed In
2
NPB Clearance Rate 80%
Total
10
$600k – $1m

Suburb
Type
Beds
Quote
Result
West Footscray
House
3
$550-600k
SOLD $605,000
Abbotsford
House
2
$520-570k
SOLD $655,000
Pascoe Vale South
House
3
$600-650k
SOLD $655,000
Williamstown
House
3
$650-700k
SOLD $675,000
Richmond
House
2
$520-570k
SOLD $708,000
Newport
House
4
$660-730k
PASSED IN
Richmond
Townhouse
3
$700-750k
SOLD $758,000
Coburg
House
3
$730-790k
PASSED IN
Box Hill South
Townhouse
3
$750-850k
PASSED IN
Ascot Vale
House
4
$800-880k
SOLD $895,000
Caulfield South
Townhouse
3
$770-850k
SOLD $957,000
Sold
8
Passed In
3
NPB Clearance Rate 73%
Total
11
$1m+

Suburb
Type
Beds
Quote
Result
Prahran
Townhouse
3
$850-900k
SOLD $1,000,000
Balwyn
House
4
$900-990k
SOLD $1,025,000
Hampton
House
4
$950-1050k
PASSED IN
Kew
House
3
$1-1.1m
SOLD $1,115,000
Brighton
House
4
$1.05-1.15m
SOLD $1,246,000
South Melbourne
Townhouse
4
$1.3-1.4m
SOLD $1,500,000
Surrey Hills
House
4
$1.4-1.5m
PASSED IN
Caulfield North
House
3
$1.4-1.5m
PASSED IN
Balwyn
House
6
$1.7-1.9m
SOLD $2,050,000
Kew
House
5
$2.1-2.3m
SOLD $2,600,000
Sold
7
Passed In
3
NPB Clearance Rate 70%
Total
10
Overall

Sold
23
Passed In
8
NPB Clearance Rate 74%
Total
31
AUCTIONS IN THE SPOTLIGHT
7 Doris Ave, Murrumbeena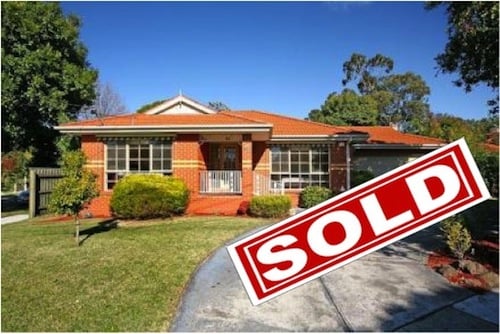 Reported by:

Catherine Cashmore

Agent:

Hocking Stuart

Quote:

$730,000-$800,000

Crowd:

30 people (approx.)

Bidders:

2

On Market:

N/A

Result:

Passed in for $765,000 – SOLD $800,500
Comment:
An elegantly renovated 3 bedroom 2 bathroom house situated in a good pocket of Murrumbeena (546 sqm of land). The auction was well attended – opening on a vendor bid of 700K with 2 bidders competing. At 740K the action slowed enough for the auctioneer to go inside and 'seek instructions'. As expected, the property was not placed on the market. There was a little more action with competition pushing the result to $765,000 before the property passed in for negotiation – finally selling for $800,500
2/15 Truganini Rd, Carnegie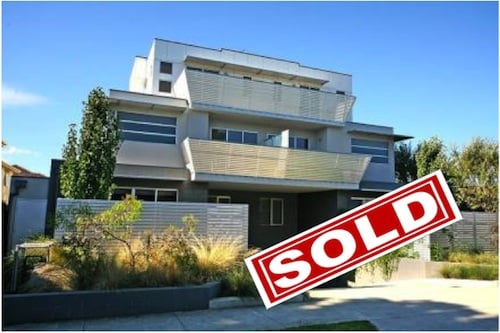 Reported by:

Catherine Cashmore

Agent:

Hocking Stuart

Quote:

$340,000-$370,000

Crowd:

40 people (approx.)

Bidders:

2

On the Market:

$380,000

Result:

SOLD $385,000
Comment:
A well located contemporary one bedroom ground floor apartment – walking distance to all amenities with two private courtyards. Not surprisingly this auction was in a price range to attract a lot of attention. I suspect there were more than 2 bidders, however few got a chance to raise a hand. The auction opened on a vendor bid of $340,000. Two bidders took to the floor with a fast series of 'tit for tat' bidding. At $380K the property was announced 'on market' with the hammer falling at $385,000
1/11 Grandview Grove, Carnegie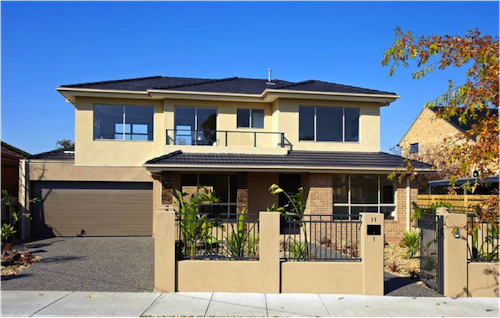 Reported by:

Catherine Cashmore

Agent:

Noel Jones

Quote:

$850,000-$930,000

Crowd:

20 people (approx.)

Bidders:

0

Result:

PASSED IN ON VENDOR BID $880,000
Comment:
As expected, the top 'luxury' end of the market was the hardest hit over the weekend. This contemporary 'front of block' townhouse in a lovely pocket of Carnegie, failed to capture the attention of serious bidders. Opening on a vendor bid of $800K, the auctioneer was forced to place two more 'vendor bids' prior to passing the home in for $880,000. The property is now listed 'private sale' for $910,000.
CONTACT US
If you need any assistance with searching, assessing or negotiating your next property purchase or simply wish to discuss your property buying needs, please don't hesitate to contact us. Alternatively, you can complete our online Help Us Help You form and we will contact you.
Regards
Antony Bucello and Catherine Cashmore