by Antony Bucello & Catherine Cashmore
Why it's vital for every property investor to understand exactly what the median means for individual property prices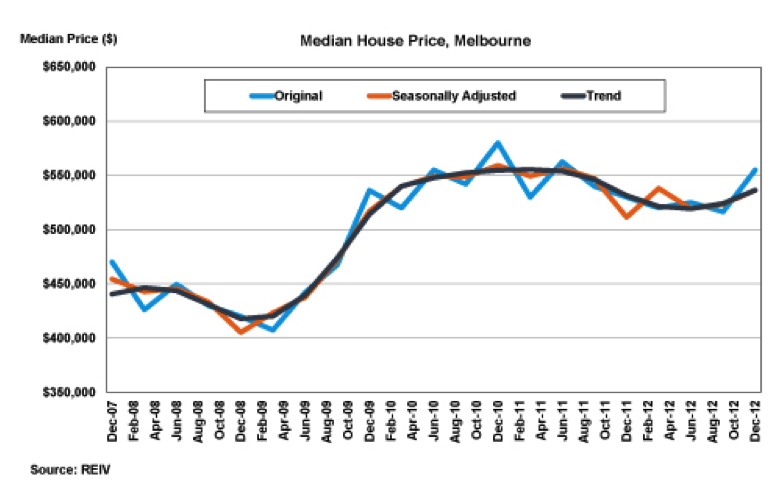 All median price statistics have now been released for the last qtr of 2012 from the REIV, RP Data, APM and Residex, and it should come of no surprise to find little correlation in the various conclusions reached.
The differences occur primarily from the way the results are correlated, with each index choosing to stratify the numbers using varying methodologies.
As we indicated in our last newsletter – the final quarter traditionally produces a rise in median data due to seasonal trends which are corrected in part in the first quarterly results of each 'new' year. This is due to lower transaction figures which filter in from an initial month containing little auction activity, long weekends, and this year, an early Easter.
REIV figures have produced the biggest contrast in the final quarterly figures with a +7.8 per cent increase in their median house price. This equates to a +4.7 per cent increase for the year. Accordingly, the REIV now have the calculated median house price at $555,000.
Dig a little deeper, and it's clear the rise has in part resulted from a rather hefty revision to the REIV's third quarter median price – which was revised downwards to $515,000 from the previously reported $530,000.
Revisions in data occur due to a lag in agent reporting and more comprehensive and reliable information filtering in from the Valuer General office, which only records results as property transactions settle.
The median REIV unit price also increased over the December quarter by 4.2 per cent, recording a yearly increase of 1.3 per cent. The median unit price is $456,000 – approximately 21 per cent below the median house price.
The REIV definition of a unit covers everything that falls outside of the detached housing market. Therefore, units, apartments and townhouses all fall into this sector. This is not the case with other data providers who stratify the results to reflect 'like for like' property types.
Once again, the jump in the REIV December median has resulted in part from a downward revision to the third quarter unit results which reduced the unit median price to $437,500 from a previously recorded $442,000.
Other data providers have been less bullish in their conclusions. APM have their calculation of the median house increasing a mere 2.4 per cent over the quarter and + 0.5 per cent for the year. APM's 2012 median house price is now $526,000. Their median unit price only rose 1 per cent in December (2.2 per cent for the year) coming in at $391,000 – a -16 per cent difference compared to the REIV result.
RPdata have also been more moderate in their claims – recording a drop for the December quarter of -1.5 per cent for median house data – equating to a yearly drop of – 2.9 per cent and a 2012 median house price of $550,000. Their unit data is also rather negative, -2.7 per cent has been recorded for the December quarter and -2.5 per cent for the year. RPdata's unit median is now $435,000.
It is vital for every property investor to understand exactly what the median means for individual property prices and to do so requires careful consideration of the broader market landscape.
Firstly – a 'pre Christmas' homebuyer rush produced a 16 per cent uplift in overall transactions for the month of December 2012, compared to December 2011. The sudden uplift transpired from a very low base and clearly indicated an uptick in investor confidence following the partially passed on interest rate drops at the end of 2012.
Therefore, as activity increased, it enabled the 'second home buyer' market to upgrade and purchasing activity in the higher price brackets consequently improved. This alone, produced a marked uplift in the REIV's median price data without translating to a +7.8 per cent increase in individual property prices.
To emphasise the point – Abbotsford has become the first suburb in Victoria to record a million dollar median unit price. The data shows the unit median increased 126 per cent over the year which sounds amazing, until you break down the data to reveal 20 sales of luxury units over $1 million in a new development featuring 3 – 5 bedroom dwellings. Abbotsford is an attractive suburb and popular with inner city home buyers – however quality listings are few and far between and when they do arise, they tend to attract heated competition. Prices however remain fairly stable for the year.
Broadly speaking, throughout 2012, house and unit prices remained unchanged – and compared to the historic norm, turnover was low. Therefore, in most suburbs comprising of REIV changes to the median, there have been less than 30 sales – not enough to gauge an accurate relationship between the median house price and actual percentage price changes.
In fact, median data is only a useful representation of actual house price increases when analysed over a long trajectory and in periods where turnover remains relatively high across all price ranges. A good example would be our 'boom' years of growth which clearly show a period of remarkable inflation in nominal house prices.
Property remains a solid investment as part of a diversified portfolio, however as we move forward into what promises to be a very 'long' election year, investors must make sure they pick their acquisitions carefully. Good independent advice will ensure the property not only attracts a reliable long term tenant, but also maintains value in both hot and cold market atmospheres.
There has been no clearance rate recorded due to less than 100 auctions taking place on the first auction weekend of the year.
AUCTIONS IN THE SPOTLIGHT
2/44 Keon St, Thornbury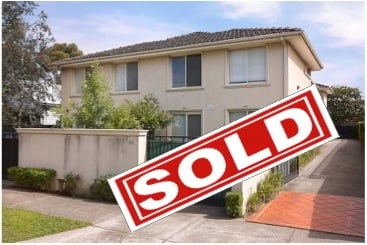 Reported by:

Antony Bucello

Agent:

Hocking Stuart

Quote:

$390-420k

Crowd:

80 people (approx.)

Bidders:

6

On Market:

$425,000

Result:

Sold $451,000
Comment:
A solid result was recorded for our first auction of 2013. A crowd of around 80 turned out to watch 2/44 Keon St, Thornbury sell under the hammer. The two bedroom apartment with 2 courtyards attracted no less than 3 buyer advocates and heated interest from both first home buyers and investors.
One bidder was evidently feeling lucky as he placed an opening bid of $290,000. This was immediately eclipsed by the auctioneer who ventured a vendor bid of $370,000.
Heated competition pushed the price range up to its reserve of $425,000. However, the bids didn't slow until $450,000 after which the 'under-bidder' dropped out allowing the hammer to drop at $451,000.
CONTACT US
If you need any assistance with searching, assessing or negotiating your next property purchase or simply wish to discuss your property buying needs, please don't hesitate to contact us. Alternatively, you can complete our online Help Us Help You form and we will contact you.
Regards
Antony Bucello and Catherine Cashmore