Over 1000 sales recorded this week – Will the property market end spring on a home run?
by Antony Bucello & Catherine Cashmore
The clearance rate is holding steady, this week coming in at 62 per cent compared to a revised 60 per cent last week and 53 per cent for the same week last year. On a positive note, increased spring 'foot traffic' is being evidenced by an uplift in the overall number of sales, which this week exceeded 1000 – a figure which hasn't been achieved for a number of months.
RP data have indicated earlier gains which showed an almost 4 per cent rise in Melbourne's median house price between May 2012 and August 2012, could retract marginally over the month of October. This underlines points we have emphasized previously concerning putting too much emphasis on short term changes to the median house price, whilst overall volumes of sales are still low.
In such an environment, any rises and falls are typical features of a market dominated by owner occupiers (those who need to either sell or buy) and consequently are reflective of the particular composition of properties selling week to week, rather than an overall 'call to market' recovery.
To emphasize the point, there has been an increase in the number of multimillion dollar homes sold during the previous few months and weeks. These include a five-bedroom, three-bathroom house on Deepdene Road in Balwyn which sold for $4.55 million (of which five bidders competed.) Two homes in Hawthorn Grove (Hawthorn) one selling for $5 million and one for $12 million – and a Toorak mansion which sold this past week for $16 million.
The uplift at the top end gives a boost to the data being released, however until we see a significant uplift of investors and first home buyers at the lower price points, median rises and falls are largely being dictated by the sale of properties attracting owner occupiers, coupled with a subtle 'downward' shift in overall vendor expectation.
It is however possible to insure against future price reductions whilst still taking advantage of what remains an overall advantageous 'buyers market.' Over the last decade to 2011, 92 per cent of all borrowing by residential property investors and 82 per cent by owner occupiers was for established dwellings. It's therefore important to understand that the best hedge against market rises and falls, is to target property that will attract the predominant buyer demographic, and to date recent sales data shows 'new housing' in fringe suburbs or high rise inner city apartments, fall woefully short of the mark.
This doesn't mean buyers should always steer clear of 'new' housing or high rise accommodation – both of which can provide extra tax benefits for the investor. It's simply important to make sure there are quality features that will maintain a home's appeal once the 'gloss' has tarnished – this would include making sure the home is located in an area with plentiful amenities – the most important of which is public transport.
It's well understood that owner occupiers are the demographic that will – if emotionally invested in their home of choice – push house prices north. They're the ones who you'll see stretching an extra 20k or 30K at auction in order to secure their 'dream.' Therefore, whether you're a home buyer or investor, the best way to buffer against downward phases of the property cycle is to target property well suited to the predominant home buyer demographic 'shopping' in your targeted suburb.
Because we've experienced such low turnover year to date in most regions of our city, inner suburban areas which have performed strongly and maintained a good turnover of sales to date, are worthy of mention. These would include;
Richmond (212 sales),
Hawthorn (172),
Northcote (163),
Glen Iris (153), and
Reservoir (151)
(Source: REIV).
In addition, the suburbs which have featured at least 50 auctions and maintained a healthy clearance rate to date are as follows;
Fitzroy North with 92 sales and a CR of 78%,
Oakleigh with 67 sales and a CR of 76%,
Hawthorn with 228 sales and a CR of 75%,
Armadale with 137 sales and a CR of 75%,
and Elsternwick with 126 sales and a CR of 75%
(Source: REIV)
Next week is one of the few 'Super Saturday's' of the year, during which close to 1200 homes are expected to be auctioned prior to the long 'Melbourne Cup' weekend which follows.
Weekend Clearance Rate Figures

Week Ending Sunday 21st October 2012

Clearance Rate:
62%
Total Auctions:
695 (73 unreported)
Sold:
431
Passed in:
264
At auction:
345
Vendor Bid:
155
Before auction:
85
Real bid:
109
After auction:
1
Total Private Sales:
584
Weekly Turnover:
1015
Source: www.reiv.com.au
The NPB clearance rate is representative of the results evidenced in the 'quality' end of the marketplace. We take the results from a range of suburbs; however please note we are not 'suburb specific'. NPB Melbourne, negotiate on hundreds of properties for their clients each year throughout all areas of Melbourne and the Bellarine Peninsula. The properties we highlight are taken from a selection which we carefully analyse for quality assessment and revise daily.
Weekend Clearance Rate Figures

Week Ending Sunday 21st October 2012

NPB Clearance Rate:
83%
Total Auctions Reviewed:
30
Sold:
25
Passed in:
5
Under $600k:
8
1
$600k-$1m:
9
2
$1m+:
8
2
Why is the NPB Clearance Rate always higher than the REIV Clearance Rate?
The NPB clearance rate is a snapshot of 'investment grade' or 'cream of the crop' properties representing only those we recommend to clients. These are properties that hold the best potential for a long term capital growth and rental demand. Whilst the Real Estate Institute of Victoria include all properties scheduled for auction (as reported by their members) – including those that are poorly located and unlikely to attract demand even in a robust climate; our clearance rate is far more representative of the market that represents our client's best interests. It's an important part of how we assess the best negotiation strategy for your needs.
The full list of the 30 properties reviewed by NPB this weekend:
< $600k

Suburb
Type
Beds
Quote
Result
Thornbury
Apartment
1
$270-295k
SOLD $325,000
St Kilda West
Apartment
1
$300-330k
SOLD $335,000
Brunswick
Apartment
1
$350-385k
SOLD $400,000
Glen Iris
Apartment
2
$400k+
SOLD $421,000
Glen Iris
Apartment
2
$400-440k
SOLD $456,000
Richmond
Apartment
1
$370-400k
SOLD $465,000
Mitcham
House
3
$500k+
SOLD $528,000
Thornbury
Unit
2
$470-500k
SOLD $580,000
North Melbourne
Apartment
2
$490-530k
PASSED IN
Sold
8
Passed In
1
NPB Clearance Rate 88%
Total
9
$600k – $1m

Suburb
Type
Beds
Quote
Result
Kensington
Townhouse
3
$580-630k
SOLD $641,500
Collingwood
House
2
$400-440k
SOLD $662,500
Glen Huntly
Unit
3
$600-650k
SOLD UNDISCLOSED
Brunswick
Townhouse
2
$600-650k
SOLD $711,000
Richmond
Townhouse
2
$600k+
SOLD $734,000
West Melbourne
Apartment
2
$650-700k
PASSED IN
Coburg
House
3
$660-720k
SOLD $756,000
Camberwell
Apartment
3
$700k+
PASSED IN
Moorabbin
House
4
$700k+
SOLD $797,500
Carlton North
House
3
$775-850k
SOLD $920,000
Malvern East
House
3
$800-850k
SOLD $930,000
Sold
9
Passed In
2
NPB Clearance Rate 81%
Total
11
$1m+

Suburb
Type
Beds
Quote
Result
Elwood
House
3
$980-1050k
PASSED IN
Richmond
House
4
$1m+
SOLD $1,115,000
Highett
House
4
$950-1050k
SOLD $1,130,000
Bentleigh East
Townhouse
3
$1m+
SOLD $1,210,000
Mount Waverley
House
4
$990k-1.1m
SOLD $1,260,000
Albert Park
House
3
$1.2-1.3m
SOLD $1,330,000
Brighton
House
4
$1.6-1.7m
SOLD $1,807,000
Camberwell
House
4
$1.5m+
SOLD $1,856,000
Brighton
House
4
$2.5m+
PASSED IN
Balwyn
House
5
$4m+
SOLD $4,550,000
Sold
8
Passed In
2
NPB Clearance Rate 80%
Total
10
Overall

Sold
25
Passed In
5
NPB Clearance Rate 83%
Total
30
AUCTIONS IN THE SPOTLIGHT
2/30 Keon Street, Thornbury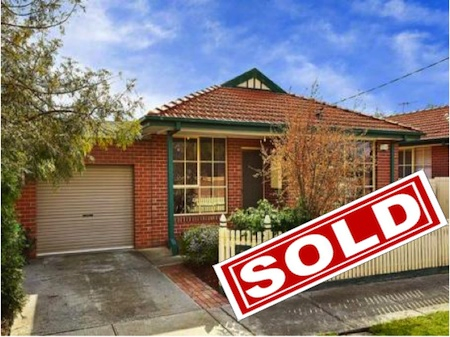 Reported by:

Antony Bucello

Agent:

Barry Plant

Quote:

$470,000-$500,000

Crowd:

50 people (approx.)

Bidders:

7

On Market:

$540,000

Result:

SOLD $580,000
Comment:
It wasn't a surprise to witness such a heated auction for this modest villa.
Anyone who has been following the real estate market in the Thornbury area, will know there is scant choice for a downsizer looking for a single level town residence.
Following a brief pre-amble the auctioneer didn't have to use a vendor bid to get the event underway. A real bid of $470,000 was taken and no less than 7 bidders competed.
In no time at all, the price reached $540,000 and the home was placed 'on the market' with no referral to the vendor needed.
The hammer fell at $580,000 – it wasn't a boom result, but represented a strong sale in the current market.
22 Royena Road MOORABBIN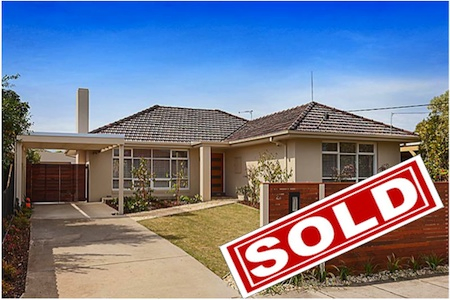 Reported by:

Catherine Cashmore

Agent:

Woodards

Quote:

POA

Crowd:

80 (approx)

Bidders:

0

On the Market:

N/A

Result:

Passed in on a vendor bid of $700,000 – sold later for $797,500 (recorded as 'sold and auction').
Comment:
Around 80 people attended the auction of this fully renovated property in the heart of Moorabbin.
The auctioneer, took the time to point out some rather onerous clauses on the contract stating amongst other matters that the certificate of occupancy had not yet been received. Whether this deterred bidders cannot be determined, however not one bid was taken and the property passed in on a vendor bid of $700,000.
Despite this – a later sale was recorded, signifying interest 'after the auction,' and the property sold for $797,500.
7 Crowther Place, Brighton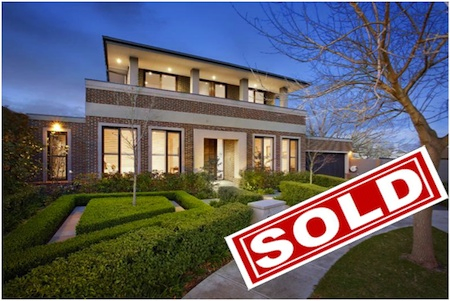 Reported by:

Catherine Cashmore

Agent:

Buxton

Quote:

POA (in excess of mid $2Mil)

Crowd:

35 people (approx)

Bidders:

1

On the market:

N/A

Result:

Passed in for $2.7Mil
Comment:
Situated in a highly regarded pocket of Brighton, there is little in the overall attraction of this property in which to find fault. The auctioneer took the time to tell the waiting crowd that the market "peaked in 2007" and in his "20 years selling" he had not seen a "better time to buy."
Considering the market actually peaked in 2010, it's little wonder the crowd didn't take much notice of his assessment of the 'right time to buy' – and few showed genuine interest.
Calling for an opening bid of 2.6mil returned no response, therefore he placed a vendor bid of 2.6mil and another at 2.7mil, after which a buyer offered to match his $2.7Mil after which the property passed in for negotiation.
A successful result was later recorded for $2,925,000
313/45 York St, Richmond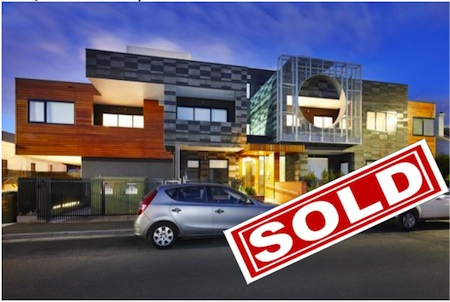 Reported by:

Antony Bucello

Agent:

Hocking Stuart

Quote:

$370,000-$400,000

Crowd:

35 people (approx)

Bidders:

2

On the market:

$440,000

Result:

SOLD $465,000
Comment:
(A small one bedroom apartment with sizeable terrace).
This was hotly contested auction attracting both investors and first home buyers.
The auctioneer called for an opening bid and immediately received $370,000 from one interested party.
The auction then moved at a quick pace, and even thought there were only two bidders, it was clear others in the crowd would have stepped in if given a half a chance.
At $440,000 the property was announced "on the market," and at $465,000 the hammer dropped.
17 Nicol Street, HIGHETT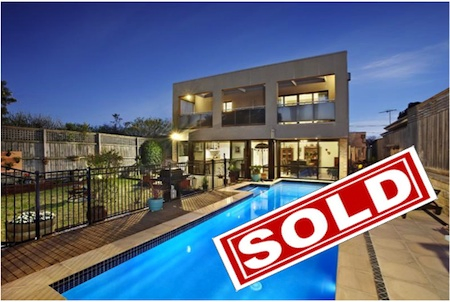 Reported by:

Catherine Cashmore

Agent:

Buxton

Quote:

$950,000-$1,050,000

Crowd:

55 people (approx)

Bidders:

2

On the market:

$1,060,000

Result:

SOLD $1,130,000
Comment:
A 4 bedroom 3 bathroom renovated home on 616sqm of land with a swimming pool.
This was a speedy auction with two parties going head to head taking the price from a genuine opening bid of $970,000 to the reserve of $1,060,000 in seconds.
At $1,130,000 the second bidder finally ran out of steam and the hammer dropped signifying a great result for the vendor.
CONTACT US
If you need any assistance with searching, assessing or negotiating your next property purchase or simply wish to discuss your property buying needs, please don't hesitate to contact us. Alternatively, you can complete our online Help Us Help You form and we will contact you.
Regards
Antony Bucello and Catherine Cashmore