Signs of Housing Market Recovery??
by Antony Bucello & Catherine Cashmore
Whilst a drop in interest rates is widely promoted as being 'good news for the housing market,' with Wayne Swan bouncing around as if he's a personal 'Jiminy Cricket' sitting on the shoulders of the board during RBA's monthly meetings, it's worth assessing the market for additional information to evaluate if a sustained uplift in median values will eventuate.
RPData have already confirmed that increases to capital city medians are starting to affect market conditions. Several of our cities are showing moderate signs of recovery, with the surprise result being Melbourne, which experienced a 4 per cent rise in its median house price between May 2012 and September 2012.
A close look at the data, indicates a boost in the number of 'up-sizers' – and we're not yet seeing wide evidence of price rises on individual listings. However, there's no doubt a seasonal uplift in the number of people purchasing property is having a marginal impact on the resulting data which can only be viewed as positive.
The RBA principally cut rates because stress in the economy, coupled with the high Australian dollar, is having a negative impact on our terms of trade. This may well compromise any perceived benefit from a rate cut and needs to be balanced as such. With this in mind, calls of 'market recovery' should be approached with caution until firm trends have been established.
Last week the media went to town over the REIV's 66 per cent clearance rate, which was widely promoted as being the highest to date. However, as we predicted, it reduced mid week to 64 per cent once all the data had been collected – concluding many of the lagging results eventuated from lengthy negotiations. This week's clearance rate of 62 per cent may also drop once the mid week data has filtered in. However, it's safe to say we have broken away from the 50 percentile 'doldrums.'
To gauge a 'feel' of increased heat in the market place using auction data alone requires a greater number of 'under the hammer' sales than we're currently witnessing. Historically, median price rises and falls, have matched the volatility of clearance rate data. However, with low volumes of sales still occurring, the small fluctuations we're seeing in the clearance rate from week to week are more to do with 'what's on offer' from one sales campaign to the next, rather than an overall 'call to market.'
We don't expect 'a rush to buy' until an increase in the clearance rate data is also coupled with a sustained uplift in buyer confidence. Having said this, it is of note that the clearance rate has improved throughout the year and now sits at 61 per cent (YTD) – equal to that recorded this time 2011.
Whereas last year's housing market showed strength at the start of the year and petered off towards the end. 2012 is ending the year ahead of a weak first half which is further encouraging perception that recovery is 'at least' underway.
Transaction levels are also showing marginal improvement. The month of September broke with trend; recording 9,200 sales across Victoria (REIV data), which is 19 per cent higher than October and 21 per cent higher than this time last year (REIV).
Obviously, the seasonal shift is responsible 'in part' for increased activity – however it is also notable the result is higher than this month last year, during which the market was still in its weakening cycle.
In two weeks time, we'll have the first spring 'super' Saturday, with 1500 auctions expected. Even if current clearance rates and transaction levels sustain, – overall sales for the year will still be down on 2011 which will keep any price rises in check for a while longer yet.
However, for investors wondering whether to buy, it's worth emphasizing, prices are no longer dropping and further rate cuts – which are widely predicted – are likely to stimulate a speedier overall recovery. Therefore – even in taking a cautionary approach – there's wisdom in moving ahead of the crowd.
Weekend Clearance Rate Figures

Week Ending Sunday 14th October 2012

Clearance Rate:
62%
Total Auctions:
578 (90 unreported)
Sold:
358
Passed in:
220
At auction:
290
Vendor Bid:
130
Before auction:
67
Real bid:
90
After auction:
1
Total Private Sales:
513
Weekly Turnover:
871
Source: www.reiv.com.au
The NPB clearance rate is representative of the results evidenced in the 'quality' end of the marketplace. We take the results from a range of suburbs; however please note we are not 'suburb specific'. NPB Melbourne, negotiate on hundreds of properties for their clients each year throughout all areas of Melbourne and the Bellarine Peninsula.
Weekend Clearance Rate Figures

Week Ending Sunday 14th October 2012

NPB Clearance Rate:
82%
Total Auctions Reviewed:
33
Sold:
27
Passed in:
6
Under $600k:
11
2
$600k-$1m:
9
1
$1m+:
7
3
Why is the NPB Clearance Rate always higher than the REIV Clearance Rate?
The NPB clearance rate is a snapshot of 'investment grade' or 'cream of the crop' properties representing only those we recommend to clients. These are properties that hold the best potential for a long term capital growth and rental demand. Whilst the Real Estate Institute of Victoria include all properties scheduled for auction (as reported by their members) – including those that are poorly located and unlikely to attract demand even in a robust climate; our clearance rate is far more representative of the market that represents our client's best interests. It's an important part of how we assess the best negotiation strategy for your needs.
The full list of the 33 properties reviewed by NPB this weekend:
< $600k

Suburb
Type
Beds
Quote
Result
Mentone
Unit
1
$210-230k
SOLD $236,000
Richmond
Apartment
1
$280-320k
SOLD $312,000
Brunswick
Unit
1
$270-295k
SOLD $315,000
Richmond
Apartment
1
$280k+
PASSED IN
Brunswick
Apartment
1
$290-320k
SOLD $325,000
Richmond
Apartment
1
$280-320k
SOLD $336,000
Carnegie
Apartment
1
$260-290k
SOLD $337,000
St Kilda East
Apartment
2
$400-430k
PASSED IN
Hawthorn
Apartment
2
$400k+
SOLD $470,000
Richmond
Apartment
2
$400k+
SOLD $490,000
Camberwell
Apartment
2
$440-480k
SOLD $501,000
Coburg
Townhouse
2
$500-550k
SOLD $530,000
Northcote
Apartment
2
$520-570k
SOLD $570,000
Sold
11
Passed In
2
NPB Clearance Rate 84%
Total
13
$600k – $1m

Suburb
Type
Beds
Quote
Result
Coburg
House
3
$520-570k
SOLD $600,000
Camberwell
Unit
3
$590k+
SOLD $625,000
Richmond
Townhouse
2
$550k+
SOLD $635,000
Doncaster East
Unit
3
$520-580k
SOLD $658,888
Templestowe Lower
Townhouse
3
$550-600k
SOLD $676,000
Prahran
House
3
$760-830k
SOLD $855,000
Northcote
Townhouse
3
$700-770k
SOLD $862,000
McKinnon
House
3
$750-800k
SOLD $975,000
Richmond
House
2
$800-900k
PASSED IN
Kew
House
3
$850k+
SOLD $992,000
Sold
9
Passed In
1
NPB Clearance Rate 90%
Total
10
$1m+

Suburb
Type
Beds
Quote
Result
Brighton
House
3
$900-990k
SOLD $1,035,000
Brunswick East
House
4
$1.03-1.15m
PASSED IN
South Melbourne
House
3
$1.1m+
PASSED IN
Elwood
House
4
$1.1m+
PASSED IN
Caulfield North
House
3
$1.2-1.32m
SOLD $1,282,500
Templestowe
House
4
$1.2-1.3m
SOLD $1,395,500
Armadale
Townhouse
4
$1.2-1.3m
SOLD $1,510,000
Richmond
Townhouse
3
$1.4m+
SOLD $1,650,000
Fitzroy North
House
4
$1.3-1.43m
SOLD $1,845,000
East Melbourne
House
3
$1.6m+
SOLD $2,025,000
Sold
7
Passed In
3
NPB Clearance Rate 70%
Total
10
Overall

Sold
27
Passed In
6
NPB Clearance Rate 82%
Total
33
AUCTIONS IN THE SPOTLIGHT
16 Addison St, Elwood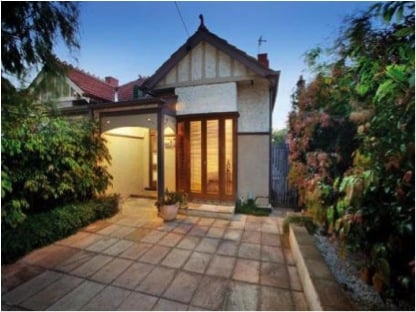 Reported by:

Catherine Cashmore

Agent:

Bennison MacKinnon

Quote:

In excess of $1.1Mil

Crowd:

10 people (approx.)

Bidders:

0

On Market:

N/A

Result:

Passed in on a vendor bid of $1.1Mil – reserve $1,195,000
Comment:
This 4br 2bth single fronted Edwardian is located in one of the best streets in Elwood.
A modest crowd of only 10 or so onlookers was in attendance – most of whom looked like neighbours taking a 'sticky beak' and hoping recent talks of median house price rises would stimulate a positive result.
However, the auction was un-eventful. Calling for an opening bid of 1.1Mil, the auctioneer was met with silence. He then kicked off proceedings with a vendor bid of 1.1Mil, but with no-one prepared to counter bid – despite his best persuasive efforts – the property passed in on his vendors bid of 1.1Mil.
82 Bendigo St, Prahran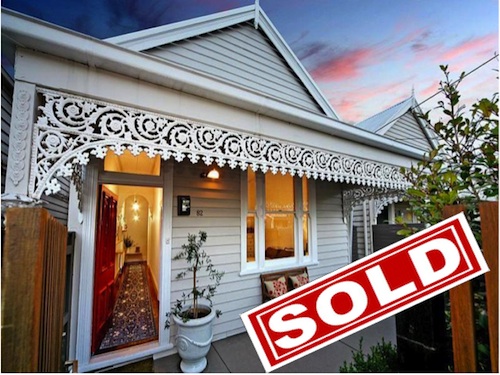 Reported by:

Catherine Cashmore

Agent:

Hocking Stuart

Quote:

$760,000-$830,000

Crowd:

40 (approx)

Bidders:

2

On the Market:

N/A

Result:

Passed in for negotiation at $830,000 – sold for $855,000.
Comment:
A 3br 1bth single fronted Victorian.
A large crowd attended this auction which was no surprise considering the location. Walking distance to Chapel Street and an array of amenities, plus situated in a pretty streetscape of period homes, the house offered plenty of value add potential and presented a good entry level opportunity – typically for a young duel income couple.
The auctioneer called for an opening bid, but predictably no one was keen to start. Therefore he opened with a vendor bid of $790,000 and called for $10,000 rises.
Two bidders finally heeded the call pushing the price quickly to $830,000. The midterm break failed to result in the property going 'on the market' and upon return, the auctioneer was unable to inspire further interest.
After a final effort to motivate the crowd, the home passed in for negotiation at $830,000 – and later sold for $855,000.
19 Jarvie St, Brunswick East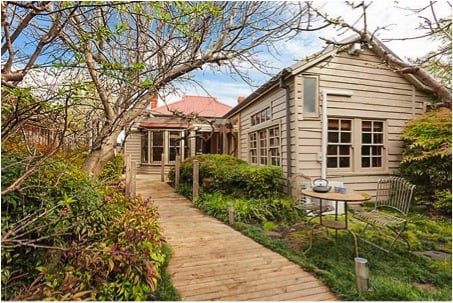 Reported by:

Robert Di Vita

Agent:

Woodards

Quote:

$1,030,000-$1,150,000

Crowd:

35 people (approx)

Bidders:

0

On the market:

N/A

Result:

Passed in on a vendor's bid of $1,030,000 – reserve $1,150,000
Comment:
A 4 bedroom 2 bathroom freestanding Edwardian which in a better market would no doubt attract competition. However, the spring atmosphere failed to motivate interest from an onlooking crowd of around 35 people.
The auctioneer kicked off with a vendor bid of $1,030,000 – and with no bids forthcoming, even after the traditional half time trip to consult the vendor, the property passed in the initial vendor bid.
6/54 Hotham St St Kilda East
Reported by:

Catherine Cashmore

Agent:

Gary Peer

Quote:

$400,000-$430,000

Crowd:

20 people (approx)

Bidders:

0

On the market:

N/A

Result:

Passed in on a vendor bid of $400,000 – reserve $459,000.
Comment:
2 bedroom 1 bathroom unit.
Another uneventful auction with a crowd more interested in eating the lollies being handed out by the real estate agency than bidding.
Opening on a vendor bid of $400,000, the auctioneer did his best to be jovial and inspire some motivation from a modest crowd of 20 or so onlookers. However, even the half time break didn't have the positive effect hoped for, and the property passed in on the initial vendor bid of $400,000.
3 Waites Court, Templestowe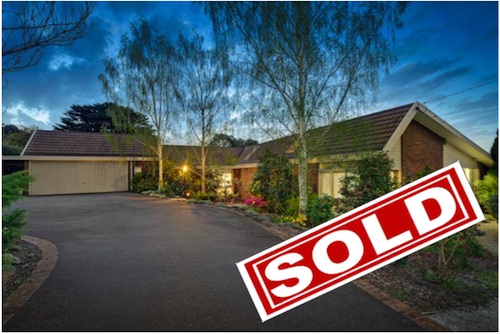 Reported by:

Antony Bucello

Agent:

Jellis Craig

Quote:

$1,200,000-$1,300,000

Crowd:

55 people (approx)

Bidders:

2

On the market:

$1,265,000

Result:

SOLD $1,395,500
Comment:
A 5 bedroom 2 bathroom home on just under an acre of land.
The auctioneer, not breaking with tradition, opened on a vendor bid of $1,200,000 mil. It took a while to get the crowd inspired, however eventually 2 bidders competed in a steady – but strong paced auction.
At $1,265,000 without consulting with the vendor, the auctioneer announced the house 'on the market.' However, the bidding didn't pull up until some $100,000 later, resulting in a sale 'under the hammer' for $1,395,500. – a strong result.
CONTACT US
If you need any assistance with searching, assessing or negotiating your next property purchase or simply wish to discuss your property buying needs, please don't hesitate to contact us. Alternatively, you can complete our online Help Us Help You form and we will contact you.
Regards
Antony Bucello and Catherine Cashmore