A Healthy Result Recorded for the First 'Bumper' Auction weekend of Spring. But is it too early to celebrate?
by Antony Bucello & Catherine Cashmore
The REIV recorded 624 auctions this weekend which was markedly higher than the previous few weekends.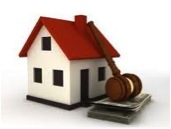 Therefore, all eyes were on the clearance rate with estate agents eager to see an improvement as we get ready for the 'high spring' selling season, in which the AFL Grand Final acts as the 'starting gun.'
A rate of 64 per cent was recorded which is an improvement on last week's revised result of 58 per cent. However, with 88 results still to be reported, it is highly likely the clearance rate will drop once the mid week 'revised' figures get released.
Year to date there have been approximately 20 per cent less auctions than this time in 2011. The malaise has been felt across the whole market with fewer sales via private treaty also hampering any prospect of an immediate uplift in median data.
In order to see any lasting improvement, we need to experience a consistent clearance rate above 60 per cent along with a higher number of properties selling each week. As a bench mark – in a good market, sales data from private sales and auctions, reported weekly to the REIV, ranges between 800 -1200 (with figures further adjusted when 'valuer general data' filters through.)
'Bumper' weekends – such as the one we've just experienced during which a higher number of auctions take place due to a public holiday or other such event, – should see in excess of 1000 sales. However, year to date, we've barely reached the bottom end of the above scale. Turnover in 2008, during the height of the GFC, was better than it is currently.
This weekend's reported turnover was in excess of 900 sales. Coupled with the clearance rate result, it's certainly an improvement. If it lasts throughout spring, we may see a short seasonal upward 'blip' in the median data which may spur confidence for the beginning of 2013. However, it's all speculation at this stage and far too early to call.
For those who may be thinking prices will drop further, it's worth pointing out that nearly 50 per cent of Australian mortgage holders are ahead in their monthly re-payments. Although the number of home owners drops slightly each year, reflecting growing pressures of affordability in what remains a highly leveraged market. It represents a landscape in which most vendors do not have to drop their pre-conceived price expectations.
Vendor's price their homes based on vested emotions with figures that often bear little relation to the dictates of today's 'property shoppers.'
The problem reflects a game of 'stalemate' – consumers have a need to purchase real estate, but no desire to spend 'big' in an arena of flat market equity. Unlike other industries, where price drops can attract a flurry of spending, such as a retail sale for example – residential real estate is broadly considered a vehicle for investment over and above its basic value as a 'place of shelter.' Furthermore, because the selling price is set with a large dose of 'emotion,' it's harder to recognise if a drop in price represents a 'true' bargain.
Every investor wants to catch the 'wave' – purchasing just before any gains occur. If this weekend's results reflect a trend that will continue into next year, it would be foolish not to take the 'bit' and step in – especially with further talks of a rate cut. However success in property investment over the next ten years or so will primarily be restricted to small pockets within popular suburban locations – and even then, only if the property is assessed to be one consistently attracting the predominant buyer demographic shopping in that location – as well as purchased for a good price.
Only around 20 auctions are set to take place next week due to the Grand Final. Therefore, we'll have to wait until the following weekend to assess if the positive 'uplift' will continue.
Weekend Clearance Rate Figures

Week Ending Sunday 23rd September 2012

Clearance Rate:
64%
Total Auctions:
624 (88 unreported)
Sold:
401
Passed in:
223
At auction:
345
Vendor Bid:
141
Before auction:
54
Real bid:
82
After auction:
2
Total Private Sales:
526
Weekly Turnover:
927
Source: www.reiv.com.au
The NPB clearance rate is representative of the results evidenced in the 'quality' end of the marketplace. We take the results from a range of suburbs; however please note we are not 'suburb specific'. NPB Melbourne, negotiate on hundreds of properties for their clients each year throughout all areas of Melbourne and the Bellarine Peninsula.
In line with the REIV, there's been an uplift in activity this week which has boosted the clearance rate substantially on last week's 71 per cent.
Weekend Clearance Rate Figures

Week Ending Sunday 23rd September 2012

NPB Clearance Rate:
79%
Total Auctions Reviewed:
34
Sold:
27
Passed in:
7
Under $600k:
9
3
$600k-$1m:
11
2
$1m+:
7
2
Why is the NPB Clearance Rate always higher than the REIV Clearance Rate?
The NPB clearance rate is a snapshot of 'investment grade' or 'cream of the crop' properties representing only those we recommend to clients. These are properties that hold the best potential for a long term capital growth and rental demand. Whilst the Real Estate Institute of Victoria include all properties scheduled for auction (as reported by their members) – including those that are poorly located and unlikely to attract demand even in a robust climate; our clearance rate is far more representative of the market that represents our client's best interests. It's an important part of how we assess the best negotiation strategy for your needs.
The full list of the 34 properties reviewed by NPB this weekend:
< $600k

Suburb
Type
Beds
Quote
Result
Alphington
Apartment
1
$270k+
SOLD $336,000
Thornbury
Apartment
2
$340-375k
SOLD $401,000
Brunswick
Unit
2
$360-400k
SOLD $423,500
Hawthorn East
Apartment
2
$400-440k
SOLD $481,500
Richmond
Apartment
2
$390-430k
SOLD $490,000
Brunswick West
Unit
2
$450-495k
SOLD $497,000
South Yarra
Apartment
2
$450k+
SOLD $515,000
Coburg
Townhouse
2
$470-510k
PASSED IN
Mitcham
House
3
$540k+
SOLD $585,000
North Melbourne
Apartment
2
$540-580k
PASSED IN
Fitzroy
Townhouse
2
$540-580k
SOLD $595,000
West Footscray
House
3
$550-580k
PASSED IN
Sold
9
Passed In
3
NPB Clearance Rate 75%
Total
12
$600k – $1m

Suburb
Type
Beds
Quote
Result
Brunswick
House
2
$540-580k
SOLD $628,000
Collingwood
Townhouse
2
$575-625k
PASSED IN
Mitcham
House
3
$580-630k
SOLD $630,000
Carnegie
House
2
$550k+
SOLD $639,500
Northcote
House
2
$550-600k
SOLD $656,000
Caulfield South
House
2
$610-670k
SOLD $670,000
Preston
House
3
$550-600k
SOLD $690,000
Northcote
House
2
$630-680k
SOLD $760,000
South Melbourne
House
2
$700k+
SOLD $810,000
Port Melbourne
House
2
$800-850k
SOLD $845,000
Flemington
House
3
$740-800k
SOLD $850,000
Fairfield
House
3
$750-790k
SOLD $865,000
Bentleigh East
House
3
$750-800k
PASSED IN
Sold
11
Passed In
2
NPB Clearance Rate 85%
Total
13
$1m+

Suburb
Type
Beds
Quote
Result
Albert Park
House
3
$900k+
SOLD $1,040,000
Port Melbourne
House
3
$900k-1m
SOLD $1,140,000
Brighton East
House
3
$1.1-1.2m
PASSED IN
Toorak
Townhouse
3
$1.3-1.4m
SOLD $1,430,000
Caulfield North
House
4
$1.45-1.55m
SOLD $1,581,000
South Yarra
House
4
$1.75m+
SOLD $1,830,000
Brighton
House
3
$2.1m+
SOLD $2,300,000
Canterbury
House
4
$2.2m+
SOLD $2,522,000
Carlton
House
4
$3-3.3m
PASSED IN
Sold
7
Passed In
2
NPB Clearance Rate 78%
Total
9
Overall

Sold
27
Passed In
7
NPB Clearance Rate 79%
Total
34
AUCTIONS IN THE SPOTLIGHT
23 Remuera Street CAULFIELD SOUTH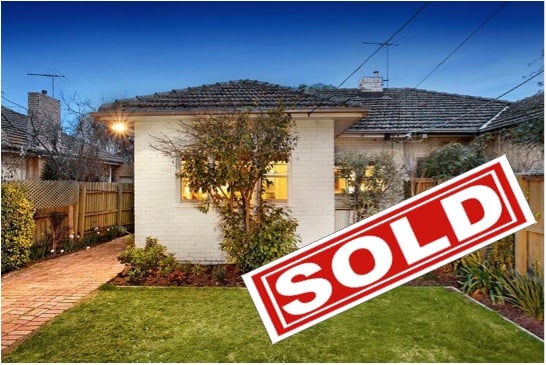 Reported by:

Catherine Cashmore

Agent:

Hocking Stuart

Quote:

$610,000-$670,000

Crowd:

35 people (approx.)

Bidders:

0

On Market:

N/A

Result:

Passed in Vendor Bid $650,000 – sold later for an undisclosed result in excess of the vendor bid.
Comment:
Nestled in the suburb of Caulfield South, this attractive, albeit, 'original' art deco era 'one of a pair' was up for grabs. The front of the block wasn't wide, but the depth provided plenty of room for extension and therefore it was expected to attract young couples looking for a good opportunity to get a 'foot through the door' in a suburb which has become increasingly unaffordable for the first home buyer demographic.
Despite the sunshine, the crowd attending was modest in size and comprised mostly of neighbours. The auctioneer was forced to open on a vendor bid of $650,000 – and called for a $10,000 rise. There was clearly no genuine bidders in the crowd – most were relaxing against the wall talking amongst themselves. Despite a half time break and dropping the requested increments to $5,000, the house passed in on the initial vendor bid of $650,000.
A 'sold at auction' result was reported to the REIV – therefore a buyer willing to negotiate must have been found later on that afternoon.
68 Wingate St, Bentleigh East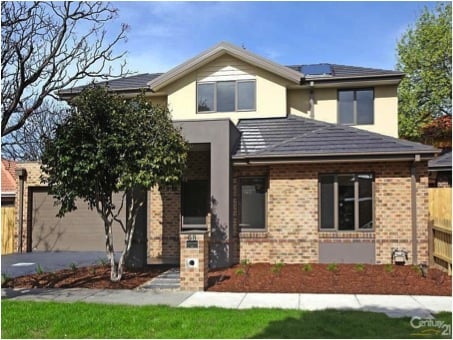 Reported by:

Catherine Cashmore

Agent:

Century 21 (On Centre)

Quote:

$730,000-$780,000

Crowd:

35 people (approx.)

Bidders:

0

On the Market:

N/A

Result:

Passed in on a Vendor Bid of $740,000.
Comment:
There was a fairly large crowd attending this auction, however once again genuine interest was failing.
The auctioneer was quick to point out that "unlike his competitors" he was not "under quoting" and buyers could expect to pay in the published price range.
After highlighting the 'numerous' benefits of being in a townhouse on a corner block, he called for an opening bid to a silent group of attendees.
Placing a vendor bid of $730,000 also did little to kick off any action. Therefore, the auctioneer took a brief midterm break, evidently hoping the crowd would be a little more attentive to his call upon return.
The break proved unsuccessful and with a second vendor bid of $740,000 along with the statement 'I believe it's worth more than that' – the auctioneer passed the property in.
A reserve of $770,000 has been recorded.
1/40 Spring Rd, Hampton East
Reported by:

Catherine Cashmore

Agent:

Buxton

Quote:

POA

Crowd:

40 people (approx.)

Bidders:

0

On the market:

N/A

Result:

Passed in $680,000 – reserve $750,000.
Comment:
Another somewhat disappointing result surprised the auctioneer at Spring St, Hampton East.
Despite a good turnout for a brand new Townhouse sitting neatly on a corner block, genuine interest was lagging.
Calling for a start of $650,000 failed to inspire much action. The auctioneer therefore opened on a vendor bid of $650,000. One buyer countered at $660,000 – however he was met with a quickly placed 'second' vendor bid of $670,000. After some persuasion the bidder came back at $680,000, but with no competition to push the price further, the property was passed in for negotiation.
The reserve has been set at $750,000
7 St Georges Court, Brighton East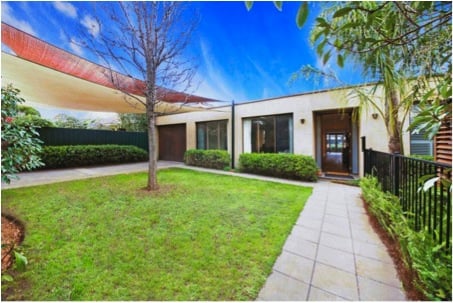 Reported by:

Catherine Cashmore

Agent:

Buxton

Quote:

POA

Crowd:

10 people (approx.)

Bidders:

0

On the market:

N/A

Result:

Passed in on a vendor bid of $1.250Mil.
Comment:
At 7 St George's Court, Brighton East, there was another disappointing auction for the vendor.
A beautiful 3 bedroom house in a quiet court location would usually produce a good result in this suburb, however despite a cameraman being there to film the auctioneer in his prowess, there was little else to entertain.
A good pre amble full of 'Brighton delights' was met with silence as the auctioneer called for an opening bid of $1.25mil.
Finally giving into temptation he opened at $1.25mil on a vendor bid, but with no counter offers, he disappeared inside to see the vendor. Returning shortly after he commented that there "really wasn't much to talk to the vendor about" with no bids, once again expressing surprise at the evident lack of motivation.
The break didn't change the mood and the property passed in on his initial vendor bid of 1.25mil with the auctioneer assuring the watchers that he would produce an eventual sale.
The reserve has been disclosed at $1,350,000
3/101 Martin Street, Brighton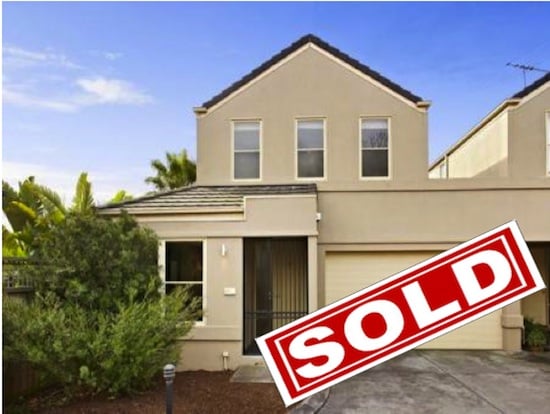 Reported by:

Catherine Cashmore

Agent:

Buxton

Quote:

$830,000 – $900,000

Crowd:

40 people (approx.)

Bidders:

3

On the market:

$910,000

Result:

SOLD $952,500
Comment:
Despite a modest crowd which gave only a 'hint' of marginal interest, there was some heated bidding at the auction of this modern 3 bedroom townhouse.
Situated in the heart of Middle Brighton, on the footstep of a popular shopping strip (Martin Village), the property was close enough to the 'hub and bub' of the suburb to capture a 'wave' in the marketplace.
The auction opened with a genuine bid of $800,000 which was quickly countered by 2 additional bidders.
Moving quickly in $10,000 increments, it didn't take long before the action pushed the price beyond $900,00 and at $910,00 the home reached its reserve.
With a final flurry of bidding, the property sold for the healthy price of $952,500.
2/9 Somerset St, Richmond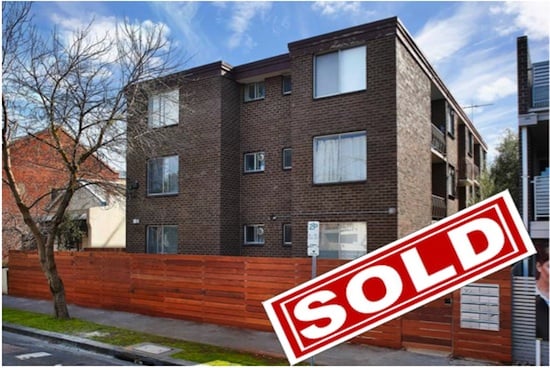 Reported by:

Robert Di Vita

Agent:

Hocking Stuart

Quote:

$390,000-$430,000

Crowd:

50 people (approx.)

Bidders:

4

On the market:

$480,000

Result:

SOLD $490,000
Comment:
Another heated auction took place at Somerset St in Richmond. A two bedroom unit, small in size, but in a well maintained block, attracted a raft of first time buyers and investors.
In front of a crowd of around 50 people, the auctioneer wasted no time placing a vendor bid of $390,000. Going up in $5,000 increments, 4 bidders raced in however, the pace steadied as price gradually edged higher.
At $455,000 the auctioneer headed inside to see if he could 'persuade' the vendor to place the property 'on the market.' However, his initial attempts were unsuccessful and bidding continued.
Finally at $480,000 the property met its reserve and sold some $10,000 later for $490,000 – a big result for the vendor.
2/20 Selwood St, Hawthorn East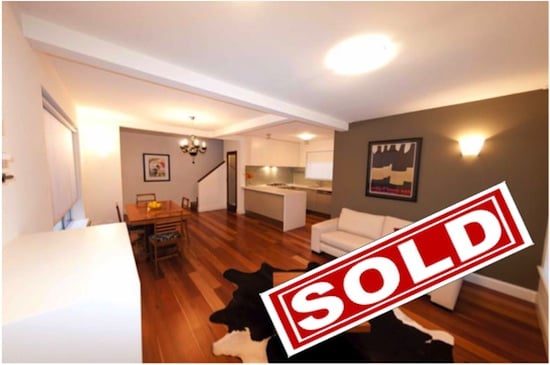 Reported by:

Robert Di Vita

Agent:

Marshall White

Quote:

POA

Crowd:

40 people (approx.)

Bidders:

4

On the market:

$595,000

Result:

SOLD $606,000
Comment:
A smart two bedroom refurbished townhouse in Hawthorn also attracted competition.
Opening on a vendor bid of $550,000 inspired 4 bidders to show a hand. At $585,000 the auctioneer went to see the vendor and on return stated the price was 'not far from the reserve.'
Some aggressive bidding followed this statement and at $595,000 the reserve had finally been met. The property sold shortly following for $606,000.
CONTACT US
If you need any assistance with searching, assessing or negotiating your next property purchase or simply wish to discuss your property buying needs, please don't hesitate to contact us. Alternatively, you can complete our online Help Us Help You form and we will contact you.
Regards
Antony Bucello and Catherine Cashmore