Did the first day of Spring mark a period of recovery for Melbourne's real estate market?
by Antony Bucello & Catherine Cashmore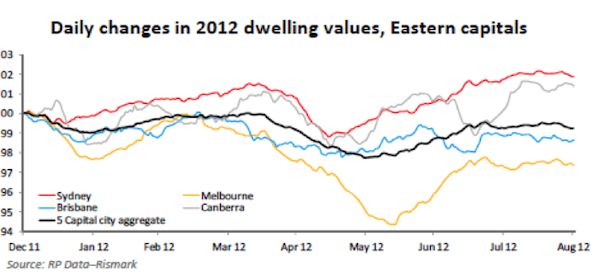 The media were out in force this weekend hoping to have some 'new' news to report about Melbourne's real estate market for the first day of spring. However, the results were likely to be disappointing as the 'true' action doesn't kick in until after the AFL Grand Final. In a flat market atmosphere, agents want to avoid the risk of a marketing campaign being disrupted by footy fever, therefore it's natural for vendors to delay an auction until the football season has concluded.
With only 470 auctions scheduled to take place (REIV) it was unlikely we'd see a lift in activity. The results producing a clearance rate of 62 per cent were representative of most properties selling via negotiation rather than under the hammer. However, well marketed properties with vendors prepared to 'meet' the current level of activity and place their reserves at a reasonable level, are starting to see heightened competition from home buyers who have started to notice a substantial reduction in quality stock.
RPData released their quarterly results, indicating Australia-wide dwelling values for the preceding 8 months are now down just 0.6 per cent. Barring unforeseen circumstances – it's clear Australia has reached the bottom of its real estate cycle. However, the micro data across all States and Territories is far more telling. All cities – except Adelaide – have experienced a 'net increase of home values' over the June quarter, therefore, although we don't expect large capital gains for the remainder of 2012, we have entered 'recovery mode.'
Due to the lack of building activity, Sydney is the stand out performer year to date. However, Melbourne is managing to keep pace with both the major capitals rising 0.1 per cent for the month of August, and 2.4 per cent and 2.5 per cent respectfully over the June quarter.
Melbourne home values suffered during the first five months of the year falling 5.1 per cent to May 2012. However, it's clear the cumulative effects of rate cuts coupled with a gradual reduction in stock have put a halt to the downward trend. Although we don't expect to see any significant capital gain for the 12 months of 2012, Melbourne has started to enter a period of recovery which should result in modest gains over the course of 2013.
As buyer advocates, with over 45 years combined experience in Melbourne's residential market, we've witnessed our fair share of 'boom' cycles to recognise a good buying atmosphere when we see one. The remaining few months of 2012 are presenting an ideal buying climate which cashed up buyers or investors would be foolhardy to miss.
Weekend Clearance Rate Figures

Week Ending Sunday 2nd September 2012

Clearance Rate:
62%
Total Auctions:
455 (48 unreported)
Sold:
284
Passed in:
171
At auction:
230
Vendor Bid:
112
Before auction:
54
Real bid:
59
After auction:
0
Total Private Sales:
581
Weekly Turnover:
865
Source: www.reiv.com.au
The NPB clearance rate is representative of the results evidenced in the 'quality' end of the marketplace. We take the results from a range of suburbs; however please note we are not 'suburb specific'. NPB Melbourne, negotiate on hundreds of properties for their clients each year throughout all areas of Melbourne and the Bellarine Peninsula.
Weekend Clearance Rate Figures

Week Ending Sunday 2nd September 2012

NPB Clearance Rate:
79%
Total Auctions Reviewed:
34
Sold:
27
Passed in:
7
Under $600k+:
10
2
$600k-$1m:
8
2
$1m+:
9
3
Why is the NPB Clearance Rate always higher than the REIV Clearance Rate?
The NPB clearance rate is a snapshot of 'investment grade' or 'cream of the crop' properties representing only those we recommend to clients. These are properties that hold the best potential for a long term capital growth and rental demand. Whilst the Real Estate Institute of Victoria include all properties scheduled for auction (as reported by their members) – including those that are poorly located and unlikely to attract demand even in a robust climate; our clearance rate is far more representative of the market that represents our client's best interests. It's an important part of how we assess the best negotiation strategy for your needs.
The full list of the 34 properties reviewed by NPB this weekend:
< $600k

Suburb
Type
Beds
Quote
Result
Glen Iris
Apartment
1
$300-330k
SOLD $336,000
Elwood
Apartment
1
$350-380k
SOLD $383,000
Fairfield
Apartment
2
$380-410k
SOLD $408,000
Reservoir
House
2
$380-410k
SOLD $425,000
South Yarra
Apartment
1
$390-420k
SOLD $434,000
Hawthorn
Apartment
1
$410-450k
SOLD $451,000
Blackburn North
House
3
$450-500k
PASSED IN
Fitzroy
Apartment
2
$480-520k
SOLD $516,000
Yarraville
House
3
$480-520k
SOLD $531,000
Fitzroy North
Townhouse
2
$500-550k
SOLD $560,000
North Melbourne
Apartment
2
$500-550k
SOLD $565,000
Melbourne
Apartment
2
$520-570k
PASSED IN
Sold
10
Passed In
2
NPB Clearance Rate 83%
Total
12
$600k – $1m

Suburb
Type
Beds
Quote
Result
West Footscray
House
3
$600k+
PASSED IN
Bentleigh East
House
4
$600-660k
SOLD $668,000
Fitzroy North
House
2
$620-680k
SOLD $690,000
Blackburn South
Townhouse
3
$580-630k
SOLD $701,000
Camberwell
House
3
$730-780k
SOLD $793,000
Moonee Ponds
House
3
$780-840k
SOLD $845,000
Williamstown
House
4
$790-850k
PASSED IN
Brighton East
House
3
$790-870k
SOLD $873,000
Richmond
House
2
$900k+
SOLD $930,500
Ringwood North
House
5
$790k+
SOLD $965,000
Sold
8
Passed In
2
NPB Clearance Rate 80%
Total
10
$1m+

Suburb
Type
Beds
Quote
Result
Parkdale
House
4
$900k+
SOLD $1,020,000
Balwyn North
House
3
$1m+
PASSED IN
Armadale
Townhouse
3
$1.1m+
SOLD $1,202,500
Beaumaris
House
4
$1.1-1.2m
PASSED IN
Brighton East
House
4
$950-1050k
SOLD $1,260,000
Glen Waverley
House
5
$1.15-1.25m
SOLD $1,330,000
Hampton
House
5
$1.5-1.6m
PASSED IN
Elwood
House
3
$1.5-1.65m
SOLD $1,675,000
Richmond
House
4
$1.7-1.8m
SOLD $1,800,000
Glen Iris
House
4
$1.8-2m
SOLD $2,010,000
Kew
House
4
$2.6-2.8m
SOLD $2,865,000
Toorak
Townhouse
3
$2.7-2.9m
SOLD $3,160,000
Sold
9
Passed In
3
NPB Clearance Rate 75%
Total
12
Overall

Sold
27
Passed In
7
NPB Clearance Rate 79%
Total
34
AUCTIONS IN THE SPOTLIGHT
35 Molesworth St, Prahran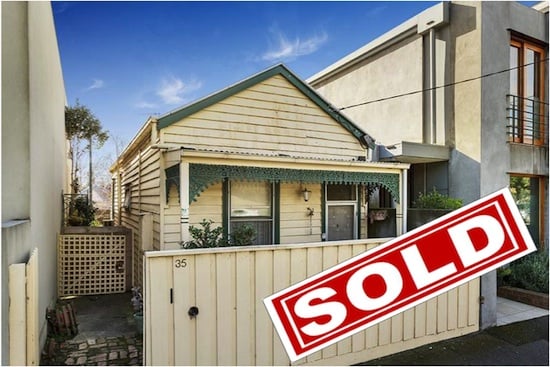 Reported by:

Catherine Cashmore

Agent:

R T Edgar

Quote:

POA

Crowd:

30 people (approx.)

Bidders:

4

On Market:

$657,000

Result:

SOLD $737,000
Comment:
A large crowd coupled with a television news crew attended the auction of this original single fronted Victorian in a 'hot spot' of Prahran – opposite a park.
The auction opened strongly with a genuine bid of $610K. The confidence from the first bidder inspired the second to get involved increasing the price to the mid $600Ks. The auctioneer went inside to see the vendor, upon which the house was announced 'on the market'. On his return two new bidders entered the action pushing the price in excess of $700K. After a final squeeze from the under-bidder, his limit was exceeded, and the property sold for $737K.
12/545 St Kilda Rd, Melbourne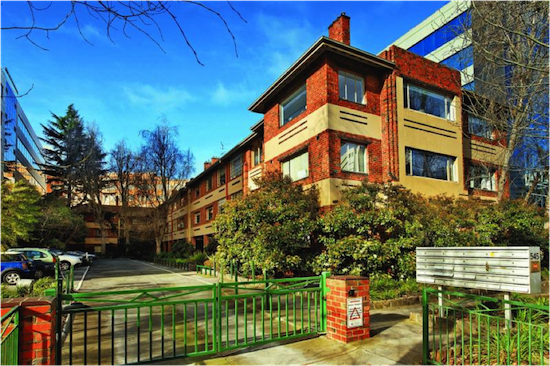 Reported by:

Catherine Cashmore

Agent:

Biggin Scott

Quote:

$520,000-$570,000

Crowd:

20+ people (approx.)

Bidders:

0

On Market:

N/A

Result:

Passed in on a vendor bid of $500,000.
Comment:
Despite a healthy sized crowd, this original, larger than usual, Art Deco apartment failed to attract much genuine interest. The auctioneer entertained the crowd with an enlightening pre-amble, but all his best efforts were laid to waste and the property opened and subsequently closed on a vendor bid of $500K.
19 Parslow St, Malvern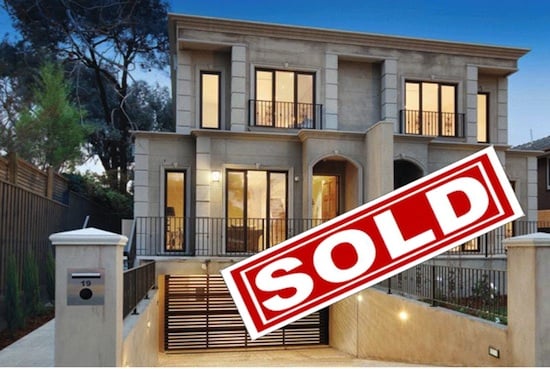 Reported by:

Robert Di Vita

Agent:

Jellis Craig

Quote:

POA

Crowd:

30 people (approx.)

Bidders:

1

On Market:

N/A

Result:

Passed in $1.920Mil. Sold via negotiation for a little over $2.1Mil.
Comment:
A beautiful town residence oozing luxury – however currently not the best market to attract the competition needed for this type of listing. Albeit, a good sized crowd attended and evidently appreciated the calibre of the property on offer.
The auctioneer was forced to open on a vendor bid of 1.9Mil. Finally one bidder saw fit to counter with a rise of 20K, taking the figure to 1.920Mil – however with no further interest, the property passed in for negotiation and sold shortly afterwards for a little over 2.1Mil.
CONTACT US
If you need any assistance with searching, assessing or negotiating your next property purchase or simply wish to discuss your property buying needs, please don't hesitate to contact us. Alternatively, you can complete our online Help Us Help You form and we will contact you.
Regards
Antony Bucello and Catherine Cashmore