REIV record a jump in Melbourne's median house price for the June Quarter
by Antony Bucello & Catherine Cashmore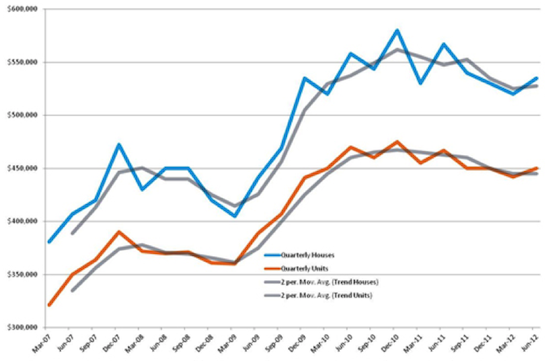 A recent history of median house prices in Melbourne (www.reiv.com.au).
The REIV figures have indicated a modest rise of 2.9 per cent in Melbourne's median house price for the month of June from $520,000 – $535,000. This comes on the back of RPData's daily index which last week recorded a rise of 1 per cent for the same period. Other data indicates we have a large amount of stock 'lingering' on the market and therefore a rise in the median seems to go against the well known premise that more supply equals lower values.
It's important therefore to understand that any small monthly change in the median, only relates to the stock being sold. Overall turnover is lingering behind that of the previous three years and in many cases, there remains a "healthy" gap between vendor expectation and buyer sentiment. This aside, as we pointed out last week, making money from property comes at the buying stage. Quality stock (properties representing the 'best of their type') continue to attract competition and in turn, often still achieve 'top of the range' prices, as you will see from our regular auction reports.
The trend is not only relevant to Australia's market atmosphere, internationally the figures tell a similar story. House prices in the UK are still falling (1.5 per cent year to date) – however the 'quality' London market continues to record gains, some 48 per cent higher than the bottom of the market in 2009. Therefore a rise in the median is not indicative of the 'health' of the overall market. You have to buy well, to sell well – and buyers currently 'shopping' should keep this in mind.
This week's clearance rate of 61 per cent is a big jump from last week's clearance rate of 52 per cent. It's easily explained by the low numbers of auctions taking place in what is traditionally a 'quiet' month in the real estate cycle. The clearance rate is therefore biased towards the particular composition of listings available from week to week. Therefore a relatively low number of 'extra' sales occurring from one Saturday to the next can affect the clearance rate percentage to a greater degree than it would do had there been the usual 600 properties auctioned.
The REIV expects a similar number of auctions next week of 360. They have also pointed out in their monthly report; an increased number of vendors are opting for private treaty as adverse to sale by auction. This is a typical reaction to a predominantly 'soft' market.
Weekend Clearance Rate Figures

Week Ending Sunday 15th July 2012

Clearance Rate:
61%
Total Auctions:
342 (36 unreported)
Sold:
208
Passed in:
134
At auction:
176
Vendor Bid:
84
Before auction:
30
Real bid:
50
After auction:
2
Total Private Sales:
493
Total Weekly Turnover:
701
Source: www.reiv.com.au
The NPB clearance rate is representative of the results evidenced in the 'quality' end of the marketplace. We take the results from a range of suburbs; however please note we are not 'suburb specific'. NPB Melbourne, negotiate on hundreds of properties for their clients each year throughout all areas of Melbourne and the Bellarine Peninsula.
Weekend Clearance Rate Figures

Week Ending Sunday 15th July 2012

NPB Clearance Rate:
76%
Total Auctions Reviewed:
34
Sold:
25
Passed in:
9
Under $600k:
8
3
$600k-$1m:
10
3
$1m+:
7
3
Why is the NPB Clearance Rate always higher than the REIV Clearance Rate?
The NPB clearance rate is a snapshot of 'investment grade' or 'cream of the crop' properties representing only those we recommend to clients. These are properties that hold the best potential for a long term capital growth and rental demand. Whilst the Real Estate Institute of Victoria include all properties scheduled for auction (as reported by their members) – including those that are poorly located and unlikely to attract demand even in a robust climate; our clearance rate is far more representative of the market that represents our client's best interests. It's an important part of how we assess the best negotiation strategy for your needs.
The full list of the 34 properties reviewed by NPB this weekend:
< $600k

Suburb
Type
Beds
Quote
Result
Boronia
Unit
3
$300-330k
SOLD $330,000
Preston
Unit
2
$340-370k
SOLD $377,000
St Kilda
Apartment
1
$370-400k
SOLD $410,000
North Melbourne
Apartment
1
$390-420k
PASSED IN
Cheltenham
Unit
3
$390-420k
PASSED IN
Coburg
Unit
2
$400-440k
SOLD $450,000
Glen Huntly
Apartment
2
$430-470k
SOLD $477,500
Ivanhoe
Unit
2
$470-515k
SOLD $520,000
Reservoir
House
3
$480-520k
SOLD $522,500
Flemington
House
2
$500-550k
PASSED IN
Blackburn South
House
4
$530-580k
SOLD $595,000
Sold
8
Passed In
3
NPB Clearance Rate 73%
Total
11
$600k – $1m

Suburb
Type
Beds
Quote
Result
Carlton
Apartment
2
$550-600k
SOLD $631,000
Fitzroy
Townhouse
2
$550-590k
SOLD $638,000
Richmond
Townhouse
2
$600-660k
SOLD $687,000
South Yarra
Apartment
2
$550-600k
SOLD $726,000
Caulfield
Unit
3
$600-690k
SOLD $771,000
Box Hill
House
2
$650-700k
PASSED IN
Richmond
House
3
$680k+
SOLD $795,000
Richmond
House
2
$700-770k
SOLD $801,000
Flemington
House
3
$750-800k
SOLD $820,000
Carlton North
House
2
$770-820k
SOLD $830,000
South Melbourne
House
2
$800-880k
SOLD $920,000
Essendon
House
3
$850-900k
PASSED IN
Glen Iris
House
2
$870-920k
PASSED IN
Sold
10
Passed In
3
NPB Clearance Rate 77%
Total
13
$1m+

Suburb
Type
Beds
Quote
Result
Northcote
House
4
$900k+
SOLD $1,050,000
Malvern East
House
3
$1-1.1m
SOLD $1,106,000
Carlton
Townhouse
2
$910k-1m
SOLD $1,191,000
Toorak
Townhouse
3
$1.2-1.3m
PASSED IN
Albert Park
Apartment
3
$1.2-1.3m
PASSED IN
Moonee Ponds
House
3
$1.2-1.3m
PASSED IN
Essendon
House
3
$1.2-1.3m
SOLD $1,320,000
Blackburn
House
5
$1.3m+
SOLD $1,362,500
Black Rock
House
4
$1.25-1.35m
SOLD $1,390,000
Ivanhoe
House
5
$1.5-1.6m
SOLD $1,625,000
Sold
7
Passed In
3
NPB Clearance Rate 70%
Total
10
Overall

Sold
25
Passed In
9
NPB Clearance Rate 74%
Total
34
AUCTIONS IN THE SPOTLIGHT
40 Little Charles St, Fitzroy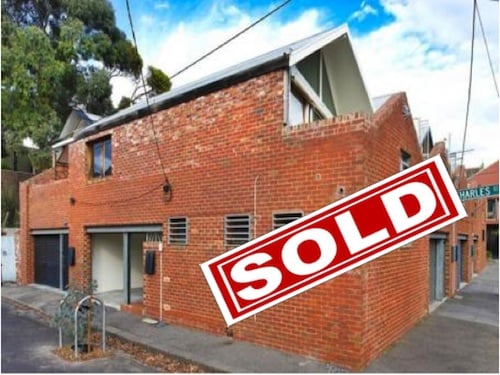 Reported by:

Antony Bucello

Agent:

Hocking Stuart

Quote:

$550,000-$590,000

Crowd:

30 people (approx.)

Bidders:

6

On Market:

$590,000

Result:

$638,000
Comment:
A heated auction saw the opening bid of $500,000 hit the reserve of $590,000 in no time. With a lot of encouragement from the auctioneer, the bids climbed passed the $600,000 mark with 3 bidders still competing. The property was knocked down at $638,000 after the winning bidder was encouraged to put forward 'just another $1000'.
183 Mary St, Richmond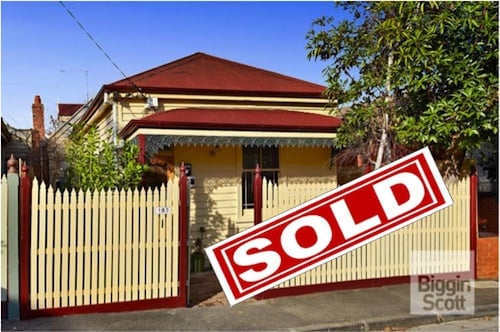 Reported by:

Catherine Cashmore

Agent:

Biggin & Scott

Quote:

$680,000

Crowd:

50 people (approx.)

Bidders:

4

On Market:

N/A

Result:

$795,000
Comment:
This 3 three bedroom single fronted Victorian was perfectly positioned to gather a fair amount of attention from 'property shoppers'. The auction was well attended and the auctioneer didn't have to wait long for an opening bid of $650,000. The auction progressed swiftly passed $700,000; however it wasn't announced on the market as many expected, and passed in for $781,000. The sale was successfully negotiated 'post auction' for $795,000
2 Belgravia Street RICHMOND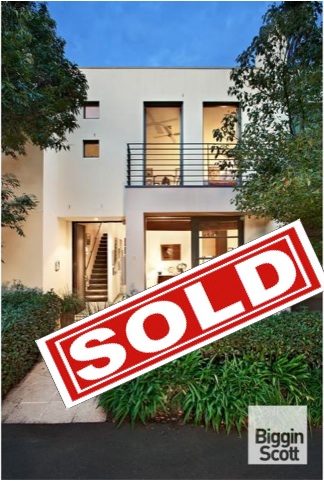 Reported by:

Catherine Cashmore

Agent:

Biggin & Scott

Quote:

$600,000 – $660,000

Crowd:

40+ people (approx.)

Bidders:

2

On Market:

$665,000

Result:

$687,000
Comment:
Another Richmond auction also saw healthy numbers. This modern two bedroom townhouse was hotly contested by two bidders. Opening on a genuine bid of $600,000, it zoomed up to its 'on market' figure of $665,000. Pushing the bidders right up to the flag, the auctioneer managed to squeeze a few more thousand. At one interval it looked like the under bidder was just about finished, however they managed to place a final bid of $1000 just before the auctioneer dropped his hammer 'at the third call'. With a final 'tit for tat' battle, the property was successfully sold for $687,000.
1/23 Pine Avenue, Elwood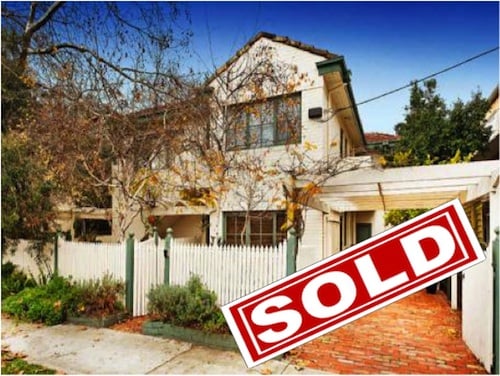 Reported by:

Robert Di Vita

Agent:

Chisolm Gamon

Quote:

$500 – 550k

Crowd:

30 people (approx.)

Bidders:

2

On Market:

$625,000

Result:

$627,500
Comment:
The auction opened on a vendor bid of $580K, however only two rather 'reluctant' bidders showed interest. The price managed to inch past $600K, and at $625K it was announced 'on market.' The apartment finally sold under the hammer for $627,500
CONTACT US
If you need any assistance with searching, assessing or negotiating your next property purchase or simply wish to discuss your property buying needs, please don't hesitate to contact us. Alternatively, you can complete our online Help Us Help You form and we will contact you.
Regards
Antony Bucello and Catherine Cashmore