by Antony Bucello & Catherine Cashmore
The REIV clearance rate scraped in at 60% this weekend which is an improvement on last week's rate of 58% and more in line with the two weekends prior to Labour Day.
As we've pointed out previously, the clearance rate is not the best overall indicator of market health – for this it's more important to take note of the total number of reported sales – both private treaty and Auction. Thus far, turnover rates for 2012 have been good and going on from last year, better than expected.
Historically between 800 and 1200 properties sell each week in Melbourne (as reported by the REIV) and since the last weekend in February, activity has been ripe with sales figures averaging well in excess of 1000 each week. This weekend, even though there were only 645 scheduled auctions reported (REIV); total number of properties sold came in at 971.
Other results show slightly more deals than usual are being completed prior to auction with 54 scheduled auctions recorded as 'before auction' sales. This is important information to take into account from a negotiation perspective and indicates selling agents are still not overly confident they have the needed buyer activity to meet vendor expectation 'under the hammer'. Therefore it's still a negotiators market and for experienced property buyers, there are plenty of good deals available.
State wide, agents are reporting a drop in stock in comparison to last year. This will eventuate in upward pressure on prices as we progress throughout the year. Already there's an increase in the number of bidders attending auctions of quality property. Out of the 4 Auctions National Property Buyers attended this weekend, three attracted 3 – 5 bidders which is a definite improvement on last year's figures.
The following two weekends will give a good indication if the current trend will continue with 820 auctions scheduled next week, and 1,070 for the week following. As far as the economy is concerned, early indications are good.
The NPB Clearance Rate for the week was 73%. We reviewed a total of 48 properties and 35 properties sold and 13 passed in.
Considering the average home loan hovers between $290,000 and $327,000 depending on which state you purchase into, it's no surprise to see strong demand in the lower sub $600,000 price bracket. This demand is strongly represented in the middle and outer city ring suburbs where median house prices are generally lower.
However there's been a definite uplift in the $1m+ market which is predominantly populated with 'upgraders' and duel income professional city workers. As overall demand improves, the top end of the market – which is understandably more volatile – will action the strongest recovery rates – (having dropped some 10-20% in various localities). Therefore if you're thinking of upgrading, the best deals can be secured now.
Why is the NPB Clearance Rate always higher than the REIV Clearance Rate?
The NPB clearance rate is a snapshot of 'investment grade' or 'cream of the crop' properties representing only those we recommend to clients. These are properties that hold the best potential for a long term capital growth and rental demand. Whilst the Real Estate Institute of Victoria include all properties scheduled for auction (as reported by their members) – including those that are poorly located and unlikely to attract demand even in a robust climate; our clearance rate is far more representative of the market that represents our client's best interests. It's an important part of how we assess the best negotiation strategy for your needs.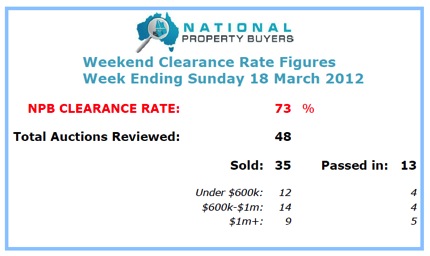 The full list of the 48 properties reviewed by NPB this weekend: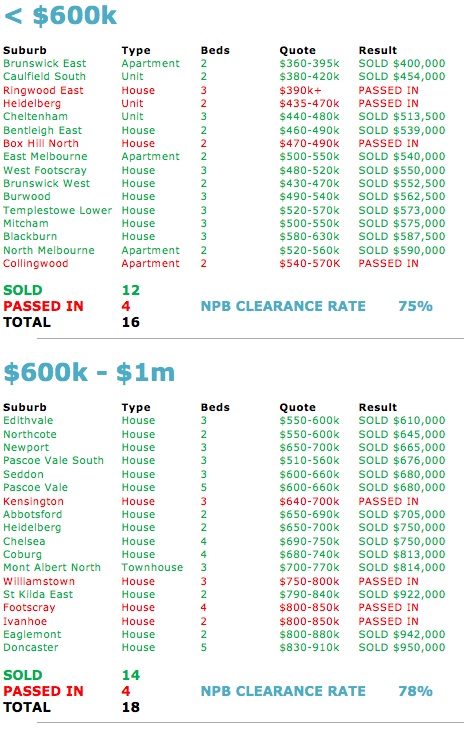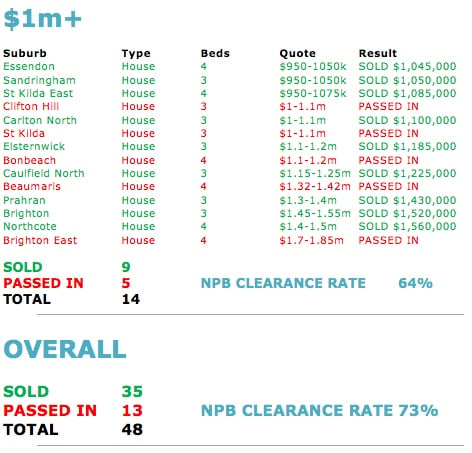 AUCTIONS IN THE SPOTLIGHT
7/102 Albert St East Melbourne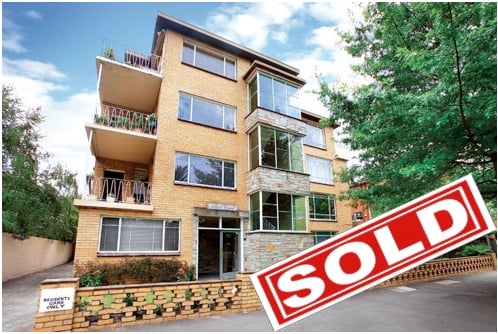 Reported by: Robert Di Vita
Agent: Caine Real Estate
Quote: $500-550k
Crowd: 40 people (approx.)
Bidders: 4
Result: SOLD UNDER THE HAMMER
Comment: This original 2 bedroom apartment opposite beautiful parkland attracted a crowd of around 40-45 people. The auction started with a real opening bid of $500k, with a further 2 parties getting involved. The property was announced on the market when it reached $520k, and sold under the hammer for $540k.
---
142 Brighton St, Richmond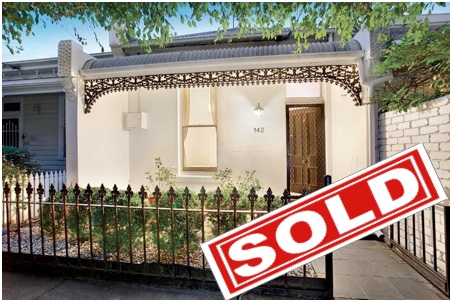 Reported by: Catherine Cashmore
Agent: Bennison Mackinnon
Quote: $800-850k
Crowd: 60 people (approx.)
Bidders: 0
Result: SOLD AFTER PASSING IN
Comment: A well located period property in the heart of Richmond. The house is fully renovated with 2 good sized bedrooms and central bathroom – however with no off street parking on title, buyer demand wasn't quite at the level needed to attract competitive bidding. The auction passed in on a vendor bid of $825,000 however subsequent interest followed and it was successfully negotiated post auction for $865,000.
---
33 Tucker St West Footscray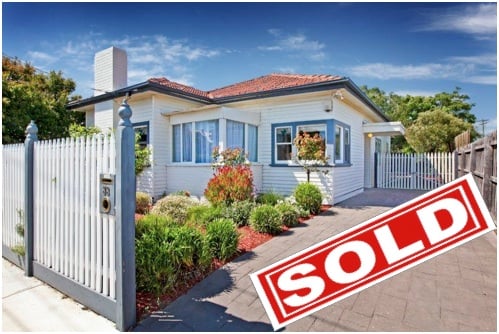 Reported by: Antony Bucello
Agent: Sweeney
Quote: $480-520k
Crowd: 50 people (approx.)
Bidders: 5
Result: SOLD UNDER THE HAMMER
Comment: On a beautiful autumn day, around 50 people gathered to watch this well positioned un-renovated 3 bedroom weatherboard home go under the hammer. It didn't take long for the opening bid of $490k to eventuate and that was followed by bidding from a further 4 parties. The property was announced on the market at $520k and eventually sold under the hammer for $550k.
---
10 Separation St Northcote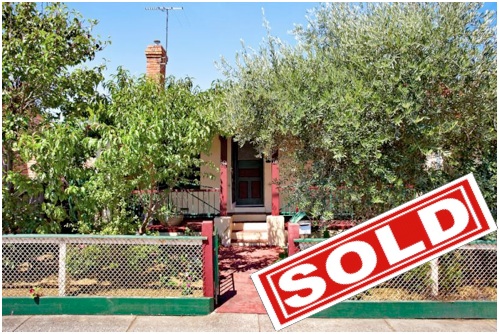 Reported by: Antony Bucello
Agent: Nelson Alexander
Quote: $550-600k
Crowd: 30 people (approx.)
Bidders: 3
Result: SOLD UNDER THE HAMMER
Comment: The agent decided to auction this 2 bedroom cottage in the rear yard due to its busy road location, however that didn't deter 3 parties from putting their hands up to try and claim a piece of this well presented and comfortable home. The auction started with a real bid of $550k, and that followed by quick bidding until the price reached $630k. The agent had no need to refer with the vendor and announced the property as being on the market. A third bidder entered the arena but was unable to shake the opening bidder, who eventually purchased the property for $645k.
CONTACT US
If you need any assistance with searching, assessing or negotiating your next property purchase or simply wish to discuss your property buying needs, please don't hesitate to contact us. Alternatively, you can complete our online Help Us Help You form and we will contact you.
Regards
Antony Bucello and Catherine Cashmore