by Antony Bucello
The Labour day long weekend in March every year is historically a quiet weekend for auctions and this year was no exception.
According to the REIV, there were only 170 auction results that were reported in to date, with 99 sold and 71 passing in, indicating a clearance rate of 58%.
Of the 71 properties that passed in, 41 passed in on a vendor bid, and 30 on real bids.
This weeks' clearance rate is down only slightly on last weeks revised REIV clearance rate of 61%, however I wouldn't read too much into this weeks' result simply as there is not enough auction activity.
On the same long weekend last year, the clearance rate was reported as being 65%.
It will be interesting to see what happens over the remainder of March, which I expect to remain fairly consistent with what occurred during February.
That is, clearance rates will continue to hover around the 60-65% mark which will confirm the Melbourne property market is performing stronger than it was in the last quarter of 2011.
Even more importantly will be to see what happens in the 2nd quarter, April through to June.
Following this period, we will be able to measure the overall improvement of the property market.
While the auction numbers were down, there was still a very good amount of property transactions taking place through private sales.
There were over 600 properties sold by private sale this week.
The REIV has indicated that there are around 700 properties scheduled to go to auction next weekend and similar high numbers for the following 2 weekends.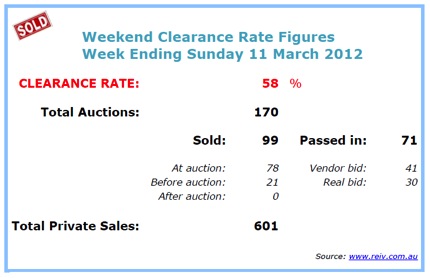 It was a quieter week for the team at NPB as the long weekend resulted in considerably less properties going to auction.
The NPB Clearance Rate was 71% from the 24 properties we reviewed over the weekend, down a little on last weeks' 76%. A total of 17 properties sold and 7 passed in.
The lower end of the market (under $600k) had a strong performance with 6 of the 8 properties we reviewed selling and 2 passing in.
The middle range category ($600k-$1m) had another healthy performance with a NPB clearance rate of 71%, with 10 of the 14 properties we reviewed selling and 4 passing in.
We only reviewed 2 properties at the high end of the market ($1m+) and 1 sold and 1 passed in, giving us a clearance rate of 50%.
However I wouldn't read too much into this weeks' clearance rate as there are simply not enough results to give an accurate indication of market performance.
We will however include these results in our monthly, quarterly and annual statistical analysis.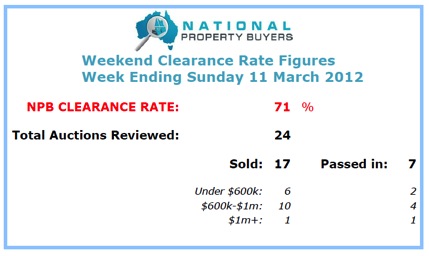 The full list of the 24 properties reviewed by NPB this weekend: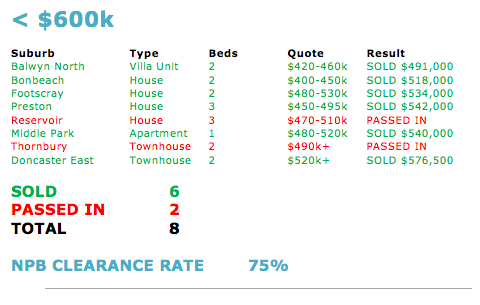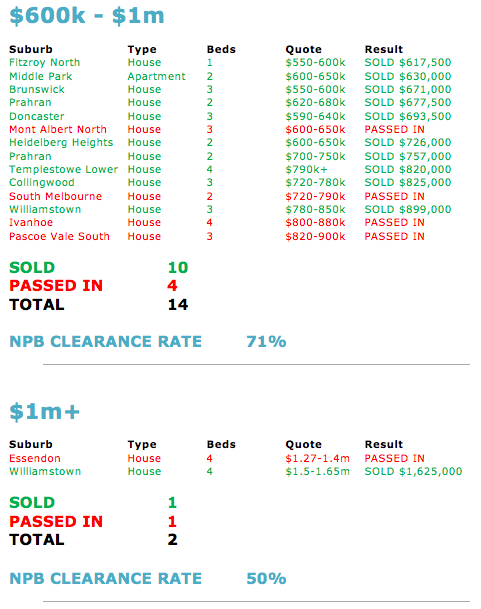 Auctions in the Spotlight
3/18 Corhampton Rd Balwyn North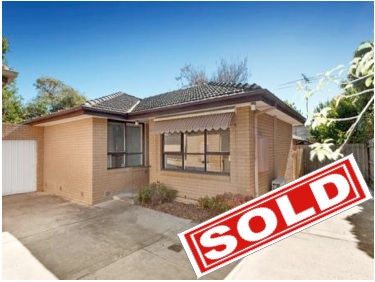 Reported by: Robert Di Vita
Agent: Hocking Stuart
Quote: $420-460k
Crowd: 60 people (approx.)
Bidders: 5
Result: SOLD UNDER THE HAMMER
Comment: This unrenovated two bedroom villa unit in a beautiful part of Balwyn North attracted a healthy crowd of approx. 55-60 people. The opening bid was a real one at $390k and with competitive bidding between an additional 4 bidders, it was announced on the market when it reached $460k – the top end of the quoted range. It eventually sold for $491k.
3 Tie St Mont Albert North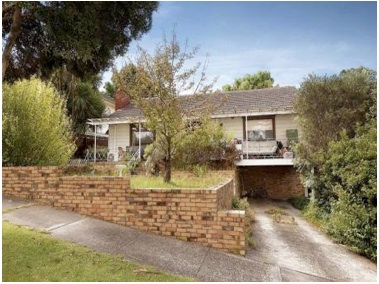 Reported by: Robert Di Vita
Agent: Hocking Stuart
Quote: $600-650k
Crowd: 40 people (approx.)
Bidders: 1
Result: PASSED IN
Comment: This modest freestanding 3 bedroom weatherboard home attracted a crowd of around 35-40 people. With nobody willing to put their hand up to start proceedings, Hocking Stuart's auctioneer kicked off the auction with a vendor bid of $600k. With still no willingness from the crowd to participate, a second vendor bid of $610k followed. The first genuine bid came a little while later at $620k and with no further bids it was referred to the vendor and passed in. The property remains for private sale.
Contact Us
If you need any assistance with searching, assessing or negotiating your next property purchase or simply wish to discuss your property buying needs, please don't hesitate to contact us. Alternatively, you can complete our online Help Us Help You form and we will contact you.
Regards
Antony Bucello
[email protected]
0418 131 950