Much of the same this week with the clearance rate of 58% as reported by the REIV. Out of a total of 712 reported auctions, only 415 were sold and a 297 were passed in. The clearance rate of 58% is almost certain to drop further once a number of unreported results are lodged with the REIV.

The NPB clearance rate for the week was 66%, with 8 of the 12 properties we reviewed selling.
3/3 St Johns St Camberwell was a 2 bedroom dated apartment with a balcony and garage. A small crowd of around 30 people watched on as 2 bidders fought it out until the property sold for $430k. The agents Hocking Stuart had been quoting $390-420k.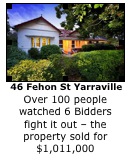 46 Fehon St Yarraville was a 3 bedroom unrenovated Californian Bungalow on 608sqm. The property had an original quote of $720-790k when it was first listed for auction however the quote was lifted to 770-810k shortly after. Jas Stephens auctioneer Greg Carruthers didn't have to try too hard to get things going as over 100 people watched and an opening bid $755k quickly followed. With six bidders in the total, the property was announced on the market at $912k and ended up selling for just over $1m.
A 2 bedroom period house at 1 Ivanhoe Pde Ivanhoe attracted a crowd of 40 or so people but there was only 1 bidder. It was quoted $750-790k. The property is on 331sqm and is close to the shops and station.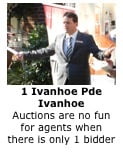 When the auctioneer advanced the bidding with another vendor bid of $770k, the person bidding for the property was clearly out of their depth as they placed another bid over the agents vendor bid. They bid against the vendor when it was evident there was no-one else there wanting it. Why on earth they would do something like that staggers me, particularly in this current environment. They were holding the trump cards to perhaps save $20-30k.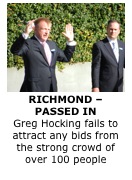 The property passed in for $780k on the agents last vendor bid and was later negotiated for a price of $802,500.  Great work from the selling agents at Miles Real Estate who were able to maximise the price for their client. Not so great negotiating from the purchaser!
At the higher end, Greg Hocking failed to attract a single bid from the 100+ crowd that watched this property go to auction. Architectually designed, it was on 181sqm and had 3 beds, 2 baths and was spread over 2 levels with city views. It was quoted $1.45-1.6m and was passed in on a vendor bid of $1.55m.
The full list of the properties we reviewed this weekend:
| | | | | |
| --- | --- | --- | --- | --- |
| Suburb | Type | Beds | Quote | Result |
| Camberwell | Apartment | 2 | $390-420k | SOLD $430k |
| Balwyn | Unit | 2 | $500-550k | SOLD $669k |
| Clifton Hill | Townhouse | 3 | $570-630k | SOLD $655k |
| Kensington | House | 2 | $600-650k | SOLD $682k |
| Brighton | Unit | 2 | $600-660k | SOLD $665k |
| Northcote | House | 2 | $620-680k | PASSED IN |
| Fairfield | Townhouse | 3 | $700-750k | PASSED IN |
| Richmond | House | 4 | $750-820k | SOLD $922k |
| Essendon | House | 4 | $780-850k | PASSED IN |
| Ivanhoe | House | 2 | $750-790k | SOLD $802k |
| Yarraville | House | 3 | $770-810k | SOLD $1,011k |
| Richmond | House | 3 | $1.45-1.6m | PASSED IN |
The Melbourne property market is likely to perform the same for the last weekend of May and into June. Quality stock is still performing well and there are a number of opportunities presenting themselves at the moment. Excellent negotiations skills and knowledge are the keys to achieving the lowest possible price.
We will start to see vendors meeting the market who "need" to sell (and were perhaps unrealistic about the value of their property to begin with). Those vendors that "want" to sell may reconsider the move and withdraw their property from the market until we get to a more balanced scenario in terms of supply and demand.
Until next week….
Antony Bucello
National Property Buyers
0418 131 950