by Antony Bucello & Catherine Cashmore
There has been enough pre-election chit chat to assure sellers – and give confidence to buyers – that housing values do not typically suffer a negative impact from Federal elections. Albeit, I think in the current circumstance, the forgone conclusion pointing toward a strong Coalition win was enough to underpin a sense of security, and perhaps relief, that Australia was not going to suffer a second term of minority rule – with fractions in the Labor party overshadowing the political discourse.
Around 44/45 per cent of Melbourne's current buying market consists of investors. Loan commitments for the investment share of our buying market are outpacing that of owner occupiers. Housing values in the inner and middle ring locations are performing robustly on the back of a rather heated auction terrain with the REIV noting the biggest rises in areas where this method of sale pre-dominates – principally the inner and middle ring suburbs some 5 – 15km from the CBD.
The auctions I attended on Saturday, although down in overall attendance, achieved healthy prices with a 74 per cent clearance rate on the back of 441 reported results.
Some commentators have suggested the certainty that typically follows a Federal Election will further fuel the positive 'feel good' furore we've seen of late, thereby inflating values further.
However, analysis of this type always needs to be assessed in the context of our current financial prospectus, which in a post GFC environment, is facing headwinds.
Importantly, we entered this election with a weaker economic outlook than the prior seven elections and there's been a distinctive lack of any big spending policy promises aimed at the consumer, with the rhetoric instead focused on 'cutting' in order to return the budget to surplus at some future point.
The rise in household saving in itself is reflective of the still somewhat 'cautious consumer' – and slowing income growth, along with a prospected rise in unemployment to 6.25 per cent, will in my opinion, pull any extended 'boom' we're currently experiencing in the established sector up short.
This is not to dismiss the 'feel good' factor which will likely ensue from a now majority government and it seems we have some way to go before investors give up their passion for real estate, with the latest ABS data showing investor finance commitments currently at their highest level since June 2007.
Along with this, housing finance approvals rose ahead of expectation in July. The number of approvals for owner-occupiers has been on an upward tick for over seven consecutive months, reaching its highest level since October 2009.
Importantly, the approval trend for established dwellings continues to outpace new construction, which will do nothing to aid affordability for first home buyers.
I've written previously on the various war stories witnessed on the ground, as auction results exceed reserves by some 10/15% – and on occasion, reach a level, which defies all rationality.
In this respect, any benefit derived from lower interest rates is somewhat offset by the inflationary pressure placed on prices.
Indeed – you'd be hard pushed to find a first-home buyer shopping in our largest capital cities, who has not been outbid by an investor through the course of this year. Investors understandably have a stronger financial arm.
All in all, in light of a new federal Government, the real test for Melbourne's property market will be next Saturday (14th) – which would have been the Election Day had Gillard retained power. Falling on the Jewish festival of Yom Kippur, which will significantly lower activity in suburbs such as Caulfield and St Kilda East, it will provide a suitable test for the market's initial reaction to our newly elected Government.
Weekend Clearance Rate Figures

Week Ending Sunday 8th September 2013

Clearance Rate:
74%
Total Auctions:
441 (12 unreported)
Sold:
328
Passed in:
113
At auction:
262
Vendor Bid:
64
Before auction:
62
Real bid:
49
After auction:
4
Total Private Sales:
400
Weekly Turnover:
728
Source: www.reiv.com.au
The NPB clearance rate is representative of the results evidenced in the 'quality' end of the marketplace. We take the results from a range of suburbs; however please note we are not 'suburb specific'. NPB Melbourne, negotiate on hundreds of properties for their clients each year throughout all areas of Melbourne and the Bellarine Peninsula. The properties we highlight are taken from a selection which we carefully analyse for quality assessment and revise daily.
Weekend Clearance Rate Figures

Week Ending Sunday 8th September 2013

NPB Clearance Rate:
90%
Total Auctions Reviewed:
50
Sold:
45
Passed in:
5
Under $600k+:
14
3
$600k-$1m:
21
1
$1m+:
10
1
Why is the NPB Clearance Rate always higher than the REIV Clearance Rate?
The NPB clearance rate is a snapshot of 'investment grade' or 'cream of the crop' properties representing only those we recommend to clients. These are properties that hold the best potential for a long term capital growth and rental demand. Whilst the Real Estate Institute of Victoria include all properties scheduled for auction (as reported by their members) – including those that are poorly located and unlikely to attract demand even in a robust climate; our clearance rate is far more representative of the market that represents our client's best interests. It's an important part of how we assess the best negotiation strategy for your needs.
The full list of the 50 properties reviewed by NPB this weekend:
< $600k

Suburb
Type
Beds
Quote
Result
Brunswick West
Unit
2
$260-285k
SOLD $311,000
Glenroy
Unit
2
$280-305k
PASSED IN
Reservoir
Townhouse
2
$320-355k
PASSED IN
Pascoe Vale
Unit
2
$370-400k
SOLD $400,000
Reservoir
Townhouse
2
$380k+
PASSED IN
Thornbury
Apartment
2
$380-420k
SOLD $429,000
Alphington
Apartment
2
$390-425k
SOLD $455,000
Greensborough
House
2
$400-440k
SOLD $460,500
Reservoir
Unit
3
$400-440k
SOLD $472,000
Kew East
Apartment
2
$400k+
SOLD $490,000
Greensborough
Unit
3
$400-480k
SOLD $525,000
Clifton Hill
Apartment
2
$410-450k
SOLD $526,000
Coburg
Townhouse
3
$480-530k
SOLD $552,000
Croydon South
House
4
$450k+
SOLD $553,000
Reservoir
House
3
$430-470k
SOLD $560,000
Kew
Apartment
2
$500-550k
SOLD $562,500
Montmorency
House
3
$460-510k
SOLD $571,000
Sold
14
Passed In
3
NPB Clearance Rate 82%
Total
17
$600k – $1m

Suburb
Type
Beds
Quote
Result
Pascoe Vale
House
3
$500-550k
SOLD $600,000
St Kilda East
Apartment
2
$500-550k
SOLD $625,000
St Kilda
Apartment
2
$550-590k
SOLD $625,000
Watsonia North
House
4
$580-630k
SOLD $625,000
Burwood
House
2
$600k+
SOLD $641,000
Blackburn North
House
3
$520k+
SOLD $648,000
Preston
Townhouse
3
$570-620k
SOLD $650,000
Northcote
House
4
$600k+
SOLD $655,000
Box Hill North
House
2
$530k+
SOLD $665,000
Box Hill North
House
3
$550k+
SOLD $678,000
Thornbury
House
3
$620k+
SOLD $680,000
North Melbourne
Apartment
2
$620k+
SOLD $680,000
Northcote
Townhouse
2
$550k+
SOLD $700,000
Preston
House
2
$540-595k
SOLD $704,000
Brunswick
House
2
$600-660k
SOLD $725,000
Reservoir
House
3
$600-660k
SOLD $756,000
Ascot Vale
House
3
$640-690k
SOLD $783,000
Carlton
Apartment
3
$700-770k
SOLD $815,000
St Kilda East
House
2
$750k+
PASSED IN
Newport
House
3
$690-740k
SOLD $820,000
Malvern East
Townhouse
3
$750k+
SOLD $850,000
Seddon
House
3
$800-880k
SOLD $903,000
Sold
21
Passed In
1
NPB Clearance Rate 95%
Total
22
$1m+

Suburb
Type
Beds
Quote
Result
Parkdale
Townhouse
3
$780-840k
SOLD $1,032,000
Balwyn
House
3
$780-850k
SOLD $1,048,000
Ivanhoe
House
4
$900-990k
SOLD $1,110,000
Fitzroy
House
3
$960k+
SOLD $1,290,000
Essendon
House
5
$1.2-1.3m
SOLD $1,335,000
Toorak
Townhouse
3
$1.2m+
SOLD $1,380,000
Glen Iris
House
4
$1.3m+
PASSED IN
Kooyong
House
4
$1.15-1.25m
SOLD $1,450,000
Moonee Ponds
House
3
$1.3-1.4m
SOLD $1,450,000
Camberwell
House
4
$1.1-1.2m
SOLD $1,485,000
Mont Albert
House
3
$1.6m+
SOLD $1,910,000
Sold
10
Passed In
1
NPB Clearance Rate 91%
Total
11
Overall

Sold
45
Passed In
5
NPB Clearance Rate 90%
Total
50
AUCTIONS IN THE SPOTLIGHT
13/219 Alma Road St Kilda East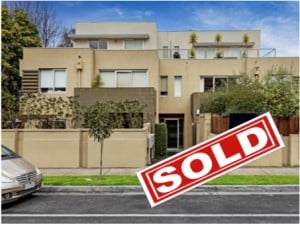 Reported by:

Catherine Cashmore

Agent:

Gary Peer

Quote:

High $400k+

Crowd:

200 people (approx.)

Bidders:

4

On the Market:

$535,500

Result:

SOLD $535,500
Comment:
Few attended due to the Federal Election. Opening on a vendor bid of $480,000, 4 bidders competed and the price achieved was in line with expectation.
CONTACT US
If you need any assistance with searching, assessing or negotiating your next property purchase or simply wish to discuss your property buying needs, please don't hesitate to contact us. Alternatively, you can complete our online Help Us Help You form and we will contact you.
Regards
Antony Bucello and Catherine Cashmore