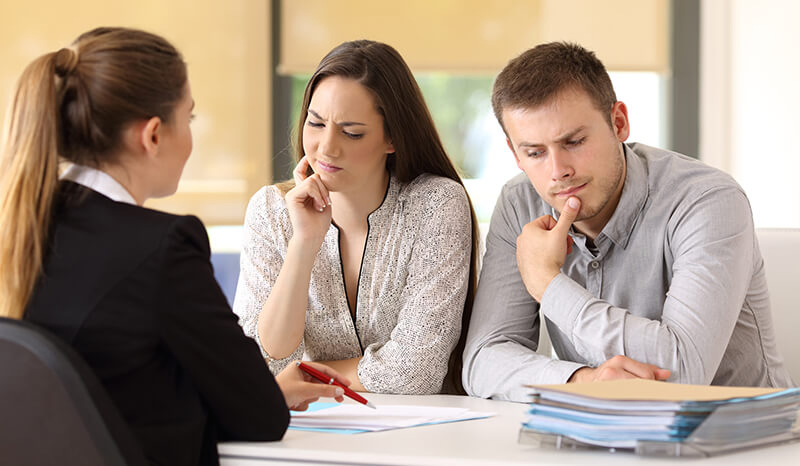 With the auction clearance rates dropping around the country some sellers are losing confidence in the auction market.
In the first half of 2019 we expect more sellers will opt for Private Sales or Treaties. Especially in Queensland, which unlike Sydney or Melbourne,  is not an auction-driven market.
Selling your property under auction conditions became popular in Australia's major capital cities due to its transparency for the seller and the buyer, and that selling agents like to put on a show! A buyer can clearly see how many interested parties there are on the day and what price is on the table. And vendors are always hopeful that emotional buyers will help push the price north.
As private sales return to favour it is important when buying you are able to skilfully place verbal and written offers and negotiate the best deal for you. One of the trickier scenarios to navigate as a buyer is dealing with multiple offers.
A multiple offer occurs when more than one prospective buyer makes an offer on a property. Multiple offers often occur in a seller's market when competition for residential property is greatest and there are more buyers than properties for sale. However, it can occur in any market and especially for properties that are desirable due to price, location or lifestyle options.
Queensland
In some areas of Queensland depleted levels of stock have triggered the increase of multiple offers. And the REIQ has received an influx of queries from consumers about multi-offers scenarios and how they work.
If a selling agent is to be presented with multiple offers, a prudent agent following best practice principles will inform the prospective buyers in writing and obtain a written acknowledgment. A multi-offer declaration form provides potential buyers an opportunity to submit an offer if they have not already done so, or to revise an existing offer that has not yet been accepted by the seller.
As buyer agents, if an agent has verbally told us we are proceeding under a multi-offer scenario and they have not volunteered the declaration form we will request it.
A true multi-offer scenario means you cannot negotiate or improve your offer at a later time, therefore your best offer must be submitted. Surprisingly, the best offer isn't necessarily the biggest monetary one, though under the Property Occupations Act 2014 agents have a statutory obligation to attempt to get the highest possible price for the seller.
The conditions a buyer places on an offer can make it more, or less attractive to a seller. For example, an offer subject to finance may be less appealing than one without, or larger deposits or shorter settlements could be appealing to a seller. It pays to do your homework and find out as much as possible about the seller's reasons for selling and what timelines and pressure they are under.
As buyer agent's we conduct all this investigation for you and inform you of the best term and conditions that we believe will seal the deal (including a maximum value for the property) and then we document your best offer.
Real estate agents have an obligation under the Property Occupations Act 2014 to submit all offers that comply with the seller's instructions to the agent.
Victoria
The practice of signed multi-offer declaration forms is currently practiced in Queensland only. In Victoria, if an agent believes they are going to receive multi offers for a private sale or before an auction it is really up to the agency in conjunction with the vendor how they wish to proceed. A multi-offer scenario (also known as "one-shot offer" or "best and final offer") might be triggered when an agent receives an offer that is of an acceptable level to the vendor, then the selling agent will contact all interested parties in the property and ask them if they wish to submit their own offer. There is usually a time-frame of 24-48 hours to allow other parties to complete due diligence and submit their offers
We cannot stress how important it is to establish the "rules of engagement" in this situation, as each agency can operate differently. For example, some agencies will provide the person who made the first offer an opportunity to improve their offer once all offers have been gathered. We call this "last right of refusal" or "second bite of the cherry". Or an agency may call a "Boardroom Auction" where interested parties are seated in a room and the initial offer is presented to the group and the parties in attendance get an opportunity to bid under an auction scenario, albeit in the boardroom of the agency. These types of auctions can be intimidating and awkward for the inexperienced and it is advisable to get an expert negotiating on your behalf.
Operating in Good Faith
Occasionally prospective buyers have alleged that agents tell them there is another offer on the property in order to secure a higher price for the seller, when in fact there is no competing offer.
Each major capital city has its own legislation referring to the fairness and honesty of a selling agent. There are heavy penalties for agents who mislead or deceive buyers by telling them there are competing offers when there are not.
In Victoria, the Professional Conduct act states "An estate agent or an agent's representative must not engage in conduct that is unprofessional or detrimental to the reputation or interests of the estate agency industry."
In Queensland the Property Occupations Act 2014 states "A marketer must not, in connection with the sale, or for promoting the sale, or for providing a service in connection with the sale, of residential property in Queensland, represent in any way to someone else anything that is false or misleading."
As long as you have completed your due diligence and know as much as possible about the property, the vendor's reasons for selling, its true market value and your budget then we recommend you go ahead in good faith.
Just remember each state and each selling agency may operate a little differently and it is crucial that you establish "the rules of engagement" before you proceed, you do not want to lose your dream property due to a misunderstanding!