Did you miss the 'bottom' of the housing market??
by Antony Bucello & Catherine Cashmore
Turned the corner?
Amidst the deluge of media commentary over falling house prices with various commentators calling the 'bottom' of the market at differing points of the calendar, get ready to hold onto your hats! The latest research from 'RPdata' indicates not only have we hit the bottom of the market; but we've safely swung past it – with the initial uplift evidenced back as far as May 2012.
According to their latest median data, capital city dwelling prices have risen 1.4 per cent over the month of September and 2 per cent over the quarter. Break this down to a state by state level, and it may come as a surprise to hear Melbourne's the overall winner, with a rise in the median house price of 4 per cent between the months of May 2012 – September 2012.
In case you're wondering what happened considering there's been more 'darkness' than light dominating the property headlines, it's important to view the data in context and to do this we need to take a brief trip back to 2009.
Melbourne's boom
As direct result of lingering first home buyer incentives and the RBA rapidly cutting the cash rate from 7.25 per cent in August 2008 to 3 per cent in April 2009, median house prices in Melbourne outpaced every other state, bubbling up a remarkable 36.7 per cent between January 2009 and October 2010.
The growth was hailed 'unsustainable' by all in the industry yet it took a series of seven consecutive 25 basis point rises by the RBA – taking the cash rate back to 4.75 per cent in November 2010 – before the growth was curtailed.
Melbourne's trough
Since the 'peak' in October 2010 – to the 'trough' in May 2012, Melbourne's median dwelling price has dropped some 10.5 per cent. Bear in mind, this still leaves us with a 26.2 per cent rise over the 3 year period which when smoothed out, is equal to roughly 8 per cent each year.
When viewed like this, it's still a little above the long term average, however it proves buyers who purchased wisely prior to the 2009 'boom', have not in fact lost too much equity.
The market's been struggling to gather pace ever since with turnover approximately 17 per cent lower than this time last year – in fact you would need to go back to the late 1990's to find comparable overall sales figures which remains a concern.
Current clearance rates
The overall clearance rate – the best barometer of the 'heat' in the inner city market place – has been hovering around 60 per cent for the best part of the year.
Of the 60 per cent recorded as 'sold at auction' the majority achieve their result via 'post auction' negotiation and therefore, there's still only a small percentage selling with competition 'under the hammer.'
This week's clearance rate came in at 66 per cent, however with roughly 18 per cent of results yet to be reported; it's likely the figure will reduce when the midweek roundup is published.
It's an improvement on the same weekend last year – during which the clearance rate was in the low 50 percentile. However the year-to-date figure shows the clearance rate is in fact on a par with 2011. The year to date clearance rate in 2011 was 61 per cent, this year it's currently 60 per cent.
A lift in sentiment?
Consumer confidence has seen a little improvement – but it's still lagging. Despite the recent interest rate drops and fresh spring sunshine, The Westpac Melbourne Institute only recorded a very slight 1.6 per cent rise over the course of September which mirrors other similar surveys.
The mismatch between vendor expectation and the point at which buyers see 'value' has reduced of late – albeit, there is still a healthy gap between the two, with many vendor's choosing to withdraw for better times ahead, rather than 'meet the market.'
Are we heading for a boom?
Therefore where do the median rises in Melbourne's marketplace come from and are we heading for a 'boom' as some media reports have stated?
RPData have cited the drop in rates as the primary stimulant for the recent gains, over and above the seasonal shift we typically experience in spring. However, despite the cash rate now being only 25 basis points above its GFC low in April 2009, lending rates are significantly higher.
For much of the 'boom' in 2009, the standard variable rate was 5.55 per cent. However, due to banks failing to pass on the full drop, heralding the "need to protect margins" as their excuse, the current lowest standard variable rate is 6.58 per cent.
Fixed rates currently sit below variable – hence the recent surge to 'lock it in' – however most purchasers will opt for the latter over the former. Therefore, although the rates will have an effect on demand and certainly help lift sentiment – we're doubtful it will translate into a 'call to action' like we experienced in 2009.
Where do the median rises come from?
As for the rises in our median, you need only look at the particular composition of properties currently selling to get an idea where they come from. Remember, an improvement in median data doesn't necessarily mean all house prices are rising – especially if there is no partnership in an uplift of overall turnover.
The median is only the middle number of all sales – and with quality listings still thin on the ground, coupled with a marginal lift in sentiment and improved affordability stimulating prices, a few higher end $1-2 million dollar 'plus' ('upsizer') sales can have the required effect to push the data northwards – and this is precisely what the breakdown of results demonstrates.
Still a good time to purchase?
The current market however, is a perfect atmosphere for investors. With lower rates, and also a lowering of LVR's of late, along with yields at roughly 4.5 per cent for units, investors can afford to 'shop' around for the vendor's prepared to drop expectation to achieve a sale. For those prepared to take the plunge, they're likely to get a better return than many long term deposit accounts.
At the very least, we can be assured the market has indeed turned the corner and – aside from the Christmas break which can push the quarterly median lower – house prices are on track to record a modest year on year gain.
Weekend Clearance Rate Figures

Week Ending Sunday 7th October 2012

Clearance Rate:
66%
Total Auctions:
497 (62 unreported)
Sold:
330
Passed in:
167
At auction:
264
Vendor Bid:
104
Before auction:
65
Real bid:
63
After auction:
1
Total Private Sales:
439
Weekly Turnover:
769
Source: www.reiv.com.au
The NPB clearance rate is representative of the results evidenced in the 'quality' end of the marketplace. We take the results from a range of suburbs; however please note we are not 'suburb specific'. NPB Melbourne, negotiate on hundreds of properties for their clients each year throughout all areas of Melbourne and the Bellarine Peninsula.
Quality property continues to perform well – the clearance rate has once again improved which is down to a combination of lower rates, improved sentiment and seasonal activity.
Weekend Clearance Rate Figures

Week Ending Sunday 7th October 2012

NPB Clearance Rate:
82%
Total Auctions Reviewed:
33
Sold:
27
Passed in:
6
Under $600k:
10
2
$600k-$1m:
9
2
$1m+:
8
2
Why is the NPB Clearance Rate always higher than the REIV Clearance Rate?
The NPB clearance rate is a snapshot of 'investment grade' or 'cream of the crop' properties representing only those we recommend to clients. These are properties that hold the best potential for a long term capital growth and rental demand. Whilst the Real Estate Institute of Victoria include all properties scheduled for auction (as reported by their members) – including those that are poorly located and unlikely to attract demand even in a robust climate; our clearance rate is far more representative of the market that represents our client's best interests. It's an important part of how we assess the best negotiation strategy for your needs.
The full list of the 33 properties reviewed by NPB this weekend:
< $600k

Suburb
Type
Beds
Quote
Result
Ormond
Apartment
2
$350-380k
SOLD $380,000
Hawthorn
Apartment
1
$330k+
SOLD $392,000
Moorabbin
Unit
2
$370-400k
PASSED IN
Prahran
Apartment
1
$400-440k
SOLD $442,000
St Kilda East
Apartment
2
$420-470k
SOLD $475,500
Elsternwick
Apartment
2
$420-470k
PASSED IN
Windsor
Apartment
2
$450-490k
SOLD $490,000
Surrey Hills
Unit
2
$480-500k
SOLD $490,000
Ascot Vale
Townhouse
2
$490-530k
SOLD $530,000
Bentleigh East
Unit
2
$490-530k
SOLD $530,500
Nunawading
House
3
$450k+
SOLD $549,500
Brunswick West
House
2
$550-600k
SOLD $594,500
Sold
10
Passed In
2
NPB Clearance Rate 83%
Total
12
$600k – $1m

Suburb
Type
Beds
Quote
Result
Mitcham
House
3
$550-600k
SOLD $600,000
Bentleigh
House
3
$540-590k
SOLD $621,000
St Kilda East
Townhouse
2
$570-620k
SOLD $633,000
Hawthorn
Apartment
2
$470-520k
SOLD $652,000
Thornbury
House
2
$590-630k
SOLD $700,000
Thornbury
Townhouse
3
$670-720k
SOLD $750,000
Yarraville
House
3
$740-790k
PASSED IN
Brunswick
House
2
$770-820k
SOLD $790,000
St Kilda East
Townhouse
3
$750k+
SOLD $822,000
Middle Park
House
3
$880-950k
SOLD $957,500
Fitzroy North
House
3
$900-990k
PASSED IN
Sold
9
Passed In
2
NPB Clearance Rate 81%
Total
11
$1m+

Suburb
Type
Beds
Quote
Result
Beaumaris
House
3
$995-1095k
SOLD $1,050,000
Kew
Townhouse
3
$1-1.1m
SOLD $1,146,000
Yarraville
House
3
$1.1-1.2m
SOLD $1,185,000
Essendon
House
3
$1.1-1.2m
PASSED IN
Fairfield
House
4
$1.15-1.25m
SOLD $1,260,000
Mont Albert North
House
4
$1.1-1.2m
SOLD $1,270,000
Brighton East
House
4
$1.45-1.55m
SOLD $1,611,500
Northcote
House
5
$1.3-1.4m
SOLD $1,720,000
Hawthorn
House
4
$2.5m+
SOLD $2,675,000
Ivanhoe East
House
4
$3m+
PASSED IN
Sold
8
Passed In
2
NPB Clearance Rate 80%
Total
10
Overall

Sold
27
Passed In
6
NPB Clearance Rate 82%
Total
33
AUCTIONS IN THE SPOTLIGHT
1/2 Riddle St, Bentleigh
Reported by:

Catherine Cashmore

Agent:

Century 21

Quote:

$540,000-$590,000

Crowd:

40 people (approx.)

Bidders:

3

On Market:

$606,000

Result:

SOLD $621,000
Comment:
Located opposite a school, 1/2 Riddle St is an entry level property for the Bentleigh local. The subdivided block doesn't offer much in terms of land size, however the house is the original Art Deco home – updated inside – and offering a motivated owner further renovation potential should they wish to improve further.
A shower of rain had the modest crowd of around 40 buyers sheltering under a tree whilst they waited for the pre amble to commence. Thankfully the auctioneer didn't dwell on the interest rate drop, he did however point out that the market has been gradually improving and the open for inspections at this particular property, had been attended by more buyers than other opens over the past few months.
Kicking off on a vendor bid of $550,000, he had barely muttered the number before two bidders started to battle. The price rose in $10,000 increments before reaching $600,000, at which point the bidding started to slow. At $605,000 he walked inside to see the vendor, however it took another bid of $606,000 before the property was placed 'on the market'.
A third bidder was then motivated to get involved and moving in $1,000 increments, the house finally sold for 621k. A good solid price.
4/33 The Avenue, Balaclava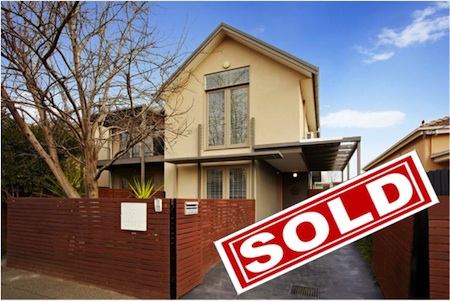 Reported by:

Catherine Cashmore

Agent:

Biggin & Scott

Quote:

'Verbal' $800,000+

Crowd:

15 people (approx.)

Bidders:

2

On the Market:

N/A

Result:

Passed in $805,000 and sold via negotiation for $822,000.
Comment:
A modern 3 bedroom 2 bathroom townhouse was the ideal property to attract the predominant buyer demographic in the Balaclava district. The auction was attended by a few groups of young couples, however when it came to the action, only two buyers contended.
The auctioneer called for an opening bid in the high $700,000's, however when none eventuated, he kicked off with a vendor bid of $760,000.
Rising in initially in $10,000 increments followed by $5,000 jumps, 2 bidders took the price quickly to $805,000 before grinding to a halt.
Going inside to chat to the vendor, the auctioneer returned stating the home was not 'quite' on the market. Ramping up the crowd once again, he called for further bidding, however nothing was forthcoming, and the property passed in for negotiation at $805,000.
It sold a short while later for $822K.
4/4 Lansdowne Rd, St Kilda East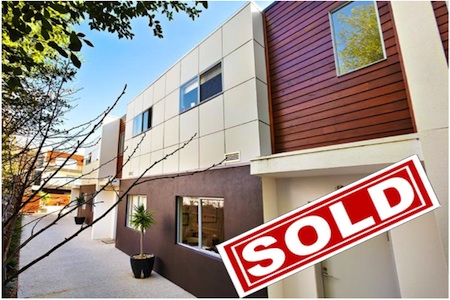 Reported by:

Antony Bucello

Agent:

Gary Peer

Quote:

$570,000-$620,000

Crowd:

20 people (approx.)

Bidders:

2

On the market:

N/A

Result:

Passed in $620,000 – Sold via negotiation for $633,000..
Comment:
(2 bedroom 'plus' study apartment).
This contemporary apartment was expected to gain greater competition after a reasonable offer, prior to the auction, was rejected. However only two bidders were in attendance and the atmosphere was lacking the usual 'fizz.'
Opening on a vendor bid of $570,000, the bidding progressed slowly. At $610,000 the auctioneer took 'time out' to talk to the vendor, however with the price still below expectation and the apartment wasn't yet 'on the market'
A few more bids took the price to 620k at which point the property passed in to the leading bidder. Negotiation was successful and the apartment sold for 633k.
9/15 Wrexham Rd, Prahran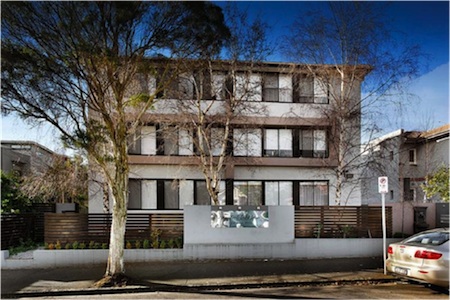 Reported by:

Catherine Cashmore

Agent:

Bella

Quote:

'Low $400k'

Crowd:

40 people (approx.)

Bidders:

3

On the market:

N/A

Result:

Passed in $430,000, later sold for 'undisclosed' price.
Comment:
In the pouring rain around 30 buyers attended the auction for this 1 bedroom apartment with 'city views' and a sizeable terrace. Quoted in the low $400,000s the auction opened with a confident bid of $360,000 – the auctioneer immediately followed with a vendor bid of $390,000 and with the momentum building 3 bidders competed.
Quickly passing $400,000 the price reached $430,000 before the auctioneer took a break to see the vendor. Upon return he announced that the property was not 'quite on the market' and with no further interest, the property passed in for negotiation.
It later sold for an 'undisclosed' price, a little in excess of the passed in result.
1/1b Kinkora Rd Hawthorn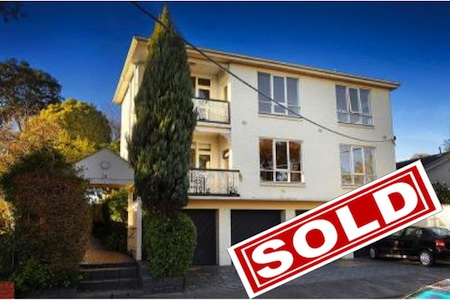 Reported by:

Robert Di Vita

Agent:

Hocking Stuart

Quote:

$470,000 – $520,000

Crowd:

55 people (approx.)

Bidders:

5

On the market:

$550,000

Result:

SOLD $652,000
Comment:
This well proportioned 2 bedroom apartment in a prime pocket of Hawthorn attracted a large crowd of around 55 people. Opening on a genuine bid of $505,000, aggressive competition from 5 buyers eventuated in such a speedy auction, it was barely possible to keep abreast of the action.
In less than 10 seconds the price had reached $550,000 at which point the auctioneer announced the home 'on the market.' However, it took another $100,000 – achieving the whopping price of $652,000 (more than a tad over comparable market value) – before the contract hit the auctioneer's hand.
It was without doubt, the 'boom' result of the day.
CONTACT US
If you need any assistance with searching, assessing or negotiating your next property purchase or simply wish to discuss your property buying needs, please don't hesitate to contact us. Alternatively, you can complete our online Help Us Help You form and we will contact you.
Regards
Antony Bucello and Catherine Cashmore