2020, what a year!
COVID has impacted our health, our businesses and our way of life but for all this, the Australian housing market finished the year on a strong footing according to CoreLogic's national home value index. December was the third consecutive month-on-month rise following a 2.1% drop in dwelling values drop during the worst of the pandemic and its restriction between April and September. Melbourne's final quarter produced a 1.5% rise in dwelling values which was a welcome relief as home values had previously been slipping from Melbourne's March 2020 peak.
Whilst we still have a little bit of ground to make up at a macro level there are definitely pockets of Melbourne that have performed well in one of the most operationally challenging real estate markets in Australia. No-one foresaw that by early August not only public inspections and auctions would be banned but private inspections as well under Victoria's strict COVID restrictions. This essentially ground the real estate market to a halt as people attempted to grapple with the idea of buying or leasing property sight unseen.
Market Reawakening
At the end of September, the Melbourne real estate industry jumped for joy. The Victorian Government announced that private inspections were to be reallowed.
The market that had been plagued by lack of stock started to reawaken quickly. We noticed an almost instant jump in enquiries for Buyer Advocacy or Vendor (Selling) Advocacy to our business. We were delighted to see consumer confidence significantly increase from November. We attribute this rebound to several weeks of no COVID-19 cases, loosening restrictions and further reductions in borrowing costs.
On November 3rd the Reserve Bank of Australia cut the official rate from 0.25% to a new record low of 0.10%. This is the lowest cash rate in history. Experts predict that the official cash rate will not rise for at least the next three years, providing property buyers and sellers some assurance over their borrowing rates and payment obligations in the short term.
Tim Lawless, Corelogic's research director stated in the December report (released in January) that in retrospect, the rebound in housing market activity and dwelling values is unsurprising given the rapid and substantial monetary and fiscal response from the Government and policymakers.
"Record low-interest rates played a key role in supporting housing market activity, along with a spectacular rise in consumer confidence as COVID-related restrictions were lifted and forecasts for economic conditions turned out to be overly pessimistic. Containing the spread of the virus has been critical to Australia's economic and housing market resilience."
Low inventory levels saw buyer demand for quality homes or investment properties outstrip supply. With buyers outnumbering sellers, we consistently witnessed 5 or more bidders at a number of auctions across Melbourne in Quarter 4. Corelogic's December report stated that low inventory levels had been a feature of the Australian housing market through 2020. Mr Lawless said, "The number of residential property sales plummeted by -40% through March and April but finished the year with almost 8% more sales relative to a year ago as buyer numbers surged through the second half of the year."
You can see in the REIV auction data below how the market reactivated in November and December.  Auction numbers started to climb to near normal levels and auction clearance rates were the highest in the last 5 years, as people fought it out for limited stock.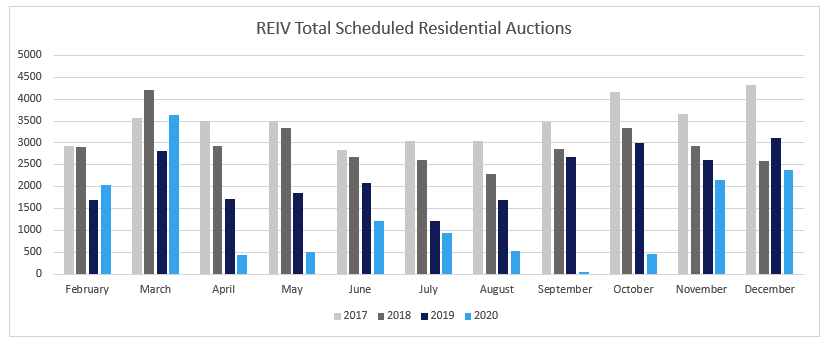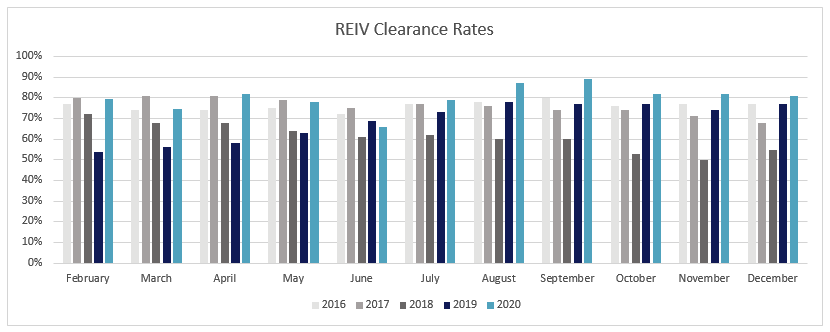 In response to growing buyer demand in regional Victoria, we successfully expanded our business to provide Buyer Advocacy and Vendor Advocacy services up and down the Bellarine Peninsula by partnering with an advocate in Geelong.
Working from home became the norm in 2020 as many employees were unable to work from their office. Companies and people alike discovered that there were many advantages to continuing reduced hours in the office and demand for lifestyle properties and lower density housings options became more popular. Regional markets around Melbourne saw housing searches and buyer demand surge. The quick commute into town was no longer the number one priority for some home buyers, now lifestyle, open spaces and home offices were high on people's priorities. Regional Victoria dwelling values have surged by 5.6% in the past 12 months as buyer demand increased.
Melbourne's rental market at a macro level has decreased slightly as a result of weaker demand. However, the impact has been greatest on inner-city high-density living areas such as high rise apartments in Southbank, Docklands and the CBD, due to stalled overseas migration (including students).
Looking Forward
Demand outweighed supply for Q4 2020 and we expect that pattern to continue into 2021. With 4 or 5 bidders missing out at auctions for quality properties there will be leftover demand from 2020 as well as new players (including investors) entering the property market arena.
The Victorian State government is providing temporary stamp duty relief for those purchasing property up to $1,000,000. In addition, they will waive up to 50% stamp duty on newly-built or off-the-plan homes valued up to $1 million, whilst existing homes will be eligible for a 25% stamp duty discount. These measures are in place until 30 June 2021 and will likely further stimulate the Melbourne property market.
There is still some residual nervousness in the market as the Federal Government support packages (such as Jobkeeper) are wound back and bank repayment holidays approach expiry. The Victorian State budget has considerable stimulus packages and tax savings that will hopefully refuel the economy. And for anyone that is not in a position to start making loan repayments they need to speak with their lenders. It is rarely in the banks' interest to repossess properties. Generally, lenders want to work with their clients to get them back on their feet and paying off their loans.
We expect the excellent results seen since coming out of lockdown should encourage vendors to list their properties in 2021, which will be needed to close the gap between supply and demand. Being patient and buying the right property at the right price will be crucial to property owners' success in 2021.
Boronia – "The foot of the hills"
 Overview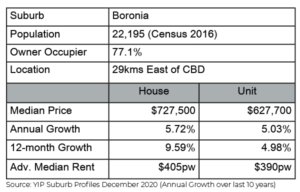 Boronia is a leafy green suburb 29kms east of Melbourne. It is situated at the foothills of the Dandenong Ranges and has views of the National Park and even the city of Melbourne!
It is a large family-friendly suburb and includes sections of the Dandenong Ranges foothills. It is home to nature reserves, an abundance of wildlife and extensive bike paths and bush walks.
Boronia is a suburb that ticks a lot of boxes. It has local shops, restaurants, public transport, sporting facilities, kindergartens, schools and access to nearby main roads and major shopping centres.
Whilst many locals rave about the suburb there has been a call for a refresh of some of the local amenities and infrastructure. When The Victorian Government released its metropolitan planning strategy "Plan Melbourne 2017-2050" it identified Boronia as a Major Activity Centre. As such it is expected to provide a suburban focal point for services, employment, housing, public transport and social interaction. The Knox City Council "Boronia Renewal Project' should see urban renewal and revitalisation of the suburb over the next few years.
Shop and Eat
Boronia has a couple of local shopping precincts, including Boronia Junction, Boronia Village and Dorset Square. They are home to restaurants, chemists, banks, hairdressers and many other locally required services.
Located in nearby Ringwood is Eastland Shopping Centre. In 2016 it underwent a major redevelopment and is now a mecca for food, fashion and family-oriented experiences.  It has all the major Australian retailers you could need including Coles, Woolworths, Myer, David Jones, Big W and Kmart. Eastland's culinary heart can be found in its Town Square, with more than 60 offerings in dining and hospitality! And if that left you feeling you a bit tired you can chill out in the multi-screen Hoyts cinema whilst watching a movie and eating a Choctop. Yum!
Play and Exercise
There is an abundance of walking trails and bike paths but there are also local sporting facilities. Amenities include a 24-hour gymnasium and Knox Leisureworks, a swimming pool and exercise centre run by the YMCA. Tormore Reserve is the home ground to the local football team and the Boronia Cricket Club.
Other activities include the Boronia Bowls Club, health and fitness centres, netball clubs, swimming schools/clubs, martial arts schools, a pool club, and numerous small parks and playgrounds.
Move and Transport
Located at the foothill of the Dandenong's it is only a short 10-minute drive up the hill to towns like Sassafras which has quirky shops and lovely cafes.
But for those that want to commute further, you can catch a train from Boronia station and be in the CBD in 50 minutes.  By car, there are numerous transport links. The tolled Eastlink will get you to the Monash Freeway, the Eastern Freeway and for getaways to the beach in Frankston or beyond to the Mornington Peninsula. You can commute to the city via either the Burwood Highway or M3 (Eastern Freeway) in 45 minutes (off-peak).
Learn
There are a number of kindergartens located in Boronia. There are also four primary schools in Boronia; Knox Central Primary School, Boronia Heights Primary, Boronia West Primary and St Joseph's Catholic Primary school. Boronia K-12 College, is a coeducational combined school, serving Kinder – Year 12.
Housing and Pricing
Dwelling types in Boronia are predominately houses, over 75.4%. A large number of these are on large blocks. Flats are 2.4% and semi-detached dwelling types 22.1%.
The median house price is $727,500. In the last 12 months, in quite a challenging year in real estate, houses have enjoyed 9.59% growth according to Corelogic.
As with most suburbs, there are better pockets than others in Boronia, so demand levels can differ from pocket to pocket
Purchase Example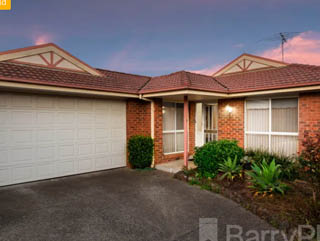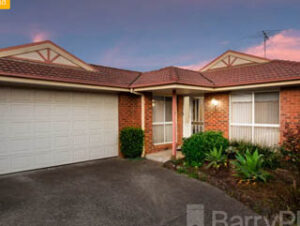 3 Bed | 2 Bath | 2 Car | $686,000 | Agent Listing
Spacious single level 3 bedroom unit for downsizers, young families or investors. Conveniently situated mid-way between Boronia Junction and Bayswater Village, near trains, buses, Boronia West Primary, Our Lady of Lourdes Primary, Boronia College, Westfield Knox plus EastLink Freeway.
Off-market purchase for interstate investors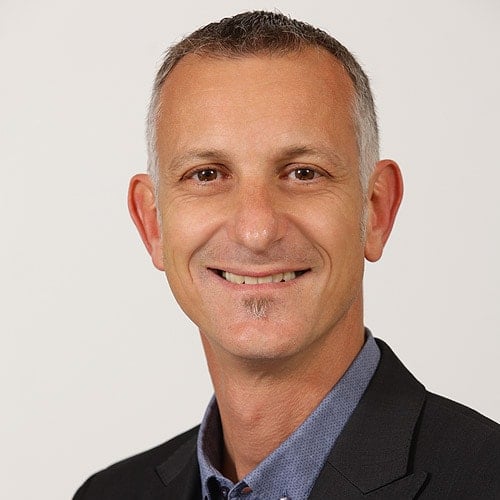 by Antony Bucello
Director
Antony is married with 2 children and lives in Lower Templestowe, Victoria. Educated at Swinburne University, his sales and marketing career has spanned over 30 years in both the Financial Services and Property sectors. Having been involved in countless property purchases for his clients over the years, he is now a leading Melbourne Buyer Advocate and his expertise has been recognised by multiple award nominations including being a finalist for Buyer Agent of the Year by Your Investment Property Magazine, REB and REIV. 0418 131 950 or email.
Contact Us Today
If you have any questions about the Melbourne market don't hesitate to contact our local team or if you would like a complimentary, obligation free 1 hour consultation please complete this form.