Market Overview
No-one predicted the speed of the recovery in the Melbourne market! As market disrupters were removed; lending standards eased, governments stabilised and mortgage rates reduced to historical lows – demand has surged. And unfortunately supply has not kept pace and buyers are now battling it out to secure good property in good locations.
Whilst some vendors have been reluctant to place their properties on the market due to the recent declines, those that have taken the risk, have watched as up to 6 or 7 bidders battle it out for their properties. Vendors no longer need to discount their rates as the buyer's advantage is slipping. Good property is attracting a premium and be fiercely competed for. Happy vendors will be enjoying Christmas and the holiday season with fat pockets after watching their properties sell well above reserve in a market that Corelogic reported as being 16% down on stock listings! And it hasn't been just one type of property attracting a crowd, they have been all different, different price points, different suburbs, and different property types. The one thing in common is they are selling under competition and under the hammer.
Corelogic is now consistently reporting healthy growth figures in its monthly Home Value Index. National home prices rose by 1.7% in November, the biggest increase since October 2003. And capital city home prices rose by 2.0% – also the biggest lift in 16 years. Melbourne gained 2.2 per cent and posted positive annual growth, a world away from the double-digit declines experienced earlier this year! Melbourne also took out top spot for the best performing capital city over the 3 months to November 2019 with a +6.4% growth!
Housing has been the clearest winner from RBA's easing campaign, interest rates have been cut three times since June to a historic low of 0.75 per cent and were held steady at the last meeting of the year in November. Financial markets and economists believe the RBA will make a further cut early next year as it continues to seek driving down unemployment rates and lifting wages. Mortgage rates (loans) are tracking at their lowest level since the 1950s. However, Corelogic reported that the value of lending to investors and owner occupiers alike increased in August, owner occupier loans were up 1.9% and investor loans 5.7%. Investors still comprise a lower than average share of mortgage demand.
There is currently a wide variety of buyers in the market, including first home buyers, young families, downsizers, and more and more investors and developers are getting involved. Our own internally client books have returned to a balanced split of owner occupiers and investors. The limited pool of housing stock means that under bidders, the unsuccessful buyers, remain in competition with many other under bidders as more and more are leaving auctions with no contracts just the brochure. Competition remains thick for well located, well presented properties and this is supporting the surge in home price growth.
The final weeks before Christmas were a race to the finish as there was virtually no new listings as selling agents start getting their 2020 calendars ready. We had two weekends in a row of 'Super Saturdays' where more than 1000 properties were put up for auction and high clearance rates of the upper 70th per centile were achieved.
Our one cautionary tale in this market is don't panic buy. Do you research and know the true value of your property. Especially if you are an investor, keep your head in the game at all times and do not let the emotion and excitement of the day goad you into paying more money.
There are good buying opportunities out there for investors that do their research. For investors with larger budgets interested in set and forget properties or house and land that can be subdivided we continue to recommend Reservoir (which we featured in our Quarter 2 2019 edition). For investors with lower budgets have a look in the West, about 15/20ms out of town. You can get good properties for around $500 to $600k. And if you are interested in significant growth off infrastructure development check out the North East with the NE link development.
Auction Clearance Rates
Auction clearance rates have strengthened with clearance rates remaining above 70% for most weeks since mid-Sept and volumes trending higher through spring.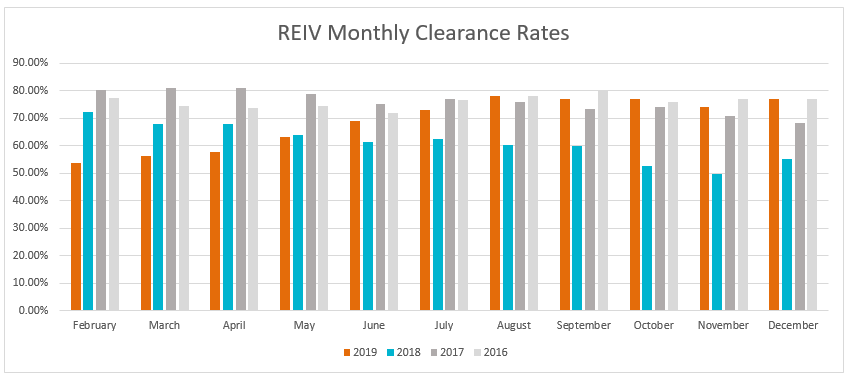 Sold House
What a difference a year can make. The number of properties sold at auction nearly doubled in December!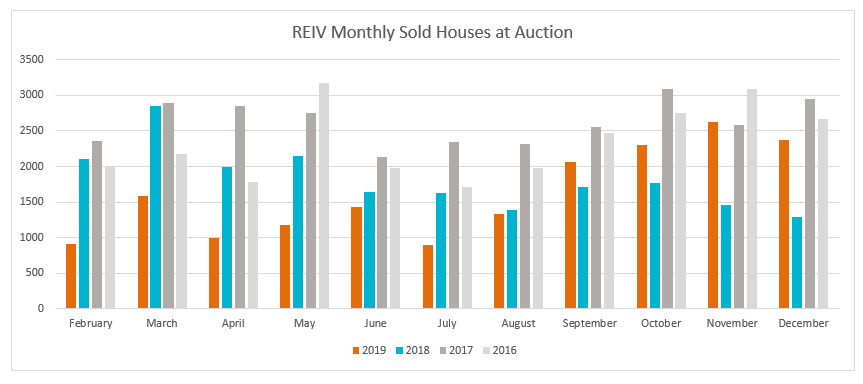 There is no doubt that Q4 2019 has been a strong quarter for Melbourne. We helped clients secure or sell 25 properties in 11 weeks and we were busy finalising deals right up to the Christmas week. Selling agents reported good enquiry levels in December for 2020 campaigns and started filling up their books. January is traditionally quiet as most people enjoy their summer holidays with the majority of campaigns starting in February.  In Q2 we expect that supply should start balancing out the market – as vendors are starting to take note of the favourable conditions and are coming out of the woodwork.
However, the big questions that remains on everyone's lips is – will it be enough supply to cater for the demand?
Croydon - "Community at the foot of the hills"
Overview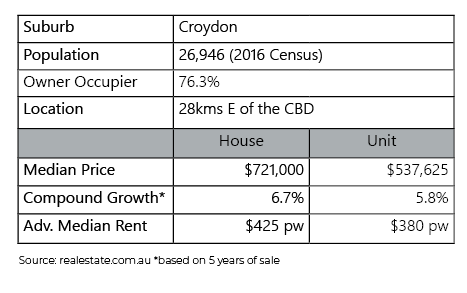 Croydon is a large residential and commercial suburb 28 km east of the CBD with a thriving population of 26,946. The long term residents enjoy its leafy green streets which are complimented by the stunning backdrop of the Dandenong Ranges. Croydon has something to offer all ages, and provides a family friendly lifestyle and facilities with easy access to the city. And despite being a large suburb, the locals commented on real estate site Homely that Croydon still has a great community feel to it.
Shop and Eat
The main street of Croydon is a thriving hub of over 150 traders, including eateries, chemists, boutique retailers, florists, newsagents, hairdressers, bakeries and a cinema all located around the Croydon railway station. Larger tenants including a Coles and Aldi are located nearby with ample parking, both on-street and behind the shops.
Croydon is also served by the Arndale Shopping Centre on Mt Dandenong Road, opposite Croydon Park, which has in excess of 20 retail outlets.
If large shopping centres are more your thing then there are plenty of options. Eastland, Chirnside Park and Knox Shopping Centre are all close by. Or even a Costco, just one of two in Victoria is located in Ringwood just 7 kilometres away.
And for those that prefer to relax drop into the Public Brewery for a great catch up with friends and family.
Play & Exercise
Croydon has several leisure centres available including Aquahub, Aquanation and Croydon Memorial Pool. Aquahub includes a swimming pool, stadium, gym and health club, Aquanation in Ringwood provides similar facilities and two large waterslides. Croydon Memorial Pool is an outdoor leisure and toddler pool and is opened seasonally.
Croydon's local Art Centre is home to varied art and craft activities. The Wyreena Community Arts Centre is set in historic buildings and elegant gardens and includes a café and playground and is home to many community groups. Croydon library hosts a range of events for all ages, including author talks and children's events.
The Maroondah Festival is held each year in the Croydon Park and embraced by the City of Maroondah and residents from surrounding suburbs and provides an outdoor cultural and community event.
Move
Croydon is well serviced by public transport, and A-grade and arterial roads.
The Croydon Railway Station is well serviced by buses and taxis, and is an easy walk or drive from most parts of the suburb. Similarly, Maroondah Highway provides quick and easy access to nearby Ringwood and Melbourne via the Eastlink Freeway to the west, and the Yarra Valley to the east.
The Eastlink Freeway provides easy access to the south, and a quick trip to the Mornington Peninsula and Port Philip Bay.
Learn
Croydon is surrounded by quality primary and secondary schools and boasts several kindergartens and ELC for those important early years. Further education is also available at Swinburne University in Croydon.
Housing & Pricing
The pricing in Croydon is very attractive to anyone looking for a quality lifestyle or investment option but is priced out of Melbourne's more expensive inner city locations.
Traditionally Croydon had large single-dwelling blocks, many have been sold and redeveloped as 'dual occupancy. However, there are still plenty of large blocks available for those who desire space and a large home, or for those wishing to redevelop. And for those who are more interested in low maintenance living or set and forget investment properties there are a number of quality half block divisions.
The median house price is $725,000 and the median unit price is $542,500.
Purchase Example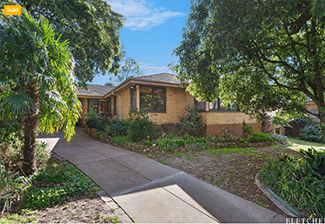 3 Beds | 1 Bath | 4 Cars | Sold October 2019 for $845,000
Possessing the privilege of a quiet court position, flexible floorplan plus plenty of scope for a transformation, this solid central Croydon home is an incredible family find. Three bedrooms plus a study complemented by separate bath and shower rooms, partially covered alfresco overlooking beautifully established gardens. Ducted heating, air conditioning, solar power and copious amounts of storage. Within an easy walk or moments commute to buses, Wyreena Arts Centre, schools, childcare and shopping centres, Swinburne TAFE, Croydon Main Street and Train Station. View the agent listing here.
Kingsville - "A village fit for a King"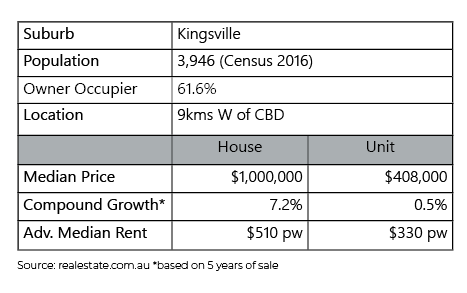 Kingsville is a small parcel of triangular shaped land nestled between some of the inner West's heavy hitters, including Yarraville, Seddon and West Footscray. Kingsville is located 9km west of the CBD and is full to the brim with beautiful heritage homes. Surprisingly though the appeal of Kingsville is definitely what is outside its borders versus what is inside.
Its neighbours provide some of the most coveted lifestyle of the west, good eating, entertainment, local shopping centres, supermarkets and public transport.
Shop and Eat
There are several commercial areas to be found along Kingsville borders. You can walk to Anderson Street, the hub of Yarraville in about 15 minutes. Here you can find great restaurants, cafes and a STAR cinema. Running parallel on High Street is the recently refurbished and increased in size Yarraville Square Shopping Centres. Home to Coles, Liquorland, Bakers Delight, Soul Pattinson, Subway and more.
3 kilometres away is the Footscray Shopping Plaza which also has an Anytime Fitness downstairs
Play and Exercise
Beevers Reserve is a small neighbourhood open space with playground and kick-about space located in Kingsville but if you are looking for a bit more space head to Cruickshank Park in Yarraville. There are plenty of good walking tracks with bridges across the creek, a basketball ring, dirt bike track and a tennis court. Kids love the dinosaur park and other play areas on offer.
Move
Kingsville has some excellent transport options including good road links and 3 train stations. Yarraville, Seddon and West Footscray train station are all about 1 kilometre away so you can take your pick of train station to walk to. There are 4 bus services that run the perimeter of Kingsville however it can get a little busy on the roads due to Kingsville being nestled between 3 main roads.
But options are still king, you can get to the city, the Docklands and even the beach in Williamstown!
Learn
There are a number of nearby learning institutions. Kingsville Primary School and its attached kindergarten is located in Yarraville. The nearby Kingsville Kindergarten is in West Footscray, as is the Corpus Christi Catholic School. In total there are 5 primary schools all under 2 kilometres, 5 secondary colleges under 5 kilometres and 3 early learning centres/childcare under 2 kilometres (including the Hive Early Learning Centre in Kingsville). Victoria University is only 3 kilometres away in Footscray for students looking for higher education.
Housing & Pricing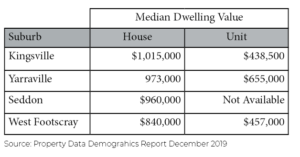 Compared to its more expensive neighbours Kingsville's units are more affordable. Investors are attracted to the older units and apartments and giving them a mini makeover to add some value. There are also some newer apartments that have become available in recent years. We recommend looking for 2 bedroom units ideally with off-street parking if your budget can stretch that far.
As Kingsville was established around the 1930's there a lot of beautiful Edwardian homes in tree-lined streets. To prevent overdevelopment some streets have been protected with heritages overlays and the facades cannot be knocked to make way for new developments. Block sizes typically range from 270 sqm up to 350 sqm. This might be considered small for anyone from the middle to outer rings of Melbourne but is actually quite decent in this area and compared to its neighbours.
Purchase Example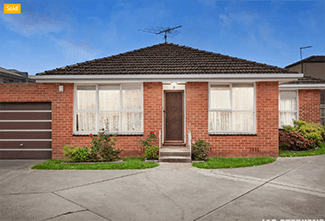 2 Beds | 1 Bath | 1 Car | Sold December 2019 for $535,000
Bright 2 bedroom single level unit. Polished hardwood floorboards including a living/dining area that's separate from a generous kitchen where there's ample room for meals. Two double bedrooms sharing a central bathroom provide appealing accommodation while a separate toilet and a separate laundry further enhance these impressive single level proportions. Secure garage. Easy access to bus routes, Somerville Road, Cruickshank Park and Yarraville village. View the agent listing here.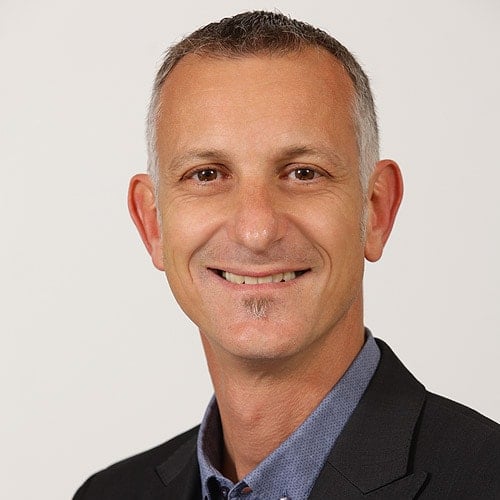 by Antony Bucello
Director
Antony is married with 2 children and lives in Lower Templestowe, Victoria. Educated at Swinburne University, his sales and marketing career has spanned over 30 years in both the Financial Services and Property sectors. Having been involved in countless property purchases for his clients over the years, he is now a leading Melbourne Buyer Advocate and his expertise has been recognised by multiple award nominations including being a finalist for Buyer Agent of the Year by Your Investment Property Magazine, REB and REIV. 0418 131 950 or email
I was uncertain of using buyer agent at first, I thought it was expensive I thought can manage it by myself. However, it was way too difficult trying to buy a property from overseas without a ground support. I couldn't successfully purchase a property after whole year search on my own.
Working with Antony started with an auction he performed for me. Because my lack of knowledge on property market in Melbourne, I set an unrealistic target price which of course ended up unsuccessful. He was spot on to predict the end auction price before auction start. i was very impressed by his knowledge and enthusiasm. So I decided to use National Property Buyers premium service. Antony sourced a wide range of good properties each week. He provided detailed feedback, photos, pros and cons for each property he helped me inspected, advice on which properties are worth to consider and the price range, within two months after I started their service, I got the property I really love. I am very sure that his tactical auction skill helped me secured this property with better price. Also save my time for endless search and inspections, pondering which one I should choose. I wish I could use his service one year earlier. I highly recommend his service.
Contact Us Today
If you have any questions about the Melbourne market don't hesitate to contact our local team or if you would like a complimentary, obligation free 1 hour consultation please complete this form.