Overview
This quarter we hit a target that maybe none of us really wanted to achieve, over 200 days in lockdown. In Quarter 3 we contributed to that total with lockdown 5 and lockdown 6 as the Delta strain infected Victoria. For real estate, the biggest impact was that for approximately 55 of the 92-day quarter, private inspections were banned.
In Quarter 2 the market was experiencing exponential growth with Melbourne's dwelling values at a record high and the question on everyone's lips was: "Will the market slow down?"
Well, it did but maybe not the way everyone meant. The start of the quarter, the market was active, properties could be inspected, and auctions attended. However, lockdown 5, a 5-day snap lockdown, commenced July 15th, with a small reprieve then lockdown down 6 started August 4th (8PM). Properties that had enjoyed open for inspections before the lockdowns converted auctions to online. These properties were purchased under competition online, frequently with 5 or more registered bidders battling out for the keys.
However, as the market soaked up existing listings, new listings were reducing. Professional photography was off the cards, physical inspections of any kind were banned, campaigns were listed as forthcoming auction with no scheduled date and vendors became increasingly hesitant to list their properties as lockdown 6 was extended again and again. Buyers unable to inspect properties were also reluctant to commit to purchasing a property sight unseen.
And we agreed.
How can people confidently spend hundreds of thousands of dollars if not millions on a property that they can't physically inspect? We didn't recommend it and considering that people buying and selling property is our bread and butter, that is a big statement.
Interestingly, and consistent with previous lockdowns, whilst activity reduced property prices overall still increased. CoreLogic's September home value index confirmed that whilst price growth was moderating, it was still rising. According to CoreLogic Melbourne's dwelling values increased 3.3% this quarter and 15.0% annually.  
Advocating for Private Inspections
The REIV and REIA advocated for the return of private inspections the entire time we were in lockdown and when it sounded like private inspections would only be allowed for vacant properties in September, they launched a public media campaign imploring Premier Andrews to allow private inspections.  
It seemed the Premier listened.
Private inspections, under strict rules, were reallowed from Saturday 18th September. Seller, buyers, renters and the real estate industry breathed a sigh of relief. There was a flurry of activity as inspections were booked in and attended and campaigns were launched for properties that had been sitting, ready and waiting. It looked like access to properties for appraisals, photography, floor planners and copywriters was not going to be permitted until the double dose 70% vaccination rate was achieved, however, things were quickly clarified and with strict rules, all were allowed apart from physical appraisals.   
CoreLogic reported in late September that freshly listed housing stock started lifting as the spring selling season began to heat up and the largest lift was in Melbourne. No surprises there! Interestingly listing numbers were moving upwards before restrictions were lifted. Maybe vendors had their fingers and toes crossed for good news! Despite this lift in numbers, CoreLogic confirmed that new listings trends in Melbourne remain below the five-year average. 
Clearance Rates
Clearance rates remained high for the quarter.  
Clearance rates are often using as a barometer of people's confidence in the market, however, this must be tempered with the fact that stock levels are low and a limited number of properties went to auction when private inspections were banned as can be seen from the below auction numbers. 
Interest Rates and Credit Conditions
Interest rates remain at the historic low of 0.10 per cent, making money cheap and spurring people to borrow more.
There are grumblings that tighter credit conditions could be triggered down the track. In fact, the Federal Treasurer, Josh Frydenberg met with financial regulators in September to discuss the hot housing market and gave them the go-ahead to consider clamping down on high-debt home loans. There are several predictions on who this clampdown would affect the most, investors seem to be at the top of the pile as investors are the group more likely to take on more debt.  However, it could affect the prestige end of the market too as property prices are significantly higher and there are some concerns that First Home Buyers who may be on lower incomes may also be impacted. If large groups of buyers start finding it more difficult to secure loans, this could reduce competition and slow down price growth. However, there is no timeline set at this stage so we are just watching this space. 
Rental Market
Melbourne's rental market is a two-speed market and its vacancy rate is being weighed down heavily by underwhelming demand for rental accommodation in and around the city. The withdrawal of international students and overseas migration continues to affect the inner city and CBD substantially, but suburban and regional locations continue to be a landlord's market.  
We expect that demand for inner-city high-density housing will continue to remain low for some time and investors should be wary about purchasing this type of property in this location at the moment. 
Looking forward 
We believe the market will continue strongly to Christmas. The start of the normally busy Spring market was delayed by lengthy lockdowns. There are plenty of buyers that want properties, we just need vendors to be able and willing to list them. 
We expect price growth may moderate but do not expect it to go backwards anytime soon. Everyone keeps asking 'have we reached the peak of the market' and unless credit policies are tightened suddenly, I believe price growth will continue for the remainder of 2021 and into 2022. 
My advice in this current market is to be ready to act. Have your finances lined up, find a good property, let the real estate agent know when you're interested and then give it your best shot, but don't make poor decisions because of pressure of FOMO. Buying property is too expensive to get wrong! 
Blackburn North – "Leafy Green and Family Friendly"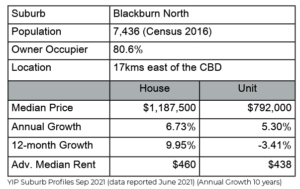 Last quarterly we focused on a western suburb that was experiencing significant growth, gentrification and infrastructure development and this quarter we are travelling east and focusing on an established, popular family-friendly suburb.
Blackburn North.
Blackburn North is a predominantly residential suburb 17 kilometres east of the CBD, and along with its neighbour Blackburn, it is known as a leafy green family-friendly neighbourhood. If wide, tree-lined streets with houses on large blocks interest you Blackburn North is definitely worth a look. Everything you need is nearby including shops, schools, public transport and major roads.
Shopping/Amenities
At 2.6 kilometres square, the small suburb does not have a major shopping centre but there is no shortage of local conveniences and popular cafes.
North Blackburn Square is the local marketplace and is currently undergoing a major rejuvenation. The centre once complete will be anchored by 2 supermarkets, 2 mini-majors and approximately 40 speciality stores as well as childcare and gym facilities to support the community. Located on the southern border on Springfield Rd it is technical in Blackburn but with the name North Blackburn Square, I think it can safely claim it.
There are also a few popular small shopping strips, including Raymond Street, Katrina Street and Diana Drive. Katrina Street is home to popular café Little Woodpecker and which along with Peddler Café, next door in Nunawading, are both definitely worth a visit if you brunch. Or if you prefer head to Box Hill where there are endless options of Asian cuisine.
For those that enjoy the all in one convenience of large shopping centres, there is no shortage of options. Blackburn North is in the middle of Westfield Doncaster, Forest Hill Chase and Eastland Shopping Centre.
Transport
Blackburn North has easy access to the Eastern Freeway and arterial roads. The freeway runs the length of its northern border along the Koonung Creek trial.
There are bus services throughout the suburb that can take you to Blackburn Train Station or Box Hill transport hub, where there is a bus terminus, tram terminus and Box Hill Train Station. Box Hill is earmarked as the recipient of 1 of the 6 new underground stations as part of the construction of the Suburban Rail Loop which begins next year.
Schools
There are two zoned public primary schools Old Orchard Primary School and Whitehorse Primary School. There is also a catholic primary school, St. Philips.
Blackburn High School is the closest secondary college and part of its catchment area includes Blackburn North. It is located just across the road from North Blackburn Square.
Katrina Preschool and Nino Early Learning are available for the younger ones.
Sport and Recreation
The area is well serviced by Koonung Reserve, located on Springfield Road. It has cricket nets, a cricket/football oval, a tennis club and a soccer field. It is the sporting home of several cricket and football teams. Also situated in Blackburn North is Slater Reserve which includes a stadium offering basketball and netball courts.
There are a number of parks around the area including the Koonung Creek trail that runs through Blackburn North and provides you with an opportunity for exercise and leisure activities. Picturesque Blackburn Lake is also just around the corner.
Properties
There are plenty of gorgeous homes on large blocks on street-lined streets. A large number of homes date from the 1950s to the 1960s when the suburb was first developed. Depending on your budget and your inclination you can find renovated and unrenovated properties. Larger blocks do attract a premium price tag if well positioned and good size townhouses are becoming more and more popular.
Purchase Example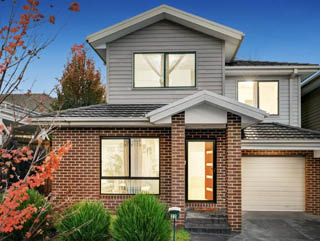 3 Bed | 1 Bath | 1 Car | Townhouse | $917,000 Sold on 26 Jun 2021 
A 3-bedroom townhouse with street frontage designed with low maintenance living in mind. Appealing to young families, professionals, and investors. Exceptionally located near sought-after amenities and quality schools. A leisurely stroll to North Blackburn Square shops and cafes, Slater Reserve, Koonung Park and Blackburn train station. Bus services and the freeway are close at hand. 
Off Market land/house for future townhouses development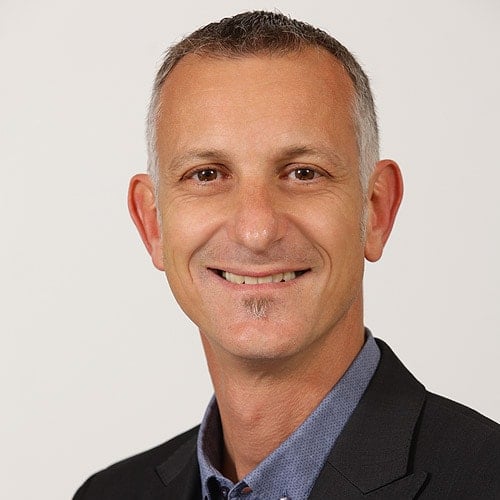 by Antony Bucello
Director
Antony is married with 2 children and lives in Lower Templestowe, Victoria. Educated at Swinburne University, his sales and marketing career has spanned over 30 years in both the Financial Services and Property sectors. Having been involved in countless property purchases for his clients over the years, he is now a leading Melbourne Buyer Advocate and his expertise has been recognised by multiple award nominations including being a finalist for Buyer Agent of the Year by Your Investment Property Magazine, REB and REIV. 0418 131 950 or email.
Contact Us Today
If you have any questions about the Melbourne market don't hesitate to contact our local team or if you would like a complimentary, obligation free 1 hour consultation please complete this form.