Market Overview in a COVID-19 world
2020 Victoria real estate! Open – Shut – Open – Shut – Open
When I started writing this report in September real estate in Melbourne was essentially shut, and then on the 27th of September, Premier Daniel Andrews announced private inspections were back on. Everyone in the real estate industry breathed a sigh of relief and more importantly so did those seeking shelter (whether they needed to buy or rent) and those seeking financial relief by selling.
We finished off Quarter Two optimistically talking about the opening up of the Victorian real estate market as restrictions started to lift. However, it was short-lived. In May, public auctions and inspections were reallowed under safe COVID practices but by July 9th, face-to-face auctions and public open for inspections were banned again across metropolitan Melbourne. As whisper volumes increased of even tougher restrictions coming, real estate agents across Melbourne scrambled to 'do deals' wherever they could, chasing offers and bringing forward scheduled auctions.
By August 6th physical property inspections were banned altogether and could only be conducted virtually under Melbourne's tough restrictions. This announcement essentially ground the real estate market to a halt. New listings dried up and reputable Buyer Agents and other independent experts advised against purchasing property sight-unseen or viewed virtually.
On September 7th, Victorians waited anxiously for the Premier's roadmap announcement outlining the gradual re-opening of the Victorian economy. The announcement was met with extreme disappointment and great frustration by the real estate industry. Everyone believed the roadmap would be conservative, but the real estate industry was still shocked that private inspections by appointment would not be reallowed until the third step, which was scheduled to commence on October 26th.
The Real Institute of Victoria slammed the decision and criticised the lack of genuine consultation by the government "The continuation of the ban on inspections means that people who desperately need to buy or lease a property will have to make that decision 'sight unseen'. Leah Calnan the REIV president said the organisation would push the government to reconsider the tough restriction, particularly in the rental space, as providing shelter should be considered an essential service.
The continuing restrictions were causing unnecessary stress, anxiety and financial pressures on some people. There was a real frustration that the importance of the real estate sector in assisting people to find housing and shelter wasn't being recognised and lobbying by the real estate industry was relentless.
Finally, on the 27th of September common sense prevailed and private inspections were reallowed in the second step of the roadmap instead of the third step. The real estate industry awoke almost overnight. There was a flurry of activity and excited announcements were made. Vendors, buyers, tenants, selling agents, property managers, buyer agents, photographers, property stylists and many other service providers breathed a sigh of relief!
Market Impacts during Q3
During Quarter 3, new listings dried up and in the 2020 year, I have witnessed some of the lowest auction numbers that I have seen in the last 20 odd years. Off-market opportunities increased, especially when people could still inspect. Vendors did not want to pay the cost of advertising and commit to selling in a market that was essentially shut for business. Selling agents had increasing numbers of properties waiting to be listed but vendors did not want to pull the trigger until they could be inspected, and rightly so.
Ms Calnan the REIV president commented, "The impact is on many levels — not only financial impact to state's economy but also the inability to be able to provide accommodation across the state by selling or leasing." Stress levels were increasing for those that had sold and needed to move but couldn't find somewhere to move to.
Why didn't prices go tumbling?
If we had to pick one thing that stood out the most about Quarter 3 of 2020 it was the lack of stock. We all know the impact of COVID-19 has been a massive shock to the overall economy, in particular with the Stage 4 restrictions in Melbourne. However, housing market values across the Melbourne and Geelong metropolitan areas remained reasonably resilient.
The Melbourne property market held strong and put up a good fight but it essentially boiled down to the fact that listings were low that prices remained reasonably stable. Any activity in the market was really being driven by owner-occupiers who were continuing their property buying and/or selling journey. For example, they may have sold and needed a place to live, or needed to upsize or downsize, or were seeking a different lifestyle.
CoreLogic's Hedonic Home Value Index reported on October 1st that "Low advertised stock levels are a key factor supporting housing values. Nationally, new listing numbers remain 22% lower than a year ago, and 25% below the five-year average. Similarly, total advertised stock levels were 14% below last year's level and 17% below the five-year average."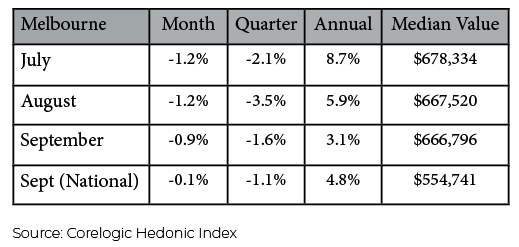 According to CoreLogic's head of research, Tim Lawless,  Melbourne housing values were down 0.9% in September. Since peaking in March, Melbourne values are down 5.5%. With restrictions starting to lift and private home inspections once again permitted, they expect to see activity lift in October."
Other factors supporting the market
There are other factors that are also supporting the stability of the Victorian real estate market.
Government Support Packages and Funding
The federal government announced the extension of the Jobkeeper and Jobseeker support packages to the end of March 2021. Jobkeeper will become a two-tiered system with reducing rates. Jobseekers Coronavirus supplement will also reduce from the 25th of September.
Whilst the reducing amounts is a disappointment to many, it is still a welcome relief for businesses, employees and job seekers.
Loan Repayment Holidays
Hundreds of thousands of Aussies took advantage of banks offers to freeze repayments for 3 to 6 months (whilst still accruing interest). For many that initial holiday period is over. People that are in a position to have started making repayments again but for others, they are starting conversations with their lenders to extend their repayment holidays. It is rarely in the bank's interest to repossess properties. They generally want to work with their clients to get them back on their feet and paying off their loans.
Mr Lawless, Head of Research at CoreLogic's commented in the Hedonic Index October report "We aren't seeing any signs of a rise in distressed listings or stock starting to pile up in the market. In fact, the opposite seems to be true, where new listings are being absorbed by the market faster than the rate at which they are being added."
Low-interest Rates
The Reserve Bank of Australia kept official interest rates on hold at its September meeting. The cash rate currently sits at the historic low of 0.25%, where it has remained since late March.
Record-low interest rates keep loans as affordable as possible and this was likely to be driving some demand from home buyers when inspections were allowed. The RBA's efforts have seen mortgage rates fall to record lows, the average fixed home loan is around 2.55% and average variable rates are around 3.35% p.a.
Impacts of Population Growth
There is no doubt that population growth is set to slow but what impact will that have on property? Interestingly enough the impact is predicted to have a much greater effect on the vacancy rate for rental properties in high-density dwellings in or close to the city. Which is exactly the types of properties we advise investors not to buy.
Recent forecasts from Treasury indicate the annual population growth across Australia by the year ending June 2021 will reduce approximately 50% from 2019 levels. Most of the forecast decline in population growth is due to stalled net overseas migration. Interestingly, in 2019 the composition of overseas migration was roughly that 70% of people were on temporary visas. People visiting Australia tend to rent not buy and in Melbourne the largest number of overseas migrants are generally located in high density living in or nearby the city. It is likely that rental vacancy may also increase around universities. On the flip side, we may experience an increase in the number of Aussie ex-pats returning home as they seek safety on our shores from the pandemic or even the civil unrest in Hong Kong. We are not denying that there will be reduced interest in some property types and less money moving around the economy from international visitors and migrants, but you really have to get under the hood of the car to understand it fully.
Going Forward
We expect that the property market will remain busy and active right up to Christmas if COVID case numbers remain low. We have already seen an influx of new listings hit the market. We do not believe there will be a considerable price correction in Melbourne unless supply outstrips demand by a significant amount and with support and stimulus packages available, we just can't see that happening at the moment.
For those they are financially stable, now represents a good time to buy. For investors, it is key to get that all-important property location and type right to ensure you are best positioned to attract quality and long term tenants. For homeowners, some of the wind has been knocked out of the prestige market so it represents an opportune time to upgrade.
We are looking forward to a strong Quarter 4. Careful, considered buying is important right now as well as patience and ensuring you have finances in place to meet your obligations.
Greensborough – "Green by name and green by nature"
 Overview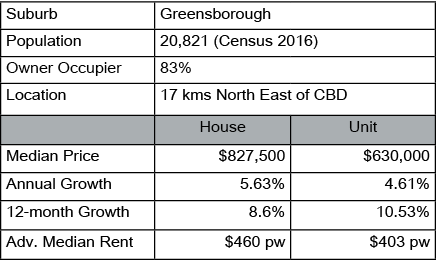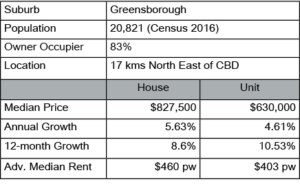 Greensborough is a leafy green suburb 17kms north-east of the CBD. The majority of property types are houses, with over 85% of all property separate houses. The locals rave about Greensborough and how family-friendly it is. Greensborough is home to an abundance of shops, local dining, public transport, beautiful parks, state of the art sport facilities and great schools. Houses are reasonably priced and there are a significant number of 1930s to 1960s character homes.
Greensborough has some great local shopping options including its main retail hub is Greensborough Plaza and is a major regional shopping centre for Melbourne's north-eastern suburbs. The shopping centre's major tenants include Coles, Kmart, Target, Aldi and JB Hi-Fi as well as a Hoyts Cinema complex. Greensborough boasts A-grade sports facilities for AFL and Soccer. It has a polyurethane athletic track at Willinda Park and is home to a state of the art aquatic centre Watermarc, which is connected to the main street with a pedestrian promenade.
Greensborough is just on the cusp of the green belt and provides very good access to many locations in under 30 minutes. It has easy access to the east (Eastern Freeway), to the west (Western Ring Road) and Princess Freeway or to the very north (Hume Highway) and by on the correct side of the ring road – fewer traffic jams. The city can be reached by car off-peak in 25 minutes and the airport is only 20 minutes away. You can even escape out to the gorgeous Yarra Valley easily.
Greensborough has some great public transport links with the Hurstbridge railway line stopping at Greensborough train station.  The suburb serves as a major hub for bus services for the surrounding area, with most services departing from the Main Street terminal.
Greensborough will be well serviced by the North-East link which is expected to start early in 2021 with the road opening to traffic in 2027. The North East Link will finally fix the missing link in Melbourne's freeway network. It will slash travel time, remove trucks off local roads, provide additional lanes on the Eastern freeway and deliver many walking and cycling connections.
As with most suburbs, there are better areas than others and there really is a lot to like and a lot on offer in Greensborough for investors and homeowners alike.
Purchase Example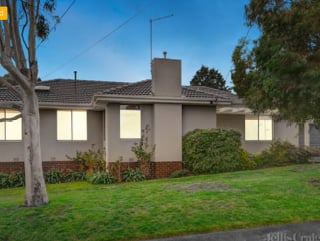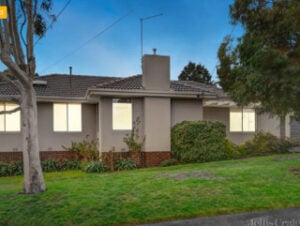 3 Bed | 2 Bath | 2 Car | $870,000 | Agent Listing
Renovated 3 bedroom, 2 bathroom house sits on nearly 850sqm of land in close proximity to parks, schools, shops and the train station
Belmont - "A taste of salt in the air"
Overview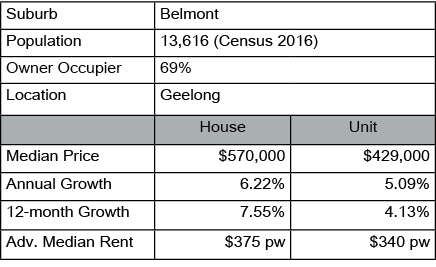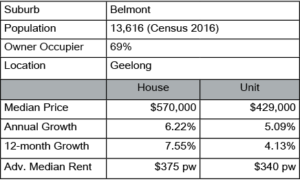 Belmont is a southern suburb of Geelong that is geographically separated from the central business district by the Barwon River. The suburb has a great feel to it and is primarily residential, ideal for various demographic profiles including families, professionals, singles and retirees. It is an established suburb with wider streets than some other well-known Geelong suburbs and has changed over the years with significantly improved infrastructure.
Belmont provides easy access to the Barwon River, Highton Village and the shopping strip on High Street. It's an easy commute into central Geelong. Many properties that sit on larger blocks have been updated and there is plenty of development with larger blocks being subdivided to offer a selection of more modern 'low maintenance' town residences to buy to either live in or invest in.
The House Median Price as at June 2020 was $593,500 and the Unit Median was $410,000. Prices have been steadily increasing over the past 5 years as demand for the area increases due to its comfortable, family-friendly feel and great schools – primary, secondary and tertiary.
There are also parks, playgrounds, walking and bicycle tracks and medical services while being only minutes away from a choice of shopping centres. Also, closeby is the entrance to the freeway to Melbourne and Torquay and the Surf Coast are easily accessible. It is a very convenient suburb to be able to access just about everything.
However, as with most larger geographic suburbs, there are better pockets of Belmont than others. Belmont has 3 distinctive and different pockets. We consider 'A grade' locations to be properties that are positioned in the streets nearby to the High Street Shopping and Business precinct and nearby to Roslyn Road. 'B grade' locations are the areas that are positioned deeper into the south of Roslyn Road and on the western side of the Surf Coast Highway, extending to the Grovedale boundary. And 'C grade' locations are generally the areas on the eastern side of the Surf Coast Highway.
Purchase Example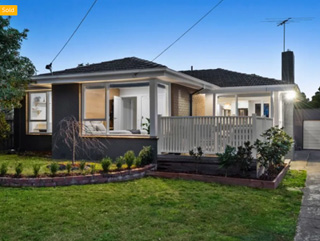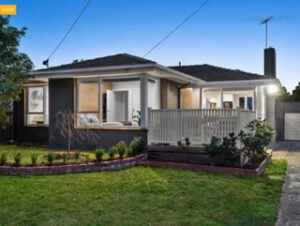 3 Beds | 1 Bath | 1 Cars | $560,000 | Agent Listing
This nicely renovated 3 bedroom home on 522sqm of land is very well located and has 2 living areas, suiting a variety of buyers including first home buyers, young families, couples and investors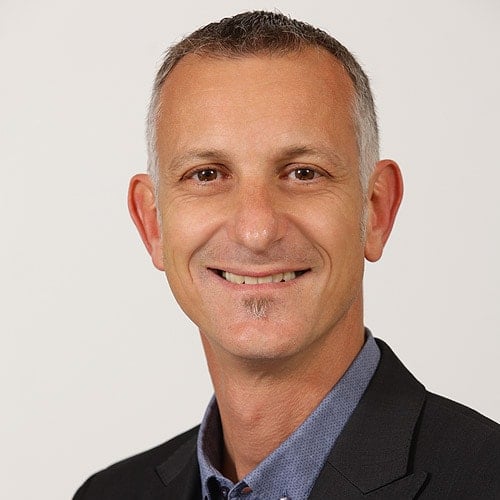 by Antony Bucello
Director
Antony is married with 2 children and lives in Lower Templestowe, Victoria. Educated at Swinburne University, his sales and marketing career has spanned over 30 years in both the Financial Services and Property sectors. Having been involved in countless property purchases for his clients over the years, he is now a leading Melbourne Buyer Advocate and his expertise has been recognised by multiple award nominations including being a finalist for Buyer Agent of the Year by Your Investment Property Magazine, REB and REIV. 0418 131 950 or email
We have recently bought a home for our children in Melbourne and we are living in Adelaide. Antony has a long history and knowledge of the real estate market in Melbourne, always available by email or phone, honest in his appraisal of potential properties and very helpful in organizing inspections for my boys in these unusual times.
Over the 3/4 months of searching Antony was able to show us a large variety of properties and locations so we in Adelaide, as well as the boys, could start to understand the current market.
His website is very easy to navigate and each week there were always 4/5 properties that we could look at and review. When the time came for us to put in an offer in on the property I had complete confidence with his negotiation and communication skills with the real estate agent. He was there to get the best deal he could for us.
We have had a very positive experience National Property Buyers and would not hesitate to recommend them to friends in a similar situation to us.
Contact Us Today
If you have any questions about the Melbourne market don't hesitate to contact our local team or if you would like a complimentary, obligation free 1 hour consultation please complete this form.