Overview
Bear with us as we use a car analogy to describe the housing market in Melbourne.
The summer property market has skidded in broadside in a cloud of smoke into the normally quieter winter market with no signs of slowing down. The final month of Quarter 2 saw 3 'Super Saturdays' executed with no respite for selling or buying agents insight. However, there was not one complaint and everyone was pleased to be catching up on activity from last year's extended lockdown.
Last report we kicked off announcing that the major capital cities stock listing were at a 12 year low. Whilst we have seen an increase in fresh stock, listings are still down overall and it is creating an imbalance between demand and supply.
The Victorian property market continues to soar and the strong market conditions are supported by low-interest rates, improving economic conditions, and a lack of available stock. According to CoreLogic Melbourne's dwelling values increased 4.6% this quarter and 7.7% annually.
As expected, houses have outstripped apartments for YTD growth, 11.4% and 5.6% respectively. Overall, though Melbourne dwelling values are currently at a record high.
However, that is not stopping property being snapped up. Family homes in desirable suburbs and A-grade investment properties are being fought for fiercely at auction and quite often not even making it to auction with strong pre-auction offers securing the deal. The median time on market continues to drop across regional Victoria and metropolitan Melbourne with the average days on market now at 28 days.
So, the question on everybody's lips seems to be:
"Will the market slow down?
In short, we expect the rate of growth to slow but if people are waiting for the market to go backwards before they buy, they will be waiting on the sidelines for quite some time. Let's look at a few influencing factors in more depth.
Clearance Rates and Interest Rates 
Victoria's 2021 auction clearance rates are the highest they have been in the 5 years.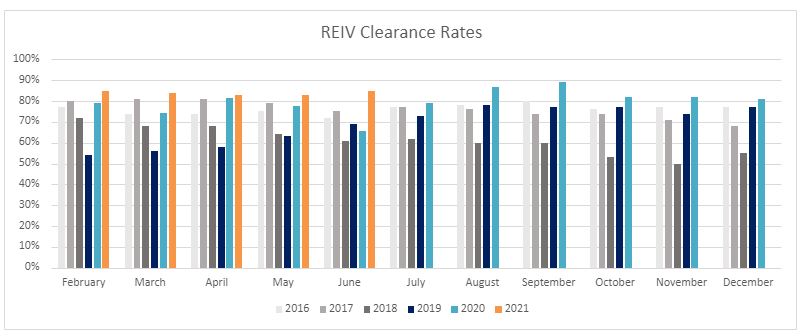 May experienced its highest number of scheduled auctions in 5 years and still achieved a clearance rate in the 80th percentile. Pent up and new demand is outpacing supply and the snap two-week lockdown whilst a major headache for agents and a stress for vendors and buyers the overall impact was negligible. The majority of scheduled auctions converted to online or private sale with set dates and only some postponed. There was a slight delay for new listings as agents and photographers couldn't access houses. However, the final weekend of June didn't go quietly with the first of 3 winter Super Saturdays executed and a clearance rate of ?? achieved.
The RBA held interest rates at the historic low of 0.10 percent in its Quarter 2 meetings and it has been suggested that rates will remain near zero until 2024.
Clearance rates and interest rates are often used as leading indicators in forecasting property trends. When auction rates are high and interest rates low it often indicates that people's confidence in the marketing is growing. Combine these market indicators with a recovering economy the market is in a strong position and buyer confidence is high.
However, we do believe that momentum will ease. Pent-up demand from 2020 is reducing and more stock (though still lower than average) is coming on the market. With this in mind, buyers should start to spread a little and some much-needed breathing space should return to the market.
Rebates, Schemes, Taxes and Incentives
The Federal Government has revealed a number of packages to help homeowners buy property in this rising market.
First Home Buyers and Family Home Guarantee
The First Home Loan Deposit Scheme enables first home buyers to purchase property up to a certain threshold with a deposit of just 5 percent — and a government-backed loan — removing the need to pay lender's mortgage insurance (LMI).
The latest federal budget also revealed a newer home ownership — the Family Home Guarantee — which provides single parents with the opportunity to purchase a home with as little as a 2 percent deposit, in much the same way as the FHLDS works.
Stamp Duty and Land Taxes
The Victorian State government announced a new premium stamp duty rate for property transactions with a value above $2 million, which would increase stamp duty payable to $110,000 plus 6.5 percent of the dutiable value in excess of $2 million.
Effective from the start of the 21/22 tax year it is estimated to raise an additional $137 million for the government next financial year. In addition, increased land tax rates are planned for January 2022 for taxpayers with property holdings exceeding $1.8 million.
First home buyers continue to benefit from duty exemption or concessions if their home has a dutiable value of:
$600,000 or less to receive the first home buyer duty exemption,
$600,001 to $750,000 to receive the first home buyer duty concession.
Whilst some of these offerings can make it easier for some people to buy, they can also create more competition in micro markets as there are now more buyers competing for limited stock.
What's missing?
What we really need are incentives for people to sell!
Yes, big sold prices are great but if you need to buy back into the same market you may need those deep pockets.
There is a real shortage of family homes in desirable suburbs on the market. And a large number of family-sized homes are occupied by couples and singles from the baby boom generation. Empty nesters who might be interested in downsizing are finding the cost of selling and buying too high when they can't even find properties that match their requirements. Often, they want to stay in the same community and they want single-level living. As the empty nesters sit tight it puts downward pressure on the housing market as families looking for larger homes closer to the city are forced to look further out. It's an interesting catch 22, which you can read more about here.
Rental Market
Melbourne's rental market is a two-speed market and its vacancy rate is being weighed down heavily by underwhelming demand for rental accommodation in and around the city. The withdrawal of international students and overseas migration is affecting the inner city and CBD substantially, but suburban and regional locations continue to be a landlord's market.
There are discussions about ongoing low migration numbers as the Federal Government continues to keep our national borders closed in response to the pandemic. We expect that demand for inner-city high-density housing will continue to drop off and investors should be wary about purchasing this type of property in this location.
Looking forward 
Our advice in this market is to persist and try to keep your cool.
And maybe, more importantly, be ready! Have every duck you need lined up. Let selling agents know you are interested in a property and talk to lenders about your finance. You don't want to miss out on your dream property because you didn't get a chance to make an offer or a delayed loan application means you couldn't.
We expect Quarter 3 will start off busier than normal and continue right into the traditionally busy Spring market.
We do believe that momentum will ease. Pent-up demand from 2020 is reducing and more stock (though still lower than average) is coming on the market. Corelogic agrees and announced a 'lost of momentum is clear" and that whilst the monthly change in Australian home values sits well above the decade average this month's (June) rate of growth slowed.
Advertised listings are low but there have been more new listings coming on the market and with this in mind, buyers should start to spread a little and some much-needed breathing space should return to the market.
Sunshine West – "It's day in the sun is coming"
 Overview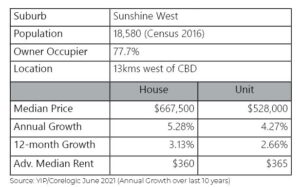 Take a deep breath. For anyone that has heard of Sunshine West or even maybe does a quick search the suburb's reputation isn't always glowing but there is real opportunity here for the savvy purchaser. 
 At 13kms west of Melbourne and a median house price of $660,000 Sunshine West offers affordable buying and whist it may not quite be a bridesmaid suburb yet; it will soon be asked. And isn't that what you look for in identifying a suburb that is a future hotspot? 
Sunshine West is a multicultural suburb with a fairly young median age of 36, though like many Melbourne suburbs the population is aging. The suburb is predominately houses (83.9%) and plenty of them are on blocks of over 600sqm. 
Sunshine West is bounded by the Kororoit Creek Trail, a shared-use path for cyclists and pedestrians, and the  M80 Ring Road (Western Ring Road and Metropolitan Ring Road). The M80 is an urban freeway corridor connecting the northern suburbs and western suburbs to a number of other Victorian urban and rural freeways.  With connections to every major interstate and regional freeways, it has encouraged both industrial and residential growth in Melbourne's western suburbs. 
There are some major infrastructure projects underway, which will have a positive effect on Sunshine West. The airport rail link will see trains run from the CBD to the airport in less than 30 minutes and construction is expected to start in 2022. The first package is a major upgrade to Sunshine and Albion Train Stations. Transport Infrastructure Minister Jacinata Allan said the airport link would help transform the western suburbs station of Sunshine into a transport "superhub". The rail link construction phase will support up to 8000 jobs. Sunshine West also has Ardeer Railway Station on its northern border which is part of the V/line service. According to the Andrew Government West Rail Plan announced in 2018 it will eventually become part of the metropolitan network.  
Sunshine West has a number of public and secondary schools options within its border and in neighbouring suburbs. Sunshine College's west and north campuses were upgraded and modernised between 2018 and 2020. The west campus was rebuilt and a competition-grade gymnasium, STEM facility, a performing arts centre, a new library and learning environments were delivered. The project received a total funding of $41.299 million! 
There are a number of shops and café, including a Coles and IGA and in neighbouring suburbs there are local shopping centres. Sunshine West is also home to Australia's Post Parcel Facility. If you ever order online, chances are it landed in this parcel centre before being delivered to your door.  
Sunshine West is definitely a suburb where you need to know your pockets. Avoid the southern end as it is largely industrial, avoid being too close to the freeway (M80) and the transmission lines which dissect the east from the west side. Look for areas near Sunshine, particularly near Sunshine Station or Ardeer Station.   
Sunshine West is and will continue to gentrify. Sunshine is destined to become a major hub and Sunshine West will benefit. Early investors will benefit from increased demand and price growth over the years. 
Create wealth through subdivision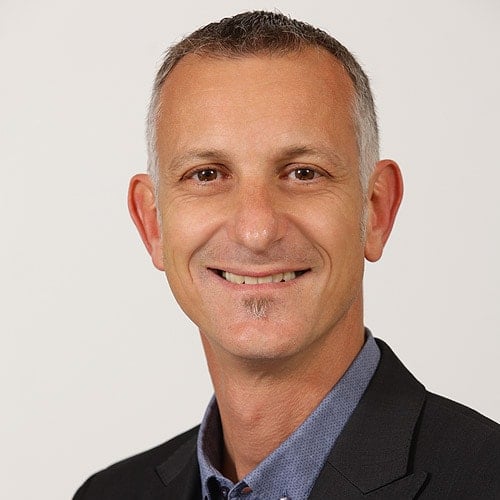 by Antony Bucello
Director
Antony is married with 2 children and lives in Lower Templestowe, Victoria. Educated at Swinburne University, his sales and marketing career has spanned over 30 years in both the Financial Services and Property sectors. Having been involved in countless property purchases for his clients over the years, he is now a leading Melbourne Buyer Advocate and his expertise has been recognised by multiple award nominations including being a finalist for Buyer Agent of the Year by Your Investment Property Magazine, REB and REIV. 0418 131 950 or email.
Contact Us Today
If you have any questions about the Melbourne market don't hesitate to contact our local team or if you would like a complimentary, obligation free 1 hour consultation please complete this form.