Market Overview
It is hard to believe where we are today. On January 1st as we all welcomed the new year no one in Australia could have predicted the events that would shape 2020.
The start of the year Australians were still focused on the devastating bushfire season and had little inkling of next fast approaching emergency. The real estate year started off as always quietly preparing for the year ahead with pre-listing activity. In February the real estate market was red hot and buyer's confidence was at an all-time high. The market was gearing up to have a very strong year, interest rates were low, the government was stable, banks were lending safely, the population was growing and unemployment low.
However, the growing pandemic and its restrictions were beginning to impact the real estate market. On the 29th of March, a mortarium on rental evictions due to financial hardship and a ban on public opens and auctions was announced. Australians, and in particular Melbournians enjoy a strong love affair with real estate and the beating heart of it was on temporary suspension!
The Victorian real estate community whilst disappointed supported and understood the decision. Real estate agents and property managers all reacted quickly. Properties listed on the market as public auction with interested parties had deals done quickly, others switched to online auction platforms or converted to private sale. Selling agents and property managers got out their diaries and started scheduling private appointments to ensure inspections could still continue for interested buyers.
Doom and Gloom…
However, as the economy slowed, and some sectors shut down consumer confidence started to slip. Media outlets started reporting doomsday housing price forecasts of drops as much as 30%. More conservative forecasts by UBS and CBA economists estimated house prices may fall between 5% to 10%. The REIA quickly refuted the more extreme forecasts "as highly questionable" and not to be "be relied upon with any degree of confidence." 
Just before Easter the Victorian Government announced private inspections in occupied properties were no longer allowed (even if the people occupying the property were absent during the inspection). There was an uproar! Real estate bodies quickly established discussions with the state government pointing out that it could cripple the real estate industry as people would not buy sight unseen. The government quickly backflipped on the announcement and by the end of the Easter weekend, private inspections were back on, if the occupiers of the property left their home for one of the four valid reasons at the time. 
Stimulus packages announced by the Federal and State Government eased some of the building pressure off Australians. Jobseeker, Jobkeeper, mortgage repayment holidays, one-off payments, to name a few all played a part in slowing the decline of consumer confidence. 
Hi

t

t

ing

 

Pause on the Market
The one thing that everyone agrees is there has been a contraction in the market.  
The Business Insider Australia reported that what we have so far encountered "is a temporary hiatus rather than a price meltdown" and Corelogic's pre-listing activity reports provide further weight to this statement.  
Corelogic's RP Data platform is used by the majority of selling agents in Australia to generate a CMA (Comparative Market Analysis) report. It is often downloaded in order to prepare a property for sale. Corelogic uses this metric as a leading indicator of new 'for sale' listings volumes.?In January and February, Corelogic reported increasing CMA downloads but in March it dropped off significantly as tougher restrictions impacted the economy and consumer confidence slipped. 
We can personally attest to the lack of stock, especially A–grade properties in the market since March.  Overall activity in the market was very low throughout April and whilst school holidays, Easter and Anzac impact real estate every year, this year was exceptionally low. Interestingly, we did find off-market opportunities at an all-time high.?Vendors wanting to sell but not wanting to commit to expensive marketing campaigns in these uncertain times asked agents to use their network to sell properties "off-market".
Our client base is typically a reasonably even split between investors and owner-occupiers. However, new investors who were feeling less confident were taking a more wait and see approach.  Investors without finance pre-approval in place were also finding it more difficult and longer to get new loans as loan criteria and requirements tightened up. 
So, it did appear, we were a market in waiting. 
A market reawakening
May saw the first two easing stages of COVID-19 restrictions and the real estate industry celebrated as public auctions and inspections were reallowed. 
Initially, it was 10 people plus the minimum number of those needed to facilitate was allowed. Then in late May, 20 people plus those needed to facilitate were allowed. The market responded favourably to these easing restrictions. The Herald-Sun reported that Melbourne's property stock jumped more than in any other Australian capital city during May. More than 4000 properties hit the market in the month, with the 11.6 per cent leap on April the largest nationwide, according to SQM Research.  
Data collected from the REIV demonstrated that auctions number were on the increase, as to be expected. 
CoreLogic (Chart One) also reported increased pre-listing activity and numbers in June were similar to the same time last year.  
Stock levels are rising, but they still remain low, and when a quality property is listed on the market competition is fierce. The sub $600k price bracket is attracting considerable interest, particularly for well-located, well-presented properties and vendors are achieving very good results. 
Some economists, including the CBA, the UBS and Treasury have wound back their housing price forecasts predictions drops to more conservative numbers. 
CoreLogic Home Value Index recorded a second consecutive month of falls, with the national index down 0.7% in June. These recent value falls represent an interrupted upswing across most regions and whilst it is Melbourne's third month of decline its 12-month change in home values still remains in positive double-digit growth. Sydney is the only other capital city to have 12-month double-digit growth.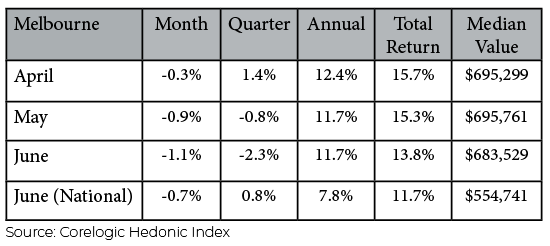 CoreLogic head of research, Tim Lawless, said "The downwards pressure on home values has remained mild to-date, with capital city dwelling values falling a cumulative 1.3% over the past two months.  A variety of factors have helped to protect home values from more significant declines, including persistently low advertised stock levels and significant government stimulus.  Additionally, low-interest rates and forbearance policies from lenders have helped to keep urgent sales off the market, providing further insulation to housing values." 
There is understandable nervousness about the government eventually winding back stimulus packages and borrower repayment holidays expiring however we hope that as restrictions loosen (if we all continue to do the right thing) that many sectors of our economy will pick up and return to more normal conditions. 
The Melbourne property market is resilient.
The market will turn again, and prices will go up. There are already news articles about homes across Melbourne smashing auction reserves by six figures with 5 or more bidders vying for properties. Good property will do well in just about any market. 
And as the age-old adage says, 'it really is about time in the market and not 'timing' the market'.  
Suburbs to watch
The suburb reviews were written in early March before strict self-isolating rules came into play. We have decided not to rewrite them, as we believe the reviews provide a longer-term view of the suburb. Local shops and business may close during the pandemic, but we believe that given time they will return. The pandemic does not alter their locations, access to transport, their parks, schools and essential amenities.
St Kilda East – "Go eat and drink and feast, go east"
 Overview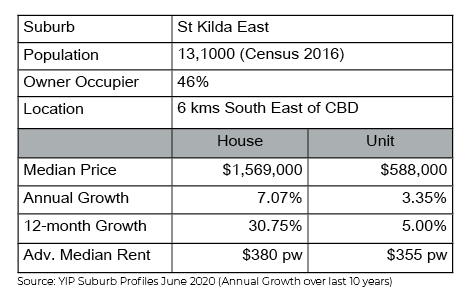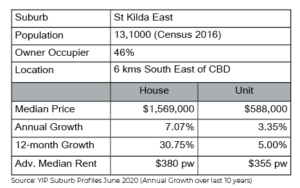 Located just east of the vibrant, commercial and perennially popular beachside St Kilda, St Kilda East in comparison is a quiet and residential suburb. Locals on Homely referred to it as the "quiet little sister of the busy hub 'next door'." Located 6 kilometres south-east of Melbourne's CBD this primarily residential suburbs has a large population of nearly 13,000 that enjoys its cafes, parks and tree-lined streets. 
St. Kilda East is bordered by some of Melbourne's real estate heavy hitters, suburbs that are home to sought after lifestyle.  On the north, it has Windsor and Prahran, on the east Caulfield North, on the south Elsternwick, and on the west Balaclava and St Kilda. These suburbs are home to some of Melbourne's most well known and sought our places. Chapel St, St Kilda Botanical Gardens, Luna Park, Prahran Market, St Kilda Beach, Ripponlea Gardens just to name a few and just an extra suburb away we have Albert Park and Caulfield Racecourse!  
St Kilda East has a diverse residential population and is home to a thriving Hasidic Jewish community. The area around Carlisle Street has strong art, alternative and indie community. All walks of life live in harmony in St Kilda East. It's a family-friendly neighbourhood, with a colourful side of life that emerges at night.  
Eclectic St Kilda East is a fantastic little pocket for residential living with parks, cafés, schools, train stations all within a stone throws of some of Melbourne's favourite lifestyle activities.  
Shop and Eat
Within its borders, the locals enjoy access to small businesses including cafes, food stores, milkbars, pizzerias and medical centres. However,  the best shopping and eating options are more about what is just outside its borders than what is inside! 
The 

essential 

supermarkets 

(

Woolworths, Coles, IGA and Aldi

) 

are just on its 

o

utskirts

 

 

Prahran Market 

offers 

t

he ultimate foodie experience

 

in a market atmosphere

. 

 
Chapel Street an 

iconic shopping

, dining 

and entertainment precinct 

 

The Jam Factory home to cafes, restaurants and 15 

screen Village 

cinema

 

Pran

 Central Shopping Centre is a small centre in a beautiful heritage building in Prahran 

 
Play and Exercise
St Kilda East has some lovely parks.  
The suburb's main park is Alma Park, a large park that is split into two by the Sandringham railway line. The park has recreational facilities, including a heritage rotunda a cricket and soccer oval and bike paths, as well as large stands of elm trees and native vegetation areas. The play space features a magnificent treehouse with climbing nets and public toilets nearby. 
The smaller Greenmeadows Gardens is a perfect setting for relaxing and taking the kids to play. The park features beautiful open spaces with shade from large historic trees. It has BBQ facilities, sheltered picnic areas, leashed and off-leash dog areas, walking paths and toilets. 
For those that prefer to exercise indoors there is a Fitness First and F45 and in St Kilda the South Pacific Health Club and the St Kilda Sea Baths (with a seawater pool!) which is definitely worth a visit. 
Move and Transport
St Kilda East is served by several forms of transport. In fact, there are 6 ways to get the CBD! Train, bus, tram, taxi, uber or foot. Okay the walk might take you 1.5 hours but still achievable if you enjoy walking.  
On its eastern border and running through Alma Park is the Sandringham train line. Ripponlea, Balaclava and Windsor Stations are all easy to reach by foot, car or bus. There is a number of major tram routes along Dandenong Road (northern border), Chapel St (eastern border) and on Balaclava Road which runs through St Kilda East. Buses operate along Orrong Road and Hotham Street.  
Learn
For families with kids, it boasts a number of excellent early learning, primary and secondary school options. The secondary school provide for a broad range of denominations and budget. 
Early Learning – 

Ripponlea Kindergarten, Gilly's Early Learning Centre, Little Patch ELC,

 

Government – 

Ripponlea Primary School

 

 

Independent – 

Mount Scopus, St Mary's, Beth 

Rivkah

 Ladies 

College

, Yeshivah College, Caulfield Grammar School, Christian Brother's 

College

 
Housing & Pricing
The housing market has a variety of homes and apartment styles, ranging from multi-million dollar Victorian and Edwardian mansions to art deco and contemporary apartments. The suburb is dominated by 1960s flats, however, there are pockets of preserved heritage streetscapes. 
Godfrey Avenue has well-preserved rows of Edwardian cottages on either side of the street and is protected by council heritage controls. Camden Street has several rows of Victorian semi-detached timber workers cottages. Some large Victorian buildings remain along Inkerman Street and Alma Road but have been subdivided into flats. The streets in between have a mix of housing from different periods. If possible it is best to avoid buying to close to the cemetery! 
St Kilda East is a cheaper alternative to its first cousin St Kilda and provides excellent value for money!
Purchase Example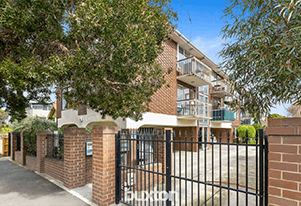 2 Bed | 1 Bath | 1 Cars | $590,000 | Agent Listing
For beginners or astute investors alike, apartments do not get much better than this! Bright north facing living spaces with a house-sized kitchen and spacious bathroom, this two-bedroom top floor apartment is just a short stroll from Alma Park, both Carlisle and Chapel Streets, trains and trams. One of ten in a secure block.
Ringwood East - "A breath of fresh air"
Overview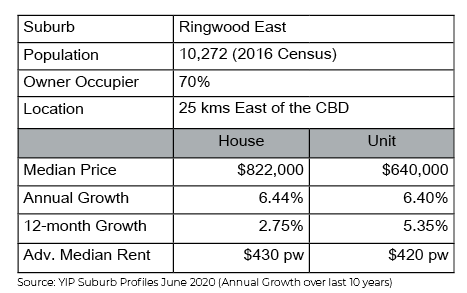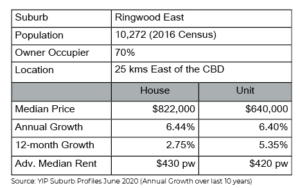 Underrated. Only if you don't live there. The locals on Homely refer to Ringwood East as a breath of fresh and a quiet, safe and family-friendly area.
Ringwood East is 25 km east of Melbourne's CBD and has a population of 10,272. It is located in the "Green Belt" of Melbourne and boasts loads of native vegetation, trees and wildlife.  
It has all the amenities you need including shops, cafes, childcare centres, schools, sporting clubs and public transport. In its neighbouring suburbs, you have some of Victoria's biggest shopping centres including the redeveloped Eastland and Victoria's second Costco store. 
From Ringwood East, you can access almost everywhere – the city, the beach, the Dandenongs, and the Yarra Valley.  
It really is a fabulous location for families and for professionals who don't mind a commute. This suburb is a great escape from the city after a long day's work.  
Shop and Eat
Your options are truly endless! 
Centred around Ringwood East's train station is a hub of cafes, restaurants, banks, medical services and an IGA. Alternatively, Burnt Bridge is a shopping precinct that serves residents from both sides of Maroondah Highway. Burnt Bridge has a post office, pharmacy, supermarket, bakeries, cafe and takeaways. 
Or if you are in the mood for a mega shop Eastland Shopping Centre is located next door in Ringwood. In 2016 it underwent a major redevelopment and is now a mecca for food, fashion and family-oriented experiences.  It has all the major Australian retailers you could need including Coles, Woolworths, Myer, David Jones, Big W and Kmart. Eastland's culinary heart can be found in its Town Square, with more than 60 offerings in dining and hospitality! And if that left you feeling you a bit tired you can chill out in the multi-screen Hoyts cinema whilst watching a movie and eating a Choctop. 
Or maybe if you up for some bargain bulk buying shopping then you can visit Ringwood's Costco. Just don't forget to sign up for your annual membership before you go! 
Play and Exercise
There are a number of sporting clubs, gyms and parks in Ringwood East. 
Parks 
East Ringwood Reserve

 

has two ovals, a small playground, cricket nets, tennis courts and a new $2.8 million dollar pavilion.?It is home to the East Ringwood Cricket Club, Football Club and Tennis and the Chin Community Victoria.

 

Ringwood Park straddles the border of Ringwood East and Ringwood and is 

an

 8.5 hectare park used for various recreational activities and includes a lake and bridge, playground, picnic shelters, barbecues, a walking circuit 

and 

bushland.

 

Wombalono

Park occupies 7.5 hectares and is a public recreation space covered mostly by bushland. It has a playground, picnic areas, walking paths and public toilets.
 Gyms & Pools 
There a number of indoor gym options in Ringwood East and Ringwood including a Genesis Health, Anytime Fitness and F45.

 

Aquanation

 in Ringw

oo

d is a state of the art regional aquatic and leisure centre that incorporates the State Diving Centre. The centre incorporates a 66.5 metre 10 lane swimming and diving pool, warm water pool, a dedicated learn to swim pool, a large gym with three separate group fitness rooms, 

childcare

 facilities and a cafe.

 
Move and Transport
There are multiple transport options in Ringwood East including train, bus, arterial roads and the Eastlink. 
You can commute into the city by train from Ringwood East station on the Lilydale Line. Locals on Homely.com have commented you can get to Flinders St during peak times in as little as 40 minutes by changing at Richmond to avoid the city loop. 
By car, there are numerous transport links. Ringwood East is surrounded by the Maroondah Highway, Canterbury Road and the Eastlink. You can use the tolled Eastlink to get to the Monash Freeway, the Eastern Freeway and for getaways to the beach in Frankston or beyond to the Mornington Peninsula. 
Learn
The access to high performing public schools, such as Ringwood Secondary College, as well as renowned private schools Tintern Girls Grammar and Aquinas College, is leading to high demand for housing in Ringwood East. The area is now being seen as a real life-style option by people who may have previously looked to areas, such as Balwyn and Camberwell, for quality schools. 
There are multiple primary school options including Eastwood Primary School, Tinternvale and Avenues Education a special school. 
Housing & Pricing
There are some absolutely beautiful streets here, with lovely houses and well-kept gardens. The streets are quiet and leafy and there are still some great looking character weatherboard houses dotted around. 
 
The house and blocks sizes are generous and some of them have been subdivided and rebuilt with units.  
Closer to the station is a good pocket. Ringwood East is a family orientated area and a cheaper alternative to its neighbour Ringwood and provides excellent value for money
Purchase Example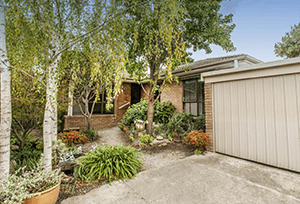 3 Beds | 1 Bath | 2 Cars | $665,500 | Agent Listing
Only a short walk to town and station this beautifully presented 3 bedroom brick veneer home (rear home of two) with established grounds (379sqm approx) and double mostly enclosed carport offers entry, lounge & dining, well-equipped kitchen adjoining meals area opening to patio, robes to all bedrooms, updated bathroom, central heating & S/S air conditioning.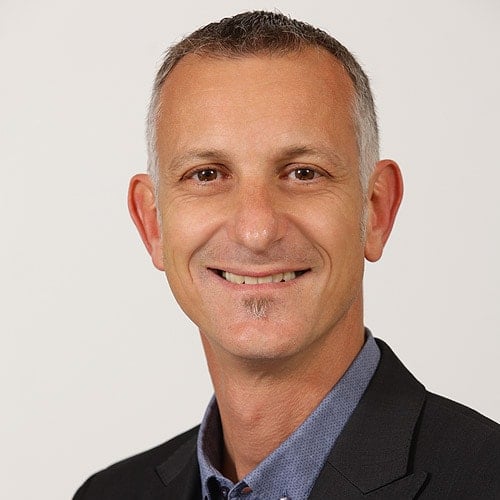 by Antony Bucello
Director
Antony is married with 2 children and lives in Lower Templestowe, Victoria. Educated at Swinburne University, his sales and marketing career has spanned over 30 years in both the Financial Services and Property sectors. Having been involved in countless property purchases for his clients over the years, he is now a leading Melbourne Buyer Advocate and his expertise has been recognised by multiple award nominations including being a finalist for Buyer Agent of the Year by Your Investment Property Magazine, REB and REIV. 0418 131 950 or email
Exceptional service!
A friend recommended NPB to us, very glad we used their professional service and expertise that led to a successful purchase. We are very happy with the house. Antony is extremely patient, knowledgeable, always available for all our questions throughout the entire process. He inspected properties, gave excellent advice and helped to negotiate the best price. Using such a great negotiator made the process/decision-making much faster and stress-free. Definitely worth the cost, wouldn't hesitate to use them again.
Contact Us Today
If you have any questions about the Melbourne market don't hesitate to contact our local team or if you would like a complimentary, obligation free 1 hour consultation please complete this form.