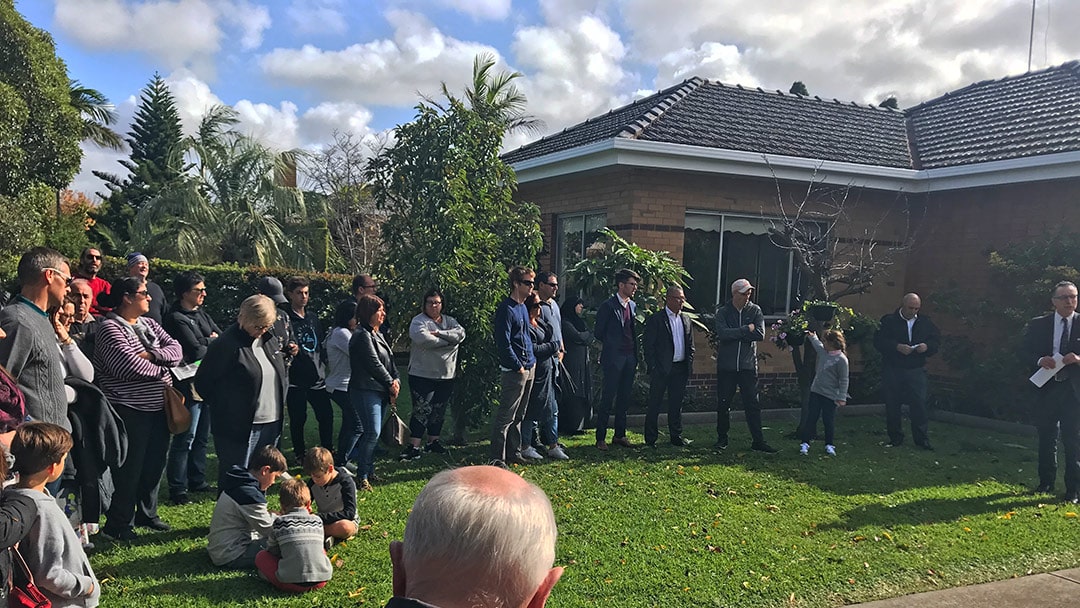 Is Melbourne's love affair with auctions over?
Market Overview
It's March 25th and last night the Prime Minister announced that effective at midnight tonight open for inspections and public auctions have to stop.
The landscape of what can be done and can't be done in society is changing so quickly it is difficult to put pen to paper with any confidence that this information will still be accurate when it is read.
However, there are a couple of statements that will hold true today, tomorrow and the day after that
We all know, our world is in the grip of what the World Health Organisation (WHO) has classed as a "Pandemic" regarding the virus known as COVID – 19 (aka 'CORONAVIRUS'). It is not only affecting our physical health but also the health of our economy. The government, scientists and medical personnel are doing their best to fight the spread of the virus whilst continuing the economy in the best shape it can be.
Will this affect the Real Estate market?
Yes. It will.
However, before we talk how let's talk for how long. The property market cycles through periods of growth, stability and decline. COVID – 19 has unexpectedly halted a period of significant growth in Melbourne and Australia's other capital cities.
What we wish to emphasise is that the impact to property market is temporary. It maybe 6 months of unknowns but the property market will bounce back and return to normal.
How will operations be impacted?
Social distancing and isolation mean the real estate industry must change the way it works.
Ray White managing director Dan White told Domain "Our members will still be able to host virtual property tours, private inspections and on-line/digital auctions."
The president of the Real Estate Institute of Victoria, Leah Calnan, told 9News. "There are a large portion of real estate agents that are prepared to make the transition across to technology and digital sales and auction processes, and the others will need to learn quickly on their feet."
Melbourne's strong love affair with public auctions may have come to a temporary end but real estate agents are busy providing alternative solutions, including online auctions and the possible return to favour of private sales.
What will be the impact to the market?
Experts are divided on what will happen with the property market. Many experts predict that property values will fall, and others believe that whilst property transaction volumes are likely to fall in the coming months, the values may remain more stable.
It will be interesting to see in Quarter 2 what will happen to the figures for "Monthly Sales at Auction" even though online/digital auctions will be available we expect a sharp decline.

Consumer sentiment or confidence is reducing and there will be a contraction of activity. Nervous vendors that are not required to sell will sit and wait and nervous buyers will keep their hands in their pockets. Even those with pre-approval may feel cautious about buying when their future financial situation seems less clear.
We don't say the next statement lightly but for those with job security or a steady income this maybe present a unique opportunity to buy property at a great price with an incredibly low interest rate. In late March the RBA slashed the interest rates to a record low 0.25 per cent in an emergency cut due to the coronavirus pandemic. The Reserve Bank governor Philip Lowe said "said the cash rate could be at this level for some years."
For anyone concerned about meeting their mortgage repayments there is assistance out there, speak to your bank, mortgage brokers, financial advisers. There may be financial help available to you.
Was Quarter One all about the Coronavirus?
No. It is a common saying in Melbourne that you can experience 4 seasons in one day, this seems to be what has happened with the Real Estate market in Quarter 1. Corelogic announced December 2019 delivered the 5th consecutive monthly rise and the largest month-on-month gain since 2003. This update took national dwelling values into positive annual growth for the first time since April 2018. Momentum was building, confidence was returning to an all-time high!
January was quiet on the surface as holiday makers and families enjoyed the time off. Real Estate agents were busy getting listings and gearing up for a busy February. February our enquiry levels were through the roof, homeowners and investors alike all wanted to purchase. The Melbourne market continued to reach new heights. Popular properties were drawing large crowds, bidding wars were erupting with 5 to 7 bidders frequently battling it out to secure the keys. We were returning to some of the highest clearance rates in 4 years.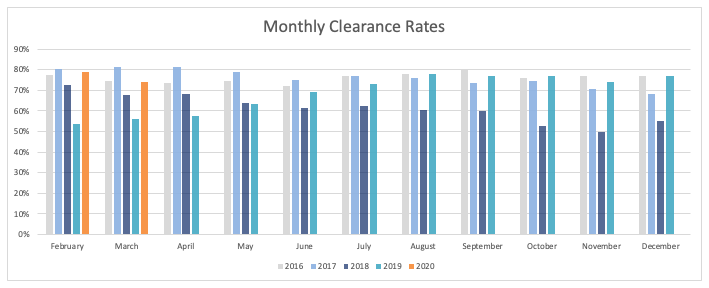 However, the start of March rumblings about the impacts of the Coronavirus not only on health but on the economy saw consumer confidence start to slip. Each Federal and State Government announcement lockdown more services and unfortunately more people started to lose their jobs.
We end Quarter 1 in Stage 3 lockdowns. The school holidays were brought forward in Victoria and Easter (which is traditionally a quiet time in Real Estate) is just around the corner. With the holidays and Easter we have a moment to catch our breaths as we adjust again to this ever changing landscape.
There are always opportunities and options for inspecting properties. Please feel free to contact us to seek advice on how to traverse this landscape.
Suburbs to watch
The suburb reviews were written in early March before strict self-isolating rules came into play. We have decided not to rewrite them, as we believe the reviews provide a longer-term view of the suburb. Local shops and business may close during the pandemic, but we believe that given time they will return. The pandemic does not alter their locations, access to transport, their parks, schools and essential amenities.
Mitcham - "Leafy green and family friendly"
 Overview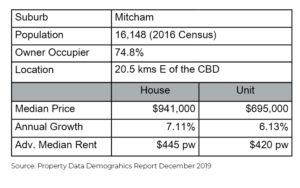 Mitcham is a leafy-green family friendly suburb located 20 km east of Melbourne's Central Business District.
This well-located suburb has everything you need in walking distance and the 16,148 locals truly think they are onto a good wicket. Considered a hub for the eastern suburbs, it is centrally located to visit either the city, multiple major shopping centres or head the other way and visit the Dandenong Ranges or the Yarra Valley for wine and cheese!
If you enjoy visiting cafes, walking your dog, riding a bike, shopping, the sound of kookaburras, being anywhere you need to be in 30 minutes this is the perfect spot. OK, the airport might take you a smidge longer!
With a train line linking Mitcham to the heart of the city, and highways providing easy access to tourism sites such as the Dandenong Ranges National Park, Alfred Nicholas Memorial Gardens, the superb wineries of the Yarra Valley and the amazing Healesville Sanctuary, Mitcham is an excellent location in which to live.
Shop and Eat
Mitcham offers good shopping and local amenities including a Coles, fast food outlets, and a variety of speciality shops and services, including post office, banks, gyms, hairdressers, beauty salons, bakery and fruit and veg stores. For a slightly larger shop without the full vibe of a shopping centre, Tunstall Square (Doncaster) and Forest Hill Chase & Brentford Square (Forest Hill) are only a short drive away and provide a great variety of shops.
If you truly want the mega shopping experience it is a quick drive (or bus) to the fabulous Eastland Shopping Centre where you can shop to you drop, catch a movie at the 12-screen Hoyts cinema complex or grab a delicious bite in one of the centre's restaurants. Alternatively, if the recently renovated Eastland Shopping Centre doesn't take your fancy there are other major shopping centres nearby including Knox, Doncaster and The Glen.
Play and Exercise
The Mitcham area is littered with parks and walking trails including:
Halliday Park, a public garden, is buzzing on sunny weekends. It has a war memorial and large children's playground and is home to a Bowls Club.
Yarran Dheran Nature Reserve located on the banks of Mullum Mullum Creek is a lovely place to get away from it all and go for a quiet walk.
Walker Park, a sports reserve, is home to Mitcham Cricket Club and Mitcham Football Club.
Antonio Park, is seven hectares in size and includes a playground and walking trails
There are a few local gyms including Anytime Fitness and Fernwood Fitness in Mitcham or Eastland Shopping Centre has another Anytime Fitness and Goodlife Health Clubs
Move and Transport
Mitcham is wedged between two major arterial roads, including the Eastern freeway and Eastlink. The Eastlink tollway, which runs 39km from Mitcham to Frankston, links the eastern suburbs to the South-Eastern Melbourne suburbs. Or you can travel to the city on the Eastern Freeway or Maroondah Highway.
Mitcham has two railways stations; Mitcham and Heatherdale, both of which are on the Belgrave and Lilydale railway lines. Express services can get you into the CBD in 20-25 minutes.
There are a number of bus routes, which link the suburb to surrounding areas and many of these connect with Mitcham Station.
There really are endless transport options!
Learn
The local schools are excellent. There are three primary and one secondary government school, and one catholic primary school within Mitcham. And there is easy access to surrounding private and Catholic schools.
Housing & Pricing
Mitcham is located in a perfect spot next to some of top performing suburbs like Donvale, Blackburn, Vermont and Nunawading.
Homes in the area were predominantly built in the 1950s and 60s, with a mixture of weatherboards and brick veneers lining the mostly tree-lined streets, however some houses date back to as early as last century. There are many character homes (some still original and some renovated) and good size blocks still available. Some of the older homes are being replaced with units and new homes.
Purchase Example
3 Bed | 1 Bath | 2 Cars | $1,054,000 | Agent Listing
This family-friendly setting is minutes to Mitcham PS and Antonio Park PS and close to buses and Mitcham Station delivering you to private education and the CBD. Walk to Britannia Mall and Halliday Park and central to Tunstall Square, Westfield and Eastland. Walking tracks leading to Yarran Dheran, Mullum Mullum Trail and Antonio Park are only a few doors down. Handy to freeway/Eastlink. 
Deer Park - "Go West"
Overview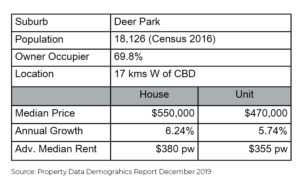 Deer Park is a middle ring suburb of Melbourne, 17 kms west of the Central Business District and is part of Melbourne's rapidly expanding western suburbs. It is an attractive option for home buyers or investors than cannot afford the inner west suburbs such as Footscray or Yarraville.
Unlike some of the older suburbs of Melbourne, Deer Park has a reasonably young population with the average age of residents 20 to 39. Families are definitely moving in, with a fairly equal split of households being 49% family and 51% single according to Domain.
There are multiple residential redevelopments always on the go as people start to realise the appeal of this western suburb and all it has to offer. You can access the city, the airport and even the beach without too much effort!
Shop and Eat
Brimbank Shopping Centre is within the northern borders of Deer Park and is accessible by car or bus. It has a Coles, Aldi, Woolworths, AusPost, banks, food court, and speciality shops.
Locals do wish there were more cafés and dining options on the Ballarat Road shopping strip but there are some amazing options in nearby suburbs.
If you are shopping lover, you can go to nearby Highpoint Shopping Centre or the Essendon DFO. They are about 20 minutes from Deer Park without any traffic.
Play and Exercise
Kororoit Creek traverses through the suburb and is surrounded by walking and cycling trails. There is a great little dog park on Davitt Drive that is fully enclosed so the dogs can run around whilst the kids play on the nearby playground.
Isabella Williams Reserve offers some great activities for families. A large playground, picnic tables, BBQ, outdoor gym equipment and nearby toilets.
And if the beach is more your scene, you can get to Altona beach in about 15 minutes and enjoy putting your feet in the sand and surf.
Brimbank Shopping Centre has an Anytime Fitness gym for those that prefer to work out inside.
Move and Transport
Ballart Road runs through the middle of Deer Park with Kororoit Creek on one side and the V/line on the other. Ballart Road connects to the M8 (Western Freeway) and can get you into the city in about 25 minutes.
Ballarat Road carries traffic between Melbourne and Ballarat (Victoria's third largest city) and the Western Freeway has a Deer Park bypass which is great as traffic is not forced to funnel through the suburb.
Deer Park Station on the V/Line service is near the southern borders and is serviced by two bus routes, and there are more bus routes along Ballarat and Station Road.
It also offers an easy commute to the airport (approx. 17 minutes by car) which is great for frequent travellers or employees.
Learn
Deer Park boasts two public primary schools, a Catholic primary school, and a secondary college.
Victoria University is an easy commute straight down Ballarat Road for 12 kms for any tertiary students or staff.
Housing & Pricing
With a current house median of $595,000 Deer Park presents a much more affordable option than its inner west neighbours and the middle-eastern ring suburbs on the other side of town.
There are definitely pockets within pockets in Deer Park. North of Ballarat Road attracts a premium with the proximity of Kororoit Creek, shopping options and Deer Park North Primary School and Victoria University Secondary College.
Purchase Example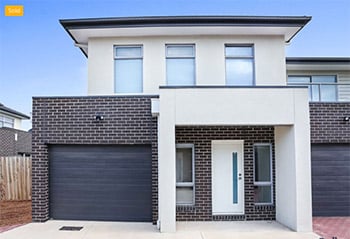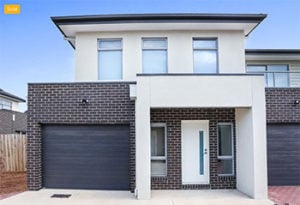 2 Beds | 1 Bath | 1 Car | $470,000 | Agent Listing
A comfortable and stylish low maintenance home to move in or simply lease out. Situated only minutes away from Deer Park Train Station (50 meter Approx Walk). Brimbank Shopping Centre and schooling for all ages within a short walk also. This home is sure to impress the first home buyer, or the astute investor.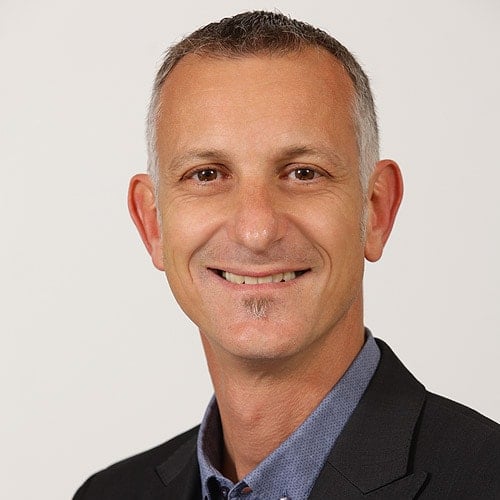 by Antony Bucello
Director
Antony is married with 2 children and lives in Lower Templestowe, Victoria. Educated at Swinburne University, his sales and marketing career has spanned over 30 years in both the Financial Services and Property sectors. Having been involved in countless property purchases for his clients over the years, he is now a leading Melbourne Buyer Advocate and his expertise has been recognised by multiple award nominations including being a finalist for Buyer Agent of the Year by Your Investment Property Magazine, REB and REIV. 0418 131 950 or email
Met National Property Buyers through my financial planner who recommended them as I was new in Melbourne and didn't know the best areas to purchase a home. As a first homer buyer I didn't know a lot about the process despite reading a lot about the process.
Antony and Robert were invaluable in searching and finding a great house for me in a suburb that I would have not even thought about, in fact they also took care of assessing and determining what offer i should make to secure the property. They also helped me with the legal side of things by recommending a great solicitor to help. I am truly thankful for their help, expertise and endeavouring to always keep me up to date every day about where things stood.
Contact Us Today
If you have any questions about the Melbourne market don't hesitate to contact our local team or if you would like a complimentary, obligation free 1 hour consultation please complete this form.