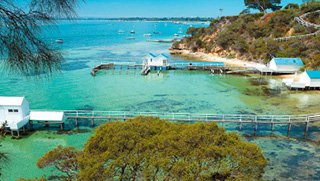 | | |
| --- | --- |
| Location | 1kms S of CBD |
| Population (2016) | 510 |
| Median Price House (2021) | $2,500,000 |
| Median Price Unit (2021) | N/A |
Portsea is approximately a 1 hour and 40-minute drive (110 kilometres) south of Melbourne and its small village is the last retail precinct at the end of the Mornington Peninsula and boasts the famous Portsea Hotel (built in 1927) that overlooks the pier.
Portsea Pier is a popular shallow spot for scuba diving, snorkelling and fishing. Immediately to the left of the pier is a small sandy beach. Follow the walkway around the corner to a long narrow beach dotted with pretty bathing boxes. 
Glimpse the lifestyles of the rich and famous at Portsea's millionaire mansions. The area is known for having some of the most expensive real estate in Australia with clifftop mansions that exude luxury and style on a very grand scale. The median house prices in 2021 exceeds $2.5 million.
There are plenty of scenic walking tracks and the village is adjacent to Point Nepean home to Mornington Peninsula's National Park and Fort Nepean and Quarantine Station, which rich in history are definitely worth a visit. Portsea is considered by many to be the hub of the Mornington Peninsula's recreational scuba diving activities, so you will often find dive boats that travel to the world-class marine national park sites. Or if exploring or scuba diving isn't your scene take out one of the many membership options to Portsea Golf Club and enjoy an 18-hole round 
The Portsea Market at Quarantine Stations has almost 230 stallholders, there is something for everyone but you need to check the calendar to find out what days it is running.
The Portsea Surf Beach faces the Bass Strait ocean and is a big attraction as it offers an impressive long stretch of sand and great surfing conditions given the large waves and strong tides that are often present. Spectacular views along this ocean coast can be had from the walking trails that form part of the longer Coastal Walk.