Market Overview
Property prices are on the rise.
CoreLogic reported that national dwelling values rose (0.6%) in August for the first time since October 2017 and Melbourne enjoyed its third consecutive month of capital gain (1.8%).
Buyers' sentiment is returning to the market and the trend implies that the market is responding to the easing of lending restrictions, falling interest rates, and the removal of the threat to change negative gearing and capital gains regulation with the Liberal government winning the federal election.
And property market experts agree. CoreLogic's research director Tim Lawless commented "Clearly housing market conditions are responding to lower interest rates as well as the recent loosening of loan serviceability rules from APRA and the positive influence of the stable federal election outcome."
But is there more to it? What has property prices rising faster than many experts predicted?
The current environment is fueled by the shortage of properties on the market, demand has outpaced supply as nervous vendors still sit on their hands. CoreLogic reported in August that fresh listings are down -29.3% nationally compared to the same time last year. Big crowds and multiple bidders are forming on a regular basis at auctions and with depleted supply, bidding battles are erupting pushing prices north. Strong competition is starting to take prices beyond what comparable sales evidence in the last 6 months is suggesting would be fair and reasonable.
The shortage of stock is contributing to lengthier times for buyers to find and secure the right property. Buyers need to watch the market closely and be ready to pounce if the right property does come up. If you are interested in property, even if it is only the early stages get your finances in order, speak to a mortgage broker and get your pre-approval. Even with lending conditions easing it is still a stringent process.
We are seeing very good results across the board at all price points for well located, good quality real estate, in particular family homes. The high end of the market is also starting to recover and strong results are being seen on a more consistent basis. CoreLogic research director Tim Lawless commented, "The rapid recovery across higher valued properties makes sense considering this sector of the market recorded a more substantial correction." APRA lifting the minimum interest rate serviceability test of 7% means borrowers can access more money and can now afford to bid higher at auction. The RBA has held the cash rate for all of Q3 at 1% but as many experts predicted cut the rate in October to .75%,.
We do stress to buyers, buying property is too expensive to get wrong, make sure you are buying a property because it is the right one at the right price, not because it is the only one available. It can be easy to feel forced into a corner as a buyer when stock shortage is low, but endeavour to think with your head and not your heart.
National data reports report a substantial fall in residential construction works. Building approvals, a leading indicator of construction activity are 24 per cent lower than a year ago reported Domain. Residential construction has been at a very high level so this drop off is not unexpected.
Melbourne drivers are being promised shorter commute times on the Monash Freeway, with the state and federal governments promising an additional $367.5 million for more lanes. "This project is a top order congestion-busting priority for Melbourne and we're going to get it done," Prime Minister Scott Morrison said. The funding boost takes the total cost of the freeway expansion to $1.4 billion, with construction expected to begin by 2020 and be ready for drivers by late 2022.
Spring typically sees an increase in listings and activity overall, so it will be interesting to see how the supply versus demand ratio tracks over that period. It's out of balance at the moment and the only thing that will adjust and balance the market is more stock. The charts below indicate that clearance rates are on the rise and that the last 2 months of the quarter outpaced previous years. From February to July there was an dramatic drop in the number of houses sold, but factoring in that clearances rates are at a high it demonstrate that listings are low. September was the first month for the year where sold houses outpaced 2018, and maybe a sign that vendors are starting to come out of their hibernation. However, we predict that demand will continue to outpace supply for the remainder of the year. And that final quarter of the year, even though short with Christmas will be relatively strong with continued activity.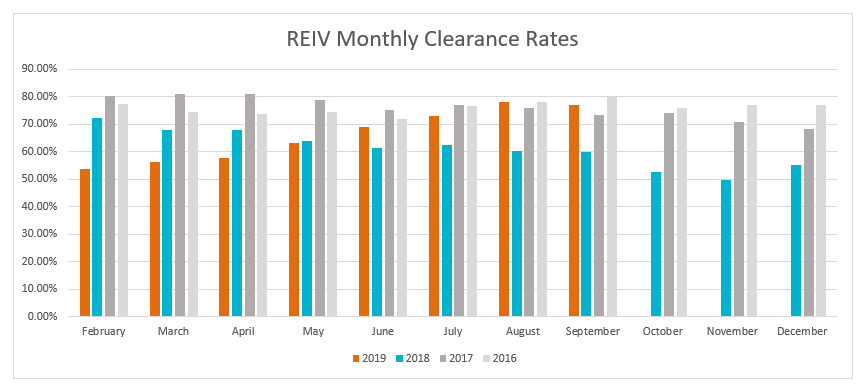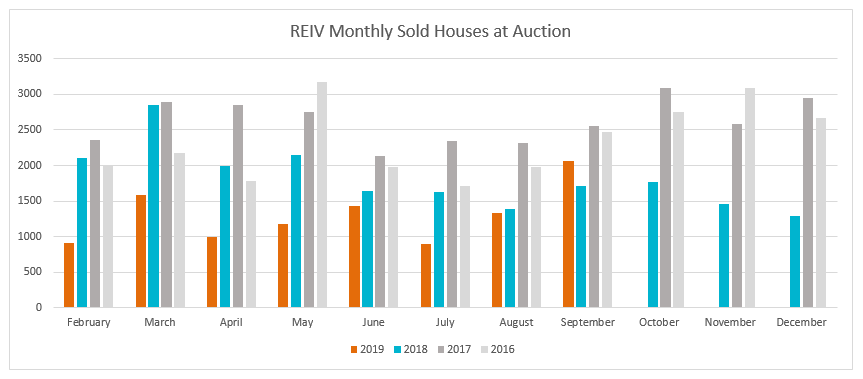 Prices will continue to rise slowly and there are definitely segments in the market experiencing significant spikes in the short term. Next year, Melbourne property values are expected to rise by approximately 4 per cent, according to CoreLogic's projections, thanks to strong employment and population figures, as well as low interest rates and a slowdown of new housing construction. They may not realise it yet, but vendors with in demand properties are in the hot seat!
We have enjoyed a great quarter in the Melbourne office of National Property Buyers with several returning clients and word of mouth referrals engaging us. This to us is the highest level of recognition of a job well done. Our hardwork has also been recognized with two finalist nominations for Buyer Agent of the Year. One for Real Estate Business (REB) and one for Real Estate Institute of Victoria (REIV).
Northcote - "Technicolour Dream Coat"
 Overview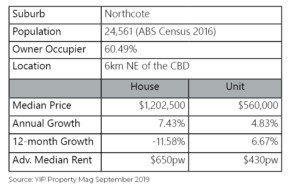 Northcote is a large residential suburb in Melbourne's inner north, located 6 kms north-east of the CBD. For a large suburb it still manages to retain a village vibe, where older Greek and Italian residents live alongside artists, musicians and young families. There is no doubt that Northcote has undergone a transformative gentrification in the last 25 years. In 2011, a report from the Australian Housing and Urban Research Institute at Swinburne and Monash universities revealed Northcote had experienced the most intense gentrification of any Melbourne suburb in recent years.
Northcote is dissected by its commercial High Street which is rich in cafes, bar, restaurants, boutique shops and a hub for live music. The popular high street can be traversed by foot, car or tram. Its popularity as a destination and thoroughfare can create congestion in peak times, so plan ahead if you are in a hurry.
Northcote is home to 5 train stations in total, which must be a record for a Melbourne suburb. Running adjacent to the High Street is the Mernda train line with 3 train stations all within Northcote's borders. South of the High Street is two train stations on the Hurstbridge line.
If this is beginning to sound a little all too busy you can easily escape to Merri creek which provides refreshing respite from the streetscapes and traffic as it curls its way towards the Yarra along the entire eastern border of Northcote. It offers great trails for walking, running or bike riding.
Most people who have heard of Northcote think of the High Street or possibly Sumner Estate, which has great Californian Bungalows but we also recommend checking out the Westgarth precinct. Westgarth is a nice pocket in the south east which borders Northcote's more expensive neighbours Fairfield (median house price $1,288,000) and Alphington (median house price $1,625,000).
For families thereare several schooling options including Northcote Primary, Westgarth Primary, St Joseph's Primary (Catholic) and Northcote High School and Santa Maria College (Catholic Girls). There are further independent schools in neighbouring suburbs.
There are definitely some smug locals in Northcote that think they have struck the jackpot when it comes to inner city lifestyle and they can be found celebrating their success in some of the local streets that provide great city views, especially on a night when there are fireworks on in the city!
We do recommend you do your due diligence when buying in Northcote. There are definitely pockets of Northcote than are better than others…do your homework!
Purchase Example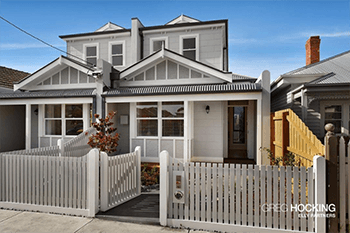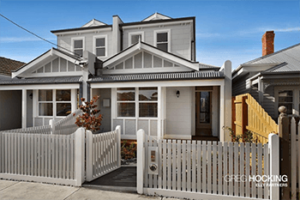 3 Beds | 1 Bath | 4 Cars
Edwardian inspired lines frame the fabulous c2016 spaces of this inviting, intelligent inner city residence close to High Street's café culture, St Georges Road tram routes and Croxton station – further enhanced by the significant advantage of Northcote High School zoning. Sold for $1,100,000
View the agent listing here.
Carnegie - "A little bit of everthing"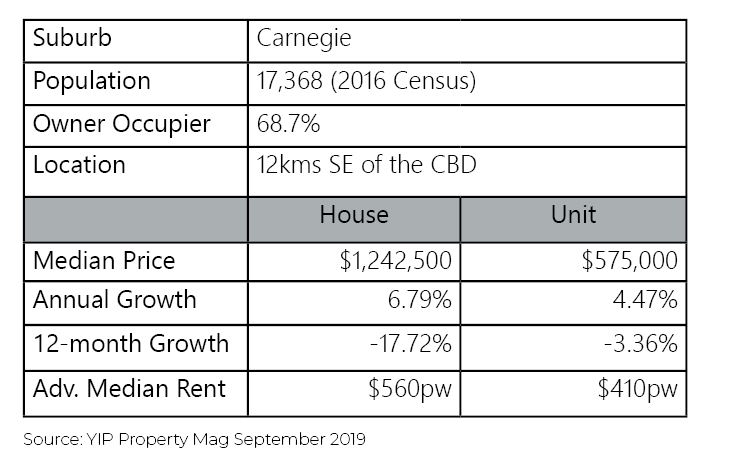 Carnegie is a suburb 12 km south-east of Melbourne's central business district with a large population of 17,388 (2016 Census).
The suburb's main shopping precinct is a well-regarded 'eat street,' with cafes and restaurants lining Koornang Road from Dandenong Road to Neerim Road. On Koornang Road alone there are restaurants and grocers offering Malaysian, Korean, Chinese, Thai, Japanese, Indian, Italian, Greek, Polish, French, Uighur and Russian foods!
There is no shortage of shopping options in Carnegie. Carnegie Central has a Woolworths, Spotlight, ALDI, a chemist, medical clinic and smaller boutique shops and eateries. Dandenong Road is increasingly becoming a focus of Carnegie's development. On its Northern border it provides additional shopping options with numerous homemaker and showrooms, including an Officeworks. And if that wasn't enough Chadstone Shopping Centre, Australia's largest shopping centre, is a short drive or bus trip away.
Carnegie was originally called Rosstown, after William Murray Ross, a prominent property developer and entrepreneur, in 1909 it was renamed Carnegie. The local pub, The Rosstown Hotel is a still a popular establishment where you can meet for a drink and some Tapas in the Front Bar, sit down for a meal in the Bistro, or enjoy your favourite sports live and loud in the world-class Sports Bar, TAB and Beer Garden.
Carnegie has multiple public transport options. Carnegie Station serves the northern part of Carnegie and the Koornang Road shopping strip. Just outside of the east border is Murrumbeena station, which is part of the same Cranbourne/Pakenham line. There are multiple bus routes, including the Nightrider. And a tram services that traverses Glen Huntly Road to Caulfield.
For the active there are multiple parks in Carnegie, including Koornang Park which is home to the Carnegie Swimming Centre and the Packer Park home to the Velodrome.
For families there is a smattering of early learning centres, kindergartens and schools. The main primary school is Carnegie Primary School and Glen Huntly Primary School. There is a number of nearby Private Secondary schools including, De Las Salle, Kilvington Grammar School and Caulfield Grammar. Monash University's Clayton campus is less than 3 kilometres away and adjacent to Caulfield Racecourse.
Carnegie was traditionally character and period homes but is undergoing quite a bit of transformation so there are options for everyone. The main roads and thoroughfares can get a little congested during peak but with the removal of the level crossings, congestion has considerably ease.
Purchase Example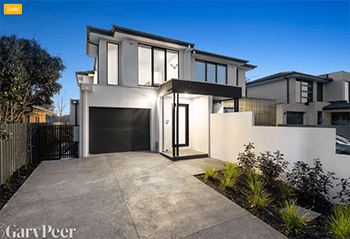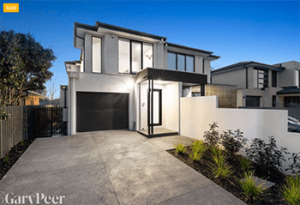 4 Beds | 3 Baths | 2 cars
This near-new town residence epitomises masterful design & high-end construction. Boasting a polished style throughout, the lower level showcases a king-sized retreat with ensuite & built-in robes, & an awe-inspiring open-plan domain that plays host to a Bosch kitchen. A family-sized laundry & powder room with the same impeccable finishes will also appeal while a low maintenance entertainer's outdoors with decking, built-in seating & landscaped surrounds provides a seamless indoor-outdoor experience. Upstairs, two privately positioned bedrooms with access to a bathroom with both & shower are joined by a parent's retreat with walk-in robe & dual ensuite. With Packer Park at the end of the street, cosmopolitan Koornang Road nearby & zoned for McKinnon Primary school, links to public transport networks, this turn-key family home simply has it all. Sold for $1,395,000 in August 2019. View the agent listing here.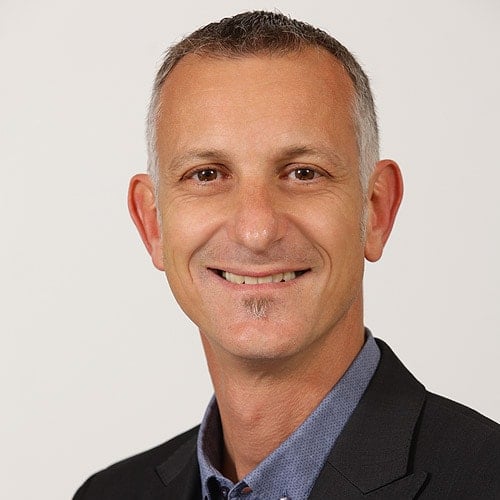 by Antony Bucello
Director
Antony is married with 2 children and lives in Lower Templestowe, Victoria. Educated at Swinburne University, his sales and marketing career has spanned over 30 years in both the Financial Services and Property sectors. Having been involved in countless property purchases for his clients over the years, he is now a leading Melbourne Buyer Advocate and his expertise has been recognised by multiple award nominations including being a finalist for Buyer Agent of the Year by Your Investment Property Magazine, REB and REIV. 0418 131 950 or email
We are buyers purchasing our first home from overseas and simply imagining the process was stressful and terrifying enough. Antony helped us to purchase a property right after our first travel to Melbourne. He was responsive and efficient throughout the whole process. His assessment on the property was such a great help enabling us to secure our ideal home at the right price as well. So thankful that we found him!
Contact Us Today
If you have any questions about the Melbourne market don't hesitate to contact our local team or if you would like a complimentary, obligation free 1 hour consultation please complete this form.