by Stephen McGee
A small increase in the auction clearance rate to 40% over the first weekend of September is a certain sign that Spring Confidence is back.
Observing the movement and activity in the local Brisbane market place I am on the opinion that we are currently in a unique buying cycle, in fact we are experiencing 3 cycles in one:
a) The 3-5km Inner city suburbs that have typically had price adjustment since 2010 are now fairly stable. These suburbs are experiencing some recovery in volumes and are recording good sales again with reports of multi offer scenarios from selling agents.
b) Mid-range suburbs 5 – 8kms from CBD. The properties that are presented to the market with motivated sellers are moving quite fast. Where the sellers still have not quite come to terms with the drop in values to 2010 figures, most overpriced properties remain on the market. These suburbs are experiencing very low volumes of sales and the few motivated sellers / mortgagees in possession will continue to lead the market down.
c) Affordable suburbs where there are listings under $300,000. These suburbs are experiencing increased sales volumes particularly at the lower end of their markets but the high level of sellers with mortgages that exceed the value of their property are preventing a better volume recovery.
The suburbs most exposed to further value reductions are those where there is a high proportion of rented properties, a high proportion of public servants and a high proportion of unskilled workers.
NPB – Taking Property to the People
National Property Buyers, Brisbane has recently launched a Westfield Shopping Centre Promotion showcasing our services and "taking property buying" to the people, helping to create awareness of the importance of having a buyer's representative in any property transaction.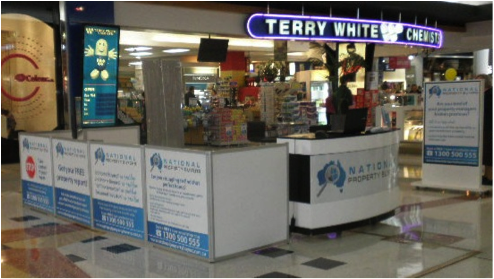 For the next 8 weeks NPB QLD State Manager, Stephen McGee, will be available in select Westfield centres throughout the Brisbane area. He will demonstrate to you the benefits of using a Professional Property Buyers Agent in your next Property transaction. If you have a question about property buying & investing please come along & ask Stephen & he will try to add some clarity to your situation.
Stephen has already had a great response from the local shoppers at the Carindale centre.
"What has come out of the conversations in the first week is the mixed messages that are out there in the public domain in relation to property buying and the local property market." Stephen says.
"It is also quite evident that a large proportion of Property Investors are not getting professional management of their property asset."
National Property Buyers will be setting up next in the Westfield Chermside Center on the 3rd September 2012 until the 9th September and following @ Garden City Westfield from the 17th September until the 23rd. For subsequent dates and venues please email Stephen.
We would like to invite you to attend a Property Investment and Information Night, presented by National Property Buyers Brisbane and associated Industry Experts
Steve McGee – National Property Buyers QLD State Manager reveals current hot spots in Brisbane and where you should buy next.
Antony Bucello – National Property Buyers Victorian State Manager reveals the hot spots in Melbourne and what to buy.
Tony Densley – TWD financial planning – SMSF advisor, on the benefits of buying property through self-managed superfunds.
Tony Wall – Principle of Residep, on the benefits of tax depreciation in property investing.
THIS EVENT IS A MUST ATTEND FOR ALL PROPERTY INVESTORS
Do you want to invest in property but don't know how or where to start?
We will reveal some negotiating strategies for a fast market.
What makes a good investment?
Live case studies of making money out of property.
Plus, we will give you tops on how to maximise your rental return.
When: Wednesday 12th September. Arrive from 6pm for a 6:30pm start – finishes at 8:00pm.
Location: Diana Plaza Hotel, 12 Annerley Road, Woolloongabba.
Cost: FREE
RSVP: Email your full name, contact mobile phone number and email address to Shannon Findlay or text to 0424 591 379 by Tuesday 11th September.
Sustained Growth for Brisbane predicted to come for years yet!
From a 'big country town' to the second-fastest growing region in Australia: how big is too big for Brisbane?
According to estimates used to draft the latest South East Queensland Regional Plan, substantial growth is expected to see the greater region grow to house 4.4 million people by 2031. In the plan, due for review in 2014, that population is spread over 11 regional and city councils including the Gold and Sunshine coasts, and requires 754,000 additional homes to have been built between 2006 and 2031 to accommodate the increase.
The latest data from the Australian Bureau of Statistics shows the population of the Greater Brisbane Region was 2.15 million people at July 2011, a figure nearly half the state's population of 4.47 million people.With an increase of 432,300 people between 2001 and 2011, greater Brisbane had the second-fastest growth of all capital cities in Australia of that decade, falling just behind greater Perth, which increased by 26 per cent (slightly higher than Brisbane's 25 per cent).
Read more: http://www.brisbanetimes.com.au/queensland/population-sweet-spot-how-big-should-brisbane-grow-20120822-24mgm.html#ixzz24LqfKwQo.
Why Medians, Not Averages?
Some investors might wonder why median prices and median rents are the standard statistics used to describe Australia's property market, rather than average prices and average rents.
After all, an average (also called a "mean") is a much more common and better understood statistical tool than a median.
However Medians are generally considered more reliable for describing the Australian property market, and thus their adoption by all professionals and independent statistical bodies.
The reason for this is that medians are less influenced by "outlining" prices – those that are higher or lower than typical prices by several degrees.
Let's say you had a suburb called "example town", where 11 houses had sold over the 2011 calendar year for the following prices:
1. $185,000
7. 203,500
2. $190,000
8. $205,000
3. $195,000
9. 205,500
4. $199,000
10. $208,000
5. $200,000
11. $500,000
6.

$202,000
 
The median price of that set is $202,000, while the average price is approximately $227,000.
Although it is only a simple example, this result makes it clear why medians are considered a more reliable method of ascertaining an indicative property price, because averages are more affected by extreme sale prices within the sample.
Turbo Charge Your Wealth Creation Plan
Great Development sites exist in Brisbane – You just need to know how to find them
The population of Brisbane is still growing and the need for more dwellings has increased therefore triggering a need for higher density in some areas of Brisbane. That means that there are opportunities for investors to kick start their wealth through developing.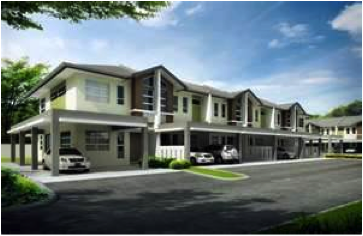 NPB can assist their clients in the sourcing of these development appropriate sites commonly known as MUD's.( Multi-Unit- Dwellings) & SUD's (Single-Unit-Dwellings).
MUD's – Groups of Apartments or Townhouses governed by a Body Corporate.
SUD's – Single dwellings, usually smaller then a MUD, on its own freehold title.
There are still great opportunities to create a capital gain by acquiring one of these sites and fulfilling its potential. However, for the uninitiated there can be many a thing that can go wrong if the correct and thorough Due Diligence is not followed.
Tips For Investors
Be thorough on planning research and Due diligence, engage the appropriate people.
Seek advice from council or town planners regarding the frontage requirements & minimum lot size to suit requirements.
Don't forget to calculate council infrastructure charges into your budget as well as state gov levies and builders insurance.
Investigate sales values of end product envisaged on lot prior to purchase.
Determine if site is suitable for MUDS or SUDS.
Take advantage of councils RiskSmart Assessment process which could save considerable time which normally translates into a saving in the pocket.
National Property Buyers, once engaged , can help you source & acquire a property that has the required "hidden zoning" potential. We can assist in determining the most suitable end product and then help you by introducing you to one of our Partners In Property who will work with you ( & NPB) to complete the planning and building process.
Please call Stephen McGee now to enquire about this service.
Fastest Growing Suburbs in Brisbane in Houses
| | | | |
| --- | --- | --- | --- |
| Rank # | Suburb | Median Price $$ | Trend + % |
| 1 | Lutwyche | $650,000 | +26 |
| 2 | Gaythorne | $519,000 | +21 |
| 3 | Brookwater | $490,000 | +15 |
| 4 | Murrarie | $533,000 | +13 |
| 5 | Hawthorne | $780,000 | +10 |
  Fastest Growing Suburbs in Brisbane in Units
| | | | |
| --- | --- | --- | --- |
| Rank # | Suburb | Median Price $$ | Trend + % |
| 1 | Bellara | $214,000 | + 95 |
| 2 | Gaythorne | $425,000 | + 22 |
| 3 | Kedron | $400,000 | + 18 |
| 4 | Sherwood | $422,000 | + 17 |
| 5 | Woolloongabba | $479,000 | + 14 |
 Are you tired of your Property Mangers broken promises?
The team at NPB Property Management have in excess of 10 years specialist industry experience and we would welcome the opportunity to review the performance of all your property management investments and consolidate them.
NPB has a wealth of resources at its fingertips and a successful culture that ensures that we are at the forefront of property management technology & legislation and ensuring that you are:
Maximising all the tax benefits on your investment property.
Achieving the best rental income that you can.
Exclusive Marketing Managing Guarantee
The experienced property manager assigned to your property will provide you with the following:
1. To provide an estimate of rental value based on available data.
2. To provide you with a review of your property portfolio with NPB every 12 months.
3. To ensure continued market exposure through a planned advertising and marketing campaign.
4. To arrange for the installation of National Property Buyers signboard.
5. To place the property on our Rent List with photo, description and Leasing Terms.
6. To expose your property to our referral network.
7. To provide you with real time – on line activity reports accessible 24/7 though your own property portal.
8. To provide you with suggestions enabling the highest rental return possible.
9. To provide you with copies of all advertisements, if requested.
10. To screen all prospective tenants until you are 100% completely satisfied.
11. To complete in detail a condition report prior to the Lease commencement.
12. To arrange for all documentation, including leases to be executed.
13. To Conduct 4 Periodic inspections each year as per RTA regulations.
14. To enforce the Residential Tenancies Act to its fullest.
15. To monitor Lease conditions and ensure they are adhered too.
16. To prepare statements and cheques weekly and ensure they are emailed & banked for you.
17. To inspect the property upon expiry of the Lease and provide a condition report.
18. To provide maintenance of the property with your consultation and approval first.
19. At all times we shall endeavour to obtain for you the highest possible price, best terms and conditions.
20. To engage a Quantity Surveyor to undertake a Depreciation Report for you.