Brisbane Auction Clearance Rates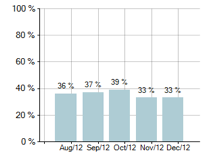 A traditional slowdown in the market leading up to the Christmas Season has resulted in a fall in the auction clearance rates for December and the lead into January.
House Prices Recover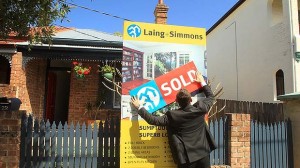 A widely watched home value index shows prices surged in most capital cities in the first month this year.
The RP Data – Rismark Home Value Index jumped 1.2 per cent across Australia's capital cities in January.
Read more here.
Index results as at January 31, 2013
Change in Dwelling Values

Total Gross Returns

Median Dwelling Price

Region

Month

Quarter

YoY

Sydney

1 .8%

0.9%

3.4%

8.1%

$576,500

Melbourne

0.2% 

-0.4%

-0.4%

3.4%

$492,500

Brisbane

2.0%

2.3%

2.3%

7.3%

$432,250

Adelaide

0.4%

1.0%

0.7%

5.2%

$381,750

Perth

1.7%

3.0%

2.7%

7.4%

$480,000

Hobart

4.5%

5.3%

0.8%

6.3%

$315,000

Darwin

-2.2%

-3.7%

8.7%

15.4%

$525,000

Canberra

1.5%

1.7%

2.7%

7.7%

$537,500

8 capital city aggregate

1.2%

1.0%

1.8%

6.3%

$480,000
Now is the time to buy investment property in Brisbane
The Brisbane housing market is providing more positive signs of finally bottoming out, according to the latest House Price Report from Australian Property Monitors.
Read the full article here.
Brisbane Landmark Home sells
One of Brisbane's most well-known riverfront homes has changed hands for only the fourth time since its construction at the end of The Great Depression.
Read more and view the home here.
Why 2013 could be the best year in almost a decade for property investors 
With lower interest rates, and property prices stabilising throughout 2012, the year ahead will afford investors the opportunity to purchase property with less money out of their pockets.
Read article here.
Stephen McGee Shares his Top 4 Tips to Avoid costly mistakes in property investing
1) Determine your budget and stick to it.
Do not get emotionally hooked on a property you cannot afford.
Know your budget before hand and stick to it. Ascertain what your comfort capacity is for the purchase allowing for vacancy times in rental periods and your current lifestyle. Have a buffer in place for the difference in shortfall of incomings Vs Outgoings.
2) Work out your strategy for investing in property.
Develop a 5 year plan, 10 year plan & 15 year plan for your property investing.
Discuss your goals & steps with your partner and work out what your risk profile is and what steps you can put in place to help you reach your goals. Most investors fail because they do not work to a plan and just buy what they think looks good at that time. However, your property investing strategy will change in circumstantial times so be flexible.
3) RESEARCH your area price points.
There is no substitute for research when you are investing huge sums of your hard earned cash into property.
Talk to local agents/visit open houses/attend auctions/scour the internet.
These are all the fundamental things that National Property Buyers consultants do every day. Purchasing the property for the right price can make the difference between buying another property sooner rather than later and will definitely pay off for you. One of the most common mistakes that investors make is overpaying for the property.
It is important to remember that the selling agent is more often than not a master of the profession and is trained in buyer's psychology. They will recognise when they have some unwitting prey in front of them.
4) Let capital growth be your driver.
The picture below demonstrates the importance of capital growth in building your property portfolio.
A lot of investors chase yield in their investment property at the expense of capital growth.
Whilst it is important to have a balanced portfolio the emphasis should be on capital growth and not rental income.
We can always improve the yield on a property through various methods but if the property purchased is not in a high growth area then it will suffocate the overall growth of your portfolio.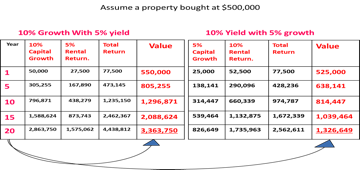 Top Performing Suburbs in Brisbane
Fastest Growing Suburbs in Brisbane in Units

Rank #

Suburb

Median Price $$

Trend + %

1

Bellara

$249,000

+117%

2

Lawnton

$355,000

+29%

3

Sherwood

$420,000

+20%

4

Everton Park

$452,000

+18%

5

Redcliffe

$421,000

+17%
Fastest Growing Suburbs in Brisbane in Houses

Rank #

Suburb

Median Price $$

Trend + %

1

Brookwater

$500,000

+42%

2

Wilston

$854,000

+24%

3

Chelmer

$880,000

+22

4

Brookfield

1,042,000

+20%

5

Nundah

$482,000

+11%