The number of properties on the market is still at high levels but the number of sales is at lower levels, causing the market to remain a little flat.
Up to the June 2011 quarter, 3678 houses settled across the Adelaide metropolitan area, whilst 12 months ago, in the same quarter, 4368 houses settled.
The median price has dropped 1.2% over the 12 months to June 2011 however there is good buying in certain suburbs. If you purchased 12 months ago in Henley Beach or in Largs Bay you would have seen a nice capital growth return of 30% and 18.5% respectively in these suburbs.  For astute buyers there are several suburbs holding values well. Quality housing is always in demand.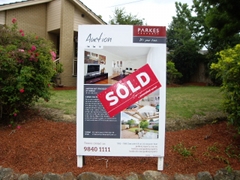 Unit prices in metro Adelaide suburbs are holding firm.
Inner city suburbs such as Norwood and Parkside demonstrated demand for well-priced units.
Rental Yields in the state have remained very stable as interest rates do remain at manageable levels with fixed mortgage interest rates dropping around the country.
The Adelaide rental market has seen vacancy rate across the metropolitan area rise to above 3%, however this still remains at low levels.
The clearance rate of auctions dropped below 50% for the June quarter, mirroring slower activity right across the housing market.
The most recent median house price for Adelaide is $477,500 and the median unit price is $430,000.