According to the Australian Property Monitors latest research stats Brisbane's median house price has increased resolutely by 6 per cent over the year ending March, which is the highest annual rate of growth since the year ending the December quarter 2010 over three years ago.
This is certainly consistent with the rise in sales figures and high activity in all sectors of the market recorded by most sales agents in areas within 15kms of CBD.
A massive increase in auction clearance rates to 45% also indicates confidence is back in property, & Brisbane also.
NPB QLD has also been excited by the frenzy of buyers out there on the market competing for good properties in well locate areas. We have noticed that across the board in all price ranges there are multiple buyers competing with each other for the same property.
An Auction clearance rates still in dizzy heights for Brisbane is certainly verification that there are buyers out there in great numbers.
It is a good time to be a sales agent now without the need to market the property with a price. Just put an Auction "badge" on it and let the buyers do the rest.
Whilst it is great to see property prices on the way up buyers need to be careful that they are not entering into the purchase with eyes wide shut. It is easy to overpay on a property in this environment if you are caught in the emotional fairground and the selling agent is the chief ringmaster.
Whilst we have secured some great properties in May at good buying prices, we have also been on the other side when we have not secured the property and we have missed out by a country mile!
NPB QLD cannot see any signs of the market slowing down and all indications are that it will only go up for a considerable time yet.
Top Performing Suburbs in Brisbane
Fastest Growing Suburbs in Brisbane – Houses

Rank #

Suburb

Median Price $$

Trend + %

1

Seventeen Mile Rocks

$550,000

+24%

2

Balmoral

$792,000

+19%

3

Taigum

$379,000

+18%

4

Hamilton

$970,000

+17%

5

Lota

$530,000

+16%
Fastest Growing Suburbs in Brisbane – Units

Rank #

Suburb

Median Price $$

Trend + %

1

Greenslopes

$366,000

+16%

2

Windsor

$410,000

+14%

3

Newstead

$775,000

+12%

4

Nundah

$412,000

+11%

5

Morningside

$470,000

+10%
Brisbane Auction Clearance Rates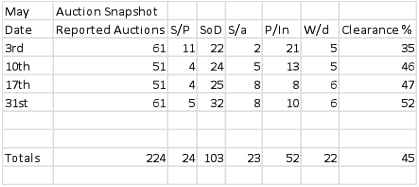 Tax Time is Fast Approaching – Are you Ready?
If you have not got a Quantity Surveyors Report yet – Get one!
Most reputable companies that offer this will also give you a guarantee that they will find you the cost of the report at the very least. So why wait especially as it is a deductible expense anyway.
Engage the services of a professional Property Management Company
A good efficient property management company will take the stress out of your property investing and the complexities of dealing with tenants and achieving the best rental income for your property. They will also be a blessing at tax time and provide you with a full itemised financial statement of your investment portfolio, ready for you to give to your accountant. Best yet the fee is also tax deductible (talk to Steve Mcgee from NPB Brisbane about managing your investment property).
Make sure that you are recording all travel time.
As a landlord or property investor, you can deduct certain expenses related to the travel you must do for your business. You can deduct both local and long distance or overnight travel expenses. You can deduct these travel expenses if the purpose of the travel was solely for business. The expenses you can deduct must also be considered "ordinary and necessary" in your course of business. For example, driving to the supermarket would most likely not be a necessary expense for a landlord, however it could be necessary for a baker who needs to buy flour.
Keep accurate and recorded expenses
Ideally spend the time and the money and invest in Personal Finance software that will allow you to record all expenses and prepares reports for your accountant. Landlords who keep detailed summaries of their rental property expenses are the ones who benefit most at tax time from the generous tax rules regarding rental income
Professional Expenses
Lawyers fees, property-management fees, accounting and tax-preparation fees related to the rental property are all deductible. If you hire real estate consultants, investment advisers, property tax reduction consultants, contractors or appraisers, all the fees related to the rental property are also deductible.
Home Office Deductions
Under certain circumstances, you may be able to deduct a portion of your own home as a home office. This requires that you have no other office for your real estate rental business and that the area designated as the home office is used exclusively for business.
Projected Population Growth Over The Next 40 Years
Population projections are not predictions or forecasts, but are illustrations of the change in population which would occur if certain assumptions about future levels of fertility, mortality and migration (usually based on recent trends) were to hold over time.
Projections show a further concentration of Australia's population within the capital cities.
Where do most of these people choose to live?
Within commuting time to the nearest capital city, that's where. That's why selecting your investment property in the right area will pay you dividends.
Contact [email protected] to talk about your next property purchase and benefit from the population growth.
Historically the largest two cities in Australia, Sydney and Melbourne were the capital cities that grew by the largest number of people between 1973 and 2013. However, Darwin and Perth were the fastest growing capitals.
Join us on the Brisbane Property Market NPB Bus Tour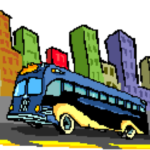 The clock is ticking; Brisbane property markets are still on the move.
The Power is shifting, so you can't ignore this opportunity!
The time to buy and reap future capital growth is NOW!
Spend time with a Property Expert & join us on the Brisbane Property Market Bus Tour for home buyers and investors.
When: 26th July 2014
Time: Depart 09.30am PROMPT
Pick Up: NPB Office, 111/8 Cordelia Street South Brisbane
Drop Off: 2.00pm Appx.
please email [email protected] for more details.
Queensland Market Monitor
Welcome to the latest edition of Queensland Market Monitor – a quarterly, electronic publication entirely focused on residential sales and rental research data on a suburb-by-suburb basis (where available) throughout Queensland.